If you're planning your wedding, searching for the perfect band or ring can be one of the most difficult things to get right. You want your wedding ring or band to look and feel immaculate on the day, and for many years to come. That puts a lot of pressure on you and your partner to find the ideal piece.
You have plenty of options to choose from, including two tone rings. If you've somehow overlooked two tone jewelry during your search, you could be missing out on the wedding band or ring of your dreams.
What are two tone wedding bands and rings? We'll answer this and many other important questions below.
What are Two Tone Wedding Bands and Rings?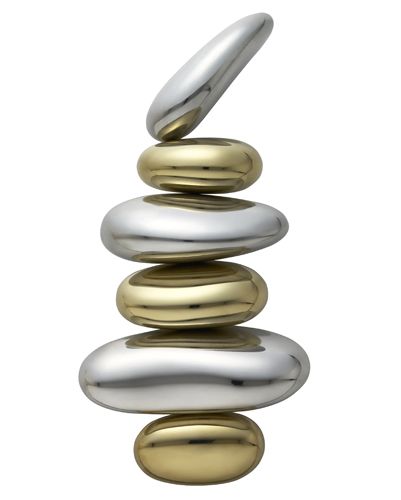 Two tone wedding bands and rings feature two different metals combined to create one gorgeous piece. They're a fantastic alternative to most rings, which tend to feature one type of metal.
Creating two tone bands and rings is more complex than working on a standard piece. Essentially, mixing two colors of gold is mixing two different rings: each gold color is a separate gold ring, and two are fused together to create the two tone wedding ring. These do not undergo plating (the process of placing a layer of real gold along the top).
Due to the complexity involved, crafting two tone wedding bands and rings takes longer than a ring of just one color or metal. The process typically takes twice the time as there are double the rings involved.
You'll find a wide variety of two tone wedding bands on the market. Two tone rings tend to have more of a classic aesthetic, which is exactly what many brides and grooms are looking for, though it all depends on the style of ring chosen.
The most common types are:
• Two tone rose and white gold ring
• Two tone white and yellow gold ring
Rose gold, yellow gold, and white gold make beautiful combinations. The brightness of the white gold contrasts wonderfully with rose or yellow gold, and the two tones complement one another perfectly. If you choose a two tone rose and white gold ring, the result is both elegant and bold.
Why Do Couples Choose Two Tone Wedding Bands?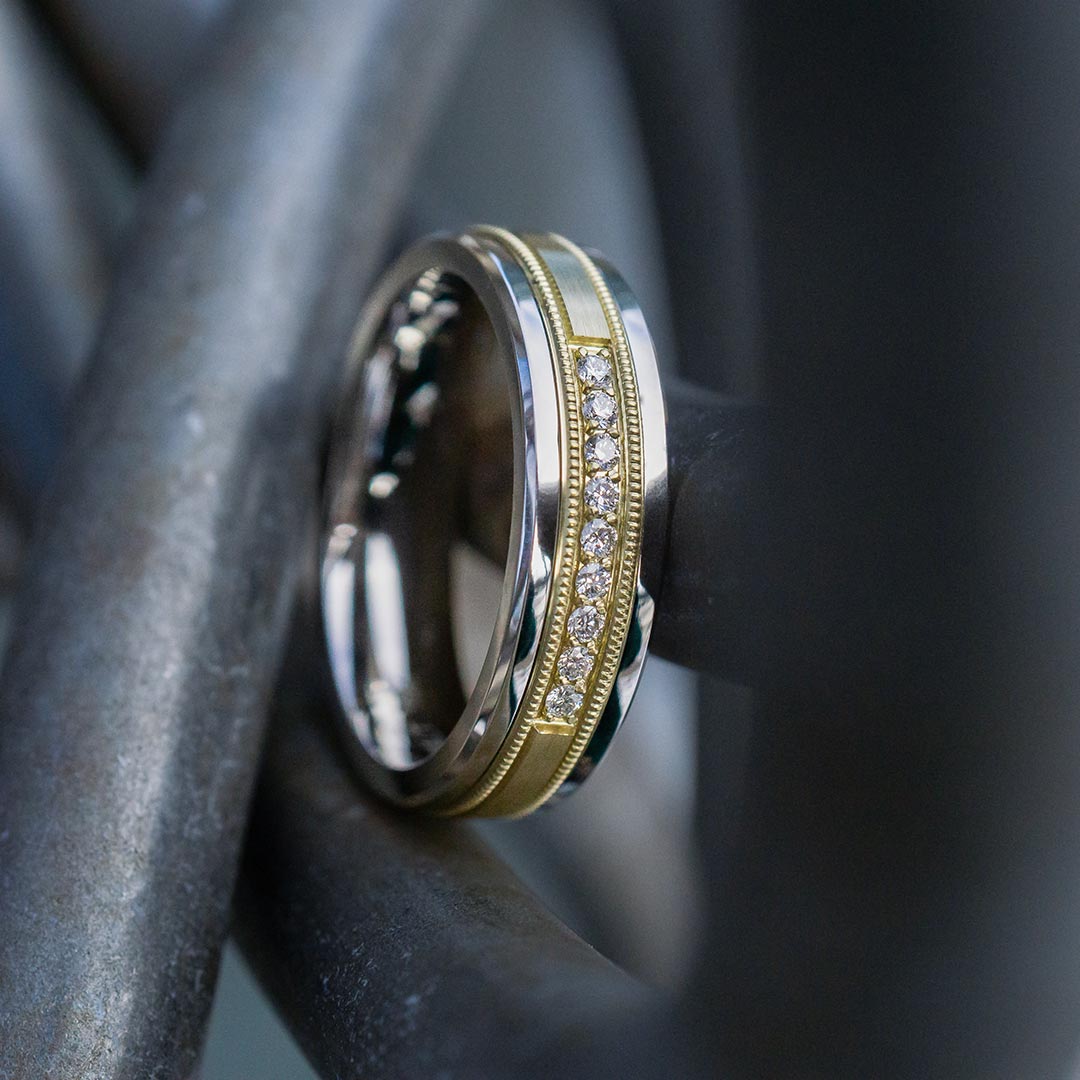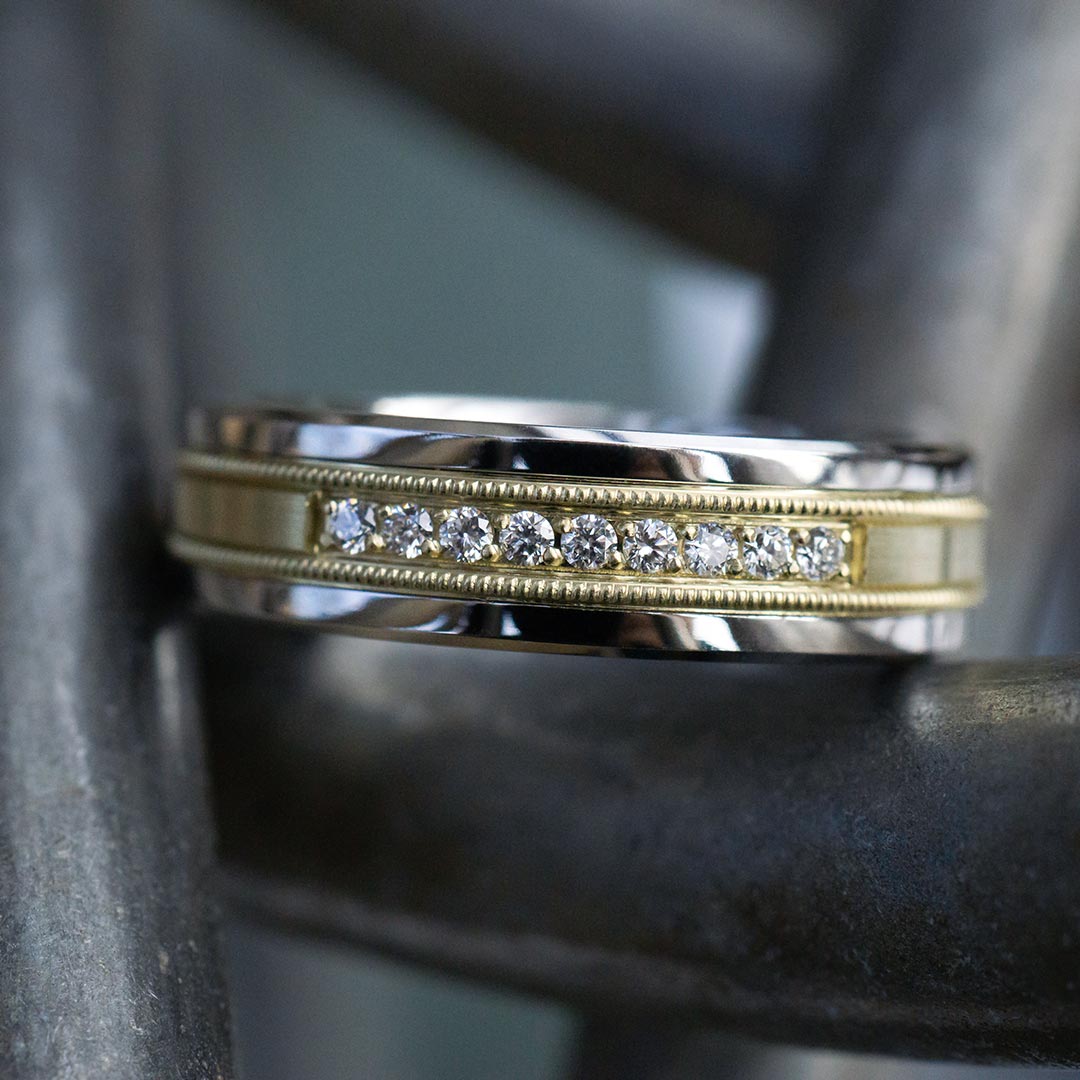 The process of picking two wedding bands or rings from the thousands of options available is difficult for any couple. You may consider white gold, rose gold, platinum, sterling silver — but not necessarily two tone wedding bands.
However, two tone rings have lots to recommend them. Here are five reasons why couples choose them:
Symbolize Your Lasting Bond and Commitment to Your Partner
One of the most exciting and heart-warming reasons to choose two tone wedding bands is that they symbolize two people, two lives, coming together as one. While the two golds are different and stand out on their own, they nevertheless bond together to create something beautiful.
Any wedding ring is a sign of your commitment between two people, but a two tone wedding ring has a little extra depth that people may not initially see. You can enjoy explaining it to your guests on the big day, perhaps even in your speech, to wow them with the heartfelt reasons behind your choice.
Embrace Experimentation
After scouring page after page of sterling silver or yellow gold rings, you'll no doubt find the prospect of trying something a little different exciting.
That's where two tone wedding bands and rings come in. You don't need to settle for just one color — you can experiment with different combinations to create a more distinctive ring for your nuptials.
Additionally, two tone rings are terrific if you're struggling to choose between two gold colors (e.g. white gold and yellow gold). Mix them together and discover the ring you've been searching for.
Create Stunning Contrast with Your Diamonds

Diamonds are an exciting addition to any wedding ring or band. An expertly crafted ring with one or more diamonds can be truly enchanting, attracting admiring glances as it catches the light. And if you want to help your diamond look even more special, you can opt for a two tone gold wedding ring.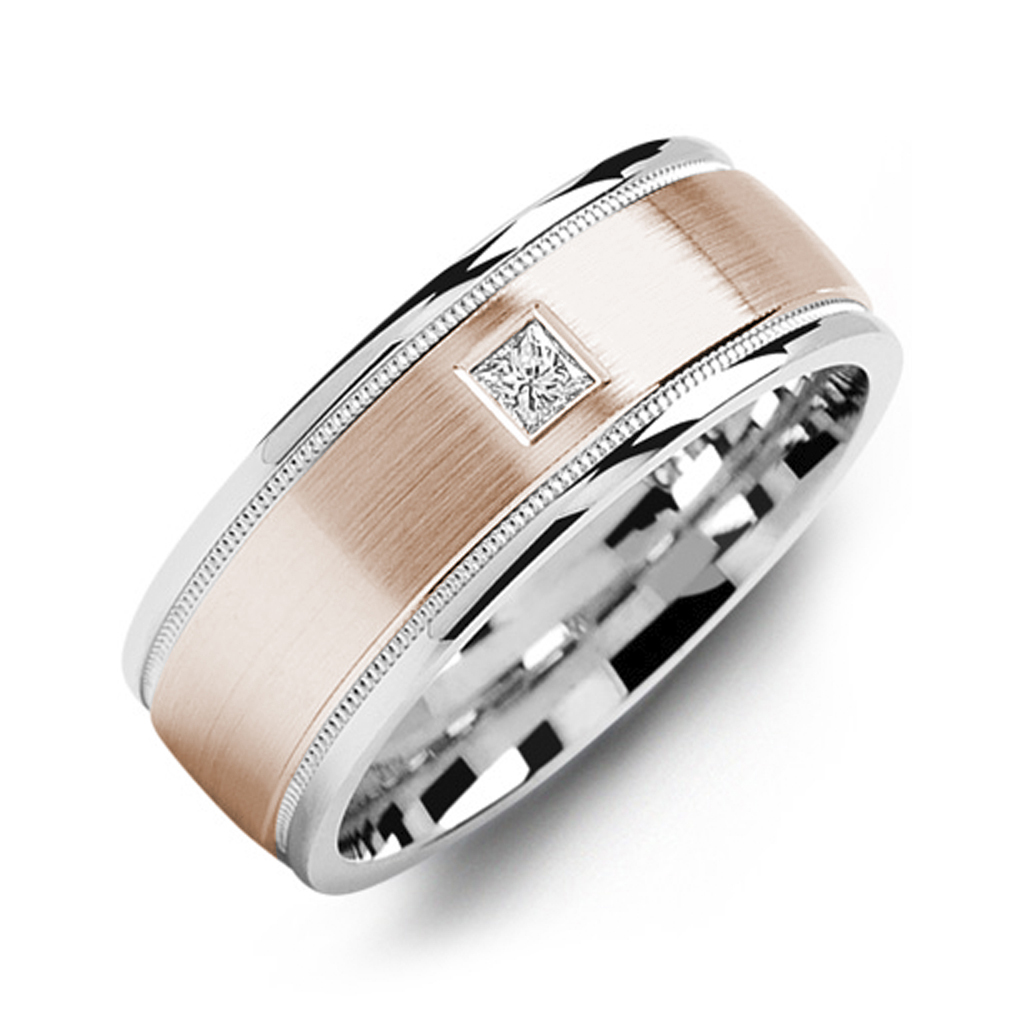 For instance, consider the Men's Brush Milgrain Edges Diamond Wedding Band. This ring can be customized with various color combinations to incredible effect, particularly if you want to create a striking contrast between the diamond and the surrounding metal.
Set the base metal as white gold and the inlay metal as rose gold, and hey presto! Your spectacular 0.05ct or 0.07ct diamond is framed by sophisticated rose gold, which makes the diamond stand out more than ever.
Bring a Fresh Touch to Your Jewelry Collection

For some people, their wedding band or ring may be the only piece of jewelry they own, let alone wear. For others, though, their wedding jewelry is a special addition to their collection.
Two tone jewelry, such as white gold and yellow gold wedding bands, will stand out from pieces crafted with one type of gold or other metal. Yet two tone rings can also complement jewelry featuring one of the two golds in a bold, dynamic way.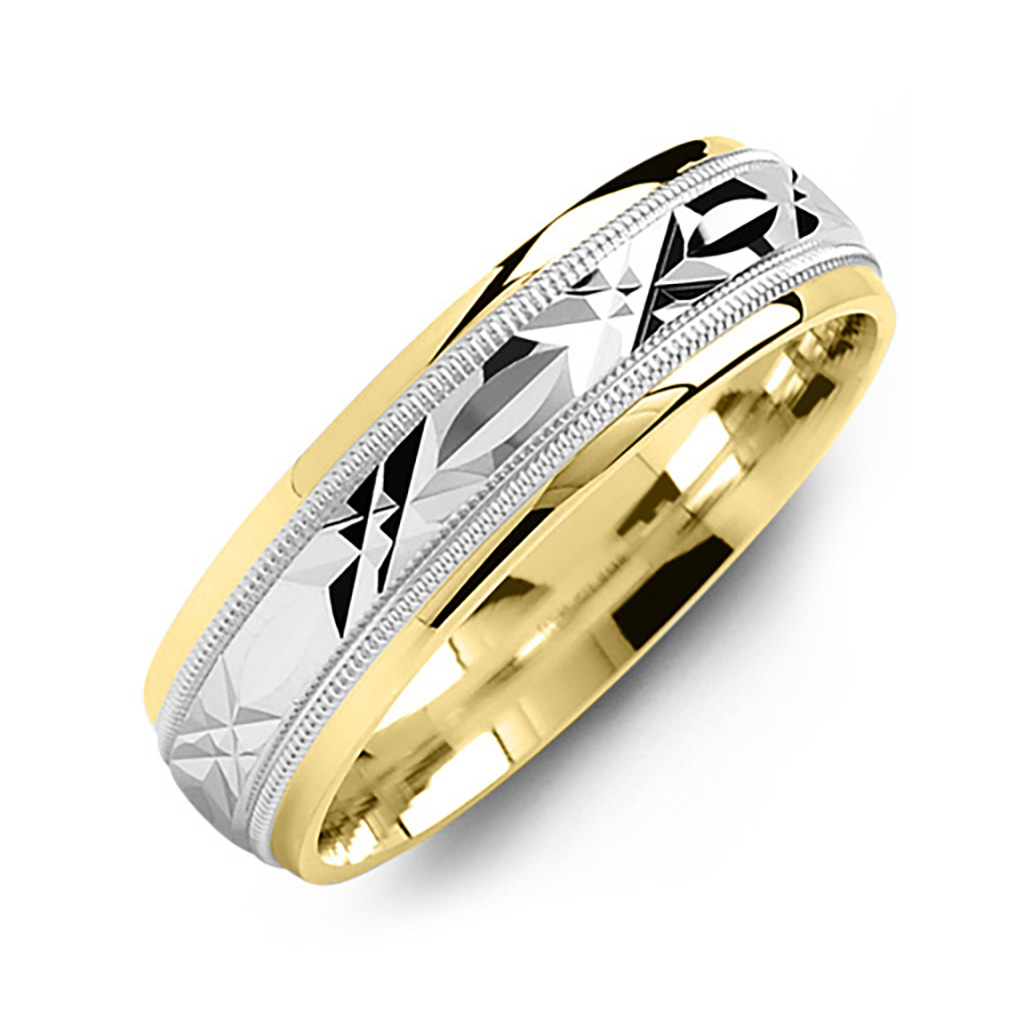 For example, you can match your white gold and yellow gold wedding band or ring with a bracelet and necklace of either metal. The Men's Classic Pattern Milgrain Wedding Band demonstrates what a powerful combination white gold and yellow gold make together on a two tone band.
That's why a two tone wedding ring may be the perfect choice if you have a passion for collecting jewelry. When you take your wedding ring off before you go to bed or perform household chores, you may place it with the rest of your collection. And you can admire it not only for the personal meaning it has for you and your loved one, but for the exquisite piece of art that it is.
Enjoy the Same Durability as Other Gold Rings
A major benefit of choosing two tone wedding bands is their durability, as with any other gold ring. As they are multiple pieces fused together, people may assume that two tone wedding bands and rings are weaker than single-metal alternatives. Thankfully, that's not the case.
With that in mind, two tone bands and rings will still scratch or dent like other gold rings. It's crucial that you take care when wearing your ring — we'll share a few tips to help you do that below.
Can Two Tone Rings Be Sized Up and Down?

Two tone wedding bands and rings made with two types of gold can typically be sized a half size or full size larger. That's ideal if you need to adjust your ring for a more comfortable fit.
But sizing down is trickier because of the multiplier parts involved. It should be fine to change if the adjustment is minor, otherwise you may need a new band or ring for a more substantial difference.
How to Keep Your Two Tone Wedding Bands and Rings in Good Condition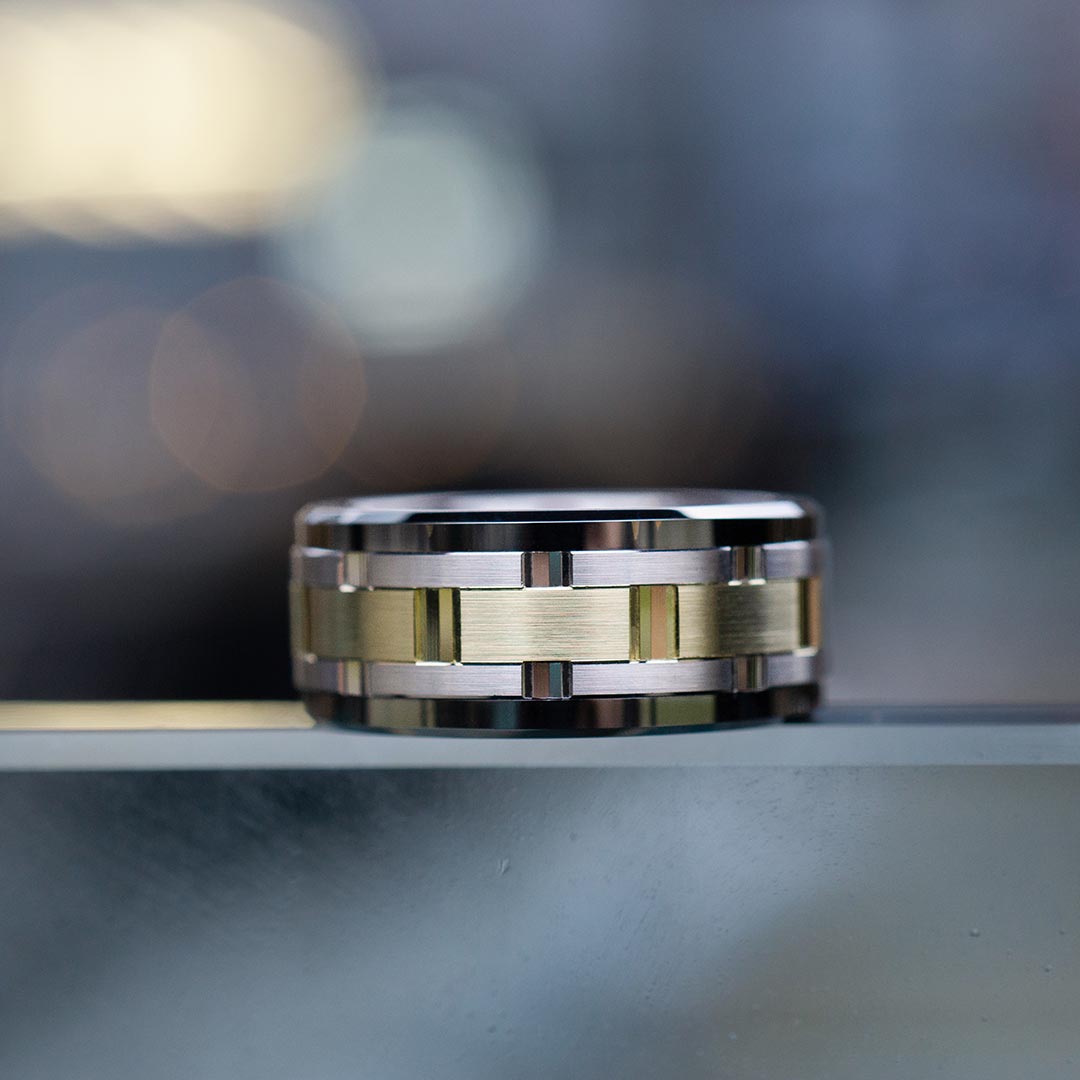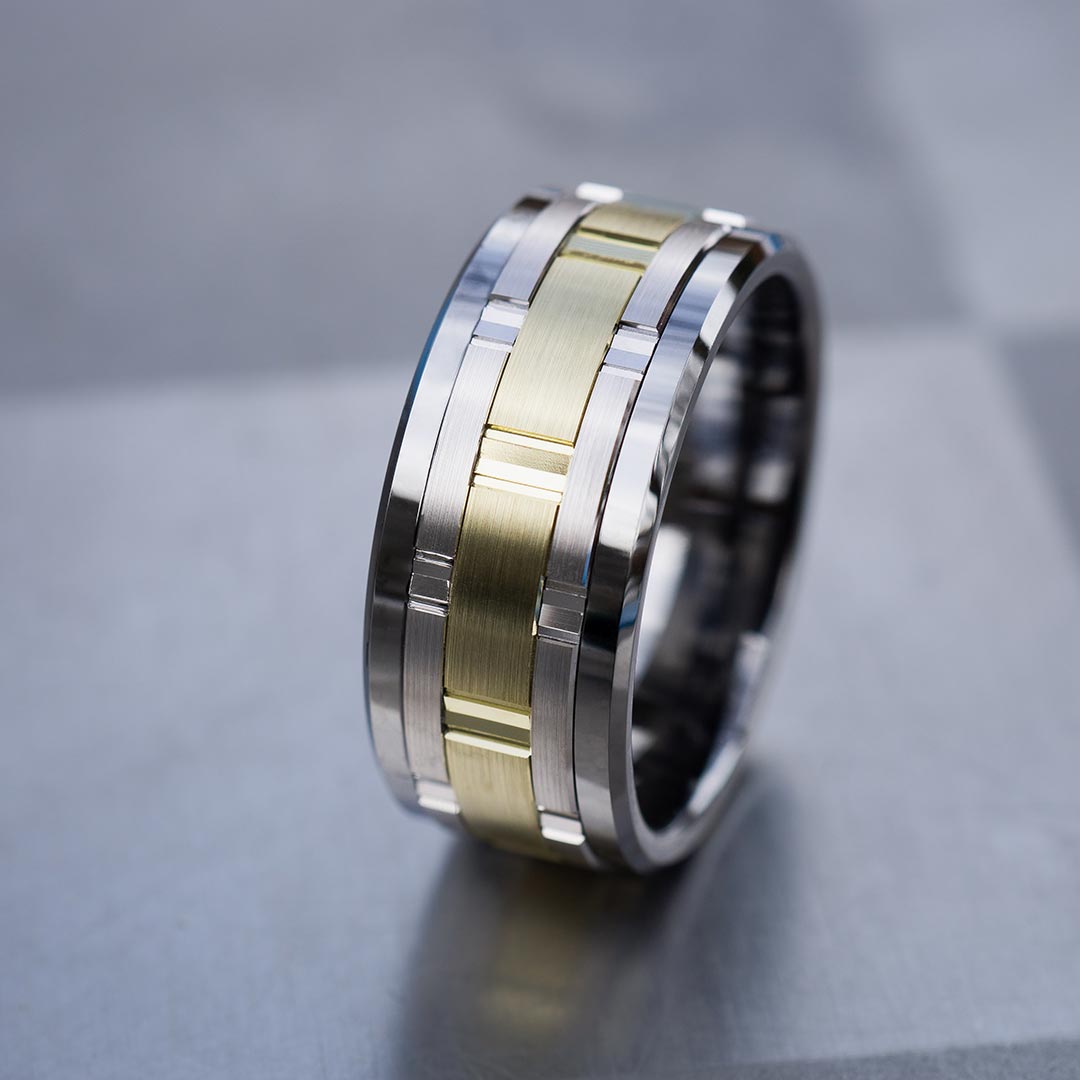 You and your partner have chosen a jaw-dropping band or ring for your wedding. It's one of the most amazing pieces of jewelry you've ever seen — and you want to keep it that way.
How? Here are three simple tips for making sure that your wedding band or ring stays in good condition.
Schedule Regular Inspections
Take your two tone wedding bands or rings to a reputable jeweler once or twice each year. Ask them to check it over for signs of damage or wear that are invisible to your eye. They may notice issues that are best addressed early, such as loose settings.
Additionally, your jeweler can also clean your band or ring to maintain its overall quality.
Get Used to Removing Your Ring Before Hands-On Activities
Do you play sports regularly? How about intensive cleaning around the house? Whatever vigorous activities you take part in, get into the habit of removing your band or ring before you start.
If you get so used to wearing your ring that you forget to take it off, you could damage it without realizing. And by then, you'll be left with expensive repairs. Write yourself a reminder to remove your ring to begin with, and it should become second nature over time.
Store Your Band or Ring with Care
The longer you wear your wedding band or ring, the more likely you are to leave it lying around when you take it off. But don't let your complacency with your ring put it at risk.
If you toss it into a drawer with lots of other objects, the ring could rub against them and become scratched. Instead, place your band or ring in its own soft-lined box or pouch to protect it.
Conclusion

Two tone wedding bands and rings offer couples something truly special. They're a wonderful choice if you're looking for a style that will stand out from more generic pieces, and they allow you to experiment with different options for a more personal result.
Browse our collections to discover exquisite wedding bands and rings for every taste.