When choosing a wedding ring, you need to think about several different factors, including the size, style and color of the ring. You'll also need to think about the materials you're using, and whether or not you'd like an inlay. The choice of base metal and inlay material is vitally important in ensuring you get the ring you've always wanted. There will be many different considerations prior to selecting a metal, such as your day to day activities, your resizing requirements and your style preferences. Your wedding band will be with you for the rest of your life, so it is a good idea to put as much thought into it as you can. Here's a guide to help you decide on the best base and inlay for you.
---
What is the Base Metal?
Base metal simply refers to the primary metal making up the bulk of your wedding ring. So, if you were to choose a ring from our Most Wanted Collection, such as the Men's Baguette Diamond-Cut Wedding Ring in Tungsten and Rose Gold the base metal would be Tungsten. The base metal of your wedding band is crucially important. You should not just select any metal without any thought. There are many considerations as to which base metal is best for you, including its resizing ability and scratch resistance, which we will come onto in more detail shortly.
What is the Inlay Metal?
The inlay is the strip down the centre of the ring. This strip can be made from a multitude of materials, including metals like gold, silver, black ceramic, or even certain types of wood like koa wood. It could be a strip of diamonds, or a completely plain strip. For example, the Men's Two-Tone Black Ceramic Wedding Band has a white gold base metal (the main metal making up the bulk of the ring), and a black ceramic inlay. This inlay is completely plain, giving it a stylish, classic feel.
A more complicated inlay can be found in the Men's Wide Vertical Diamond Cut Wedding Band which contains a Tungsten base metal 3 gold inlays (1 rose gold and 2 white gold). Much as with the base, the material you use for the inlay is crucially important and should be carefully considered.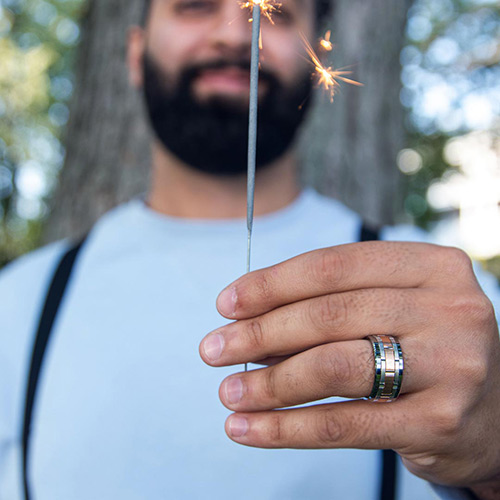 Selecting a base metal depends on so many different factors. To clearly explore this, we'll examine each base metal option and its pros and cons.
Gold (White/Yellow/Rose)
Pros
- Gold is a classic material and perfect for anyone who appreciates tradition.
- It is durable yet relatively pliable, so resizing is easy but it won't break when dropped.
- Gold comes in three primary colors (white, yellow and rose). Therefore, it is very easy to pair gold with a beautiful inlay metal without clashing.
Cons
- Gold can scratch, so it's not great if you work with your hands a lot.
- Gold isn't a particularly modern material, so if you like to be on trend, another material might be more suitable.
- If you have allergies to gold, using it as a base metal is a bad idea.
- Due to rising prices of gold, the price of a gold base metal will substantially increase the price of the ring overall.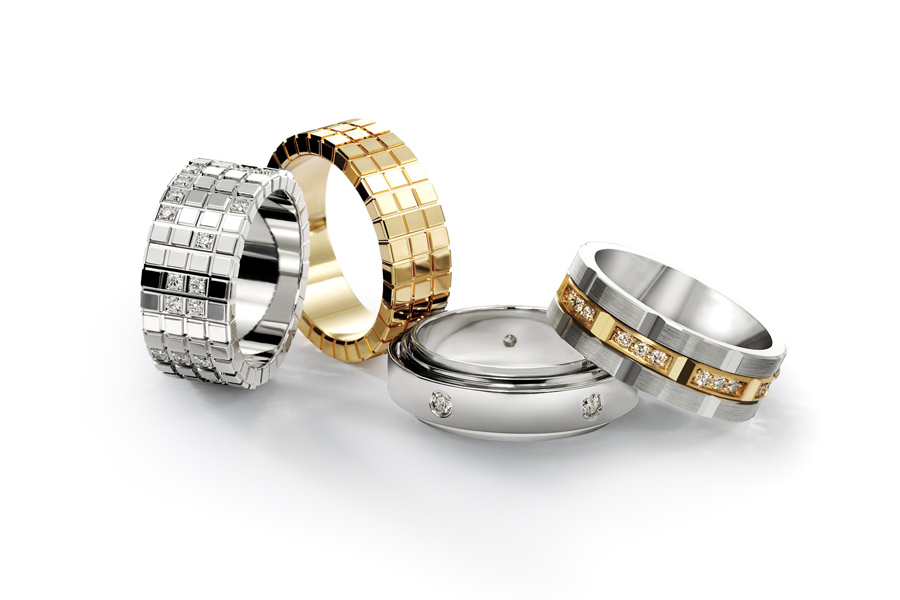 As gold is so versatile, it works well with most other metals as inlays. We particularly like gold-on-gold inlays, such as the triple band effect wedding ring, because it looks consistent and stylish. Plus, using gold with gold means the ring can be resized easily in the future if needed. If you love contrast, white gold in particular looks stunning when paired with black ceramic. This classy kind of ring is both modern yet minimalist. Those around you will want to know where you found such a unique wedding band that has some black in it. Black is one of the trendiest looks for wedding bands and other accessories these days. Another classic style pairing with a gold base metal is the harvest of love ring in a classic yellow/white gold two tone finish. This look is quite traditional if that's what you are looking for!
Cobalt
Pros
- Cobalt is tough, durable and very affordable
- It's reasonably pliable so can be reshaped or resized if needed
- Cobalt can look very masculine and on-trend
- Cobalt looks and feels like white gold without the gold price
Cons
- Not as tough against scratches or dents as Tungsten
- Can be resized to half or full size larger in some cases but no down-sizing at all
Cobalt is a trendy material and works very well with a multitude of inlays, depending on the style you're after. A cobalt base with a yellow, rose or white gold inlay can blend modern and classic into one stylish ring. We especially like the baguette diamond cut milgrain wedding ring. For a more modern look, you can go for a cobalt base with a carbon fibre inlay. MADANI Rings is known for the black looks and options that we provide. For example, you can pair a Cobalt inlay with a black gold base with black diamonds for a real bad ass looking two-tone ring. Please see the Men's Black Diamonds Wide Wedding Band in Cobalt and White/Black Gold as this is one of our more popular 11mm rings.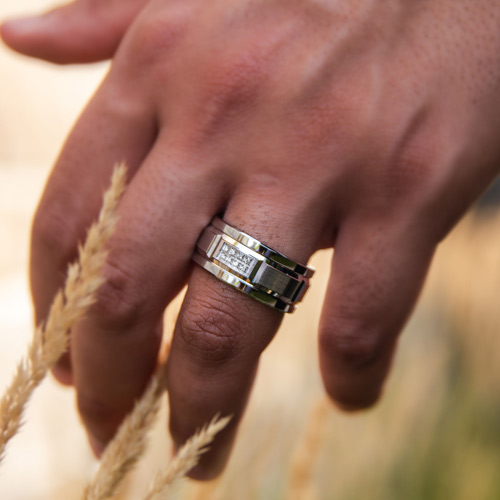 Going with cobalt will ensure you a ring that won't break like Ceramic or Tungsten may. Since it is a softer metal, it will take the hits just like a gold ring would and leave dents or scratches as a result. Cobalt should last a lifetime and is a great metal choice for a wedding band.
Black Ceramic
Pros
- Black ceramic is exceedingly tough and has a high scratch resistance
- It's very modern and sophisticated looking and can make a real statement
- A black ceramic ring base won't fade over time
- Black ceramic is very affordable
- Easy to pair with inlays
Cons
- Although highly scratch resistant, black ceramic can be brittle. If there is a strong sudden impact, you may be at risk of cracking or breaking your ring. MADANI Rings always has our clients interests and will provide a favorable solution for our clients in any event of repair.
- Black ceramic cannot be resized, if it is a ring with a gold inlay there may be an opportunity to replace the base with a smaller or larger one but typically a new ring has to be made. We always provide our clients with solution options at minimal or no cost.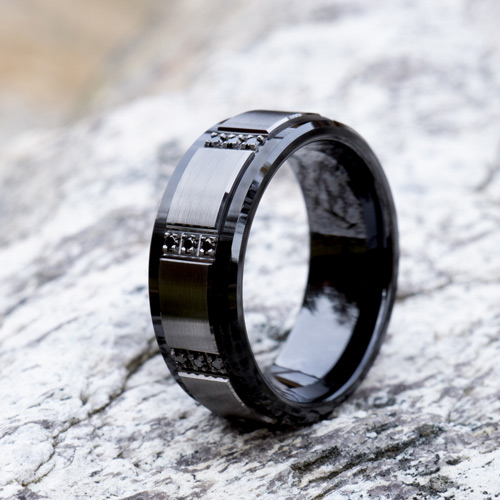 The beautiful, dark blackness of black ceramic means it contrasts beautifully with a mixture of inlay metals and materials. We are particularly fond of the koa wood inlay, which gives a truly trendy and modern look. Black ceramic also looks great when paired with black gold because you can experiment with textures, as is demonstrated by this monochrome criss cross carved wedding band. If you want a black and white look (perhaps to match your wedding day theme), black ceramic paired with white gold is exceptionally stylish and eye-catching.
Tungsten
Pros
- It's almost scratch proof so perfect if you use your hands a lot during the day
- Has a heavy weight to it that some clients find attractive
- The gun-metal color of tungsten and its sharp edges is sought after
Cons
- Tungsten can be brittle
- Tungsten as a base metal is heavier than some other lighter options
- Tungsten cannot be resized, if it is a ring with a gold inlay there may be an opportunity to replace the base with a smaller or larger one but typically a new ring has to be made. We always provide our clients with solution options at minimal or no cost.
- It's a fantastic conductor of electricity - which isn't great if you work with electronics a lot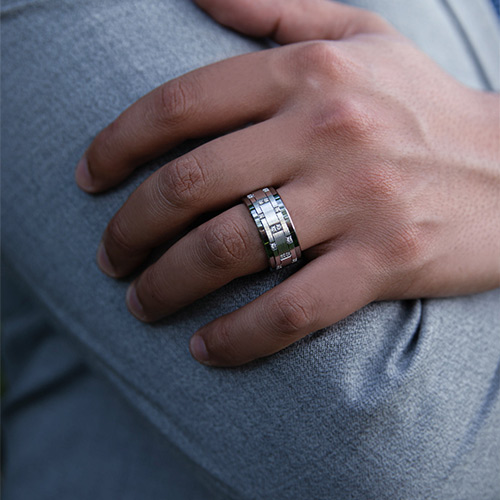 Tungsten is a beautiful material and wonderfully versatile. When choosing a white gold inlay, Tungsten pairs best with it as a base metal since the Tungsten has a gun-metal darker look which contrasts with the white gold. You can see the Men's Diamond-Cut V Wedding Ring in Tungsten and White Gold for example, the white gold and the Tungsten compliment each other perfectly as they are a different contrast/color of silver. Tungsten can also look elegant next to koa wood, as is demonstrated by the dome koa wood tungsten wedding band.
MADANI Rings Can Help
If you're not quite sure which base metal or inlay to choose, we can certainly help. MADANI Rings allows you to customize your wedding band choice to suit your preferences and, subject to availability, your metal choices too. When browsing the website, simply click on a ring that you like the look of, and then notice the panel on the left hand side of the page. Here you will be able to play with different available base metals and inlay materials, giving you many different options. You'll also see a visual of the differing colors available in that same style. For example, when viewing this men's hammer wedding ring, you can see that it is available in several colors.
Need a hand? We are here to help. Get in touch with us today for expert advice on matching inlays with base metals.