Buying a wedding band is a momentous occasion in anyone's life. This is the ring that you will wear to symbolize your love for your partner for the rest of your life. Choosing a style that you love might be top of your priorities, but getting the size right is just as important. A ring that's too tight could cause discomfort and bulging, but one that's too loose will spin and could even fall off.
Here we'll look at how to make sure you choose the right ring size for your finger.
---
Wedding Band Size
Ring sizes correspond to the size of the base of your finger. At MADANI Rings, each size is given a number from four to 15, including half sizes. This means both men and women can find a ring that fits their finger exactly. A perfect fit means that your wedding band will look its best at all times.
As our rings are handmade in Canada by master craftsmen, we can offer complete flexibility in sizing. Unlike rings purchased off the shelf, you and your partner can choose the same ring, or ring style, with the reassurance that no matter how different your ring size might be, we can make matching rings to fit both of you.
Sizing Your Ring Finger
The MADANI Rings Difference
Unless you're local to us in Canada, you may be wondering how you can accurately order a ring that will fit your finger. At MADANI Rings, we ship worldwide and can send customers ring sizers to use at home. Ring size is based upon the circumference of your finger in millimetres. Some companies will recommend that you measure the circumference at home in order to work out your ring size. However, this can be a tricky process and is prone to errors. Ring sizers are a set of metal rings that are tried on purely for size. They are extremely useful for accurately ascertaining your ring size. The difference between a 10 and a 10.5 ring might be almost impossible to see, but can make a huge difference to how the ring feels on your finger. To use the ring sizer, make sure you only measure the ring finger in question! Although this sounds obvious, the corresponding finger on the other hand may be a slightly different size. Start with a larger ring and work your way down the sizers until you find a ring that fits comfortably. The right size ring should move over the knuckle without too much effort.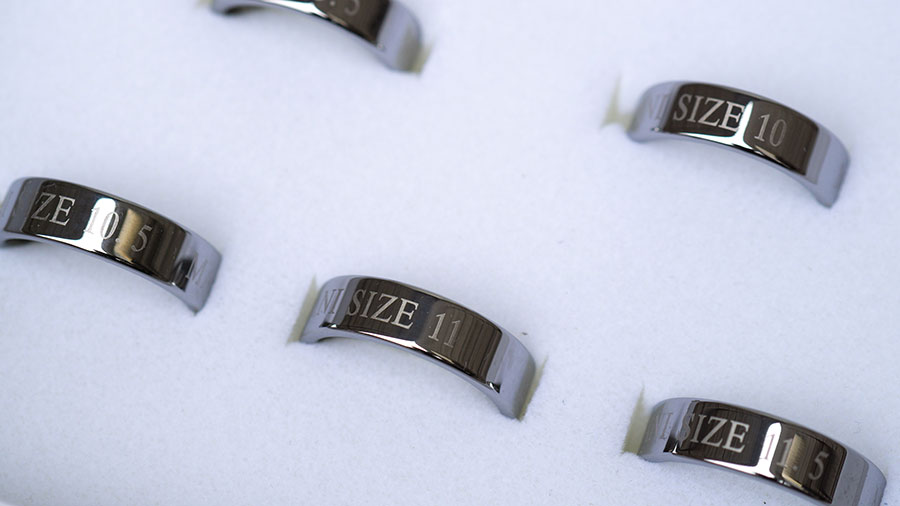 Time of Day or Tempurature
The best time of day to measure your ring size is in the evening. This is when your fingers are at their largest size. It is also a good idea to make sure that your hands are warm when you use the ring sizers, as your fingers could be half a size smaller when they are cold. Having said this, the most guaranteed way of confirming your size is to wear our sample sizer rings for an entire day until you are 100% certain that the size is right! Keep in mind it is actually better to have a smaller ring rather than a loose one as it is easier for us to make larger if necessary. Also, a larger ring that is loose may come off your ringer and you may lose the ring.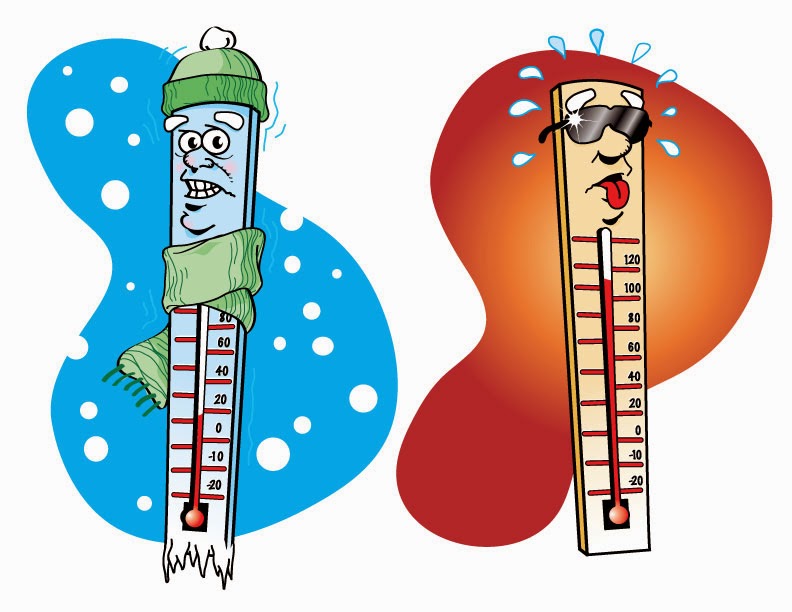 Visit a Jewelry Store
If you want to get some help from a local jewelry store for sizing that will work great as well. When getting your ring finger sized, make sure the jeweler is using a sample sizer ring that is at least 7mm wide especially if you are purchasing a ring that is 9mm or 11mm for example. The width does make a difference in sizing. If you are going to purchase a thinner ring like 4-6mm then the jeweler is fine to use a thinner sizer ring to size your finger.
if you have an existing ring, a jeweler can check the size properly using a ring mandrel as you see below. For example, this picture is showing that the ring is exactly 9.5 in size.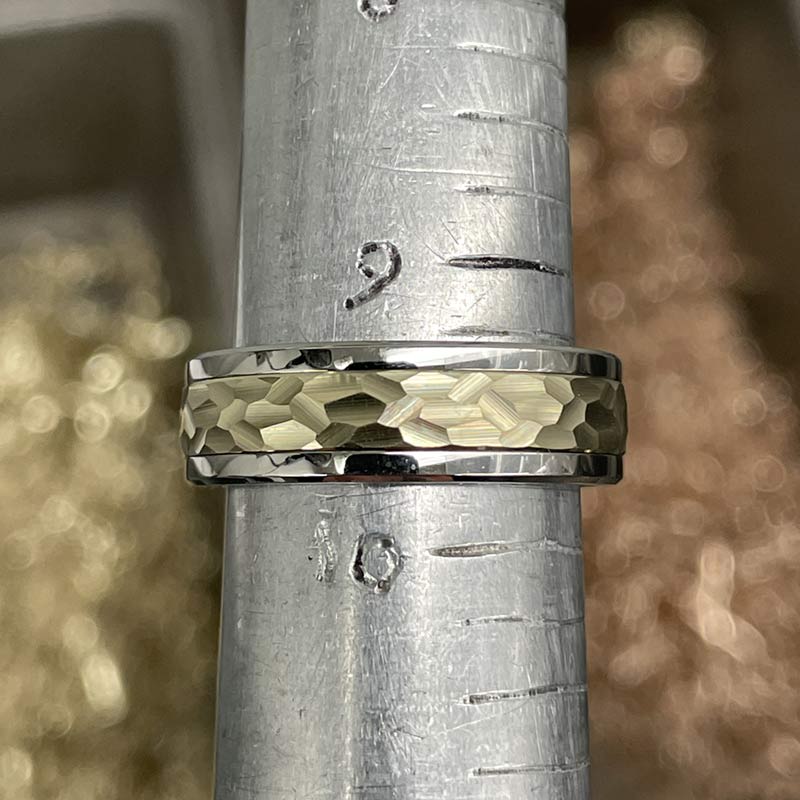 Online Tools Can Help!
Have an existing ring and want to find out what size it is?
- You can download the MADANI Rings app for Apple devices and choose the SIZE IT feature. This feature will provide you the capability to size your existing ring right on your mobile device
- You can download this MADANI Rings Size Conversion Tool PDF and print in actual size to check which size your current ring is.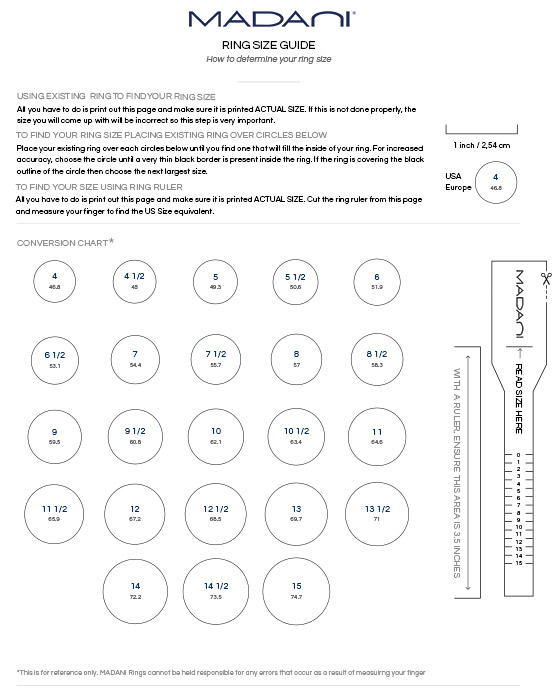 Have no idea what your size is and need a starting point? You can get a rough size by doing the following:
1. Find a string that is not stretchable OR print ring ruler located underneath the chart below and skip to step 4
2. Wrap string around your ring finger comfortably and mark where the string meets
3. Cut string at your marked area
4. Measure string length in mm and find the corresponding US Ring Size with the help of the below ring size conversion chart:
Instead of the string you can also just click on the picture below which will open a new page and then print the picture of ring ruler and print in actual size.
You can then cut the ruler and measure your finger for the US size equivalent.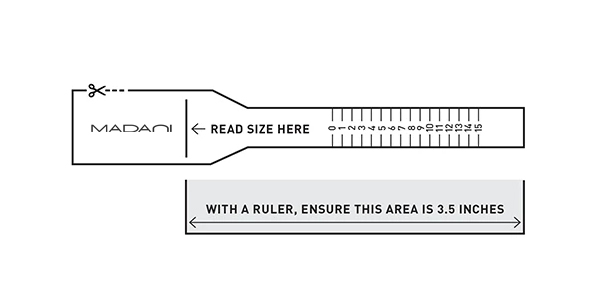 Resizing Your Wedding Band
Your fingers may change shape over time for a number of reasons. Weight loss or gain may lead to your fingers becoming either more slender or wider, and fingers often swell during pregnancy. As we age, it is normal for your fingers to become bigger, and this can be especially true at the knuckles.
Every so often it is a good idea to check that you can still get your ring off. If it is starting to become tight, it is worth considering having your wedding band resized to make it both more comfortable and to ensure you can remove it. Although you may rarely take your ring off, there may be times when it is required, such as playing sports or if you undergo medical treatment. Having your ring resized also prevents it from becoming painfully tight in the future.
How Are Rings Resized?
If you've decided your ring needs a resizing, you should first contact a specialist to resize it for you. It's never a good idea to try and do it yourself or cut corners when it comes to your wedding ring. To make the ring smaller, a small piece will be taken out of the band and the band will be fused back together to form a perfect circle. The amount removed depends on your requirements, but it's not usually much.
Enlarging a ring by cutting gold or other material inside to make it larger is the safest bet. No design elements on the face of the ring will be touched, maybe the profile of the ring will get thinner due to some material being cut from inside but the size will be larger as requested. Sizing down is never great because to size down we would have to squeeze the ring down and this would cause all sorts of damage to the face/design side of the ring. Although these can be refinished, sometimes it doesn't work out.
When Resizing Is Difficult
Making a ring larger is a little bit more complicated, especially if it has lots of patterns or stones. Enlarging a ring via stretching can only be done up to half a size larger in some cases. If you require larger size difference than that, a small piece of metal will need to be added in but at MADANI Rings, we never use this method as we don't believe it to be a viable option for our clients. Again, this can be more complicated depending on how much detail the ring already has. If your ring has been engraved or has intricate stone placements, it can be challenging, but not impossible, to resize your ring. The material you choose for your wedding band can also impact the realistic prospects of adjusting it. For example, a wedding band made out of tungsten or black ceramic cannot be resized. However, if your wedding band is made out of gold or platinum, it can be resized with a bit more ease.
This is something to consider before choosing a ring. If your fingers are prone to swelling or your weight fluctuates, you have two options. You can either buy a wedding band made from a material that is easy to alter. Or you can buy a wedding band in a tougher material, but buy more than one size (so you essentially have 2 or 3 rings to choose from at any one time). Economically speaking, the former is probably more convenient. But it is entirely up to you.
Rings We Offer That Can Be Easier to Re-Size
Classic Half Round Polish Wedding Band
Classic Half Round Hammer Wedding Band
Men's Dome Duo Milgrain Edges Diamond Wedding Ring
Men's Eternity Diamond Wedding Band
Men's Hammer Polished Edges Cobalt Wedding Band
A wedding band will be with you for life, so it is vital that you are comfortable when wearing it. Failure to wear the right ring size can result in pain, swelling, or a lost ring from where it slips off. The last thing you want to do is emerge from the ocean on your honeymoon with your new wedding band lost forever. So, first and foremost, your wedding band must fit on your wedding day and everyday thereafter.
Our bodies do change over time, and it's not uncommon to need to adjust jewelry to fit properly. If you think your wedding band needs resizing, or want to discuss wedding bands that can be resized in the future, you can talk to us. Contact us to learn more about our resizing service, as well as the many different rings and metals we can offer..
The MADANI Rings Difference
At MADANI Rings, we pride ourselves on our customer service. We offer phone, email and video assistance to our customers to ensure that the wedding or engagement band they choose is one they'll adore forever.
For help or advice on sizing your ring finger or checking your wedding band size, contact us today.