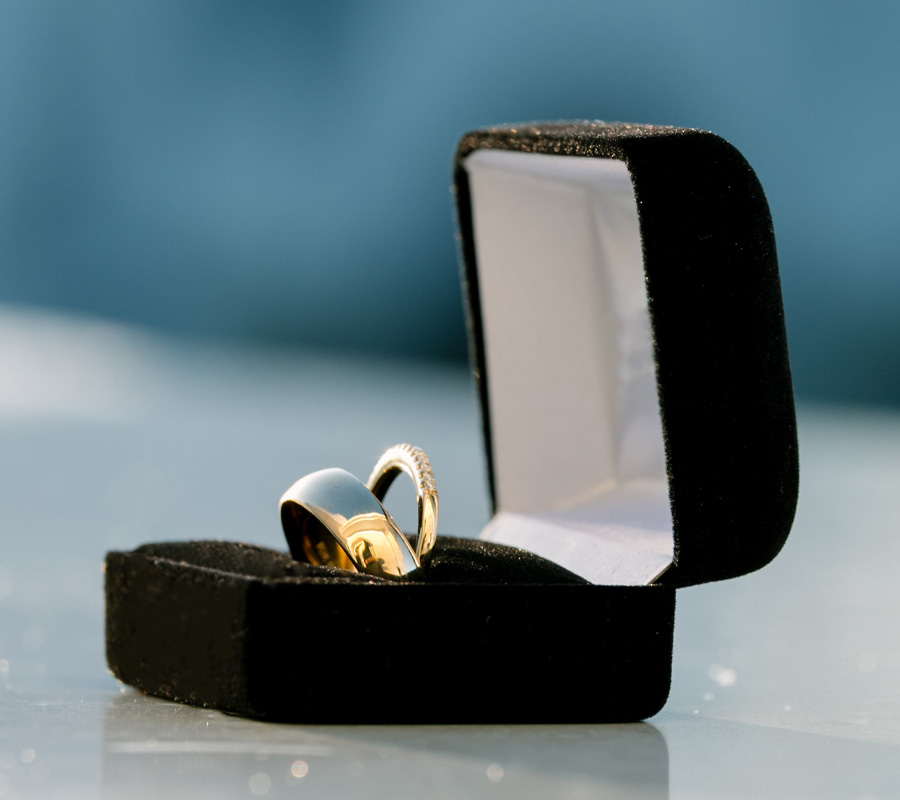 Wedding rings come in many different styles, with modern alternative metals inspiring the newly-engaged more than ever before. However, many people are still interested in purchasing classic wedding rings. In fact, 2020 saw a surge of purchases for simple, minimalist wedding bands, proving that while some trends come and go, the classic is here to stay. Traditional wedding rings are timeless, charming and easy to customize. In this article you'll discover more about the different metals that make up a classic wedding band, as well as customization options and many of the traditional wedding rings in our range.
---
What are Traditional Wedding Band Metals?
These days, it is common and normal to see traditional wedding rings made from gold, silver, and platinum. But traditional wedding rings didn't always come in this form. Ancient Greeks and Romans wore wedding rings made of leather, bone or ivory. Shortly after this, metal wedding rings began to emerge, primarily made from iron. Wealthier couples were able to get gold and silver bands but this was quite rare and only afforded to those of great privilege.
While there are no formal rules about how a couple should choose to wear their wedding band, the most common trend is to wear them like the Egyptians did - on the fourth finger of the left hand. This finger was chosen by the Egyptians because it was thought the vein in this finger was a direct link to the heart - dubbed 'the vein of love'. Interestingly, it was also the Egyptians who popularised the circle as a symbol of never ending love. But times have now moved on, and couples are free to play around with new themes and ideas, creating a wedding ring that's just right for them.
While many modern styles can be stunning, traditional wedding rings have a timelessness about them that cannot be mirrored in other modern styles.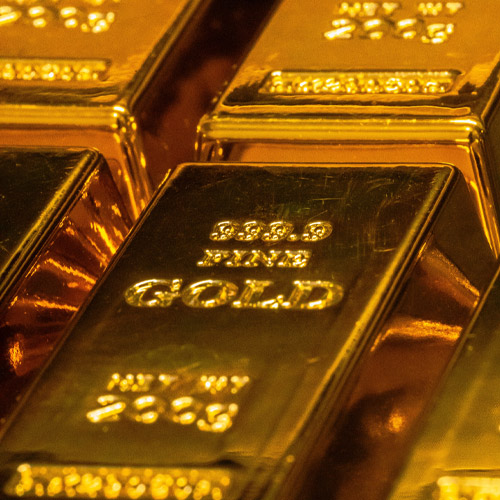 Gold
Gold is the most traditional of the ring metals. Gold in its purest form can be too soft for use in jewelry so it is often mixed with an alloy like copper. The purity of gold is measured in karats. Typically, 14 karat Yellow Gold is 58.5% fine gold, 29% copper and 12.5% fine silver. In 18 karat Yellow Gold, it is 75% fine gold, 15% copper and 10% fine silver. Gold rings can go up to 24 karats, but this is considered pure gold and isn't that practical due to its softness.
Yellow gold isn't the only gold option. Rose gold and white gold are also options for traditional wedding rings. White gold is the most popular type of gold ring sold, however yellow gold seems to be making quite a comeback after reaching its peak popularity in the 1990s.
Of all the golds you can choose, rose gold is probably the least traditional. However, it is incredibly beautiful, representing passion and refinement. It has a pinkish hue that gives it a sense of femininity, however it retains enough of its yellow color to be suitable for both men and women. Rose gold's popularity rose in 2015, and is now dubbed the 'millennial gold'. Why? Because rose gold is the prettiest color for photographs, making it insta-worthy and more appealing to millennials and Gen-Z. Fashion designers also became interested in this color as a 'pink for men' - less feminine than traditional pink, but still with a feminine touch.
Platinum
Another traditional metal for wedding rings is platinum. Platinum is a rare, naturally occurring chemical element mined primarily in South Africa (although can also be found in other countries such as Russia). It is derived from a mineral called cooperite, also called platinum sulfide. Platinum has a silvery-white appearance and can be very shiny and beautiful to look at. It looks very similar to white gold, and to the untrained eye you might not be able to tell the difference between the two. While white gold is a mix of yellow gold and other metals, then made more white using rhodium plating, platinum is naturally white in color so doesn't require any treatment.
Platinum is very durable - more so than gold - making it a great alternative to white gold if you're interested in longevity. Unfortunately, platinum can be slightly more expensive than gold due to its hardness and the effect it has on the tools used to design and machine it.
Plain Rings from MADANI Rings
Classic Half Round Polish Wedding Band in Dome Yellow Gold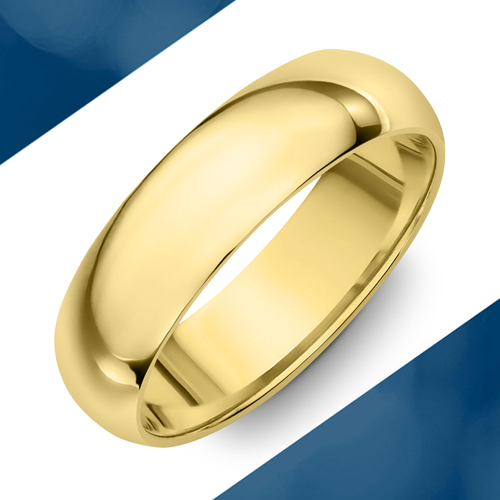 Classic Half Round Wide Polish Wedding Band in Dome Rose Gold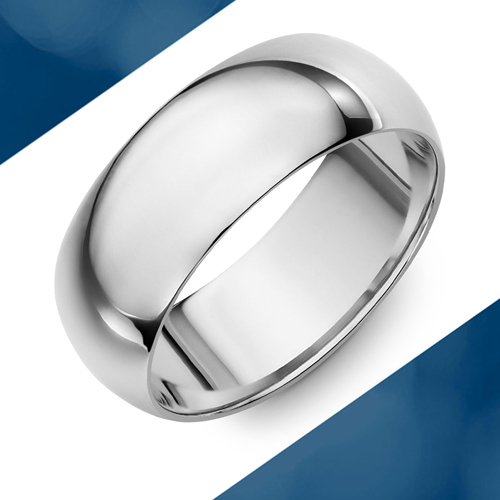 Classic Flat Polish Wedding Band in Flat White Gold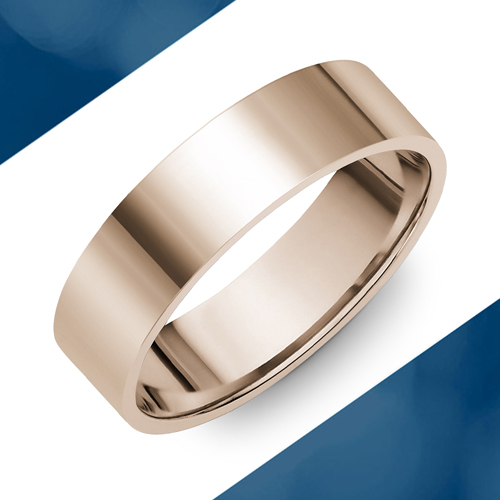 Classic Flat Thin Polish Milgrain Wedding Band in Flat Yellow Gold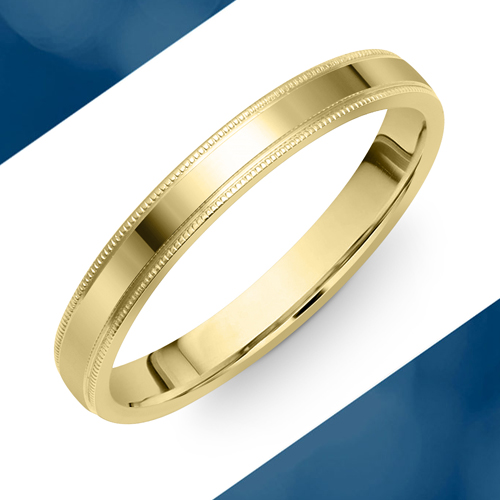 What Options Are There For Customization?
Plain wedding rings look gorgeous and timeless. But you can also customize plain wedding rings to make them more personal to you. Just because a ring is traditional doesn't mean it has to be boring or bland.
Ring customization goes all the way back to the 15th Century, when 'posie rings' became popular. This is where a short verse or poem could be engraved onto the ring. In the Medieval times, the wedding rings became more elaborate, showing two hands clasped together in love. Then came Gimmel rings in the 15th and 16th Century, which were made up of 2-3 intertwined bands to make an intricate looking ring. Here are some personalization options for plain traditional wedding rings.
Thickness / Width
You can enjoy multiple widths with plain classic wedding bands. For example, the Classic Flat Thin Polish Milgrain Wedding Band has a 2mm width, and can be customized on our website to have a thickness of just 1.5mm. Available in 10, 14 and 18 karats, this ring is simple, chic and dainty. You can also choose a much thicker and wider band, such as the Classic Flat Wide Polish Milgrain Wedding Band, which has a width of 8mm and a thickness of 1.8mm.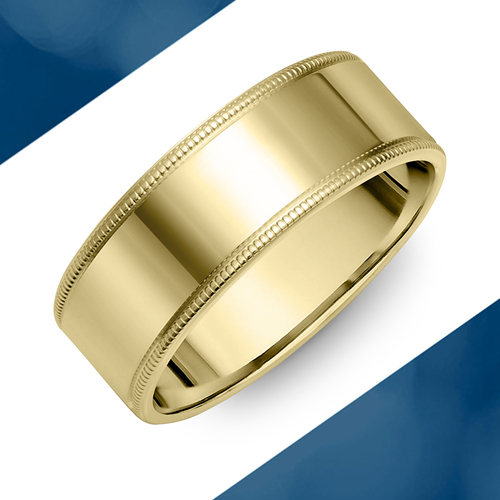 Texture
Your traditional wedding band can be entirely smooth, or have an interesting texture to give it some personality. For example, a hammer finish gives a bumpy wavy appearance on the surface of the ring, making it more distinctive. Another option is a square pattern design or milgrain edges.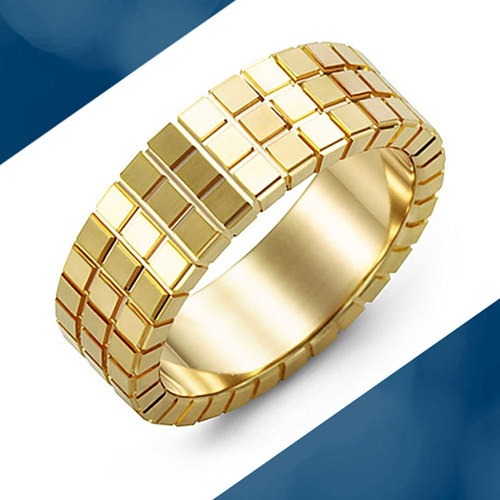 Inlays
Inlays look classy and add an interesting dimension to your classic wedding ring. You can choose to have an inlay in the same material as your base metal, which will make it look more traditional and uniform. Or you can choose a different material or color gold for your inlay.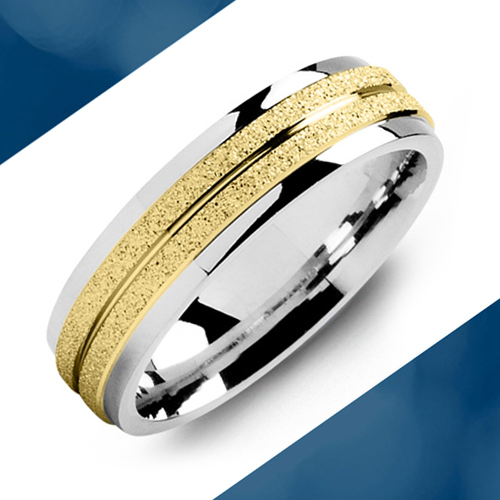 Diamond settings
A plain wedding band is a perfect blank canvas for customization. Adding diamonds to your wedding band can make it sparkle and shine even more. Diamonds are the epitome of wealth and class, so having one or more diamonds in your wedding band can complete the timeless look. You might choose to have multiple diamonds, or one singular diamond. Other gems can be added too, it entirely depends on your personal preferences.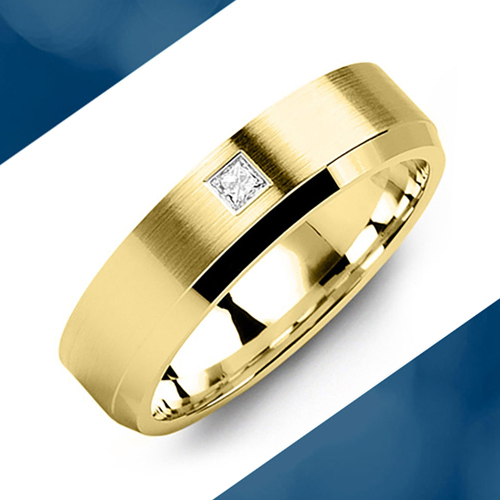 Engraving
Finally, it is easy to engrave a traditional gold wedding ring. Gold is a fantastic base metal if you want a unique message, word or symbol added to your ring. Choose to have your message on the underside or outside of your ring. You can use our website to select cursive or modern font and our expert jewelers will receive your request and get to work on your ring immediately.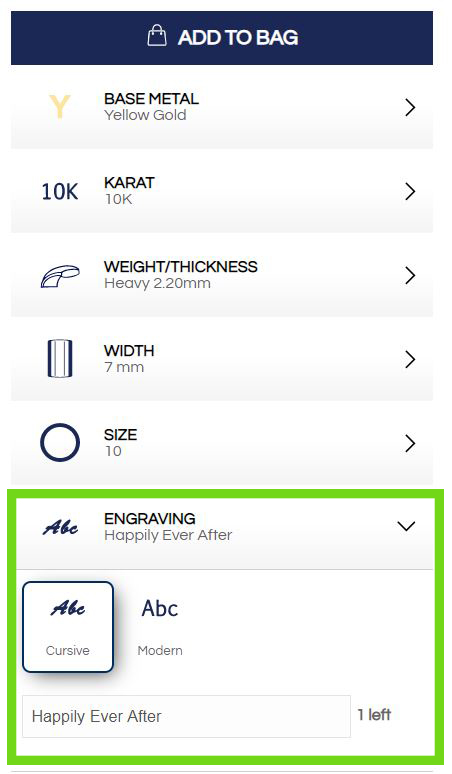 Find Out More
Traditional wedding rings are classic, classy and timeless. You can find many different classic wedding rings on our website, as well as customization tools to give your ring a little flare.