Traditional wedding bands tend to be made from gold, silver or platinum. But modernity has brought with it a wider array of choices for men shopping for wedding bands. Alternative metals such as cobalt, black ceramic, and tungsten are rapidly gaining popularity as trendy, edgy, and modern wedding ring choices. A cobalt wedding ring or cobalt diamond ring are now particularly popular choices, which we will now explore in more detail. Throughout this article, you will learn about the basics of Cobalt and the advantages and disadvantages of wearing this type of metal wedding band.
---
What is Cobalt?
Cobalt is a beautiful bluish transition metal, with its name originating from the German word "kobold" meaning goblin. An odd thing to name a metal after - we agree. But the history here is interesting. Centuries ago in the German mountains, metal miners were becoming sick or even dying from the fumes released when they tried to melt certain ores. They blamed these deaths on the evil goblins that they believed lived within the mountains. So, cobalt essentially refers to the German Goblin folklore followed by the miners from all those years ago.
This metal, even though it is named after something rather unpleasant, is highly valued in jewelry making and is a common choice for alternative metal rings. You can find cobalt wedding rings in different styles and colors as you can either mix with a yellow gold, rose gold, or white gold inlay to make for a nice two-tone look. For lovers of classic styles, cobalt is also very similar in color to white gold and diamonds, and you can enjoy the luxurious look of a cobalt diamond ring at only a fraction of the cost.
Fun fact. As well as being a gorgeous metal, cobalt is used in medicine. It can be found in the molecules of vitamin B12, which helps to make red blood cells and keeps your nervous system functioning. B12 is the only vitamin supplement to include a metal atom! Furthermore, some artificial hip and knee replacements are made from cobalt!
Popular Cobalt Rings From the MADANI Rings Collections
Ringleader Men's Eternity Diamond Wedding Band
Ringleader Men's Multi-faceted Wedding Band
Luna Lust Men's & Women's Brush Beveled Diamond Wedding Band
NU Men's Beveled Brush Cobalt Wedding Band
NU Men's Celtic Cross Pattern Cobalt Wedding Ring
Pros and Cons of Cobalt Rings
Looks and Feels like White Gold
In its natural form, cobalt appears as a silvery-blue metal. Cobalt-chrome, the alloy that is commonly used in making a cobalt wedding band, has a white color and is often compared to white gold or platinum. However, unlike white gold, cobalt-chrome does not require rhodium-plating to yield a gleaming appearance. If you are a sucker for gold and platinum but are unable to meet the price tag, consider going for a cobalt gold wedding band that offers a similar luxurious look and feel. Cobalt also compliments the appearance of diamonds, offering a luxury and sophisticated look.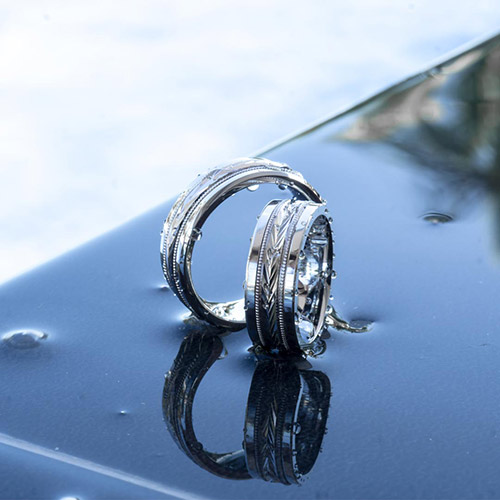 Malleability
Most alternative metal rings are very hard which reduces their malleability. However, combining cobalt with other metals such as chromium increases its malleability and makes it easy to work with. You can get more intricate designs when working with cobalt. If you are worried about breakage with our wedding band or want to be able to polish it throughout the years, you can go with Cobalt instead of Tungsten or Ceramic.
Durability
Cobalt is harder than the standard gold or silver ring. On its own, it cannot be used to make jewelry and is usually combined with other elements such as chromium to increase its durability. As a point of reference, the cobalt chrome alloy used to make cobalt rings is also used in the medical equipment industry due to its scratch and corrosion resistance. The hardness of cobalt means that not only is your ring highly scratch resistant, it will also not bend, chip, or break easily. Also, since rings made of cobalt chrome are not plated, the color will not fade with time. It is extremely difficult to break a cobalt ring, since the metal is softer, it does not break or crack, instead it will bend or dent but it is likely that you will never need a repair.
Affordability
Weddings can be expensive and you'll probably have a set budget for each element of your big day preparations. If you want to save on your wedding rings, cobalt is a good idea. Alternative metal rings have one thing in common; affordability. Most have a unique and luxurious look without denting your pocket. Because of cobalt's tone, it can easily be mistaken for a white gold ring, yet won't cost you as much. When shopping on a budget, cobalt gold wedding bands come in handy as they can be polished to yield a sleek and modern look with very little maintenance.
Easy Maintenance
If you're busy, you need a ring that requires little to no maintenance. Cobalt is unique in that it will retain its appearance even after long periods of wear. Gold, on the other hand, requires polishing and more looking after. So, for a no-fuss alternative to gold, seek out a cobalt wedding band instead.
Able to Resize
With Cobalt, since it is a softer metal, it is possible to machine the inside of the ring to make it larger if you ever need this in the future. Making a cobalt wedding band a smaller size however will typically not work as damage will be done to the design of the ring. Fingers do tend to change over time. In case your finger size changes, you may have to replace your ring if we cannot size it without impacting the overall design of the ring. Fortunately, MADANI Rings stands behind their products and always has your back with sizing and any repairs.
Softer than Some Alternative Metals
While a cobalt wedding band is relatively scratch resistant, it is still softer than some other metals like black ceramic and tungsten. Therefore, if you are particularly active or prone to dropping things, you might end up with a damaged ring. Saying that, cobalt does still have good scratch resistance and it would need a hefty blow to dent or scratch.
Fun Fact: Cobalt was once added to beer! It sounds like a bad idea, and it turns out, it was. In the 1960s, it was discovered by breweries that, when added to beer, cobalt helped improve the frothy foam on the head of the beer. Unfortunately, some of the thirstier residents spanning several countries began to experience heart failure. This heart failure ended up being labelled 'cobalt-beer cardiomyopathy'. Fortunately, there is no cobalt in your beer today.
We Can Help!
So there you have it, a comprehensive overview of cobalt, its history, uses and advantages.
If you are in search of alternative metal rings or would like to browse our cobalt range, contact MADANI Rings today. We offer a wide selection of exquisite men's wedding rings made from a large range of materials. Whether you're after a cobalt diamond ring, cobalt wedding band or want to search for other alternatives, we have the solution for you.