The gold wedding band is the classic choice when searching for the perfect wedding ring. Yellow gold is considered to be a timeless metal that is loved for being more durable than silver and instantly recognisable compared to other metals. But what is a gold ring? What are the reasons for its popularity?
---
What is Gold?
Gold is a chemical element made popular for many of its properties. It is found in igneous rocks and is often harvested when other metals such as copper and lead are being refined. Yellow gold has a distinctive colour and brightness, and is virtually indestructible. This is especially important if you undertake a lot of manual tasks at work or home. Woodwork or metal work could lead to damage to other, less robust, metals, but gold can take care of itself.
Gold has a long history of being appreciated by mankind. It has been given a high monetary value because of its pleasing appearance and the fact that it doesn't tarnish. The Ancient Egyptians even used it to create the masks of their kings and rulers.
Gold is malleable, meaning it can be transformed into intricate patterns and shapes by master jewellers. This allows you to find exactly the right ring size and shape, as well as a design that is as simple or ornate as you desire.
Fun Fact: The coffin found in Tutankhamen's Tomb contained about 1.5 tons of gold.
Yellow, White and Rose Gold Wedding Bands
Gold is a versatile metal. Although it is most commonly recognised in its yellow form, white and rose gold can be chosen by those looking for a different coloured gold diamond ring or wedding band.
Rather than the classic yellow appearance, white gold has a lustrous white, or silver, appearance. However, it is shinier than silver and can appear similar to a platinum ring.
White gold is often considered a more modern choice when compared to yellow gold. Surprisingly, it actually became popular early in the 20th century and was soon seen as an alternative to platinum.
The colour of white gold comes from mixing small quantities of other metals with the gold. Adding silver or nickel will create white gold, whereas adding more copper will produce the pink, dusky colour of rose gold. Despite adding other metals, white and rose gold jewellery can contain the same amount of gold as a yellow gold ring.
Rhodium plating is used to make the white gold appear even whiter with a blue tint as this is most desired. Over the years the white gold can start to have a duller color appearance and start to look more on the yellow side as the rhodium plating wears off. Clients find that this adds character and story to your wedding band. At any point in the future, MADANI Rings provides free plating and polishing to refinish your ring and provide a fresh look.
Fun Fact: The word 'gold' comes from the old english word 'gyldan', which came from the germanic word 'gulpa'. Over time, the word 'gulpa' turned into a more modern word 'geolu', which means Yellow.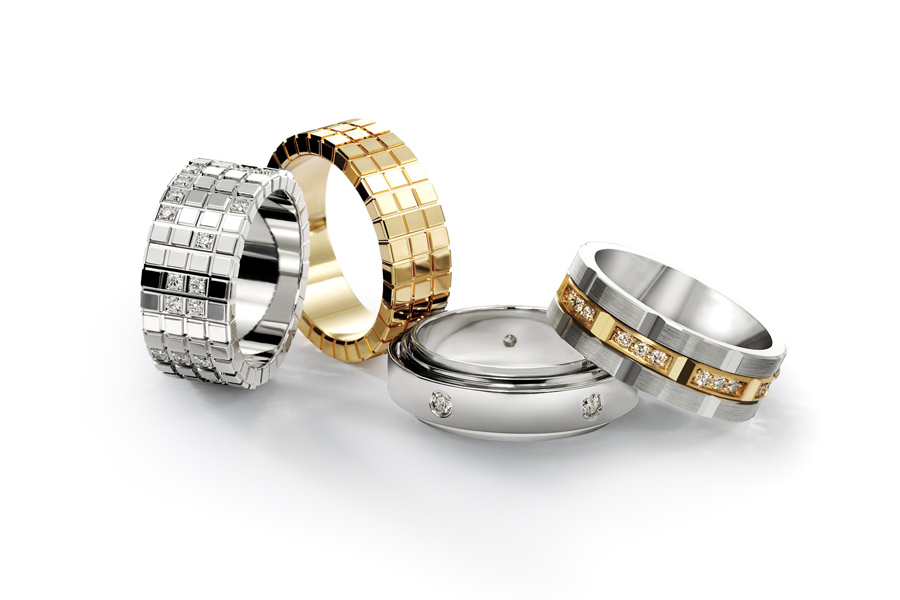 Gold Rings Offered by MADANI Rings
Classic Half Round Wide Polish Wedding Band in Rose, White or Yellow Gold
Classic Flat Wide Hammer Wedding Band in Rose, White or Yellow Gold
Men's Flat Brushed Polished Edges Wedding Band in Rose, White, or Yellow Gold
Men's Classic V Pattern Milgrain Wedding Band in Yellow/White Gold Two Tone
Men's Wide Accents Beveled Diamond Wedding Band in White, Yellow, or Rose Gold
Pros and Cons of using Gold for a Wedding Ring
More on the Expensive Side
Gold wedding bands can be found in the mid to high price range, although adding other elements like diamonds will certainly ramp up the price even further. In recent times at the writing of this article in early 2021, gold prices have been on the upwards trend and rings that are made of all solid gold have risen by at least 30% in price over the past 2-3 years. The good news is, there is such a diverse range of gold wedding bands out there that you're bound to find one within your personal budget. With MADANI Rings, you have the options of customizing the karat and the weight of the gold ring so that you can fit within your budget.

Easier to Resize
Our bodies change over the years. If you gain or lose weight or move to another climate, you might find the size and shape of your finger changes a bit. If your finger becomes smaller, you could easily lose your ring. If it swells, your ring can become stuck. Gold is an easier metal to resize, a gold smith can either cut gold from inside the band to make it larger or squeeze it down to make it smaller. If there are diamonds or intricate facets and design elements, sizing down becomes harder and a new ring may need to be manufactured.
Prone to Scratches but Able to Refinish
While gold is tough, it is very soft when compared to some other materials such as cobalt, tungsten, or black ceramic. Therefore, if you do have a job that requires you to work with your hands, or if you have a very active lifestyle, you might find your gold ring can become damaged over time. It is therefore very important you take care of your ring and remove it if necessary ahead of any challenging tasks. Having said all this, since gold is such a forgiving metal, a goldsmith can polish and refinish with ease. If for example there are scratches or dents, a goldsmith can either polish or re-machine the area that has been damaged. The only disadvantage is that you will lose some of the gold from your ring as the material will be shaved off.
Allergies
Some people are allergic to gold, which can cause big problems if wearing a piece of gold every day for a lifetime! Some people don't know they have this allergy until it's too late. So, ahead of your wedding, practise wearing gold and make sure you don't have a reaction.
Caring For a Gold Ring
Caring for a gold ring is relatively easy. You can soak the ring in soapy water for anywhere between a few minutes to several hours depending on the level of cleaning required. Rub it very gently with a cloth to remove grime but don't use anything too harsh or it can scratch the ring. You can use a gentle jewelry polisher on it too, for that extra special shine.
Inspect your ring every few months for any sign of damage. It is better to get a ring repaired at the early signs of damage rather than wait until it deteriorates. Finally, when not wearing the ring, store it in a proper jewelry box or a satin bag.
If you have a local jeweler you can always send in for a quick ultrasonic and steam cleaning. If the design is a shiny one, you can also have your jeweler polish the ring before steam cleaning and plating.
Which Gold to Choose?
The color of the gold you choose is a personal choice. You may already own gold jewellery including necklaces or bracelets, and choosing a gold wedding band to match might be important.
If you don't need to consider existing pieces of jewellery, it's still likely that you already have a preference between a yellow, white or rose gold wedding band. It is worth keeping an open mind, as a ring that looks nice in the box may not suit your skin tone or the shape of your finger. You may find that you are surprised by how you feel about a ring once you are wearing it.
If you have purchased an engagement ring, you will want to make sure that your wedding band either matches it, or contrasts it. It is becoming more popular to have a white gold engagement ring, and a rose gold wedding band, for example. If you are worried about the rings not looking like a 'matching set', you can connect them by ensuring they both incorporate the same stones, such as diamonds or sapphires.
Although rose gold might seem like a feminine choice, men's wedding rings can look stunning in this hue, too. Inlaying black ceramic, including that offered in our Inside Out range can make the gold stand out for greater impact. The rose gold can also be inlayed with diamonds in both a men's and women's size if you are keen to have 'His and Hers Rings' in rose gold.
Luxurious Rings
As one of the most significant jewellery purchases of your life, you want to be sure you will love your gold wedding band forever. At MADANI Rings, we select only the finest materials and master craftsmanship to ensure your personal style is catered for. This way, you can be sure to choose a ring that reflects your love for your partner, and will last a lifetime.
Shop with us today.