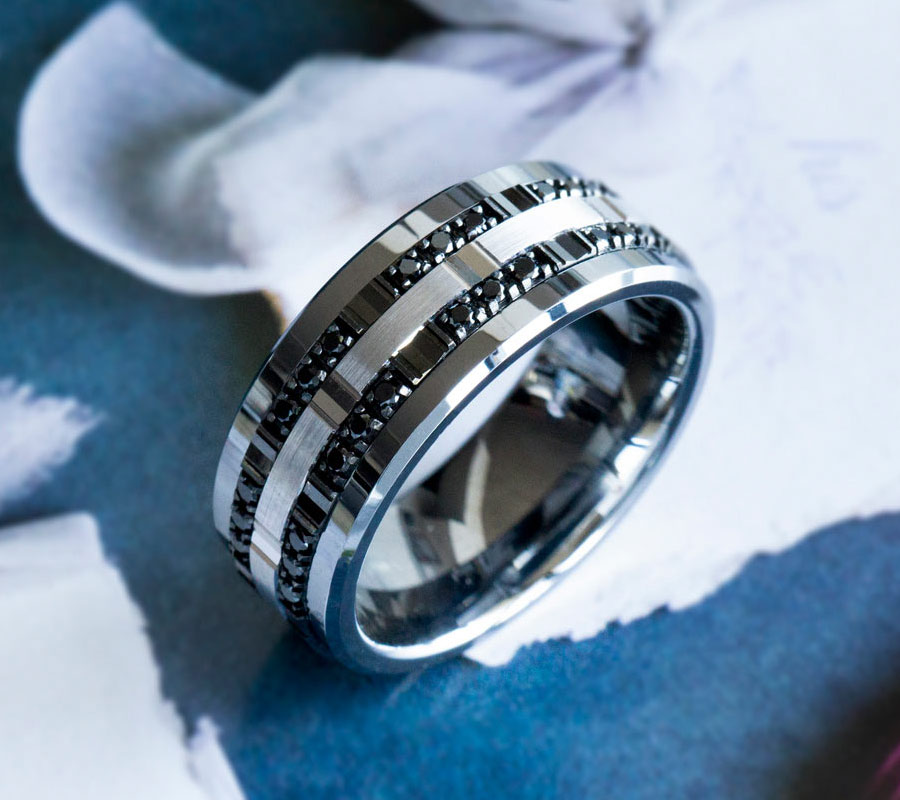 Wedding bands can vary from simple plain bands to diamond encrusted, precious metal creations. Your lifestyle, occupation, budget and personal taste can all influence the type of wedding band you seek. At Madani, we have a comprehensive range of rings, from minimal rings to flashy wedding bands with an extra bit of bling! If you think that flashy rings are only for women, it's time to look again! Male celebrities are embracing both engagement and wedding rings, with Michael Bublé and Johnny Depp both flashing their bling.
---
Before Buying a Wedding Ring
One thing to remember before choosing a ring is that it is going to be with you forever. Therefore, the style you choose should remain timeless to you. If you go with something that is trendy now, remember it may not be trendy in 20 years time. Opting for something that reflects your inner character will be a safer bet than going with what's popular, as this way, your ring will still reflect your personality long into the future.
Another thing to consider is your job and daily activities. If you work as, let's say, a nurse or a mechanic, a blingy, diamond encrusted wedding ring could be prone to chipping or getting lost. Think carefully about whether a plain design might be better suited to you given your daily activity levels. If you have any confusion over this, you can get in touch with us for some advice.
Finally, consider your budget. Plain, minimalist rings (such as a plain black ceramic ring) might be better suited to couples with tighter budget restrictions, yet can still look incredibly beautiful. If money isn't an issue, you might like to expand your horizons and consider a more flamboyant style.
Here we will look at some of our ring collections, including minimal, plain, bling and flashy wedding bands to suit all tastes and budgets.
Minimal Wedding Bands
A minimal wedding band refers to a simple, understated design. It can, however, still have gorgeous design details, offering you a piece of jewelry that is timeless in its simplicity. Here are some ideas.
Plain Satin Finish
The Plain Satin Finish Wedding Band is a classic two-tone choice that can be handcrafted to your taste. This wedding band stands out with its contrasting central ring, or inlay, which is available in a choice of white, yellow or rose gold, or silver metal. To personalize this ring further, you can choose from a range of base metals including white gold, black ceramic, cobalt or tungsten.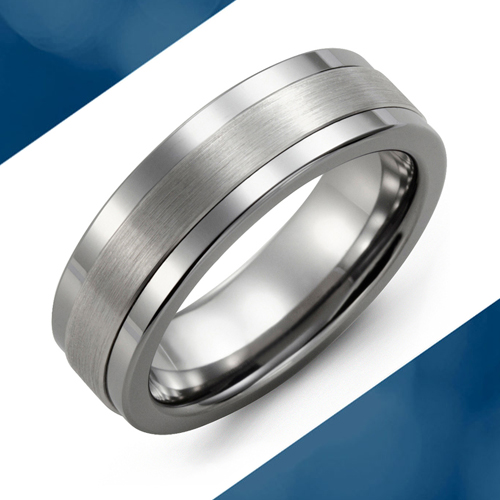 Satin Finish Grooved Wedding Band
The Satin Finish Grooved Wedding Band is a modern choice for both brides and grooms. It has a luxurious satin finish and intricate groove details. This minimal wedding band is available in tungsten, ceramic or cobalt, with the gold color inlay of your choice.
If neither of these seem quite right but a minimal wedding band is what you desire, you could add a little extra character with the Men's Brushed Center Beveled Edges Wedding Ring.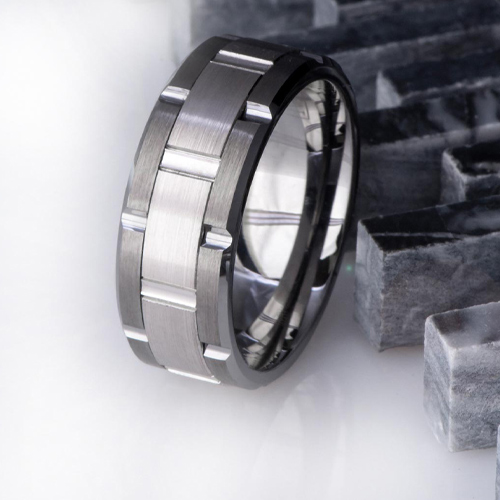 Plain Wedding Bands
Plain wedding bands remain impactful purely because of their traditional style. But plain doesn't need to mean boring! A plain wedding band can still have plenty of character. You might like to choose a band with a slightly unusual shape, or a non-traditional color.
Half Round Band
The Classic Half Round Polish Wedding Band is an all-time classic. Available in widths of 5mm to 7mm, it can be purchased in rose, white or yellow gold, and even platinum. The inside of the band can be engraved for ultimate personalization. Because of its simplicity, the ring can be worn at all times, so you won't need to take it off at any point during the day. This could be appealing to those who work on manual tasks, as well as for surgeons or chefs.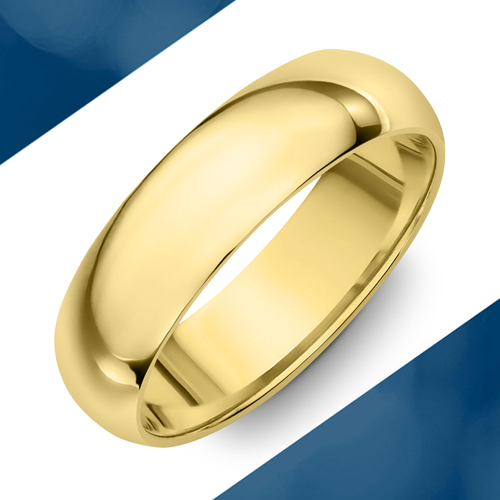 Half Round Band with Milgrain
The Classic Half Round Band Polish Milgrain Wedding Band takes the idea of a plain band and turns it on its head. This wedding band combines a wider ring width with a classic look. The edging offers a little more detail than the simplest of bands, but without stepping away from tradition. This ring is available in rose, white and yellow gold, or platinum.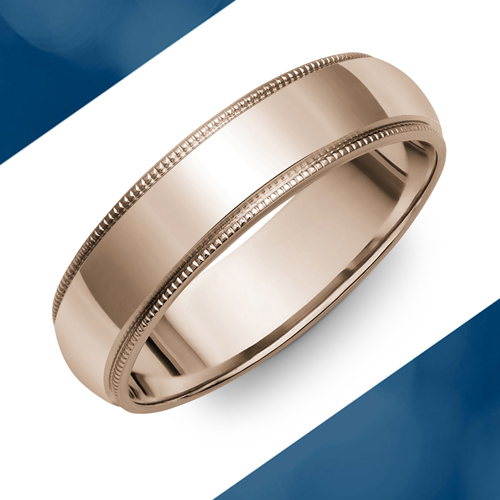 If you want to incorporate a more modern style, the Classic Flat Wide Polish Wedding Band comes in widths from 8mm to 11mm for a heavyweight, contemporary twist on the plain wedding band.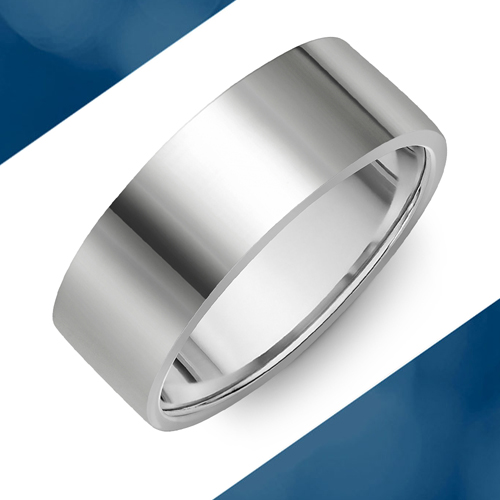 Bling Wedding Bands
No longer just for women, more men are turning towards the flamboyant or flashy wedding band that you'll fall a little more in love with every day. If you consider yourself to be a highly charismatic individual, a bling wedding band could be for you. Here are some ideas:
Three Row Eternity Band
The Men's Three Row Eternity Diamond Wedding Band shouts and shines loud and clear. Crafted from precious metals, and boasting 135 diamonds, this is a ring that is sure to dazzle and delight every day.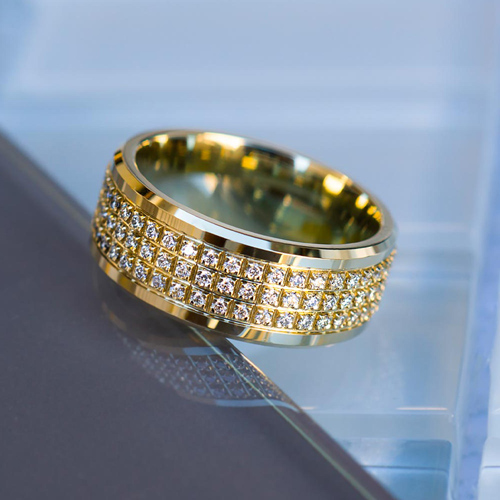 Eternity Diamond Wedding Ring
The Eternity Diamond Wedding Ring is available for both men and women. This may make it a great choice for couples who want matching wedding bands. It is available in a choice of metals and colors, but combining the black ceramic base metal with a rose gold inlay means the 15 (or even 45!) diamonds can truly sparkle. Other bling wedding rings that might suit your style include the Men's Eternity Black Diamond Wedding Band in black ceramic and black gold, or for a masterpiece in white gold and tungsten, the Men's Wide Grooved Diamond Wedding Ring.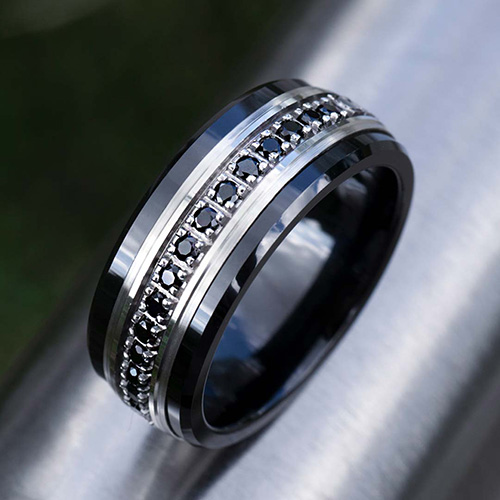 Flashy Wedding Bands
Flashy wedding bands offer even more design features than a bling band. In addition to stunning diamonds, you can expect grooves and light reflections from multiple facets. These rings have the wow factor for those who want their ring to steal the limelight.
Beveled Diamond Band
The Brush Beveled Diamond Wedding Band is yours to customize but looks particularly flashy when contrasting colors are chosen. Choose a white gold base, yellow gold inlay and 24 beautiful diamonds for a ring that will draw attention for all the right reasons. This ring can be custom made for both men and women.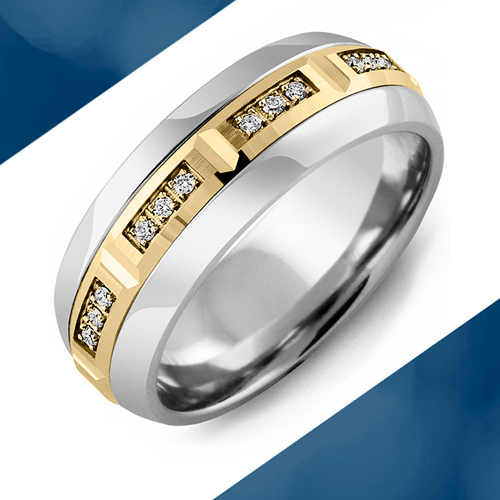 Black White Trio Diamond Band
The Men's Black White Trio Diamond Wedding Band is a bling ring at its finest. To give incredible sparkle, choose a tungsten base metal, white and black gold inlay metals, and up to 81 white and black diamonds. The monochrome design of this stunning ring will suit any outfit and all occasions.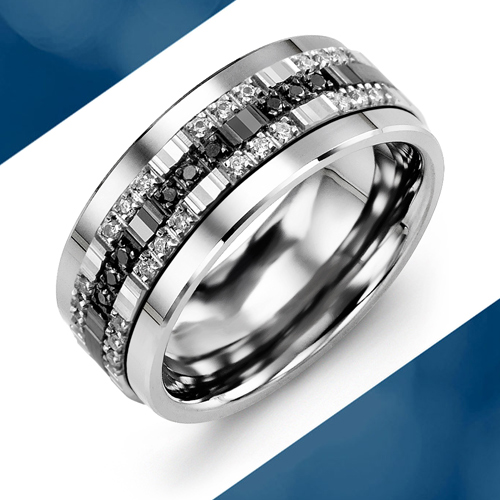 Other flashy rings that you might love include the Women's Dome Eternity Diamond Wedding Ring in white ceramic. For an alternative take on a flashy ring, the Men's Hammer Design Eternity Edges Wedding Ring proves that a master craftsman can make flashy precious metals look every bit as impactful as a gemstone.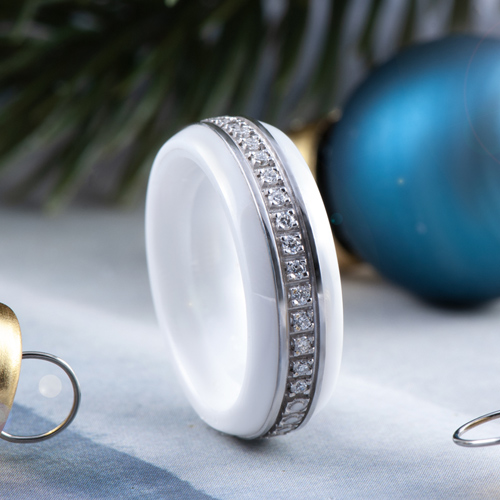 We Can Help Find that Perfect Ring!
At MADANIi Rings, we care deeply about getting you the best wedding band for your big day. If you are not yet sure on your wedding ring style, we want to help. We can give you tailored advice about the most suitable options for you.
Whichever style of wedding band you crave, to begin designing your minimal, plain, bling or flashy wedding band, contact us online today or call +1.888.621.3641 to speak to a Client Assistant.