Finding the perfect ring is one of the most important parts of planning your wedding. After all, you plan on wearing your wedding ring as a symbol of your love and commitment for a long, long time. It not only has to look good on your ring finger, but feel comfortable and suit your personal style, too.
Fortunately, there's a huge variety of wedding rings and bands on the market today, and rose gold is a popular metal well worth considering. Rose gold wedding rings are available in an extensive range of styles. Whether you prefer modern rose gold wedding bands or pieces with a classic touch, you'll be spoilt for choice.
But what is rose gold? And why is it a favorite for so many couples getting married today?
In this post, we'll explore everything you need to know about rose gold wedding bands and rings.
What is rose gold?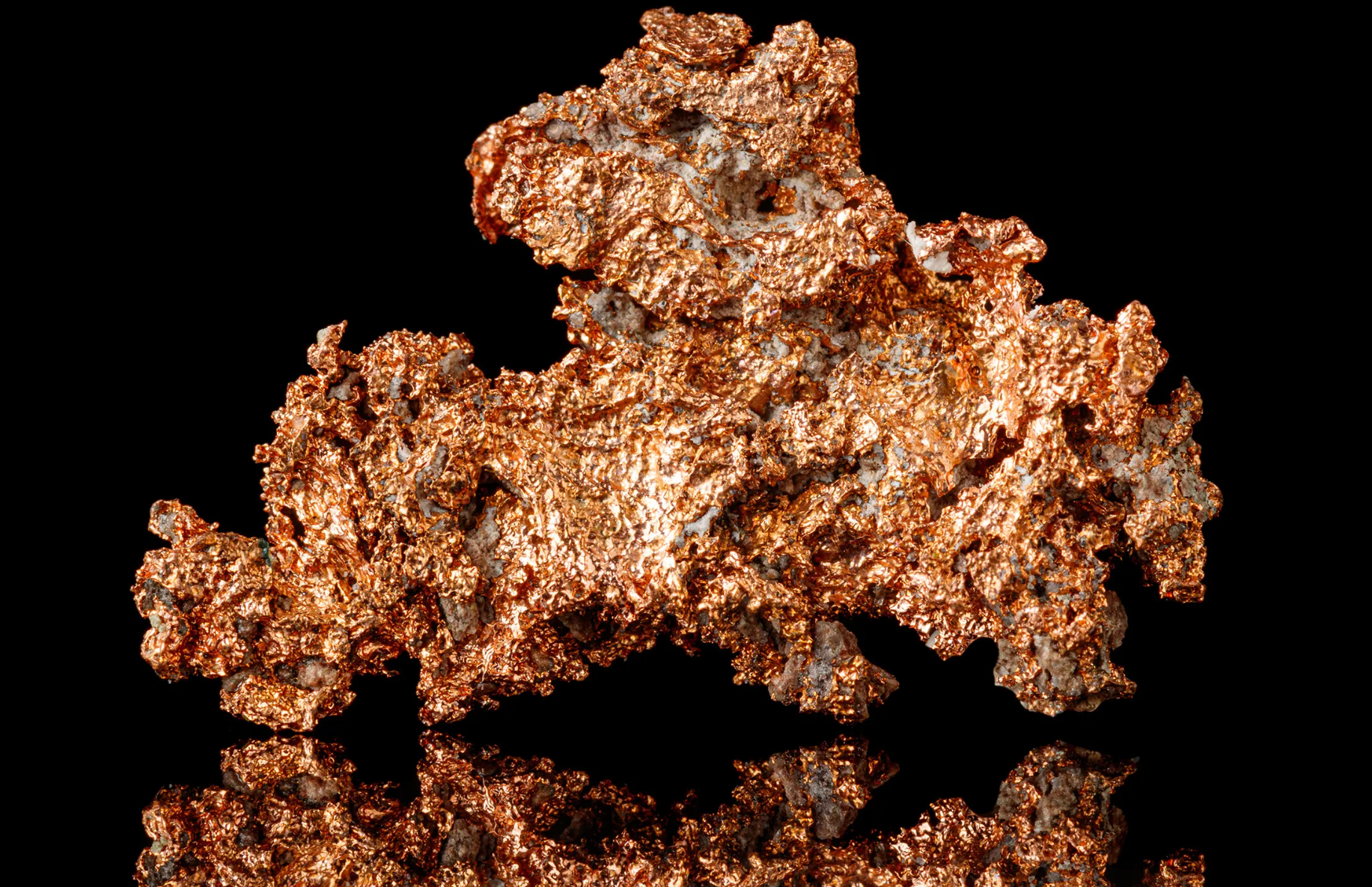 Rose gold first made an impact in the late 1800s, when jeweler Peter Carl Fabergé created his legendary Fabergé Eggs. Their beauty was renowned, and rose gold was even referred to as Russian gold for a time.
In 1924, rose gold featured in another iconic creation when Cartier produced the popular Trinity Ring. This spectacular piece combined three colors of gold: rose, yellow, and white.
Today, rose gold has become a popular choice for many couples preparing for their nuptials. It has a distinctive aesthetic that contrasts sharply with yellow gold, sterling silver, platinum, and other metals. Whether grooms and brides are looking for a stylish modern ring or something with a vintage air, rose gold is a fantastic option.
How is rose gold made?
Rose gold is an alloy, combining copper, pure gold, and silver. The rose coloring is due to the copper, and the amount used in the production process determines the color's strength. That's why you may see some rose gold jewelry that appears more pink or red than others.
The composition of rose gold is typically: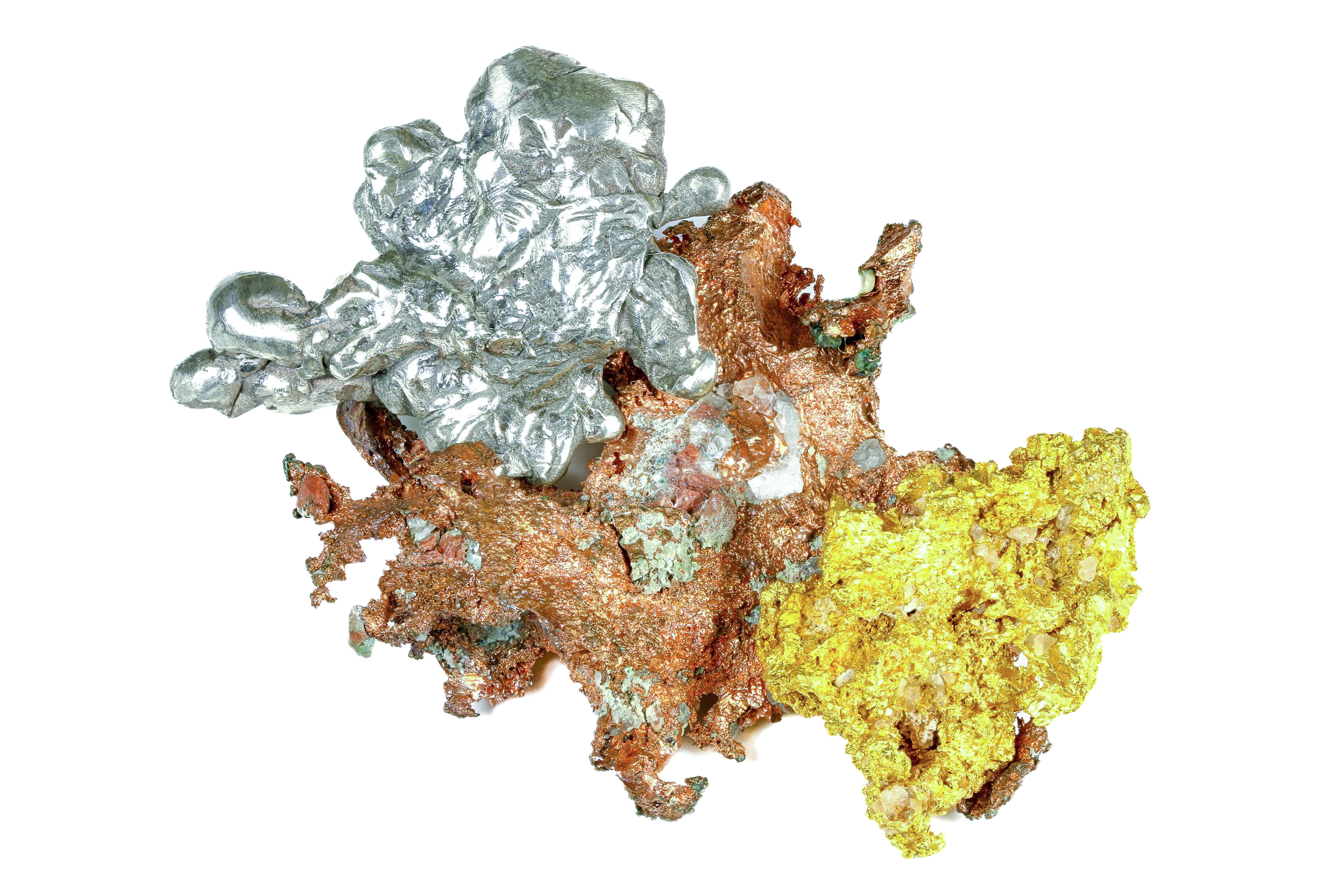 • 75% pure gold
• 20 - 22.50% copper
• 50 - 5% silver
Zinc and palladium may also be used to create rose gold in some cases.
People may assume that pink gold rings are the same as rose gold, but that's not the case. Pink gold rings have been crafted with a lower copper content than rose gold rings, so their color isn't as strong.
While pink gold rings are beautiful, if you're focused on rose gold only, it's crucial that you're aware of the difference. Experienced jewelers will be able to help you make the right choice for your big day.
Rose gold is available in 10K, 14K, and 18K options. The 10K rose looks more like a copper red, the 14K has a pinker quality, and the 18K is of a richer rose color with a hint of yellow.
As there is more pure gold in the latter, 18K rose gold jewelry tends to be more expensive. But it's still an affordable option for today's brides and grooms.
What makes rose gold a fantastic and popular option for wedding rings today?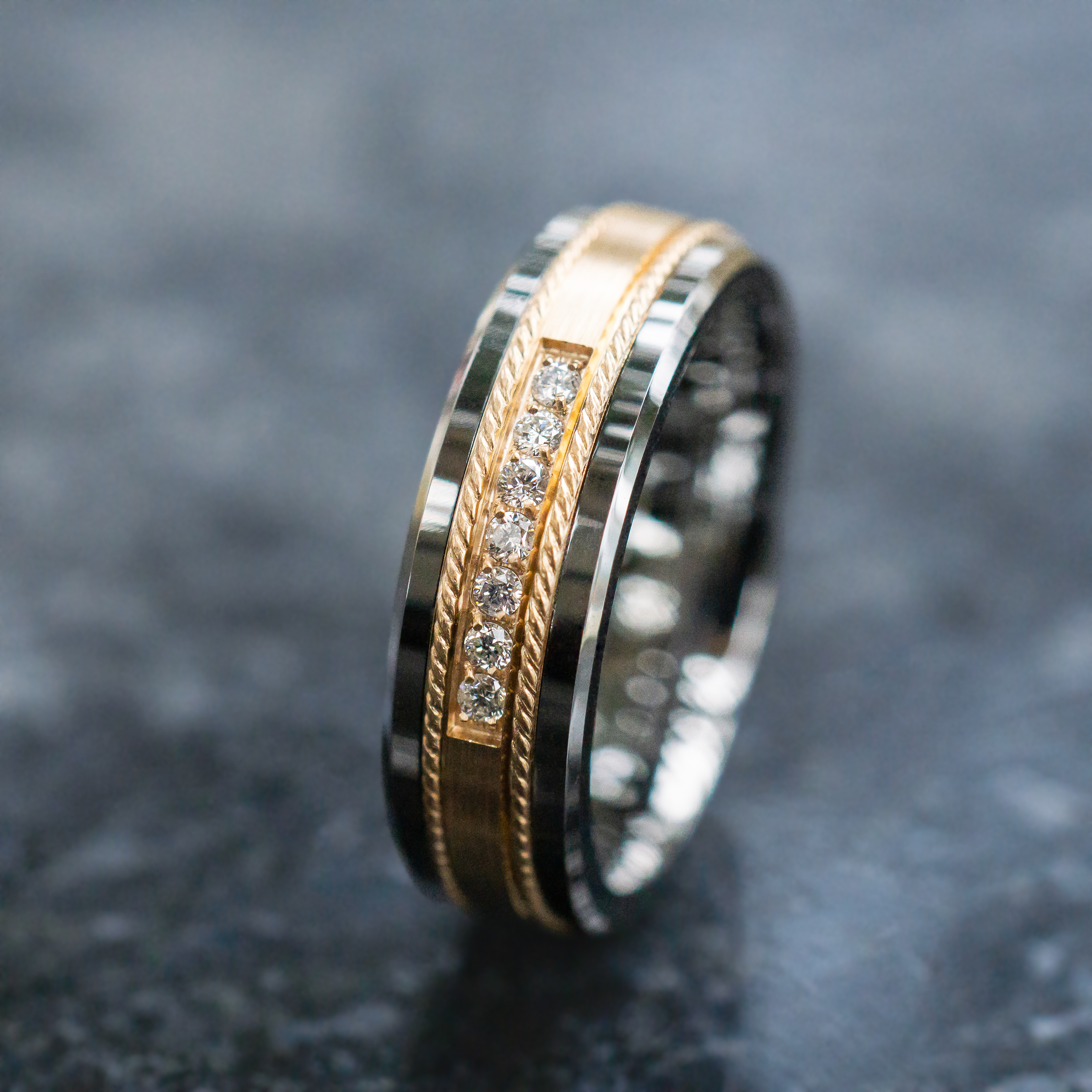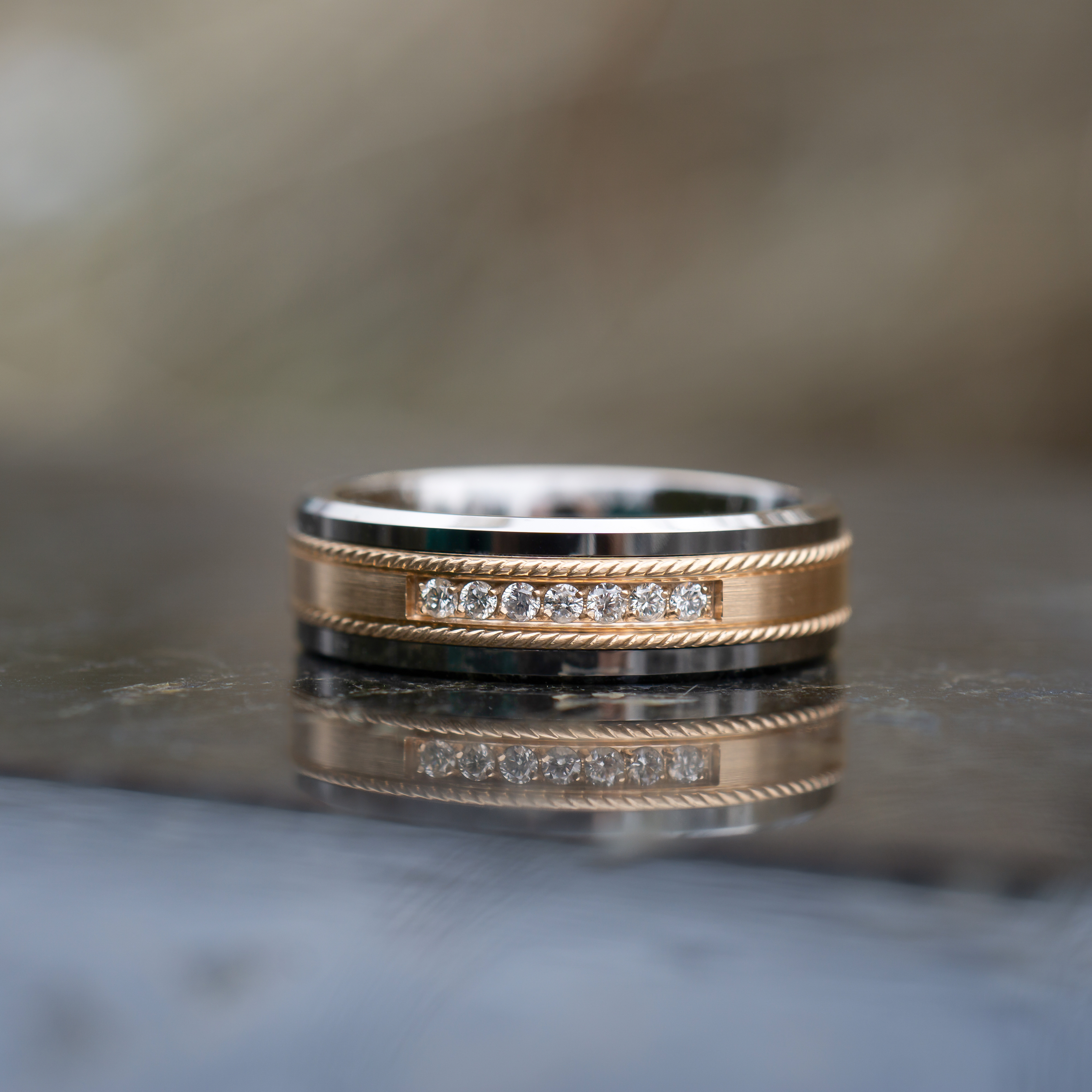 Rose gold wedding bands and rings offer numerous benefits over other metals. Here are three to bear in mind when searching for your ideal ring.
Matching wedding band sets available for stylish couples
Over the years, more couples have been investing in matching rose gold wedding bands and rings. With so many rose gold options available, you and your partner are sure to find a matching set that suits you both.
Check sizing flexibility when you decide on a pair of bands or rings, though. Rose gold wedding bands and rings can usually be sized a half-size or one size larger or smaller. But only if there are no diamonds or intricate patterns, as both can be damaged when adjusting the size.
Complements diverse metals and clothing
You may have one or two rings that you wear every day, and want to make sure that your wedding ring doesn't clash with them. That's not an issue when you choose rose gold wedding bands and rings. Rose gold's subtle color makes it easy to pair with other types of jewelry (including rings worn on adjacent fingers), and its coloring complements most clothing.
Lots of amazing and varied designs to choose from
As rose gold rings have become more popular, you'll find a wider range of designs to choose from than you might have a decade or so ago. If you're looking for something elegant and classy, there are some mesmerizingly subtle options on the market to explore. And if you're attracted to glitz and glamor, you'll find a wealth of great pieces for your tastes, too.
Tips for choosing your rose gold wedding bands
No matter what type of metal you prefer for your wedding bands, choosing one or two from the huge range on the market can be tough — to say the least.
So, here are three simple tips to help make it easier for you.
Shop with your partner
One of the simplest ways to find the right rose gold wedding bands or rings is to shop together. You could spend hours and hours scouring jewelry websites, searching for the perfect design, and still struggle to pick one if you try to do it all by yourself.
You may love a particular band when you first see it, but your partner could draw your attention to a feature that seems like a poor fit for your personal style. And vice versa.
Sit down at your laptop together and take time to shop together. That's not easy when you have so much other planning to do for your nuptials, but it'll pay off when you both find rose gold wedding jewelry you love.
Get your sizing right
You plan to wear your rose gold wedding band or ring for a long time, so it has to be a comfortable fit. Yes, you can get it adjusted, but a little preparation now can save you time later.
To find out your ring size, just wrap a piece of string around the base of your finger, draw a mark where the ends meet, then measure the distance (in millimeters) with a ruler or measuring tape. Then, compare the size with measurements on websites. Simple.
Keep your engagement ring close by when shopping
If you intend to wear your engagement ring and wedding ring together, it's crucial that both pieces complement one another. Make sure that the designs you choose will fit seamlessly together side by side, with no protruding parts that could rub together and potentially cause wear.
And be aware of clashing colors and design features. Comparing your engagement ring with your intended wedding ring can help you avoid disappointment down the line.
Examples of beautiful rose gold wedding bands
Now that we've explored the benefits of rose gold, here are four stunning rose gold wedding bands and rings to inspire your search.
The Men's Flat Hammer Beveled Line Edges Wedding Ring is an incredible piece of rose gold jewelry.
The eye-catching hammered surface is one of the most impressive features, and helps this stand out from others with a plainer finish. The beveled edges are another special touch sure to wow your friends and family.
The handcrafted Men's Trio Spaced Diamonds Milgrain Wedding Band is a sensational piece with lots to recommend it.
The brushed gold surface features intricate Milgrain beading for a distinguished texture, and it features 9 0.18ct diamonds in a prong setting with a bold square shape design. The diamonds are arranged artistically into groups of three an equal distance apart, so they're clearly visible from different angles.
Looking for rose gold wedding bands in a subtle style? The Classic Flat Polish Milgrain Wedding Band is a wonderful example, with a timeless elegance and sophistication.
Couples love its sleek surface and Milgrain beading, and the Classic Flat Polish Milgrain Wedding Band is ideal for the bride, groom, or both.
Go for understated beauty and shine with the Classic Half Round Wide Polish Wedding Band. Its simple design, without diamonds or intricate details, ensures that this piece is suitable for daily wear.
Conclusion
Rose gold wedding bands or rings offer brides and grooms terrific value for money. Not only are they durable (thanks to the copper that creates the color), but rose gold bands are typically more affordable than those made with certain other metals (e.g. cobalt, platinum).
When shopping for rose gold wedding bands or rings, you have an amazing variety of design styles to choose from. If you're a fan of classic diamonds, you'll find exquisite bands and rings featuring gleaming diamonds with stylish settings. And if you prefer something with a more modern edge, there are plenty of bands and rings to suit you, too!
Browse Madani's vast collections for luxurious rose gold wedding bands and rings in diverse designs.