The estimated cost of a wedding in the United States is $34,000 on average. That includes the price of the venue, the photographer, the bride's dress, transportation, and the rings.
However, if you're planning your big day, you may be trying to keep costs down as much as possible. Maybe you and your partner have decided to book a more budget-friendly venue, or want to spend a little less on your reception dinner than you expected. Perhaps you have asked a friend to film the ceremony instead of hiring a professional videographer.
Whatever money-saving techniques you consider, one of the simplest ways to make your wedding more cost-effective is to invest in affordable jewelry. You don't have to go for the most expensive bands or rings on the market. Instead, you can buy sterling silver wedding rings that are beautiful, stylish, and built to stand the test of time.
What makes sterling silver so affordable? And where does it come from?
In our guide to sterling silver wedding rings, we will cover all the essential details on this amazing metal.
What is sterling silver?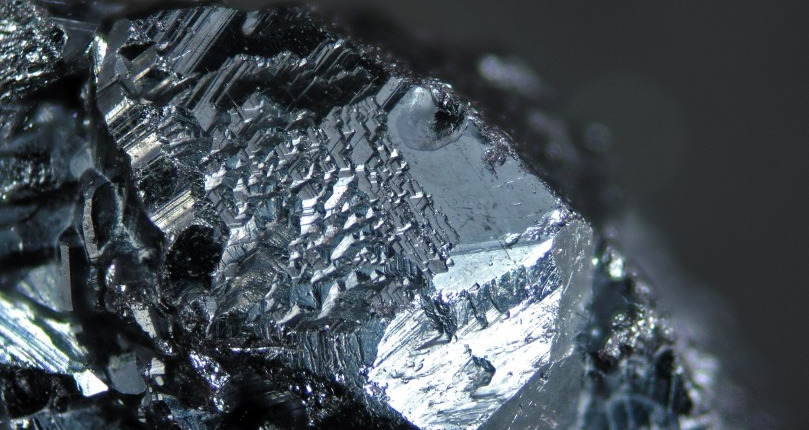 According to the United States Geological Survey (USGS), pure silver has:
• The whitest coloring of all metals
• The highest level of optical reflectivity
• The highest conductivity of electricity and heat
But sterling silver is not exactly the same as pure silver. It is an alloy, composed of 92.5% of silver (by weight) and 7.5% (by weight) of other metals (usually copper).
However, an alloy that is 99.9% silver or above is regarded as pure or fine silver. Silver cannot be refined to a 100% level of purity, as even 99.9% silver still carries a minute trace of other elements.
Copper is often chosen to enhance the durability and hardness of silver, which tends to be soft. Other elements may be used to help prevent silver from becoming tarnished, which is a common problem. These elements are usually zinc, silicon, and germanium.
How is sterling silver made?
People today are more interested in where the products they buy and use come from. And you may be just as curious about your sterling silver wedding band or ring as you are about your clothing and coffee. After all, your wedding ring is a precious symbol of your love and commitment to your partner. You want to know that it is strong enough to withstand years of wear.
With that in mind, we will explore how sterling silver is sourced and made below.
Where does sterling silver come from?
Silver is usually sourced from mineral ores including stephanite and argentite. However, mining for these ores is a time-consuming process and yields silver in small quantities. As a result, much of the silver produced each year originates while mining for gold, zinc, and other metals.
In most cases, the froth flotation method is used to extract silver from ores. Crushed ore is submerged in water, and air bubbles are blown through it to bring the silver to the surface. Here, it turns into a froth. This is then skimmed from the top of the water and smelted to separate the silver from other metals.
But where does the concept of sterling silver come from?
Sterling silver dates back to the 12th century, and is believed to have been originated by the Hanseatic League for use as currency. The Hanseatic League began in Germany, and consisted of merchant traders and market towns. They minted coins of sterling silver, though it wasn't known by that name yet.
There are various theories regarding the origins of the term "sterling silver", and one involves the Hanseatic League. The merchants were referred to by outsiders as "Easterlings", and the League's currency became popular with English traders as its value was reduced less often than England's currency. Over time, this change led to Easterlings' money becoming simply "sterling" instead.
What else is silver used for?
Silver has many exciting applications beyond jewelry. For example, silver is widely used in:
• Mirrors
• Batteries
• Photography
• Semiconductors
• Water purification
• Touch screens
• LED chips
• Dentistry
• Electrical contacts
Silver's wide-ranging industrial applications are primarily due to its high conductivity and reflectivity.
What makes sterling silver an affordable and popular option for beautiful wedding rings?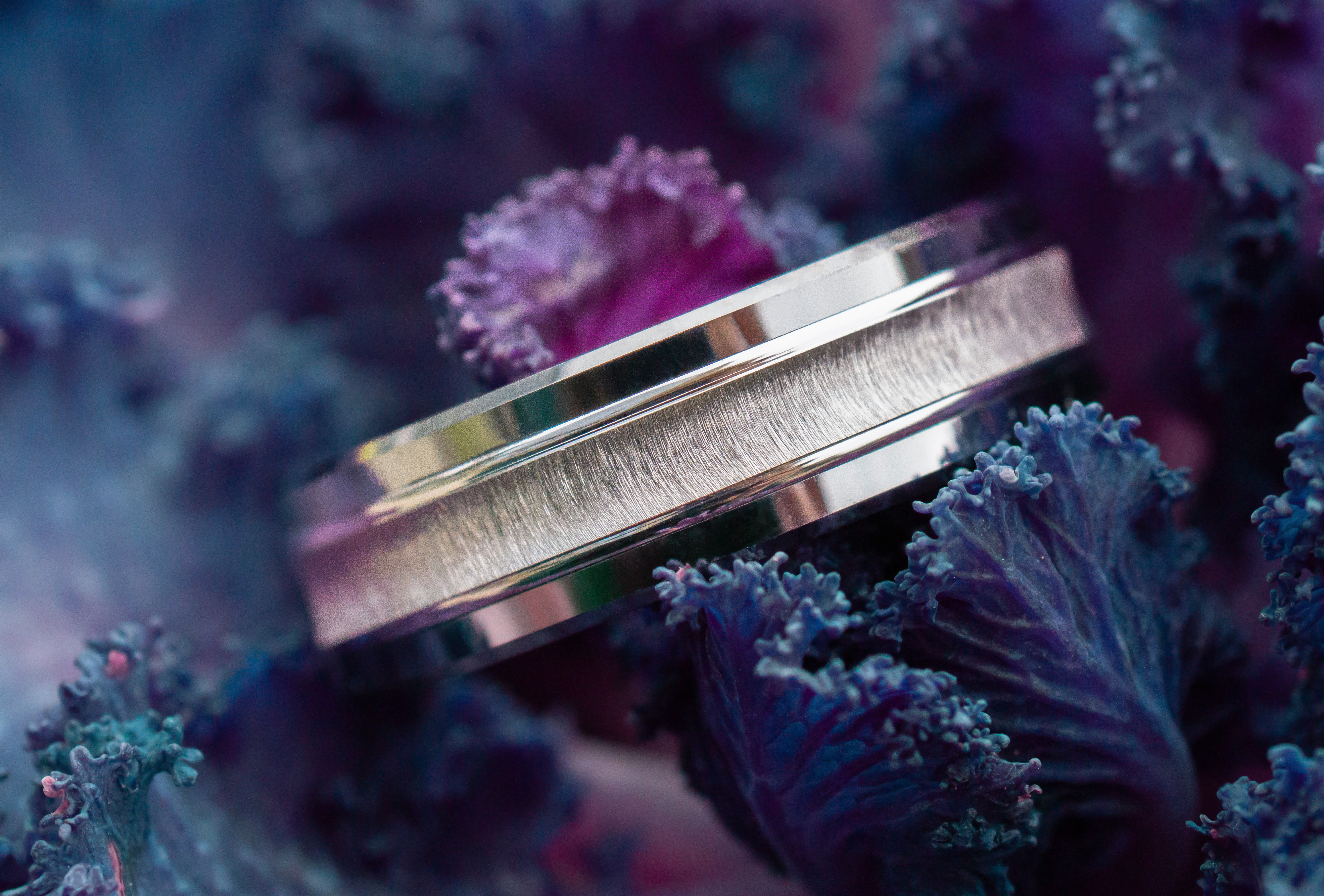 Here are a few reasons why sterling silver wedding rings are such a cost-effective option and why so many people choose them for their nuptials.
No need for plating — it's dazzling enough
Sterling silver is very bright in color naturally. That means there's no need for plating, which helps to keep prices at a highly competitive level.
However, if necessary, manufacturers may still plate sterling silver to prevent oxidation. That is a risk with silver, unless it is a tarnish-free silver. Tarnishing is caused by the alloy metals reacting to atmospheric chemicals (e.g. sulfur), which discolors one or more areas of the sterling silver's surface.
Sterling silver can be machined easily
One of the primary reasons why sterling silver wedding rings are an affordable alternative to platinum or gold is that it can be machined easily. That can help to keep processing time and costs down.
But don't worry that sterling silver looks cheap. Far from it. As it is almost like gold, with a similar weight as 10kt gold, sterling silver looks and feels valuable.
However, bear in mind that sterling silver is an incredibly soft metal. It is susceptible to scratches and dents like gold. If you and your partner are looking for sterling silver wedding rings, be aware that you should take great care of them.
Convenient sizing alterations
Sterling silver can typically be sized a half size or one size larger and sized down if there are no diamonds involved in the design or complex patterns that can become damaged when sizing down. If you or your partner need an adjustment, that will be simple enough to accomplish.
Examples of amazing sterling silver wedding rings
Here are just some of the beautiful sterling silver wedding rings available:
The Men's Raised Brush Center Polished Edges Wedding Ring is a sleek, stylish, and deceptively simple piece for the modern groom. It is part of our exclusive Karat Collection, and boasts a raised brush center around its entire surface. Polished edges add another elegant touch to this remarkable sterling silver wedding ring, sure to attract compliments.
It is available in multiple widths for a perfect fit, and you can choose from 10kt, 14kt, or 18kt.
Are you and your partner looking for a minimalistic sterling silver wedding ring? The Men's Vertical Accents Milgrain Edges Diamond Wedding Ring is a fantastic option.
One of the most astounding elements of this incredible piece is the 0.05ct square princess diamond in its center. The diamond is exquisitely beautiful yet understated. The brush finish is wonderful, too, and helps to draw the eye along the ring's surface to the diamond. Another incredible addition is the single beveled edge with its high polish detailing for irresistible shine.
You can personalize the inside of the ring with a unique engraving, such as a heartfelt message or your partner's name. It is also available in five widths.
An impactful sterling silver wedding ring for any man. It is a spectacular piece with intricate details to feast your eyes on, which helps it stand out from rings with a planer style.
One of the most amazing features is the gypsy-set diamonds in brushed inserts circling the ring's surface. You can choose from:
• 3 diamonds (0.06ct)
• 4 diamonds (0.08ct)
• 8 diamonds (0.16ct)
The Men's Vertical Accents Milgrain Edges Diamond Wedding Ring is available in 10kt, 14kt, and 18kt options. The Milgrain beading on either side of the brushed inserts is intricately crafted to bring extra definition and texture to the ring.
Make a powerful statement on one of the most important days of your life with the Men's Wide Accents Beveled Diamond Wedding Band. This incorporates smooth beveled edges and wide vertical accents beautifully, for an aesthetic that cannot be ignored.
The extraordinary brush detailing adds extra sophistication, and the princess-cut diamonds simply look amazing. You can choose from the following diamonds:
• 1 diamond (0.07ct)
• 3 diamonds (0.21ct
• 8 diamonds (0.56ct)
This sterling silver ring is also available in 10kt, 14kt, and 18kt options.
Conclusion
Sterling silver wedding rings are ideal for any couple searching for affordable jewelry for their nuptials. They are bright, lightweight, and elegant without the expense of other metals. And you can choose from a huge variety of styles to suit all tastes. While sterling silver is generally less resistant to damage and tarnishing than some alternative metals, the best sterling silver wedding rings are still robust enough for years of daily wear. We hope that our guide helps you find the perfect sterling silver wedding rings at an affordable price. For more exquisite sterling silver rings and bands, browse Madani's extensive collections.