Weddings require a great deal of planning. Your wedding ring makes up just part of that planning. But choosing a wedding ring isn't quite as simple as it looks. There's more to it than strolling into a shop, selecting an attractive ring and making a purchase. There is a lot to consider when choosing the perfect ring. it can be as individual as you are, and you'll have plenty of decisions to make.
---
Some examples of some questions when starting your wedding band shopping might be:
Which material would you like your ring to be made from?
The material of your ring will have a big impact on its wear over the years. For example, black ceramic rings are suave and modern, scratch resistant and tough. But they also can't be resized or engraved. Gold rings are classic and versatile and come in three primary base colors, but can scratch more easily and trigger skin allergies. So, there are pros and cons to weigh up when thinking about materials. You can check out one of our many material guides to fully explore the different ring materials in depth.
Do you want any inlays or patterns?
Diamonds or pink sapphires? Wooden or ceramic inlays? There are so many different ring designs available and you can be sure to be spoilt for choice. Remember whatever you choose should reflect your personal style. You can find out more about personal style and your wedding band in this blog post.
Wedding Band Width: Thin or Wide?
Now here's a question you may not have thought about yet. Do you want your ring to be thin and dainty? Or chunky and wide? The width you desire may have an impact on some of its other features, such as how many diamonds it can fit. So, in this article, we'll look at the different wedding band width possibilities, and how you can decide which one might suit you best.
Thin Rings vs Wide Rings
Wedding bands can be as thin or as thick as you would like, but there are certain guidelines we propose that you follow to avoid disappointment. From rings that are 1mm to those that are over 11mm, even a classic plain band can be made to suit your individual style by choosing the right width. But how do you know what that is?
At Madani, our styles start with the thinner 7mm ring. This size still gives plenty of space for added details including inlaid gold or the addition of diamonds. The 7mm Most Wanted Satin Finish Band, for example, combines rose gold with white gold and incorporates three diamonds. There is no need to worry that a thinner band won't have the detail you desire.
Our selection of 11mm rings is ideal for those who are looking for a statement piece. The width of the ring allows plenty of space for more than one inlay and more than one precious stone type. The Black White Diamond Wedding Ring in the Monochrome Collection contains both white and black gold, as well as black and white diamonds. In the same collection, you can also find the stunning multi black diamond wedding ring which contains 24 black diamonds, rose gold inlay with a white gold outer strip and a black ceramic edge. Wider rings like these allow for more detail to be added to the ring, simply because there is more space to do so. Below is a picture of an 11mm all black diamond ring with black gold and black ceramic.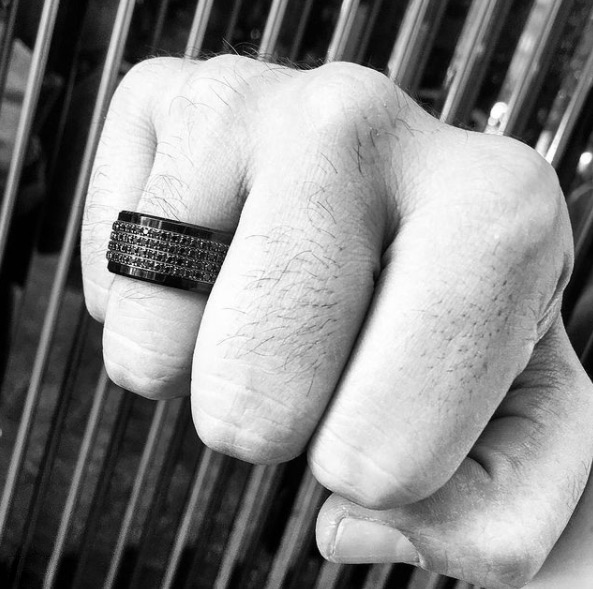 We also offer 9mm, which is perfect if the 11mm is too wide for your finger. A great example of this is the Monochrome black white trio diamond wedding band made from tungsten with a white and black gold inlay. You can also find a stunning range of 9mm rings in the Ringleader range.
In terms of popularity, the 7mm width is most popular for rings that have a gold inlay and a few diamonds if any. 9mm width is most popular for designs needing a bit more room and for designs that have many diamonds. 11mm width is most popular for the statement ring that has many inlays and many types of diamonds. These rings really do stand out from the rest but can be quite wide for everyday use - It all depends on your comfort level!
How to Choose the Right Width
You may not have thought much about ring width. But when you try a ring on, you will instantly notice the difference between a 7mm and 11mm ring. The way it sits on your finger and contrasts the rest of your hand is a vital consideration.
One of the selling points of a larger 11mm ring is that you can add more detail to it. Although this may be true, there is still plenty of scope to personalize a thinner ring with Madani's clever craftmanship. Once you have seen a design you love, it is important to work out whether it will suit your finger size and shape. A ring that looks good on a screen or in a box may look different depending on who is wearing it.
As a general rule, smaller hands will suit a smaller ring whereas larger hands can carry off a chunkier style. This doesn't account for individual taste, however. Everyone is different and there are some guidelines that can be used to help you work out which ring might give your ring finger the wow factor.
Long Fingers
If you love a bold style then you're in luck, as wide bands tend to look great on longer fingers. However, if your style is more understated, don't feel that you have to go for a wider style just because your fingers are longer. If your preference is for a thinner ring, a 7mm ring will offer enough space to add the character you want.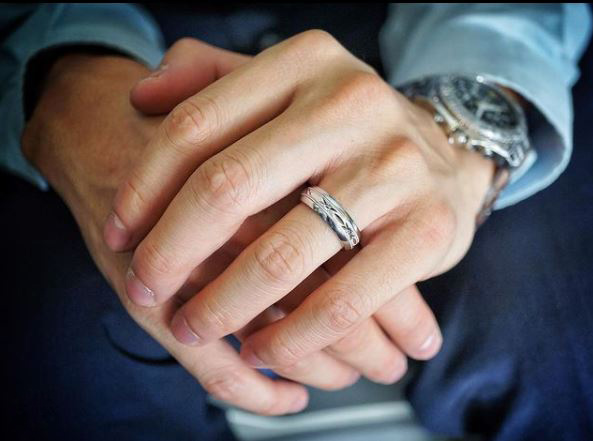 Short Fingers
If you have short fingers, opt for a narrower 7mm - 9mm ring. This will make your fingers look longer, as more of the finger is on show than with a thicker band. If you opt for 11mm on short fingers, it could make the entire finger look disfigured.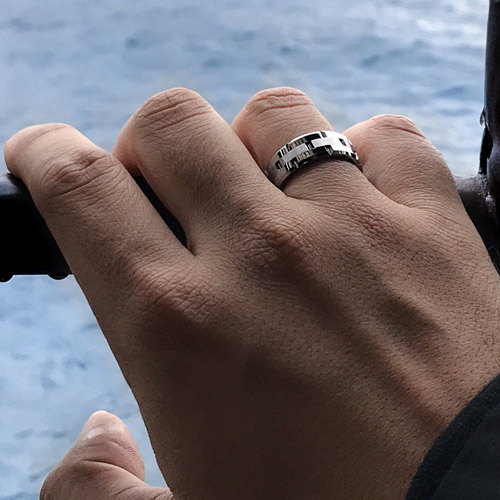 Slender Fingers
If you have a small ring size, a wider or thicker band may make your fingers look wider. If you don't want your fingers to look wider than they are, then a 7mm or 8mm ring is ideal.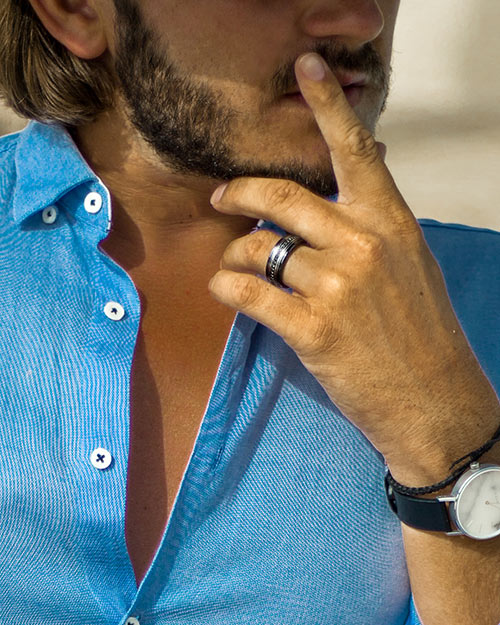 Wide Fingers
Wide fingers are great when you want to showcase your style. Thicker 11mm rings are perfect as they are very flattering for wider fingers.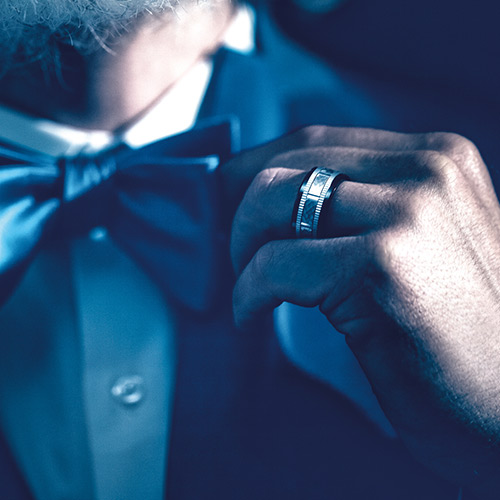 Knuckles
If you don't like your knuckles, a wide wedding band is for you. A thicker band draws the attention away from your knuckles so that you can forget all about them and simply enjoy your new piece of jewellery.
Other Considerations
The width of the ring can affect the sizing of the ring so keep that in mind when purchasing a ring that might be less than 7mm compared to another ring that may be quite wide at 11mm. The wider ring will cover more of your finger and may cause you to feel a tighter fit. A thinner ring will cover less of your finger and will cause you to feel a looser fit. In any case MADANI Rings will get your size right using the worry free sizing package.
If you have an engagement ring, you may want to complement it or even add a wedding band that contrasts it. A thick wedding band against a thin engagement ring can give a striking appearance. If you intend to match your ring with your partner, you may wish to purchase a ring with a thickness that best suits both of your finger shapes. You may need to meet in the middle here; if one of you suits a 7mm ring but the other would prefer a 9mm ring, selecting an 8mm ring will offer a happy mid-point. Alternatively, some rings, including those in the Ringleader Collection, can be crafted in different widths from 7mm to 11mm. This means two partners can choose the same ring in different widths to suit them.
We Can Help!
At MADANI Rings, we have a huge range of men and womens wedding and engagement rings to choose from. No matter what material you're after, what pattern you desire or what width you'd like to try, we have you covered. And to make matters even easier, the MADANI Rings Worry Free Sizing Package includes 5 rings around the size you choose at checkout, so that if necessary, you can change your width before confirming your size.
For more information on our rings, browse our collections today or contact us by phone or email.