Men's Wedding Rings For Every Personality
21-11-2019
Wendy K. (Professional Fashion Writer)
Wendy is a published freelance writer and editor with extensive experience in beauty, fashion, and travel.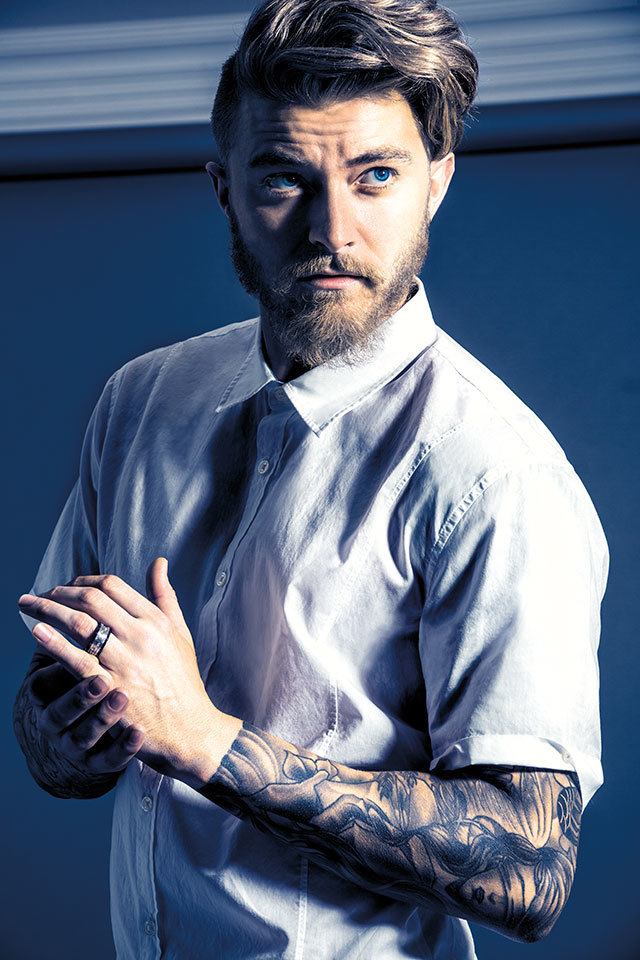 As another year draws to an end, it is time to reflect on the past and look forward to the future, and if your future involves saying 'I Do' to the one you love, now is the perfect time to start shopping for your 2020 wedding rings.
But which wedding band suits your personality? Are you a traditionalist, a romantic, a fashionista? In this Complete Guide to Men's Wedding Rings for Every Personality, we'll help you find the perfect wedding jewelry for your upcoming nuptials, with something that suits your budget, taste, and signature sense of style.
Men's Wedding Rings for The Traditionalist
Like to keep things simple? Prefer classic to contemporary? Then you are most likely a traditionalist, and as such, you should choose a timeless wedding ring that complements your personality such as the classic yellow gold band, or a beautiful two-tone wedding band blending white and yellow gold.
Wearable with any outfit, traditional wedding rings are an investment for modern jewelry collections, and as they never date or go out of style, they are the perfect family heirloom.
You'll find a stylish selection of traditional wedding rings for men in the Madani Karat Collection. Simple yet stunning in design, they transform the ordinary to the extraordinary with subtle design features such as milgrain beading, carving, and brushed textures, all while remaining true to the classic wedding band design.
Men's Wedding Bands for The Romantic
Are you a hopeless romantic? Do you love the idea of falling in love? Then you, my dear Romeo, are a Romantic, and your wedding ring should be a dreamy representation of your personality.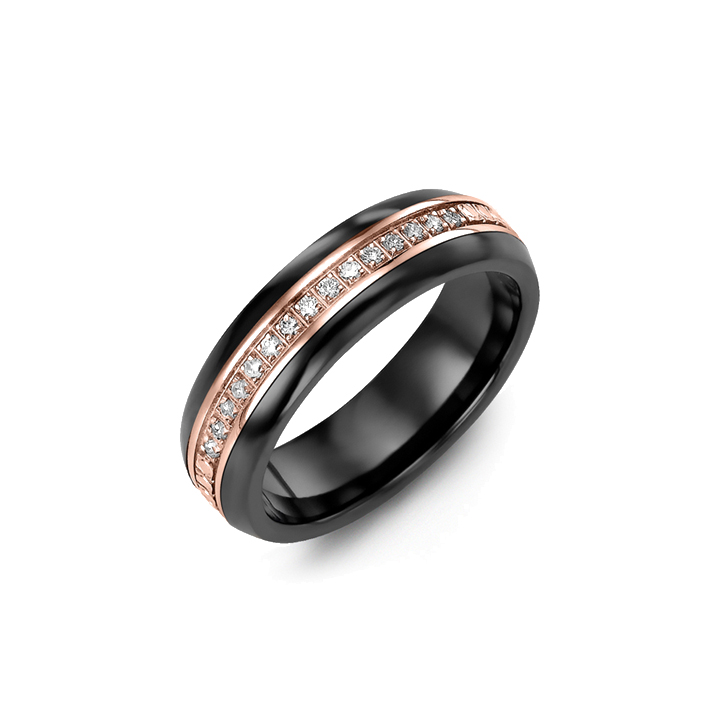 Men's wedding ring designs have come a long way in recent years, with more sparkle, style features, and colour choices than ever before, and if you are shopping for a romantic ring, you'll find a stunning selection in the Madani Luna Lust Collection. But romantic shouldn't be confused with feminine.
Romantic wedding bands for men can be just as 'manly' as the non-romantic alternatives, but they have a certain flair that gives them a passionate feel. Rose gold and diamonds will transform any ring into a love story, but when you combine them with black ceramic, you have something modern, masculine, and eternally beautiful, something that every romanticist will adore.
Men's Wedding Rings for The Business Professional
If you are a no-nonsense city-slicker, busy balancing your corporate and personal life, you will need a wedding band that not only matches your professional personality but one that complements your everyday business attire.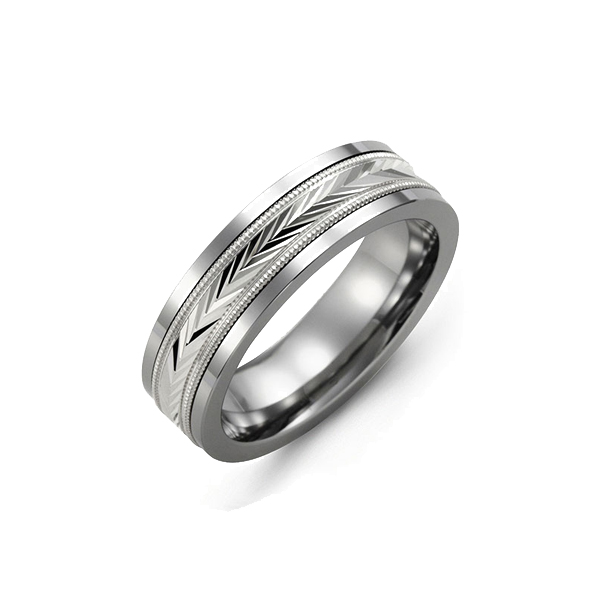 Fortunately, professional doesn't mean boring, and so there is no reason why you shouldn't go for a strong-looking wedding band that showcases your unique sense of style. Elegant design features such as an elevated inlay or a square-set diamond will give your wedding band a polished and professional look while allowing your true personality to shine through.
In Madani's Most Wanted Collection, you'll find a selection of wedding rings for the business professional, with tungsten carbide, cobalt, ceramic and white gold options to suit every taste.
Men's Wedding Bands for The Sports Enthusiast
If you lead an active lifestyle, and you love watching and playing sports more than life itself, then you fall into our sports enthusiast personality group, and you are going to need a wedding band that can keep up with your sporty routine while ensuring you look your best as you work up a sweat in the gym.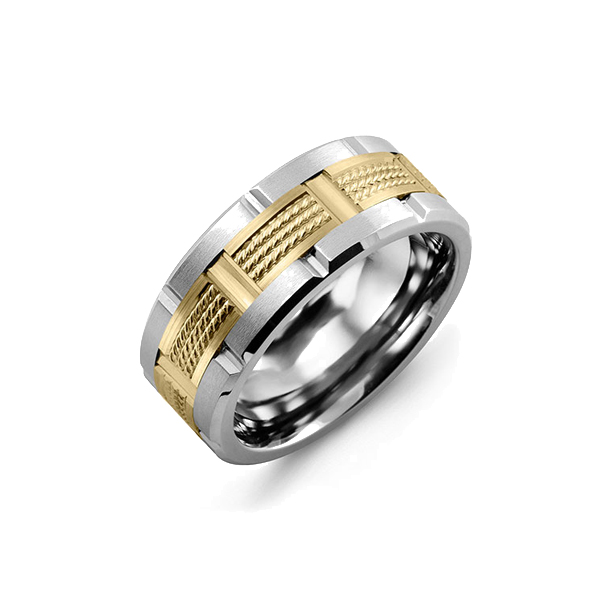 So what is the perfect wedding ring for the athlete? Well, there are many things to consider. It needs to be durable, hardwearing, scratch-resistant, and comfortable to wear when you are pushing it to the max, and so you should look at modern material such as tungsten carbide or cobalt, which are less likely to scratch than the gold alternatives.
Diamond embellishments might not be the best idea for you if you lift weights in the gym, but there are many other ways in which you can add character to your sporty wedding band. You'll find plenty of inspiration in Madani's Gears of Love Collection.
Men's Wedding Rings for The Fashionista
If you are always up-to-date on the latest runway styles, and your wardrobe contains more Armani, Gucci, Tom Ford, Ralph Lauren, and Hugo Boss than your local department store, you dahlink, are a fashionista, and we invite you to embrace your fabulous sense of style with a wedding ring that suits your fashion-forward personality.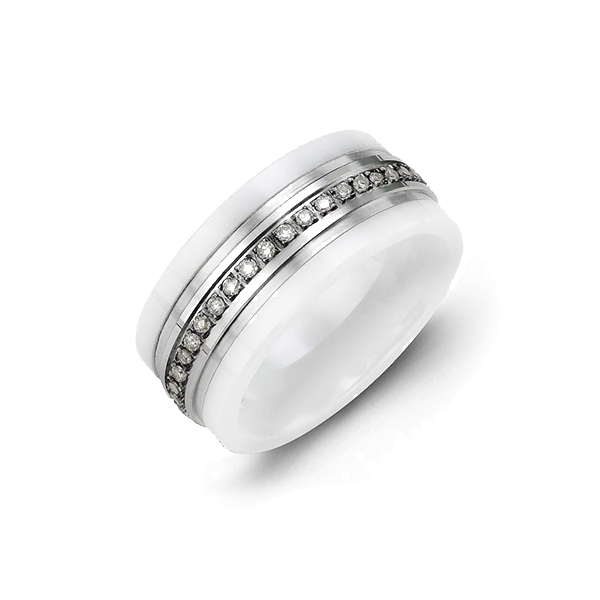 Fashionistas are not afraid to make a statement, and there is no reason why you shouldn't experiment with modern materials and gemstones to give your wedding ring a cool and contemporary look, but you should remember that you'll be wearing it for the rest of your life, so choose something timeless.
In the Madani White Ice Collection, you'll find a stunning display of white ceramic wedding bands embellished with black diamonds, chocolate diamonds, and a veritable rainbow of sapphires. They look fabulous with modern fashions, yet their timeless appeal ensures they'll never go out of style.
Men's Wedding Bands for The Minimalist
If you feel that less is more when it comes to men's jewelry, a minimalist wedding ring will suit your personality. Sleek, sophisticated, and styled to complement every outfit, these rings will take you anywhere, and so it is no surprise that they remain a popular choice for modern professional grooms.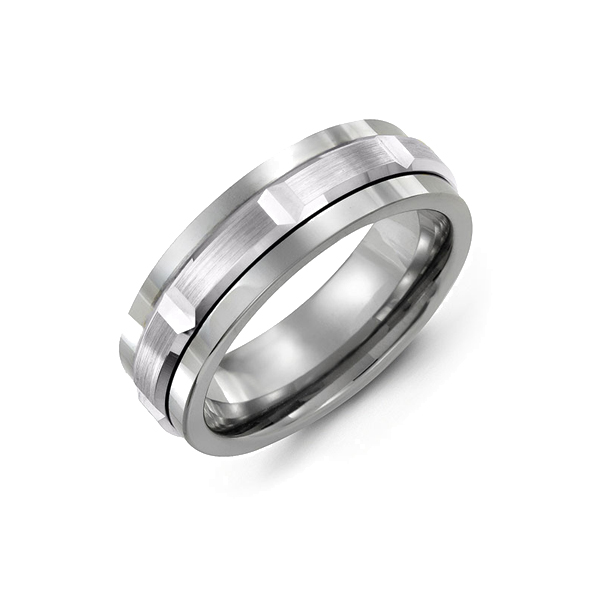 When choosing a minimalist wedding band, focus on quality, and don't be afraid to mix and match modern materials with precious metals such as titanium and gold to create something bespoke. Rose gold remains one of this season's biggest jewelry trends, as does black ceramic, and by combining the two, you can create a minimalist masterpiece that you'll enjoy wearing forever.
Madani's Inside Out Wedding Ring Collection is the epitome of understated glamour and perfect for the minimalist.
Men's Wedding Rings for The Environmentalist
If you care about the environment and want to wear a wedding ring that showcases your love for your partner and the planet, you should consider a band made from 100% recyclable eco metals such as titanium, or one with a natural sustainably sourced Koa wood insert.
If you want to avoid metals altogether, ceramic wedding bands for men are a great alternative, and they come in a choice of stylish colours and designs to suit every taste. If you do decide to go for a diamond wedding band, look out for those made using conflict-free stones to ensure your next piece of jewelry is planet-friendly.
In Madani's Nu Collection, you'll find a breath-taking selection of wedding rings made from eco-friendly materials that you can customize with a choice of metals and inlays.
Men's Wedding Bands for The Rockstar
When it comes to rock star wedding rings, more is most definitely more, so go big, go wild, and go for more bling than you ever thought possible with a showstopper that sparkles as brightly as your personality.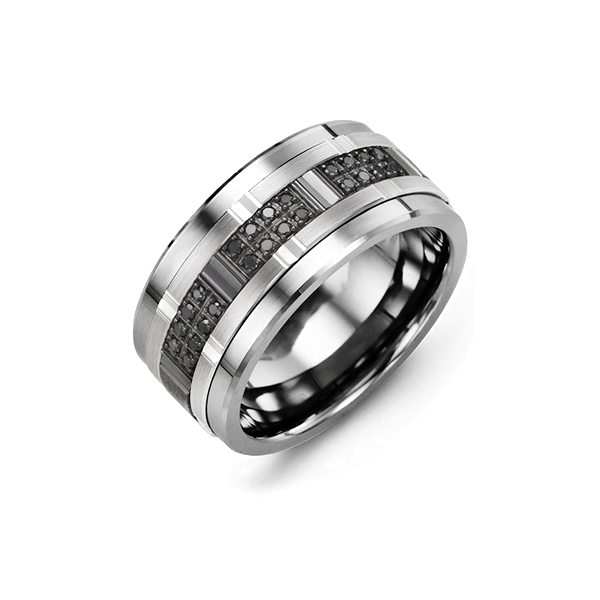 We're talking about statement wedding rings here, those that stand out in a crowd and sparkle seductively as you strum your imaginary guitar. If 'Rockstar' best describes your personality, look out for heavyweight designs made from tungsten carbide with black diamond embellishments and intricate detailing. Go for a band at least 10mm wide, and don't be shy to overload on the bling.
You'll find a dazzling display of Rockstar wedding bands in the Madani Monochrome Collection, so let's get ready to rock n roll!
Men's Wedding Rings for The Trendsetter
Not to be confused with the fashionista, the trendsetters of this world set new trends, they don't follow them, and if you like to make a statement when you walk into a room, you should choose a wedding ring that demands attention for all the right reasons.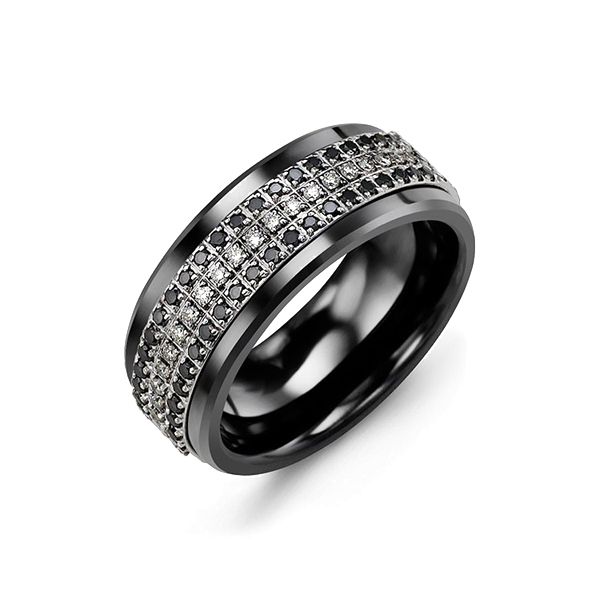 The beauty of being a trendsetter is that anything goes, and so you can experiment with modern materials such a ceramic and cobalt, mix them with yellow, white or rose gold, and add a personal touch with carving, textured inlays, diamond embellishments, and modern design elements.
As a trendsetter, the ring you choose may inspire other grooms-to-be to step out of their comfort zone, so work closely together with your wedding ring designer to create a timeless treasure with modern appeal.
You'll find all the inspiration you need in Madani's Ringleader Collection, where trendsetting wedding rings for men come as standard.
A Final Word…
Your wedding band is the most important investment you are ever likely to make, so you should buy a ring that reflects your personality, and that works with your lifestyle. Wedding jewelry fashions may change with the seasons, but when you find the one, much like your partner, you'll know it's the perfect fit for you, so shop around, try on as many designs as it takes, and don't be afraid to customize your own wedding band.
There is some beautiful bling out there just waiting to be discovered, and whether you are an athlete, a Rockstar, or a high-flying professional, we're pretty sure that Madani has the perfect men's wedding band for you.
Want to keep reading? See our latest blog posts below...