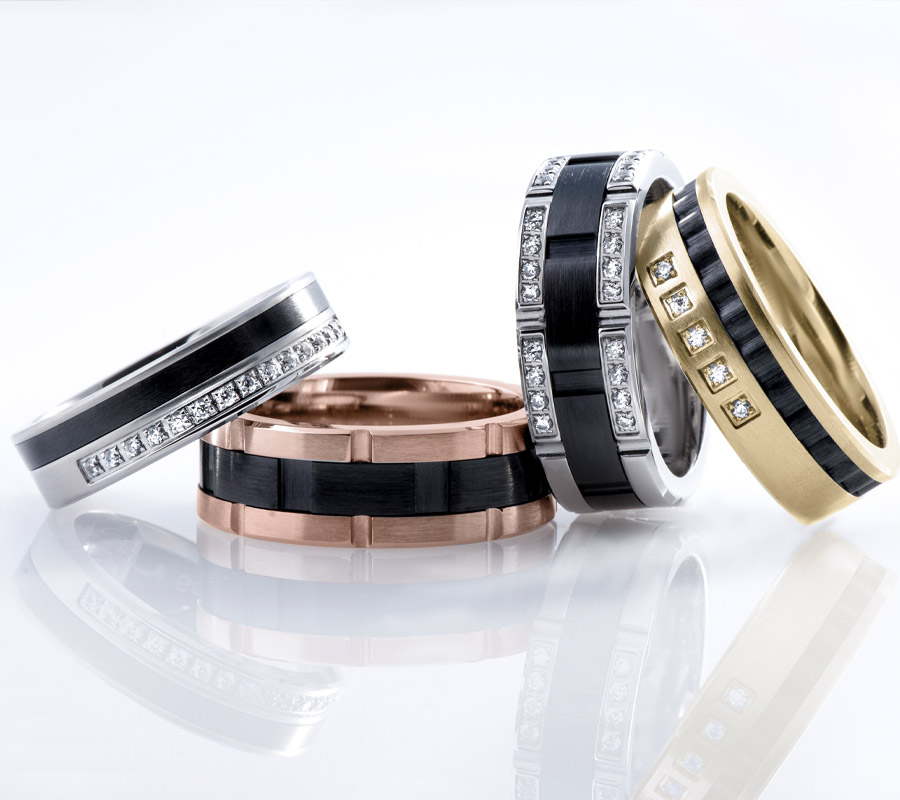 Modern men deserve a modern wedding ring. The expectation that a man's wedding band will be plain or unadorned has been eroded in recent years. Today, there is no reason why men's rings shouldn't feature as many details as bands that are designed specifically for women. At MADANI Rings, we specialize in creating modern, unique wedding bands for men worldwide.
---
Men's Wedding Bands in History
In modern history, the concept of a man wearing a wedding band is fairly new. However, the giving of wedding bands can be traced back to the Ancient Egyptians. The Ancient Egyptians believed in the "vena amoris", or vein of love. This vein was thought to run directly from the fourth finger on the left hand to the heart. Although this theory has been disproved, the tradition of wearing a ring on this finger persists in many countries around the world.
Today, many European cultures choose to wear their wedding band on the fourth finger of the right hand. This may be because this is also the hand most commonly used for taking oaths or making vows. The Ancient Egyptians are likely to have created rings out of hemp or reeds. However, Roman and Greek civilizations began fashioning rings out of bone, leather or ivory. In early Rome, metal rings were often made of iron.
Whilst women continued to wear wedding bands, for men this tradition was mostly lost until the start of the World Wars. At this time, men who went off to battle may have chosen to wear wedding rings to remember loved ones left behind at home. Following World War 2, rings for men once again saw a decline. Many men may have felt that jewelry was not for them. In the UK, both the Queen's husband, the Duke of Edinburgh, and Prince William, the Duke of Cambridge, have chosen not to wear wedding bands. However, when Prince William opted not to wear a wedding band in 2011 there was much media interest, suggesting that wedding bands for men have once again become the norm.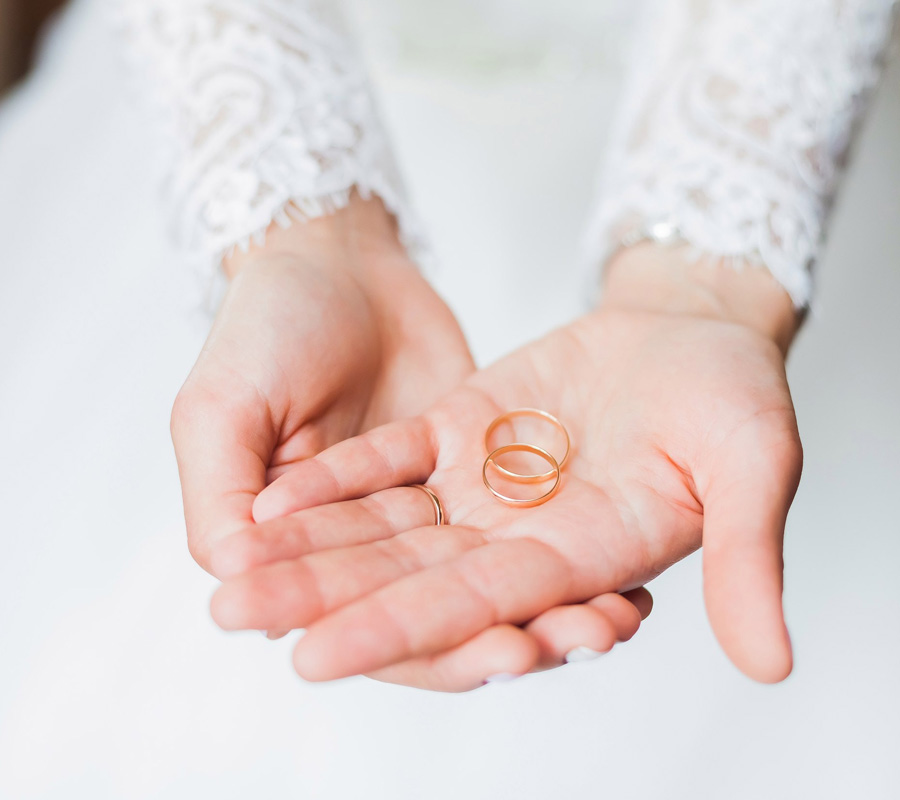 Classic and Modern Wedding Bands
Traditionally, wedding bands for men have been timeless, classic bands that might be flat or dome shaped. As jewelry for men has become increasingly popular and the choices for men's wedding bands have expanded substantially, men now have more of a choice as to what they want to wear on their ring finger. Aside from personal taste, classic wedding bands may be favored by men who have manual jobs. Farmers, construction workers and even doctors may all prefer a plain band that they can continue to wear whilst working. However, with technology displacing many manual laborers into less physical roles, there may be more men looking for unique wedding bands, without worrying about damage or loss.
Whilst wedding bands for women have long-embraced unique designs and precious gemstones including diamonds, modern wedding bands for men are only just catching up with the trend. Men who choose to step away from simpler designs in favor of a funky wedding band have far more choice than before. A man's style can be just as individual as a woman's, and it is therefore important that you find the right wedding band for you. For some men, a wedding ring might be the only piece of jewelry you wear. You therefore want a band that looks great and gives you a thrill every time you look at it.
What Makes a Cool Wedding Band?
At MADANI Rings, our unique wedding bands are handcrafted to your exact specifications. Our rings can be customized not only to your size requirements, but to include black and white diamonds, different colored golds and a range of unique design features.
Sharp Cuts
This Men's Satin Diamond Cut Wedding Band has 6 sharp cuts split into 7 sections across the ring. You can see the sharp look these cuts provide and the light that will reflect off of these cuts. The sharp nature of the ring will definitely make heads turn, although simple it is quite modern and pleasing to look at.
Black Wedding Bands
At MADANI Rings, we have seen an increase in interest in black wedding bands. If you're keen to step away from tradition, black bands can make a real statement.
Black ceramic is a popular choice. When you think about ceramics, you're probably drawn instantly to pottery and the creation of ornaments. The Greeks first popularized ceramics in 700 BC, and if you look carefully enough, you'll find ceramics around your home. But black ceramic is now the latest trend in modern wedding bands. Unique, timeless, simple and sophisticated, a plain black ceramic ring or a black ceramic ring with an inlay or diamond set is all the rage right now.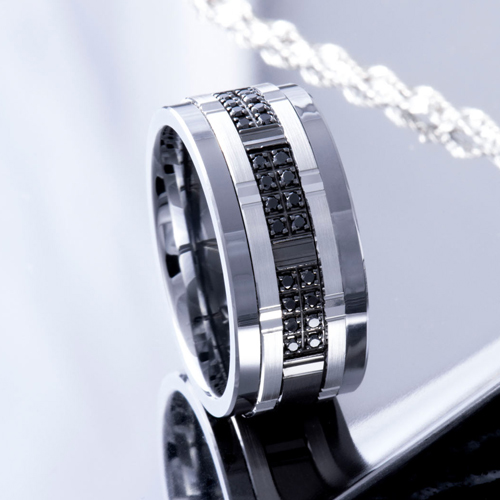 The Monochrome Black Diamonds Wide Wedding Band is available in cobalt, ceramic or tungsten. It features both white and black gold inserts with bevels, as well as 24 or 64 black diamonds. This truly is a statement piece of jewelry. For a bigger twist on the classic men's wedding band, the Inside Out Dual Black Ceramic Diamonds Wedding Band has a yellow gold base with two rings of black ceramic. Either 21 or 45 diamonds can be incorporated into the design. Choose from a rose, white or yellow gold base metal to personalize this wedding band further.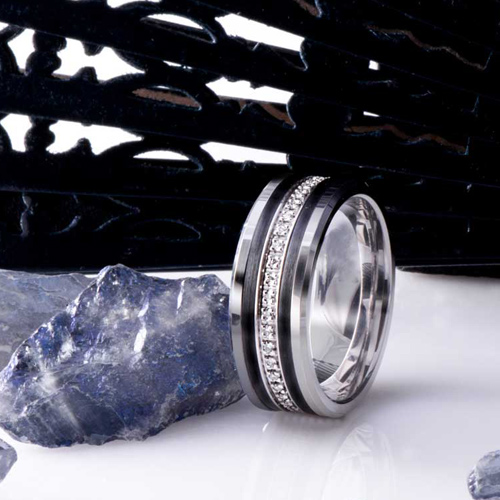 The most pressing benefit of the black ceramic modern man's ring is its durability. Black ceramic is one of the most durable materials on the market today and is extremely scratch resistant. It's also a very lightweight material, and when you wear a black ceramic ring, you will barely notice it on your finger. So, if you're prone to chipping jewelry, or have an active lifestyle and don't want your ring to get in the way, black ceramic is a fantastic modern and unique choice.
Eternity Diamond Style
The Luna Lust Eternity Diamond Wedding Ring is available in a range of base metals, including a black ceramic base with a rose gold inlay metal. It features a minimum of 15 diamonds, but up to 45 can be included in the design. The rose gold inlay contrasts perfectly with the black ceramic, and the diamonds give it a real wow factor. This ring is also available for women, making it a popular choice for couples looking for matching wedding bands.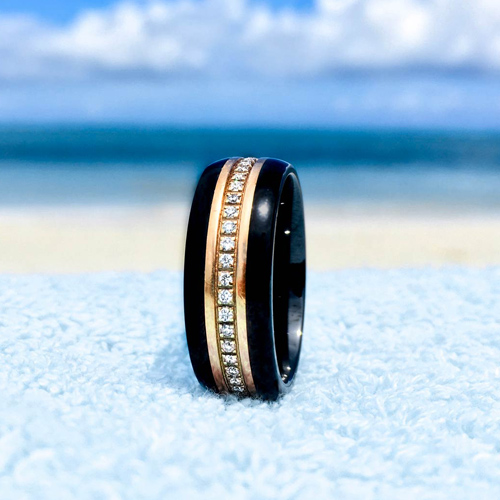 Hammer Design
Another popular black wedding band is the Gears of Love Hammer Grooved Wedding Band. The black ceramic base features brush grooves, with a yellow gold grooved insert. The base metal and insert can be customized to the metal of your choice, and you can even choose the karat option you desire.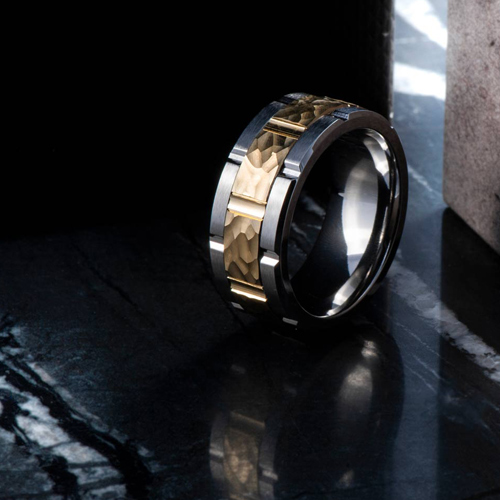 Beveled Design
Beveled rings are a popular modern wedding band choice. This stunning design feature is ideal for the style-conscious man.
For a beautifully beveled ring, the Ringleader Wide Beveled Diamond Wedding Ring can be crafted in tungsten, ceramic or cobalt. Eight or 24 dazzling diamonds sit within a white, rose or yellow gold insert.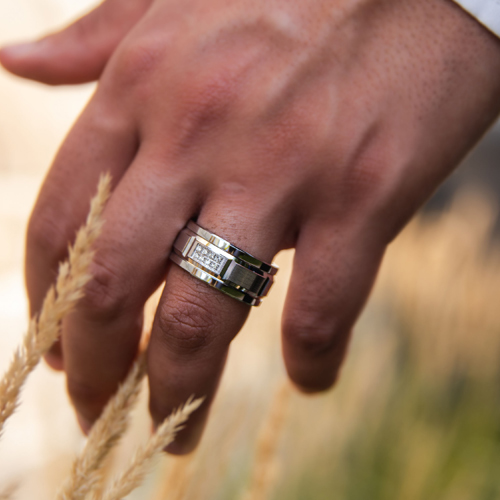 Hand Crafted Features
At Madani, our rings lend themselves to the personalization you require. Once you have found the ring you love, you can select your base metal, inlay and the number of diamonds or other precious stones you require. This means there's no need to settle for anything less than perfection. We offer a number of modern alternatives to traditional wedding rings. To speak to a Client Assistant at Madani, contact us online today or call +1.888.621.3641.