Men's Trio Black Diamond Grooved Wedding Band
MID710EF-9B - A monochromatic masterwork of black diamonds and alternative precious metals, this Trio Black Diamond Grooved Wedding Band is chic, sophisticated and perpetually stylish. Available as a tungsten ring, a cobalt ring or a ceramic ring, the 7mm band can be personalised with a black gold inlay in 10kt, 14kt or 18kt options, and it is offered with your choice of 3 or 9 diamonds. To commemorate your special day, engrave the inside of the ring.
By: Elizabeth H. from Saskatoon , Saskatchewan, Canada
Order Date: November 2021
Ring Purchased: MID710GF-9B
Fast shipping, excellent customer service and a beautiful ring. It was a Christmas gift for my soon-to-be husband. He put it on immediately and didn't want to wait for the wedding to wear it!
By: Stanley S. from Tampa, Florida, U.S.A.
Order Date: January 2021
Ring Purchased: MID710UF-24B
The entire experience was great from Madani's standpoint. They sent out the ring sizers so we knew the size we were getting very quickly. They made sure to ask if we needed the rings by a certain time which we didn't. They did there best to get them to us by Valentines day even though we didn't ask for that. They should have got here in time if it wasn't for a delay by the shipping company due to weather. They also called me to make sure I understood the type of ring I was getting and some potential issues we might experience with the type of metal we choose. They also reminded us that we have a warranty and they would fix if we had issues and they didn't look right after some time. The rings look amazing! It's nice to see that a company has great customer service and their products are amazing. Will definitely be recommending Madani to friends and family .
By: Katherine L. from Las Vegas , Nevada, U.S.A.
Order Date: January 2020
Ring Purchased: MID710RF-9B
The entire process was so easy and the team contacts you after purchasing to confirm information and make sure every detail is just how you want it. My husband loves the ring, he works in the plumbing Industry and it doesn't bother him at all. I catch him staring at it several times a day. Thank you !!
By: Paige T. from LaPorte City, Iowa, U.S.A.
Order Date: August 2018
Ring Purchased: MID710EF-9B
The ring design itself is so original, love the look and the black diamonds! High quality men's wedding ring. Company is very easy to work with too!
By: Paige B. from Waterloo, Iowa, U.S.A.
Order Date: May 2017
Ring Purchased: MID710RF-9B
Overall the ring quality was amazing and customer service was helpful. There was a delay because of website glitches, but they resolved the issue quickly. The ring itself is beautiful and looks just like the picture! Totally loved it!
DESCRIPTION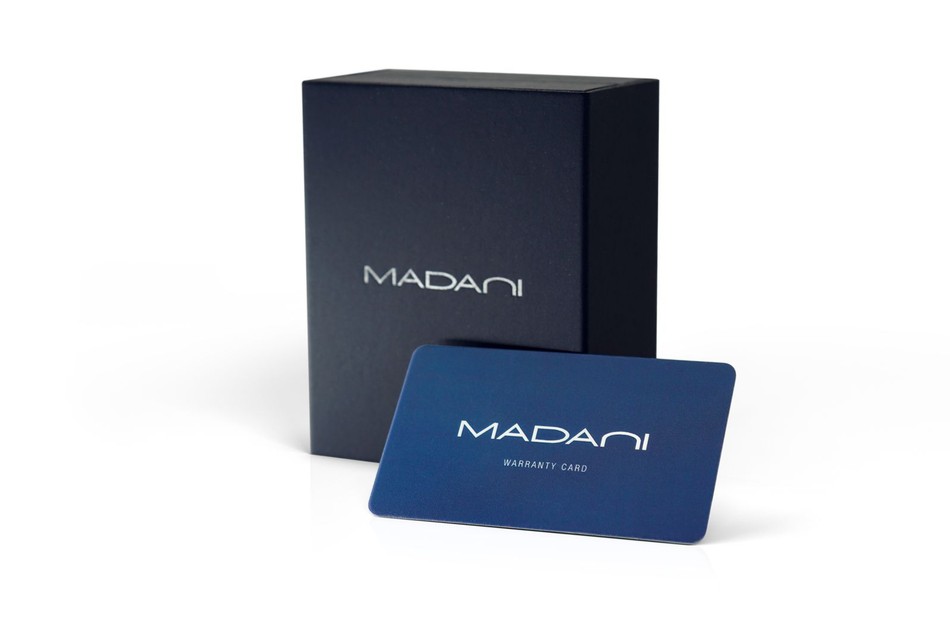 Warranty
MADANI Rings Lifetime Guarantee
We provide a lifetime guarantee against any manufacturer defects in material or workmanship starting from the date of purchase. The exclusions are damages resulting from an accident, lack of care, and/or normal wear and tear.
MADANI rings are made to last. The alternative metals and gold used to fabricate our rings such as Tungsten, Cobalt, and Ceramic, are of the highest quality and technology. Combined with our extreme care in craftsmanship, this ring will be one you will cherish forever.