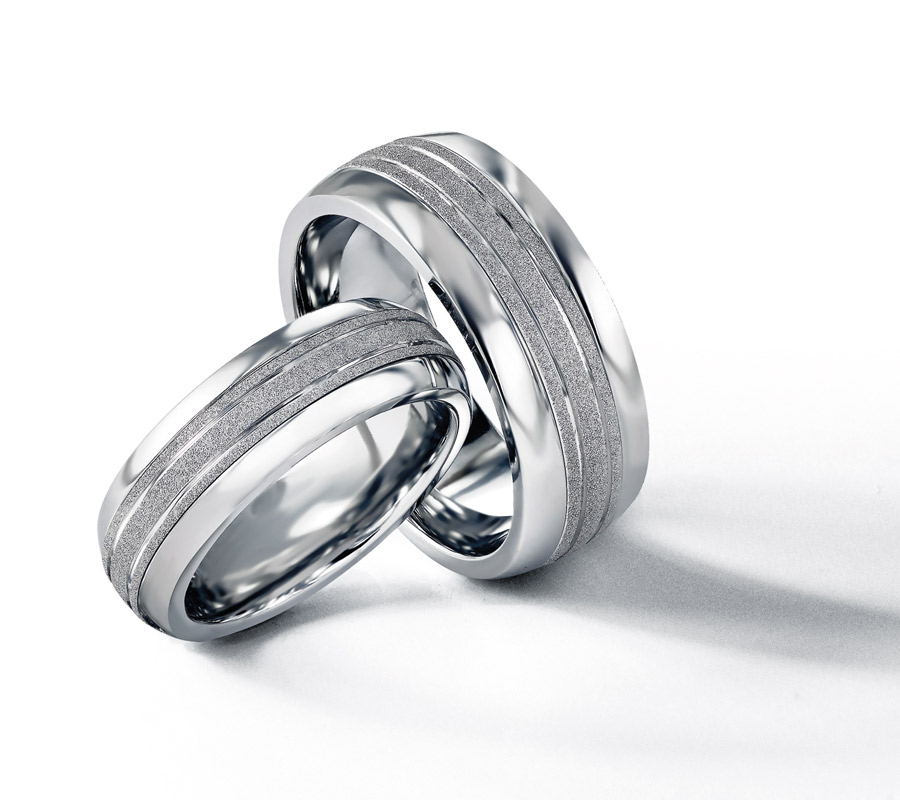 Many couples getting ready to tie the knot will want to choose two wedding bands; one for each partner. In more traditional times, the man might have chosen his wife-to-be's wedding band. However, nowadays it is commonplace to shop together to make sure both partners love the ring they will be wearing forevermore. Many couples are opting to select wedding bands that match or complement each other's ring choice. At MADANI Rings, our range of bespoke jewelry makes it easy to find matching couple's wedding bands that suit all tastes and price points. Throughout this article, you'll learn more about modern matching wedding bands for couples, and the many different types of couples wedding bands we offer. You can also learn more about the different collections available to you.
---
Wedding Bands in History
Wedding bands can be traced back to the Ancient Egyptians. The circle was a symbol of eternity, and the first wedding bands were made of hemp or reeds woven into a circle. It was then the Romans that formerly attributed the wedding band to a marriage. In those days, rings were typically made out of iron or bronze. Despite such distant roots, in America wedding bands for men didn't become popular until World War I. Prior to the early 1900s they had been worn mostly by women.
The start of World War I saw many men leaving for combat, with uncertainty about when, or even whether, they might return. Married men began to wear wedding bands to remember their loved one whilst on the battlefield.
Traditions have changed and now both partners are likely to choose to wear a wedding band, regardless of whether they are male or female. They symbolize unity, commitment and show the rest of the world that you are joined in matrimony to another person. Matching wedding bands can make this process even more romantic.
Matching Wedding Bands
When you think of a matching wedding band, it's easy to imagine two identical bands sized to fit the wearer. And of course, this is a great way for more traditional couples to get the matching wedding bands they desire.
However, there are many ways to have matching wedding bands without choosing the same ring. This is ideal when you want your rings to share a connection but you each have differing tastes or desires. Think about it this way. If you were to buy a 'his and hers' outfit, you wouldn't both wear a dress (unless you want to, that is). The 'his' garment would compliment and blend with the 'her' outfit without them being identical. It's the same with wedding rings.
Choosing modern matching wedding bands for couples often involves choosing two different rings that share similar design features. At Madani, you can use your own creativity to customize matching wedding bands in a way that is both innovative and exciting.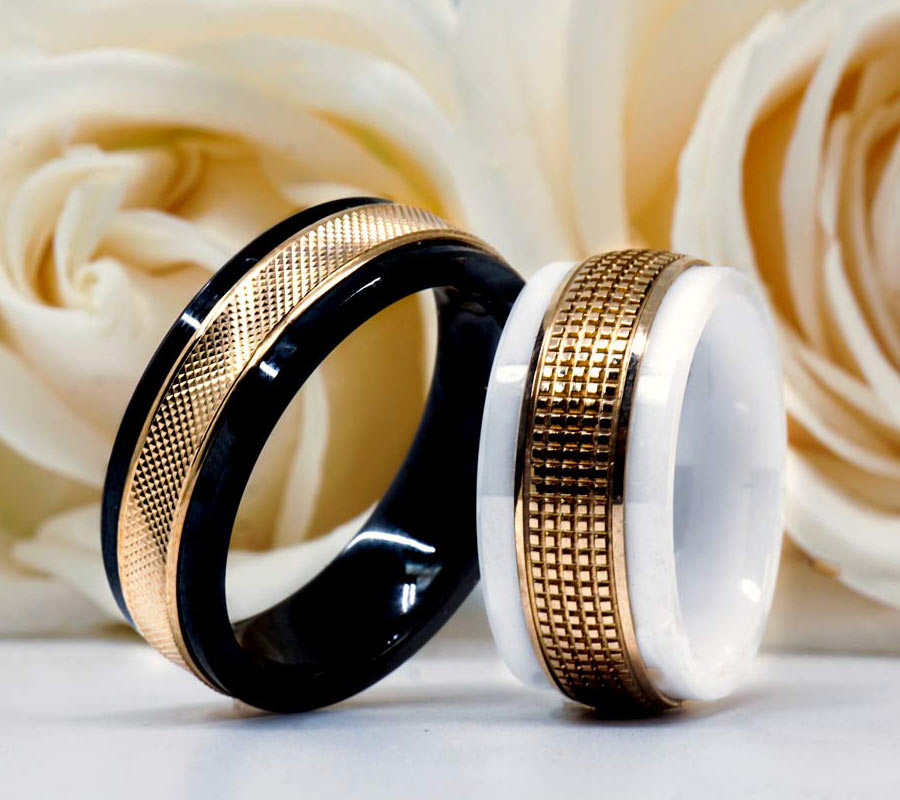 Individual, Matching Rings
The simplest change you can make to your rings to ensure they match is to alter the width of the wedding band to suit each partner. You can have an almost identical ring, with one partner choosing to have the ring made with a wider band. Wider rings tend to suit wide or long fingers, and are also a good choice if your knuckles are larger.
Another option is to choose the metals you individually love. Onepartner may choose white gold, the other could choose from yellow or rose gold, tungsten or black ceramic. Everything but the metal of the ring can be the same. At MADANI Rings, many of our rings can be altered to contain the metal of your choice.
Similarly, you could choose the same ring design but choose different precious stones. One partner might choose white diamonds, the other black diamonds. The carat weight of the diamonds can also be personalized to each ring.
If you are having a same sex wedding, then you can also choose two ladies or two men's wedding rings and customize each one slightly differently. Alternatively, you might decide to have a different engraving on each ring.
At Madani, we work with couples to make matching wedding bands that will be adored for a lifetime. If you need some more inspiration, you can go to the following blog posts:
Engraving Ideas for Your Wedding Band or Engagement Ring | MADANI Rings
Which metal should I choose for my wedding band? | MADANI Rings
Men's Wedding Rings For Every Personality | MADANI Rings
Trending: Inlay Wedding Bands | MADANI Rings
Our Matching Wedding Bands Collections
The beauty of our handcrafted rings is that you can select the ring design you love, and then adapt it to suit you. Our ring collections below lend themselves perfectly to couples looking for matching wedding bands.
Luna Lust
The Luna Lust eternity diamond wedding ring can easily be customized to match the individual tastes of two partners. Two different combinations could include selecting one ring with a rose gold inlay with a black ceramic base metal, and 15 individual diamonds. The second Luna Lust ring could have the same black base metal, but with a yellow gold inlay and 17 larger diamonds.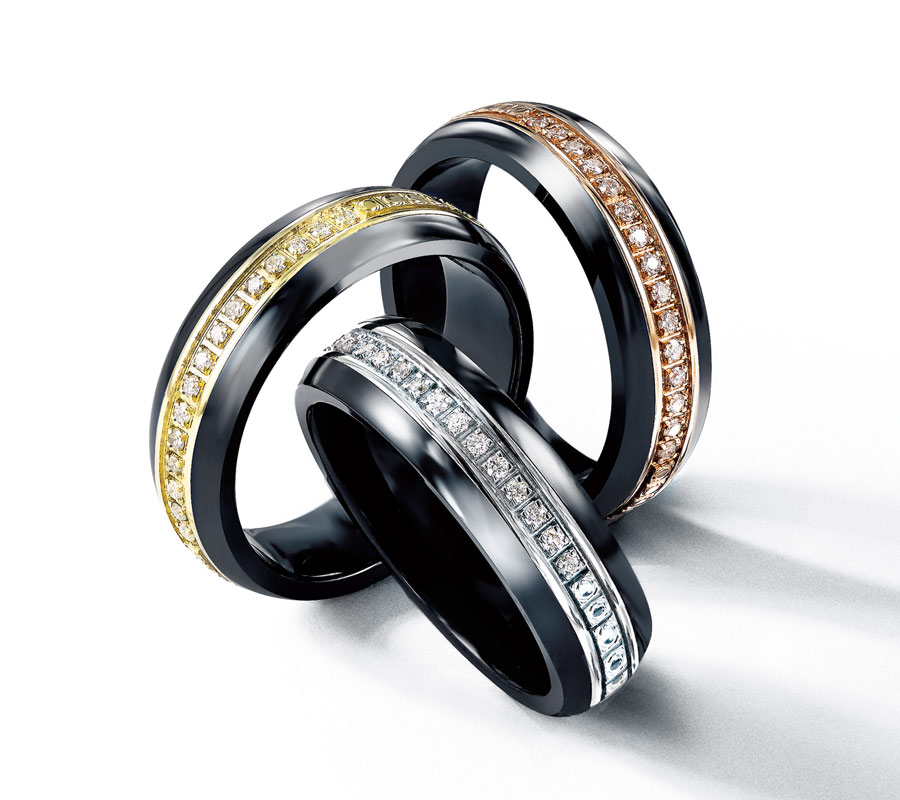 Ringleader
The Ringleader eternity diamond wedding band also lends itself perfectly to the tastes of two partners. With multiple combinations of metals and precious gems available, you might choose a cobalt base metal with 21 diamonds. Another combination, however, could be the same Ringleader design in the eye catching white ceramic base metal with 15 diamonds.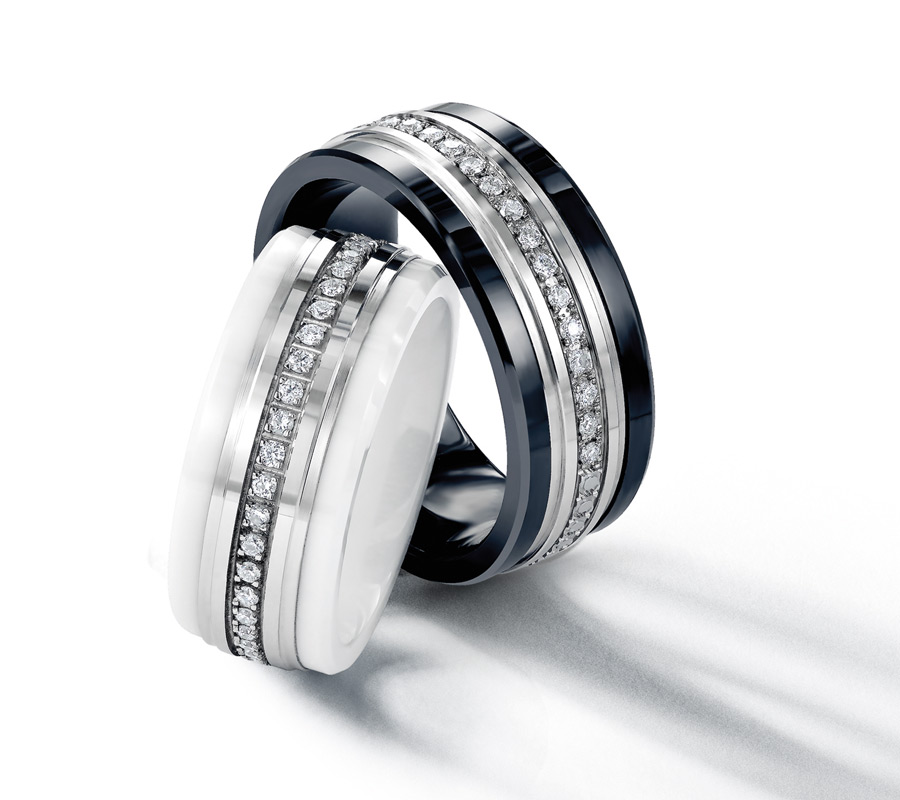 Gears of Love
The Gears of Love collection comes with trios or duos of precious gems in a variety of band widths. The Trio Black Diamond Grooved Wedding Band features cobalt, black gold and 9 black diamonds. The Duo All Black Diamond Grooved Wedding Band features tungsten, an inlay of black gold and 6 black diamonds.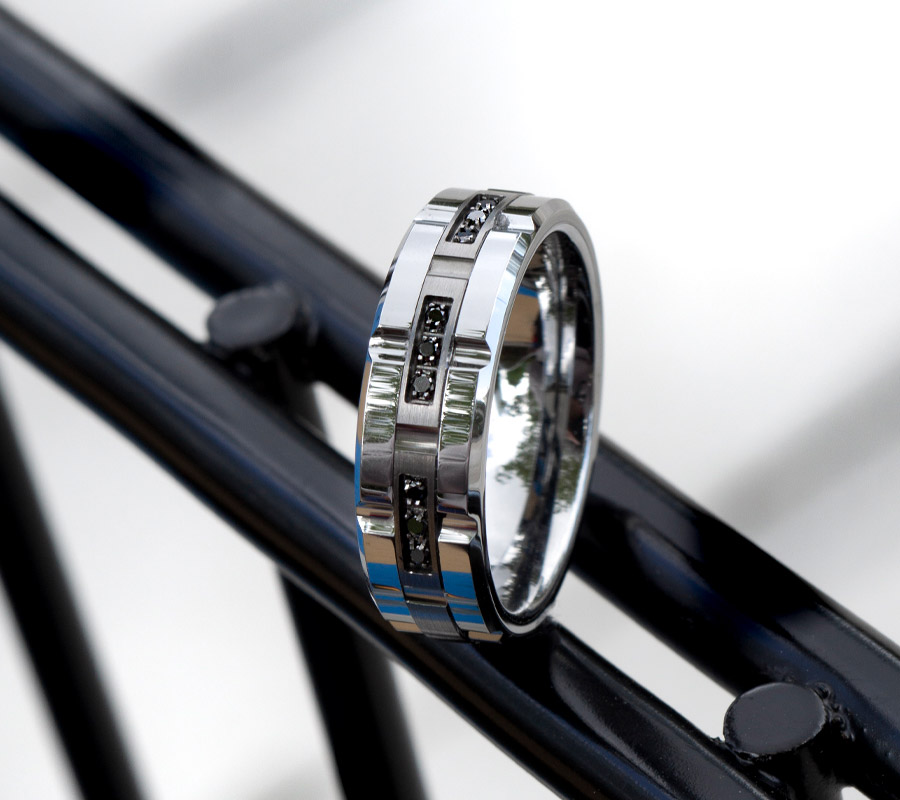 Reflecting Your Couples Style and Wedding Theme
Whichever modern matching wedding band design you choose, it should reflect your couple style and the theme of your wedding. If you consider yourself to be a trendy, modern, forward thinking couple, your ring can easily reflect this. Many alternative metals like black ceramic brilliantly demonstrate a more modern, chic couple. If you consider yourself a traditional family unit, with conservative views and a love of all-things-classic, then matching gold rings could be the best way to go.
And your wedding theme is important too. A traditional wedding might call for traditional rings. A glitzy, glam wedding day filled with flamboyant surprises might persuade you to take a leap of faith with a less conventional ring. Whatever you want, we can help.
MADANI Rings Offering
Our rings can be customized online, so that you can see exactly what your chosen ring will look like. You can change certain elements on the ring depending on which one you're looking at - including the inlay and main band material. This makes it easy for couples to see their rings side by side, to be sure that the two rings match whilst still suiting your individual personalities and tastes. If you are confused about which metals to choose for your ring, we have a series of educational articles that explore the pros and cons of each metal and style.
We can also advise customers on matching ring combinations. Our knowledge of jewelry craftsmanship may help you to imagine design ideas that you might not ordinarily have considered.
To begin designing your couple's wedding bands, contact us online today or call +1.888.621.3641 to speak to a Client Assistant.