Trending: Inlay Wedding Bands
04-11-2019
Wendy K. (Professional Fashion Writer)
Wendy is a published freelance writer and editor with extensive experience in beauty, fashion, and travel.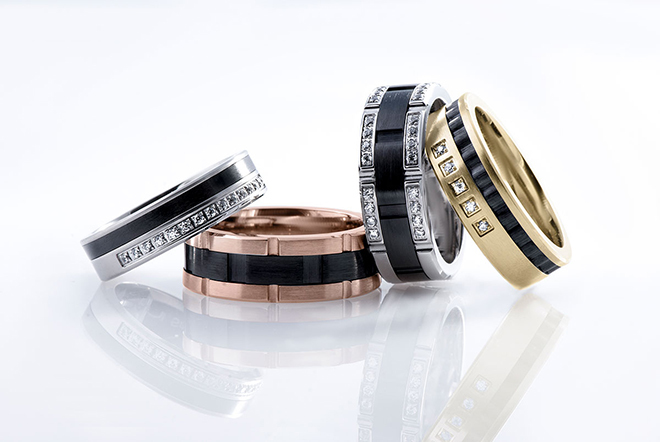 The season of sparkle is almost upon us, and if 2020 is going to be the year in which you say 'I Do' now is the perfect time to start shopping for a wedding band that compliments your engagement ring, your lifestyle, and your signature sense of style.
Wedding ring trends, much like fashion and jewelry trends, come and go with the seasons, but thanks to advancements in jewelry design and jewelry making techniques, brides and grooms have more choice than ever before. The classic yellow gold wedding band, as beautiful and symbolic as it may be, is no longer the only option, and modern couples are embracing new wedding ring trends that are as unique as their love for each other.
Top Wedding Ring Trends of 2019
2019 has been a busy year for celebrity weddings. Jennifer Lawrence married beau Cooke Maroney, two of the Jonas brothers were snapped up by actresses Sophie Turner and Priyanka Chopra, Dwayne 'The Rock' Johnson tied the knot with his long-term love Lauren Hashian, fashion designer Marc Jacobs married Charly Defrancesco, and then of course, there was the 'wedding of the year' of Hailey Baldwin and Justin Bieber, and so there's plenty of wedding band inspiration out there for those who are getting wed next year.
While Hailey Bieber stunned the world with a rather modest choice of a wedding band, Priyanka Chopra dazzled with an estimated 4 carats of Ashoka-cut diamonds, with both of them adopting two of this year's biggest wedding ring trends.
Stacking Wedding Bands
When it comes to layering up on luxury, modern brides are doing it in style with stacking wedding bands. A modern bridal jewelry trend adored by traditionalists and fashionistas alike, it involves wearing not one, but two or even three wedding rings, each completely different but perfectly complementing the other.
Many brides opt for wishbone or curved wedding bands to sit either side of their diamond engagement ring, while others prefer a plain gold band and a diamond-encrusted band that they can mix and match and wear in multiple different ways. The beauty of the stacked wedding ring trend is that there are no rules. Your rings, your way.
Diamond Wedding Rings
Marilyn Monroe may have us believe that diamonds are a girl's best friend, but you only have to look at 2019 wedding ring collections to see that men love a bit of sparkle too! Diamond wedding rings for men are perhaps the biggest trend of the year, and we love the fact that modern grooms are showcasing their unique sense of style with rings that match their personalities.
While diamond wedding rings are nothing new, on-trend diamond wedding bands feature intricate carving, mixed metals, and eye-catching designs that transform the ordinary into the extraordinary. They sparkle with black diamonds, rather than white, and many are customizable with coloured metals and a number of gemstones to create a bespoke piece.
What's Coming Up in 2020?
So now you know what made it big in 2019, it's time to look at 2020 wedding ring trends. Stacking bands and diamond rings are set to stick around in the New Year, but there's a new kid in town, and if you and your betrothed are looking for something special to celebrate your union, you are going to adore the Inlay Wedding Ring Trend.
What Are Inlay Wedding Rings?
Inlay Wedding Rings are a fusion of different metals, colours, and materials combined to create something exceptional. While mixed metal inlaid rings remain a popular choice for traditional brides and grooms, many jewelry makers are turning to modern materials such as Koa Wood, Abalone Shell, Carbon Fibre, and Meteorite to give their rings a contemporary touch, and the results are nothing short of spectacular.
Here we take a look at some of the many different types of inlay wedding bands available to suit every personality and taste.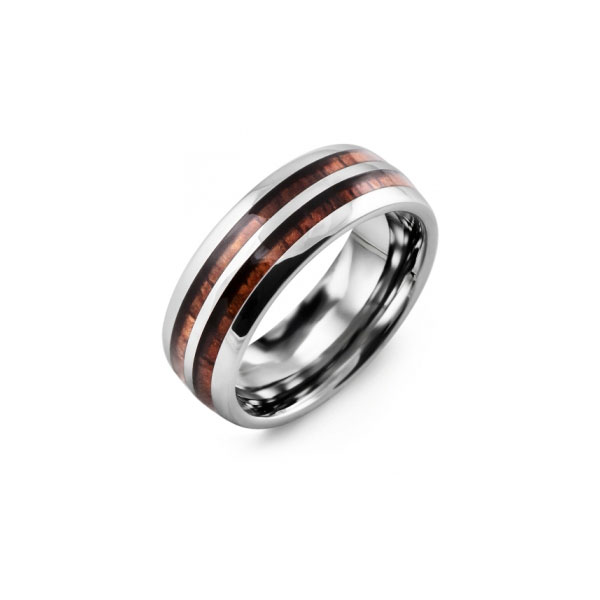 Koa Wood Inlay Wedding Bands
Koa Wood is widely regarded as one of the finest textured woods in the world. Derived from the Acacia Tree, a species native to the Hawaiian Islands, it has a rich deep colour and intricate grain detailing that makes it perfect for jewelry applications. In Hawaii, Koa wood is used to make everything from furniture to canoes, but as it can only be harvested from trees that have already fallen to the ground, it is one of the most expensive woods in the world.
While Koa wood blends beautifully with all precious metals, most Koa Inlay Wedding Bands are made from tungsten carbide or black ceramic. Durable and scratch-resistant, these modern materials provide the perfect backdrop for colour-rich inlays, and they are considerably cheaper than platinum and gold.
A contemporary wedding band for sports enthusiasts, environmentalists, and on-trend couples, Koa wooden wedding rings coordinate effortlessly with every outfit. A fine layer of jewellers resin ensures they retain their vibrant colour and lustrous shine for years to come, while their modern design ensures you always stand out in a crowd.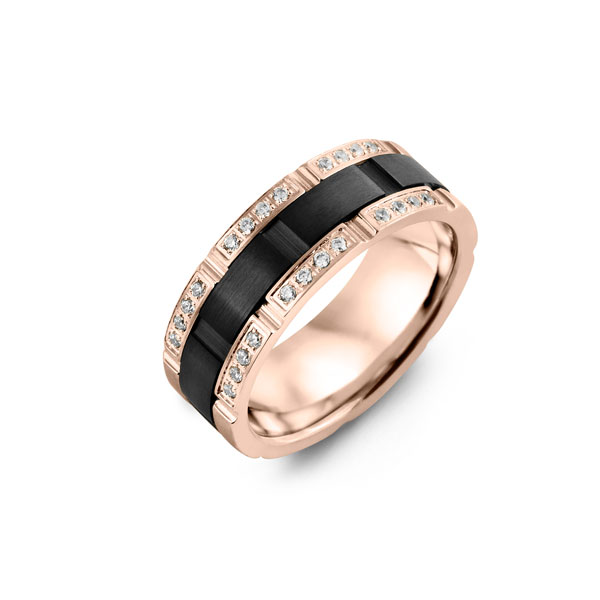 Ceramic Inlay Wedding Bands
If you love the idea of a ceramic wedding ring, but adore the timeless beauty of gold a ceramic inlay wedding band could be the perfect compromise. Sleek, sophisticated, and styled to coordinate effortlessly with white, yellow, and rose gold creations, jewelry-grade ceramic works wonderfully as an inlay, and it comes in a choice of attractive colours.
Black ceramic inlays work beautifully with rose gold, lending depth, and dimension to what is essentially a feminine colour, while white ceramic inlays give platinum and tungsten wedding bands a luxurious icy feel.
The beauty of ceramic is that it can be 'worked' with carving and engraving, and presented with a brushed, matt, or satin finish, and so it is the perfect material for creating bespoke wedding bands. You can add diamonds for an extra dose of dazzle, or leave it plain to let the contrast of two very different metals do all the talking.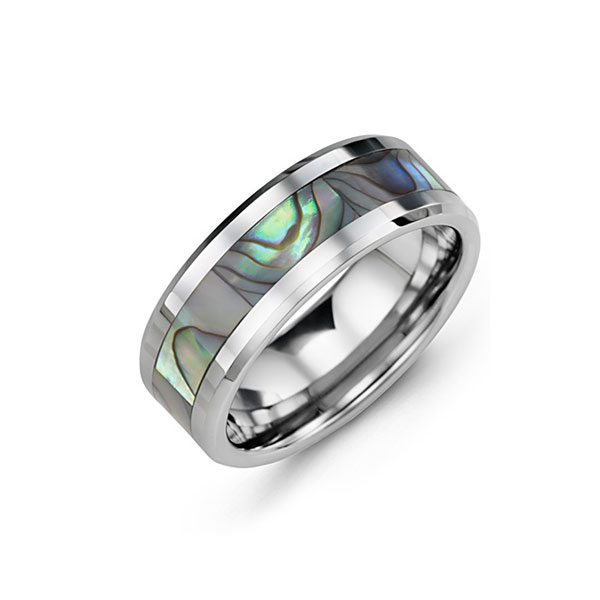 Shell Inlay Wedding Rings
Shell, be it genuine abalone shell or a manufactured alternative, makes a lovely addition to tungsten wedding bands. Adding colour and lustre to contemporary designs, it is eye-catching without being overbearing, and it is the kind of ring that you can wear every day and see something different every time it captures the light.
Shell inlay wedding bands remain a popular choice for Boho-chic brides and super-cool grooms who are not afraid to push the boundaries of jewelry design. While distinctly modern, they coordinate effortlessly with classic timepieces and traditional diamond engagement rings, lending subtle shades of green, grey, turquoise, and blue to everyday ensembles.
Much like wooden wedding bands, shell inlay rings are protected with a fine layer of jewellers resin to prevent fading and damage as you go about your everyday life. They cost considerably less than gold wedding bands; making them a great choice for brides and grooms on a budget, and they look simply spectacular in any light.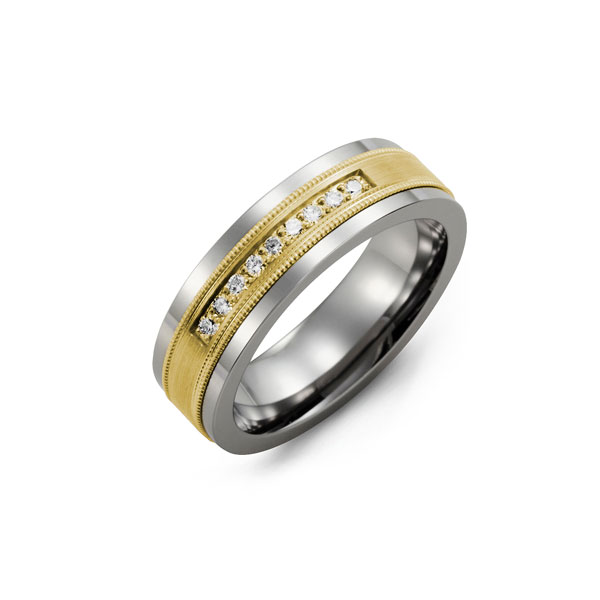 Mixed Metal Inlay Wedding Bands
With a mixed metal inlay wedding band, you can let your imagination run wild. Cobalt, tungsten, and gold work well together, and as these materials are pliable, jewellers can create a custom wedding ring to meet any specification.
You can make it truly yours by adding milgrain, rope, or diamond-cut detailing, you can add a touch of shimmer with a laser finish, or you can go to town with chocolate diamonds, pink sapphires, or multiple rows of sparkly black stones. The design options are endless with this type of inlay wedding ring.
If you cannot decide between white gold, rose gold, yellow gold, and black or white ceramic, opt for a mixed metal inlay wedding band in 2020 and experiment with them all. You can add as much colour and character as you like, and with a little help from the professionals, create the wedding ring of your dreams.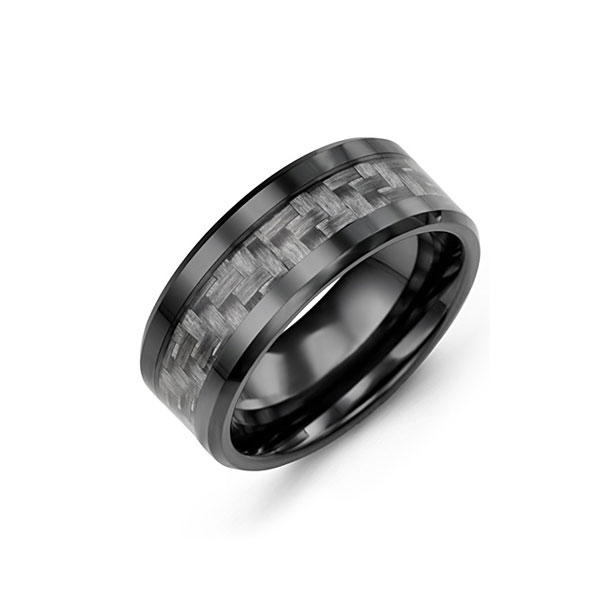 Carbon Fibre Inlay Wedding Rings
The most popular inlay wedding ring for contemporary grooms, Carbon Fibre Inlay Rings are modern, masculine, and made to last a lifetime. Commonly added to ceramic wedding bands, carbon fibre inlays feature an eye-catching weave design that reflects the light beautifully.
A great choice for designers, architects, and those with artistic flair, Carbon Fibre Inlay Wedding Bands are sporty yet stylish, coordinating effortlessly with tailored business attire, weekend casuals, and everything in between.
While carbon fibre inlays usually come in black, silver, or gunmetal grey, colourful options are available, with red, blue, and grey inlays available for those who adore the colour.
What Will Your Wedding Ring Say About You in 2020?
2020 promises to be a glamorous year for brides and grooms, and whether you are planning the celebration of the year or a small intimate gathering with friends, your wedding rings should be your number #1 priority.
So much more than a symbol of eternal commitment, your wedding ring is a piece of jewelry that you'll wear every day for the rest of your life, so make sure it expresses your personality, your individual style, and your taste.
Want to keep reading? See our latest blog posts below...