Men's Large Eternity Black Diamond Wedding Band
Large Eternity Black Diamond
MKB910CP-51B - A timeless and elegant ring for men with great detailing, this Men's Large Eternity Black Diamond Wedding Band features a raised gold insert set with larger glistening black diamonds for a real masculine feel. For maximum effect, the diamonds stretch half way around the ring. This gold and tungsten ring, cobalt ring, or ceramic ring for men is available in several variations including different ring widths, quantity of diamonds, karat and gold color.
30-DAY RETURN POLICY
FREE FEDEX SHIPPING
WORRY-FREE SIZING
LIFETIME WARRANTY
By: Carlotta H. from Corinth, Texas, U.S.A.
Order Date: April 2023
Ring Purchased: MKB910CW-51B
My husband loves his ring! Customer service was great! The ring sizers that were sent before production (free of charge) were very helpful to help my spouse decide which size fit best. We were given the option to have diamonds halfway or all the way around the ring during production with the option to add stones all the way around if we chose only halfway during production. Highly recommend.
By: James Van Allen from Franklin, Pennsylvania, U.S.A.
Order Date: September 2022
Ring Purchased: MKB914CW-105B
First of all, Madani's customer service is fantastic. I had several questions about ordering and shipping, and they always answered very quickly and politely. I was in the process of moving when I made my order, and they were very thorough in making sure to deliver to the right address once the order was completed. They also sent out ring sizers before the order was made to ensure that I was 100% sure about my size. I've never heard of a jewler doing this. It was super professional on their part to do so. On the order itself...my ring was made very quickly. Much quicker than I ever expected. I am VERY VERY pleased with the ring. Madani makes the most unique and sleek rings I've ever seen. I had been browsing in-person and online stores for months and I kept coming back Madani because of the uniqueness of their rings and sleek style. I am 110% satisfied with my purchase. Now I just have to wait 5 months for my wedding to actually wear it! From ordering, customer service, communication, shipping, and quality of product, you won't find anyone online that's better. 5 stars
By: Alexis M. from Whitinsville, Massachusetts, U.S.A.
Order Date: June 2022
Ring Purchased: MKB114CY-105B
The customer service was great! The ring itself was absolutely stunning and my husband loves it! We searched many places for a ring he loved and couldn't find it, being able to design or custom was great!
By: Caleb C. from St. Petersburg , Florida, U.S.A.
Order Date: May 2022
Ring Purchased: MKB910CW-51B
The ring is fantastic! So is the customer service! I ordered a ring, it was shipped pretty quickly, and once I got it, I decided to switch to a different ring. Madani was very accommodating, even sent me a side by side video of 3 different rings I was considering. A smooth process. Even when I mailed back the original ring and got another. Thanks Madani!
By: Sharon A. from Frederick, Maryland, U.S.A.
Order Date: October 2021
Ring Purchased: MKB110CW-105B
The ring turned out more amazing than expected. Customer service was great. I also loved the ring sizers! I also did engraving on my husbands ring which was extra special. Great experience!
By: Megan E. from Tamarac, Florida, U.S.A.
Order Date: June 2021
Ring Purchased: MKB910CP-51B
This ring was even more gorgeous in person! My husband loves it and gets so many compliments on it. Customer service was great and I love how they send you ring sizers first so your making sure you get the right size.
By: Janice J. from Bishop, California, U.S.A.
Order Date: May 2021
Ring Purchased: MKB110CW-105B
Excellent customer service and a gorgeous ring! The ring in person is stunning. The attention to detail is spot on. If you're looking for quality rings that are unique order from Madani! Will order from this company again!
By: Jessica P. from Adelanto , California, U.S.A.
Order Date: February 2021
Ring Purchased: MKB910CW-51B
The quality is exceptional! I highly recommend this company not only for their beautifully designed quality, but their customer service. I had a million questions, but Alec had no problems answering all my questions and promptly. If I could give them 10 stars I would. Thank you Madani for this beautiful ring for my partner she loves it!
By: Shellie G. from Smithfield, Utah, U.S.A.
Order Date: August 2019
Ring Purchased: MKB110CW-105B
Madani gets an A+ rating from me!!! I purchased a beautiful mens ring for my son for his 21st birthday a year ago. We have a tradition of giving our kids a black diamond ring for their 21st. It is an AMAZING RING. It has now been a year and I had a small warranty issue...so I called Madani. I was graciously amazed by the wonderful customer service I received from Alec. I learned that Madani is a large family owned business. The time Alec spent with me on the phone to explain the warranty process and my options was over and beyond what I have ever found from other companies regarding customer service. I have bought a lot of jewelry over the years and have dealt with many jewelry companies...but I have never received the customer service that I did today. Alec went out of his way to let me know that I was appreciated as their customer and that my happiness with their company and their products is what matters. I wish your company the best...you deserve it!
By: Morgan B. from Waterloo, Iowa, U.S.A.
Order Date: July 2019
Ring Purchased: MKB918CW-105B
The order process was extremely easy. They sent ring sizers to ensure we ordered the right one. That was such a huge relief. His ring came and was beautiful, exactly what we were expecting. It fit him perfectly and was very smooth, making it very comfortable to wear. It truly is stunning. The only reason why I didn't give it five stars was because a few months ago, we noticed one of the diamonds had a chip in it. It Hasn't even been a year yet. We had just expected the diamonds to be a little bit more durable and we were a little surprised to see it damaged so soon. Overall, we love our ring choice in Madani and are happy we got our forever ring with them.
By: Ross W. from Fontana, California, U.S.A.
Order Date: July 2019
Ring Purchased: MKB914CW-105B
I absolutely love this ring. It always gets a ton of compliments. I have received personalized customer service from Madani every step of the way. Their team is truly professional and they have so many options to help build you the perfect ring. 100 percent recommend!
DESCRIPTION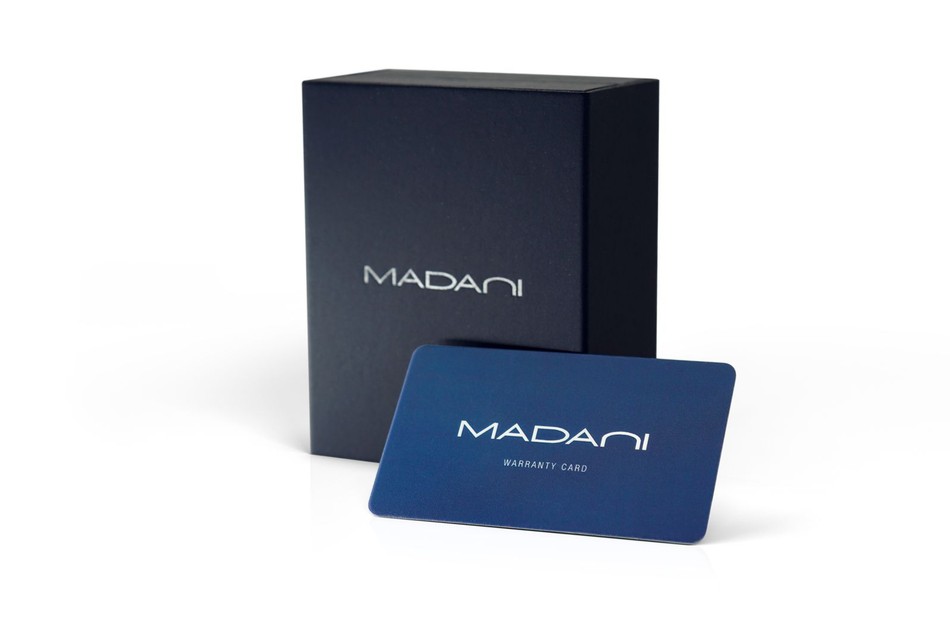 Warranty
MADANI Rings Lifetime Guarantee
We provide a lifetime guarantee against any manufacturer defects in material or workmanship starting from the date of purchase. The exclusions are damages resulting from an accident, lack of care, and/or normal wear and tear.
MADANI rings are made to last. The alternative metals and gold used to fabricate our rings such as Tungsten, Cobalt, and Ceramic, are of the highest quality and technology. Combined with our extreme care in craftsmanship, this ring will be one you will cherish forever.