Men's Medium Black Eternity Diamond Wedding Band
RLO910BF-34R - Black and white is the new modern approach at times when it comes to furniture and live as well as jewelry. This Men's Medium Black Eternity Diamond Wedding Band is a stunning piece of jewellery for the modern bride and groom. You can customise the ring with the diamond quantity options as well as the base metal which can be either ceramic, tungsten, or cobalt - White gold is an option as well! There are three widths offered from 7mm, 9mm, and 11mm and 10kt, 14kt and 18kt options for the black gold inlay. Naturally beautiful, this ring will add sparkle to your wedding day and everyday thereafter. Engrave the ring for a personal touch.
By: Breanne H. from Lompoc , California, U.S.A.
Order Date: November 2021
Ring Purchased: RLO118CF-74R
Not only is the ring absolutely gorgeous, customer service was by far the best I have ever gotten from anyone! The shipping process was complicated, as I travel for work, but Alec was so patient and understanding. He didn't make excuses, kept in touch with me, responded quickly, and got my shipment address switched AND still got the ring to me extremely quickly. Very impressive! I love that madani sends sizers prior to purchase as well. I feel the company goes over and beyond for their customers and delivers great quality product. Overall a very pleasant experience!!
By: Gerald G. from Sarnia, Ontario, Canada
Order Date: September 2021
Ring Purchased: RLO910CF-74R
Extremely fast shipping and customer service was amazing! Definitely recommend this to anyone looking. Ring is beautiful and so many comments on it
By: Christy B. from Pearland , Texas, U.S.A.
Order Date: February 2021
Ring Purchased: RLO910BF-34R
My fiancé and I looked locally for him a ring and couldn't find anything he liked. Plus, he is allergic to some metals, which also may this process difficult. He decided to search online and located a ring at Madani in Canada. I contacted them and spoke with Alec, who made my process easy. We also received a discount for ordering, which was unexpected. Alec was patient and showed understanding when we had to reschedule our wedding date due to the death of my mother. He also gave his condolences. After confirming our new date, I contacted Alec to complete the process. We were mailed sizers and they were able to make the ring in a 3/4 size which fitted better on my fiancé's finger. We received the ring fairly quickly (yesterday) and my fiancé stated he "love" his ring. Actually, I do too. He actually stated he felt a little mushy over it. Therefore, I must say we are very pleased with the ring and their process. They are professional and I highly recommend their products. Christy
By: Eric P. from San Antonio, Texas, U.S.A.
Order Date: January 2021
Ring Purchased: RLO914TF-74R
The ring is beautiful and my fiancé loved it! Great choice and would highly recommend! The quality is great and the diamonds are stunning!
By: Lisa A. from RIVERSIDE, California, U.S.A.
Order Date: October 2020
Ring Purchased: RLO910TF-74R
Amazing customer service! The owner himself was available and responded to all questions. Sizing was a breeze with the sample rings. When arrived earlier than expected ring was beautiful. Quality as shown in pictures did not do it justice. Highly recommend and wish they would start a line of women's rings!
DESCRIPTION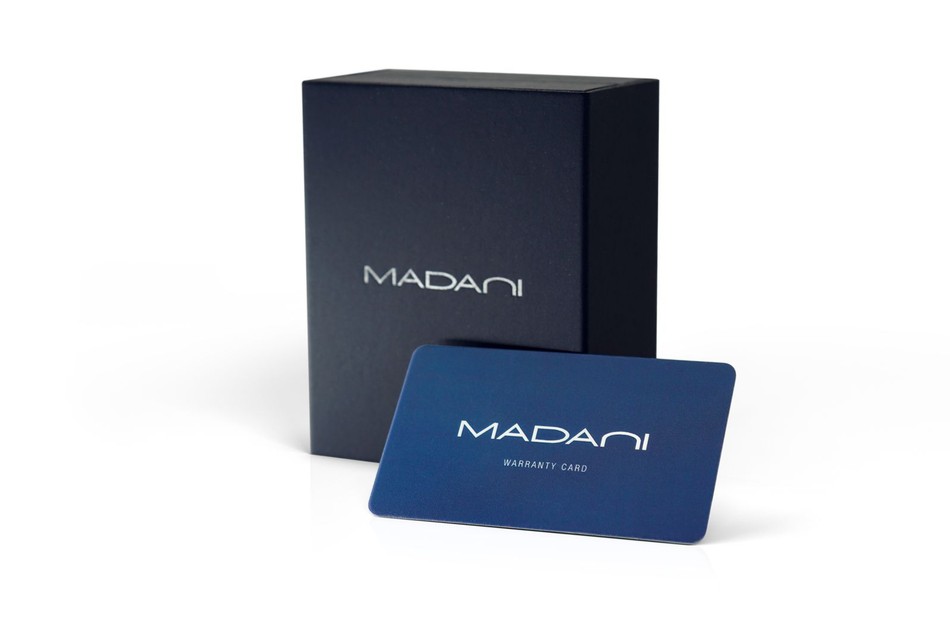 Warranty
MADANI Rings Lifetime Guarantee
We provide a lifetime guarantee against any manufacturer defects in material or workmanship starting from the date of purchase. The exclusions are damages resulting from an accident, lack of care, and/or normal wear and tear.
MADANI rings are made to last. The alternative metals and gold used to fabricate our rings such as Tungsten, Cobalt, and Ceramic, are of the highest quality and technology. Combined with our extreme care in craftsmanship, this ring will be one you will cherish forever.