Men's Eternity Black Diamond Wedding Ring
MKQ910CF-15B - A dark and mysterious addition to your jewelry collection, this Men's Monochromatic Black Gold Black Diamond Ring works elegantly alongside professional daywear and modern evening attire. Crafted from ceramic ring, tungsten ring, or cobalt ring, it features a black gold insert studded with black diamonds at the quantity of your choice. This engrave-able ring is available in various widths and diamond quantities to suit every taste.
By: Fiona M. from Lambton, Australia
Order Date: October 2021
Ring Purchased: MKQ910CF-45B
We couldn't find any other ring we loved even nearly as much. However we took a chance getting it sized, ordered and delivered on time for a wedding which was only a couple of weeks away. The service team were amazing and the ring is exactly what we hoped for. My new husband and I couldn't be happier.
By: Kristin P. from Freeport, Bahamas
Order Date: October 2021
Ring Purchased: MKQ110CF-45B
LOVE THIS RING!!!! It is such a beautiful ring. The picture gave it no justice. My Fiance loves it also. He's pleased with my selection for him. Alec was exceptional with customer service. He made the process smooth and stress free. As an international customer I have to rate the service A++++
By: LaTonia L. from Winston Salem, North Carolina, U.S.A.
Order Date: October 2021
Ring Purchased: MKQ110CS-21B
Ordered the MKQ - Men's Eternity Black Diamond Wedding Ring from the MONOCHROME Collection for my fiancée and I'm awe at the craftsmanship of this ring. It is definitely worth every penny. The customer service I received was extraordinary. They kept me updated on the process of my order every step of the way until I received the ring. When ai called with a question, they knew my name and were familiar with my order to answer my questions immediately. They made me feel like I was their most important customer and I will never forget how great that made me feel. Overall, everyone involved in the process for my ring helped make my wedding day special and I will definitely patron them again.
By: Nicole F. from New Market, Maryland, U.S.A.
Order Date: June 2021
Ring Purchased: MKQ910CF-45B
Excellent customer service. They rush made and delivered the ring so it would make it in time for our anniversary. The ring is beautiful.
By: Cinthya M. from Hialeah, Florida, U.S.A.
Order Date: June 2021
Ring Purchased: MKQ914BF-21B
I was amazed by the ton of ring options Madani offers. The fact that you can customize your ring of choice, depending on your budget, right from the comfort of your house is great. Customer service was responsive, clear and beyond helpful with all my questions. The ring was shipped very securely and with a quick turn around time from the time the order was placed. The ring was absolutely stunning. I was 100% pleased with my interaction and decision to purchase from Madani!
By: Izabelle A. from Victoria, British Columbia, Canada
Order Date: April 2021
Ring Purchased: MKQ910CF-45B
Excellent customer service and beautiful rings! I am so please with this ring and can't wait to give it to my future husband on our special day. I was also so pleased that I could get letters engraved in a language other than English. I love this ring and I know he will too. Highly recommend!
By: Monica Wise from palm bay, Florida, U.S.A.
Order Date: March 2021
Ring Purchased: MKQ910TF-45B
My husband's wedding ring turned out gorgeous! It stands out and does not look like the standard wedding band most men have. Customer service was amazing and helped me get the ring on time , even after very short notice. I love this company and very grateful for them!
By: Janelle B. from SAN BERNARDINO, California, U.S.A.
Order Date: December 2020
Ring Purchased: MKQ918CF-15B
Rcvd excellent customer service! The ring is absolutely exquisite. Very sleek, beautiful and masculine. Brilliant perfection.
By: Maya R. from Windsor Mill, Maryland, U.S.A.
Order Date: February 2020
Ring Purchased: MKQ910TF-15B
Excellent service and quality craftsmanship. My Groom loved his ring. We will be ordering from the company in the future!!!
By: Michael E. from Pomona, California, U.S.A.
Order Date: November 2019
Ring Purchased: MKQ710CF-45B
Excellent quality ring and craftsmanship. My fiancé was so impressed with the ring. Will definitely order from Madani again. You can't find these unique rings at a mall. Customer service was top notch and assisted greatly with all my questions and concerns.
By: Maria V.V.L. from Prague, Czech Republic
Order Date: February 2018
Ring Purchased: MKQ914CF-21B
Really satisfied, we had some custom problems when we had to send it for resize as I ordered the wrong size that were immediately resolved by Madani. Gorgeous Ring and very satisfied.
By: Ariyana M. from Bay Shore, New York, U.S.A.
Order Date: November 2017
Ring Purchased: MKQ710BF-15B
Amazing service, gorgeous rings, on time shipment, and goals and needs exactly to my satisfaction! LOVE MADANI RINGS! Thank you SO MUCH MY HUSBAND LOVE HIS RING
By: Kathleen T. from Castro Valley, California, U.S.A.
Order Date: November 2017
Ring Purchased: MKQ714BF-21B
Quick response time and communication. When I ordered the ring I couldn't believe how quickly the ring came and the packaging to protect it was excellent.
DESCRIPTION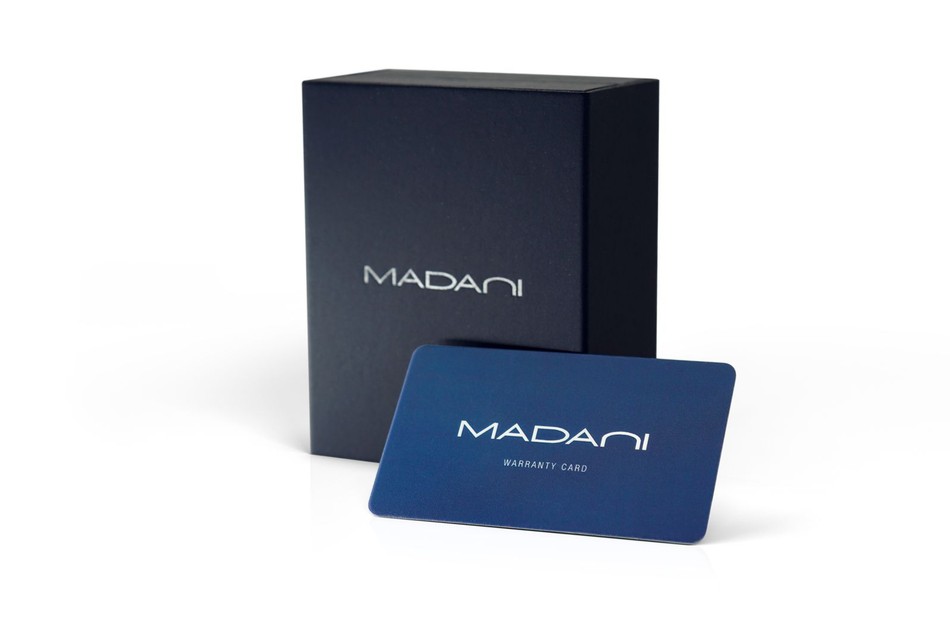 Warranty
MADANI Rings Lifetime Guarantee
We provide a lifetime guarantee against any manufacturer defects in material or workmanship starting from the date of purchase. The exclusions are damages resulting from an accident, lack of care, and/or normal wear and tear.
MADANI rings are made to last. The alternative metals and gold used to fabricate our rings such as Tungsten, Cobalt, and Ceramic, are of the highest quality and technology. Combined with our extreme care in craftsmanship, this ring will be one you will cherish forever.