Men's Black & Eternity Diamond Wedding Band
MXA910TF-21R - This Black Gold & Eternity Diamond Wedding Band is a stunning piece of jewellery for the modern bride and groom. Customisable to complement your own unique sense of style, it is available in three different widths, and offered as a tungsten ring, a ceramic ring, or a cobalt ring. The stylish black gold insert comes in 10kt, 14kt and 18kt options, and with 7, 15, 21 or 45 dazzling white diamonds. Naturally beautiful, it will add sparkle to your wedding day and everyday thereafter.
By: Jocelyne M. from Chelmsford , Ontario, Canada
Order Date: January 2022
Ring Purchased: MXA910TF-21R
Beautiful ring and excellent customer service! Received in less than 3 weeks. I highly recommend ordering from this company. Original and affordable!
By: Brittany C. from Lacey, Washington, U.S.A.
Order Date: January 2021
Ring Purchased: MXA910TF-21R
Beautiful one of a kind ring and great customer service experience. My husband loves it and it is a durable ring that we both love
By: VANESSA G. from BROOKLYN, New York, U.S.A.
Order Date: July 2020
Ring Purchased: MXA914CF-15R
I bought this band for my husband and he absolutely loved it! It's perfect! It was exactly what he was looking for. The customer service was beyond our expectations!
By: Kate W. from Austin, Texas, U.S.A.
Order Date: May 2020
Ring Purchased: MXA910TF-21R
My fiance and I had SUCH an excellent experience with Mandani! The customer service is excellent- Very responsive and personal. The sizing kit is super useful, too! It turns out my fiance was between sizes, so a customer rep worked with us to figure out what we could do to get the size he needs and the ring he wants. It worked perfectly! Now we have a GORGEOUS ring that fits like it should. Truly loved Mandani, and I would absolutely recommend them to anyone!
By: Deondre T. from Indianapolis , Indiana, U.S.A.
Order Date: August 2019
Ring Purchased: MXA910CS-21R
Customer service was not needed due to the process being so easily accommodating. The ring arrived in the mail in a timely fashion as projected also. I rated my experience 5 stars, because my product looks exactly the same as it does on the website.
By: Nawal R. from Garden Grove , California, U.S.A.
Order Date: April 2019
Ring Purchased: MXA910BS-21R
Hands down the best company to order from. In all honesty, I was very reluctant to order my fiancé's wedding ring from a store outside of California but I'm so so happy I decided to take the risk with Madani. From customer service to follow ups to the quality of my ring - everything exceeded my expectation. Wonderful company! Wonderful people! Thanks Alec and Craig for making my wedding day that much more special.
By: Jean Z. from Parma, Michigan, U.S.A.
Order Date: February 2019
Ring Purchased: MXA910CF-21R
Customization and customer service was exquisite much like my husbands ring. Getting it on time with time to spare was perfect. Appreciated the immediate communication.
By: Krysta M. from Millcreek, Utah, U.S.A.
Order Date: January 2019
Ring Purchased: MXA710CF-21R
Extremely satisfied with the ring and the customer service! After purchasing the ring Craig emailed me and made sure everything was correct and sent me photos of the different ring widths to make sure we were getting exactly what we wanted. It's not like a lot of companies where you have to call a customer service line or wait days to hear back if you need to speak with someone. If I sent an email I would get a response within 10 minutes. And even after receiving our order, he sent a follow up email to make sure everything was satisfactory. The ring itself is stunning, and tremendous quality. Overall I'm incredibly impressed with the company and will be referring anyone I can, and will gladly purchase from Madani again.
DESCRIPTION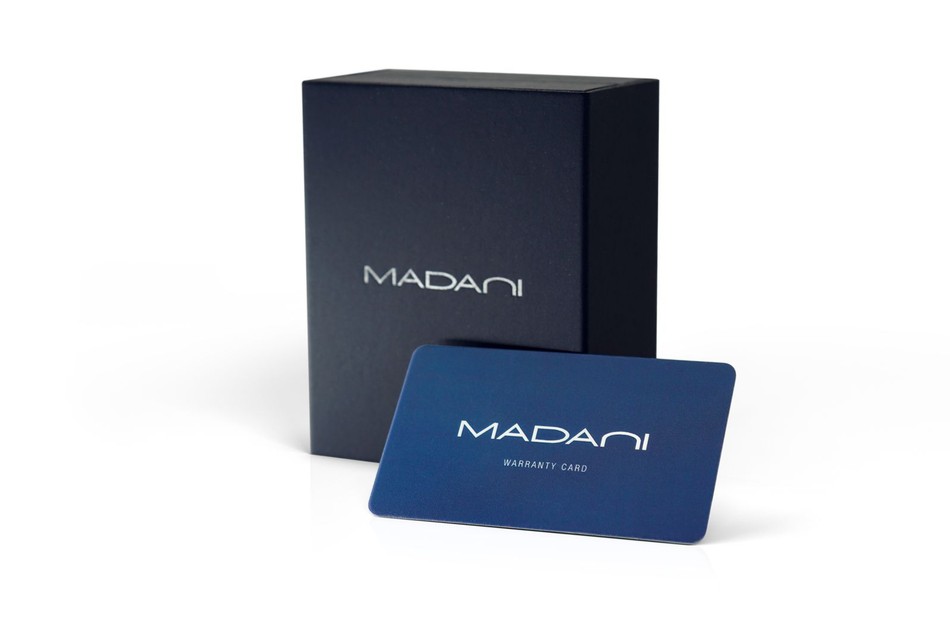 Warranty
MADANI Rings Lifetime Guarantee
We provide a lifetime guarantee against any manufacturer defects in material or workmanship starting from the date of purchase. The exclusions are damages resulting from an accident, lack of care, and/or normal wear and tear.
MADANI rings are made to last. The alternative metals and gold used to fabricate our rings such as Tungsten, Cobalt, and Ceramic, are of the highest quality and technology. Combined with our extreme care in craftsmanship, this ring will be one you will cherish forever.