8 Simple Engagement Proposal Ideas for 2024 Wedding
20-10-2023
Excited to propose to your partner, but not sure how to do it?
Asking someone you love to marry you is one of the most important moments of your life — which is why it can be so intimidating.
After all, you want to make sure it's as special as it can be. You want to surprise and amaze your partner, and convey how much they mean to you. And you want to create a truly wonderful moment you'll both cherish.
To help make it easier for you, we've picked eight fun, inventive, and romantic proposal ideas. Read on and be inspired.
Go back to the place you first met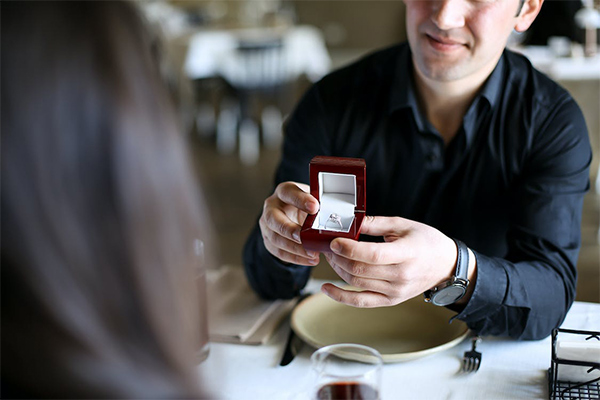 Where did you first meet your partner?
During a chemistry class in high school? On your first day at college? On a dating app? Or were you set up on a date by mutual friends?
Whatever the story behind the beginning of your romance, the setting for your first meeting is a key part of it. That could be a stylish bar, a pizza restaurant, a lecture hall, a theme park — anywhere. But no matter what it is, or where it is, that place may be the perfect venue for your proposal.
Imagine dropping to one knee and asking the most important person in your life to marry you, right where they first entered your world. It's a fantastic way to reminisce on how your shared story began and plan where it will go next. You could even return for your first wedding anniversary to celebrate, wearing your wedding rings proudly.
Propose via song
Does your partner love it when you sing to them?
Well, if not, don't let that discourage you from proposing to them through the medium of music.
Singing your proposal is a fun opportunity to get creative and ask your partner to marry them in a way they're highly unlikely to expect. One of the best parts of this method is the flexibility: you can either take a song you both love and tweak it to suit your proposal, or you can write a new one from scratch.
If you've never penned a song before, don't worry — it doesn't have to be worthy of Bob Dylan. You just need to write lyrics that will move your partner, make them feel special, and inspire them to say (or sing) "yes".
Ask friends and family for advice if you're stumped for lyric ideas or a melody. Recount the story of your relationship across a few verses, and build up to the question. If your song turns out well, you could always amaze your friends and family with it again after you exchange wedding rings on your big day.
Bake a proposal cake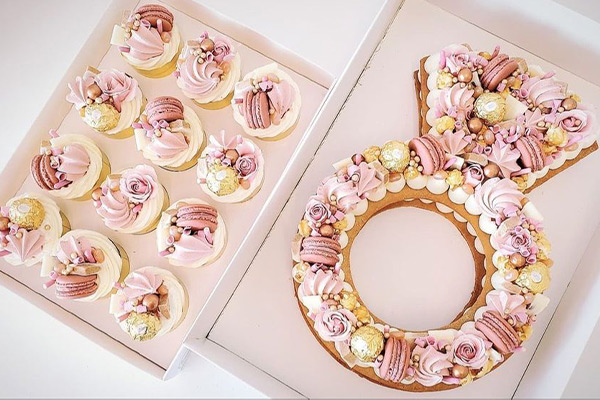 Without doubt, the tastiest way to propose to your partner is to use a cake you've prepared yourself. However, if you don't have the time to bake a cake, or you want to make sure it's as delicious as possible, you can still hire someone else to handle it.
The most important part of this proposal is presentation. The simplest option is to write "will you marry me?" across the top in beautiful piped icing, with the engagement ring placed next to the message.
But you could also explore more extravagant cake-centric proposal ideas, such as putting the engagement ring inside and cutting the cake open to reveal it. If you try this, though, it's vital that you don't let your partner start eating the cake before you've taken the ring out!
Want to bake the cake yourself, but have no idea how? You'll find an absolute glut of recipes and tutorial videos online.
Ask a celebrity to propose for you
It's easier than ever now to ask a celebrity to propose on your behalf, thanks to the various websites offering personalized video messages from stars.
You're sure to find a celebrity your partner likes on one of these sites, and they'll probably be happy to relay your message for a fee. It's one of the most surprising ways to propose, and you'll have the video to watch again and again. The celebrity might even enjoy seeing you both wearing your wedding rings, with a thank-you message, over social media someday.
Make your proposal seasonal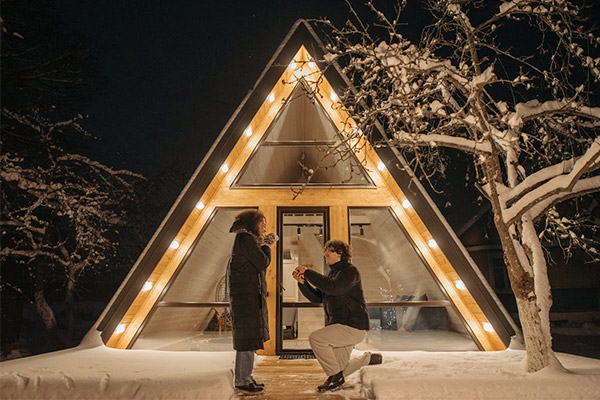 A simple, cost-effective idea is to tie your proposal into your partner's favorite season with a fun activity.
Obviously, proposing on a sun-soaked beach or atop a mountain is great if your partner loves summer, but what about other seasons?
If your partner's mad about Halloween, suggest carving a pumpkin together, then have them discover the ring inside it. Or ask them to marry you during an extravagant candle-lit dinner for two at home, with appropriately blood-colored red wine to enjoy, while you're dressed as Dracula.
Of course, if they're fond of the fall, you could take a leisurely walk through a meadow on a crisp afternoon, then get down on one knee surrounded by colorful leaves.
And if your partner is a fan of Christmas, why not propose under the tree, illuminated by the gentle glow of its lights?
Recreate favorite movie scenes
Recreating favorite scenes from a movie is another unexpected, and potentially hilarious, way to propose to your partner.
Take inspiration from the tale of Daniel Le. This creative young man inserted himself into the hit film Everything Everywhere All At Once to propose to his girlfriend Annie.
Le wittily dubbed his version Annie-thing Annie-where All At Once, and edited various scenes from the original movie with himself taking the place of different actors. The video paved the way for Le to ask Annie to marry him — and, of course, she said "yes".
If this all sounds a little too complicated and time-consuming, well, don't worry. You don't need to spend hours editing clips or go to the expense of renting a movie theater to create a unique proposal video.
Instead, you could surprise your partner with a live recreation of a favorite scene from their favorite movie, and have a friend film it for posterity.
If your partner loves Dirty Dancing, for instance, why not get friends and family together to recreate the dance scene from the movie's climax? Drop to one knee at the end, ask them to marry you, and enjoy rewatching their reaction for years to come.
Recreating a movie scene for your proposal may take some planning, but it's a moment you'll both remember fondly for a long, long time.
Take your partner on a surprise break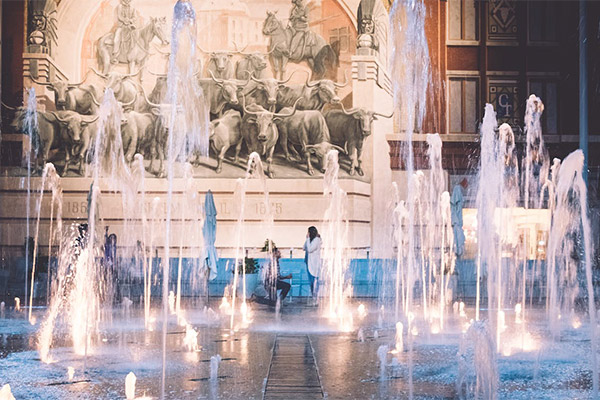 Whisking your partner away for a surprise vacation is one of the more elaborate, and potentially expensive, proposal ideas. But if you plan it sensibly, and choose a location you both really want to visit, it could work out beautifully.
There's an entire world of amazing locations to propose to your partner out there, whether you want to stay within your own country or go further afield. For example, you could go back to the same place you first visited together, and ask them to marry you at one of the restaurants or landmarks you both love.
Alternatively, why not try something new, such as proposing under the northern lights? You can see this amazing celestial wonder in various parts of Norway, Laplap, Iceland, and Greenland.
You'll need to research this carefully, though, to pick the right time and place. And remember: you're not always guaranteed to see them, so plan accordingly.
Make a unique board game about your relationship
If one of your favorite activities is playing board games, either just the two of you or with loved ones, creating your own game will show incredible dedication to proposing in a meaningful way.
One of the most difficult aspects of this idea, though, is deciding on a concept. Will you just take an existing game you both love and adjust it to suit your proposal? Or are you creative enough to build a unique board game from the ground up?
For example, create games inspired by your relationship. The board might feature key locations, such as the place you first met, your first home, and your workplaces. Playing pieces could include both of you, your pets, your friends, and anyone else you want to add. And whatever the ultimate goal, the game should end with your proposal.
Making a board game could take a while, but it's a special way to ask your partner to marry you.
What's next after the proposal?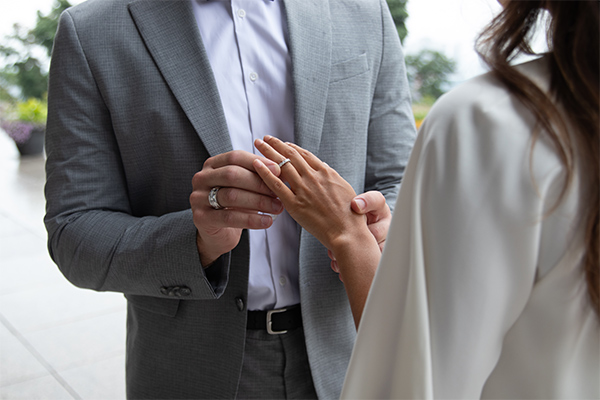 Whether you choose any of our ideas or come up with your own, proposing is an exciting step closer to marrying your partner. Preparing your proposal is great practice for planning a wedding, too, and could even give you some ideas on how to keep your nuptials true to your relationship.
One of the biggest parts of planning a wedding is shopping for wedding rings. You have a huge variety to choose from, whether you're looking for subtle men's wedding bands or elegant women's wedding rings.
MADANI is home to an amazing collection of men's and women's wedding rings. Browse our range today.
Want to keep reading? See our latest blog posts below...