Trending Wedding Themes Post Pandemic
25-11-2021
Written by Naila Afsheen.
Naila is a freelance writer and blogger in weddings, marriage advice, food blog, fashion and more..
Covid pandemic has changed the way we look at weddings. Initially, everyone had a hard time making peace with the drastic shift from big fancy weddings to intimate ceremonies with close friends and family only. But as we settle with new ways of life post-pandemic, it can safely be said that there are a few wedding trends we'd be following for years to come. While the wedding industry suffered drastically during the Covid period with extended lockdowns, many of us refused to give in and came up with trendy and practical resorts. Couples have completely reimagined and transformed the way we used to celebrate weddings. Intimate wedding ceremonies held in the drawing-room or the garden with limited or no guests is one of the most popular examples. We have definitely left extravagant weddings at fancy venues in the past.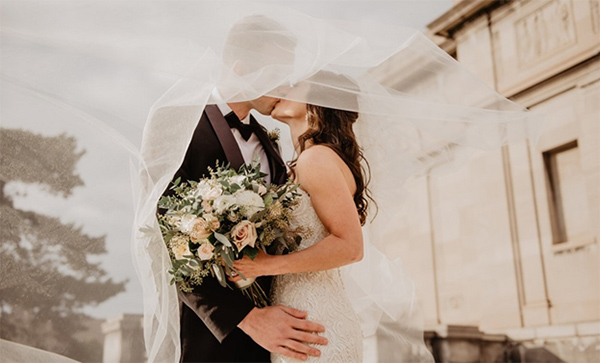 Moreover, the extreme precautions everyone had to take pre-wedding such as rapid covid testing and sanitation situations when it comes to food and seating arrangement was a lot to deal with. It is most likely to be the reason why the number of weddings happening during the last 12 months has reduced and the ones that did happen were intimate backyard ceremonies with exclusive attendees. Let's have a look at some out of the box wedding themes that are the best by-product of the covid times;
Intimate Wedding In The Backyard
We've had some good memories of big fancy wedding ceremonies in lavish halls and marquees. However, nothing beats the nostalgia of having a wedding in your backyard. Walking down the aisle at the venue that holds a sentimental value for the couple can be a lifetime experience they will get to cherish for the years to come. Furthermore, it's a place that you're familiar with and feel comfortable at, so no wedding day commute anxiety is likely to kick in.
It's your calling to reinvent the outdoor space and put it to the best use by lighting it up using fairy lights, fancy tablescapes, rugs, and floral decor. It will be the dream wedding photoshoot location as well.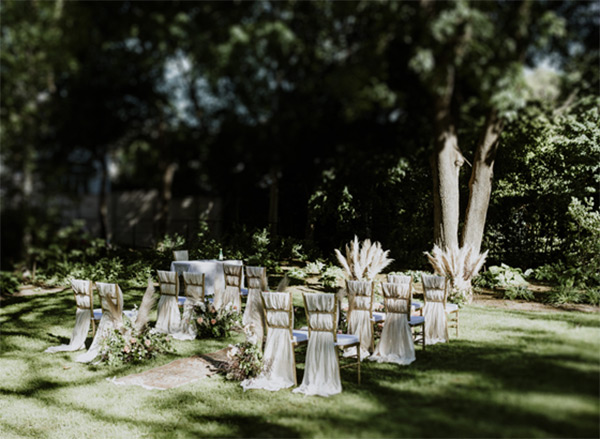 A mini wedding means no extravagant catering or lavish decoration, hence, you can put your friends and family to work for managing these things. There have been pandemic weddings happening in the backyard that introduced bite-size cakes and smart disposable menu options and it's one of the things we have taken with us into the post-pandemic world.
Desert Wedding With Exclusive Guests
If you're planning a wedding in the coming few months, this idea should be at the top of your list. Back in the day, driving away into a deserted, undiscovered place that is away from the city crowd had offered guests safety during a pandemic. However, this endearing trend shouldn't get lost in the post-covid era and we would like to see more of this theme in future weddings. In some ways, it's a simple yet extremely exciting and creative idea that may feel expensive but if you're keeping the guest list short, you'll definitely save a lot that can be spent on this wedding adventure.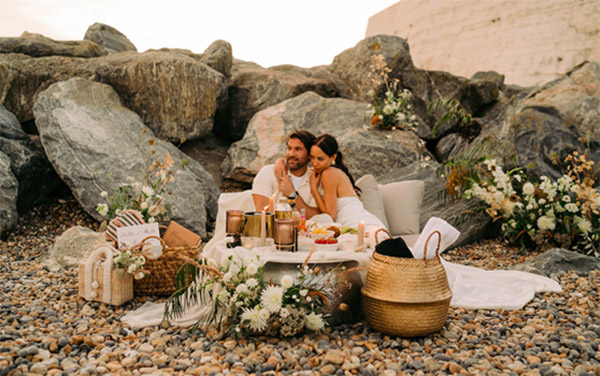 Pick a destination and go with neutral, beige colors as a theme to keep things romantic beyond words. A white bridal gown with a twist of cream and mocha lining, and a matching bow for the groom would sit perfectly well with this theme. Not to forget the special wedding bands that compliment not only the chic and neutral tones on your big day but maintain their shape and shine for years to come.
Drive-In Movie Wedding
Lights, camera, action.
For all the movie freaks out there, this drive-in movie theatre wedding idea is straight out of a Hollywood romance. The Pandemic has taught us that change is inevitable and should be mastered with a little bit of creativity and presence of mind. That being said, the nighttime wedding can be turned into a real filmy affair as nature gets to play a major role in decoration. Some bistro lights will add a woodsy beauty to your celebrations. Your photographer will be ecstatic with the venue as it can make for a gorgeous photoshoot location with all the natural beauty on display.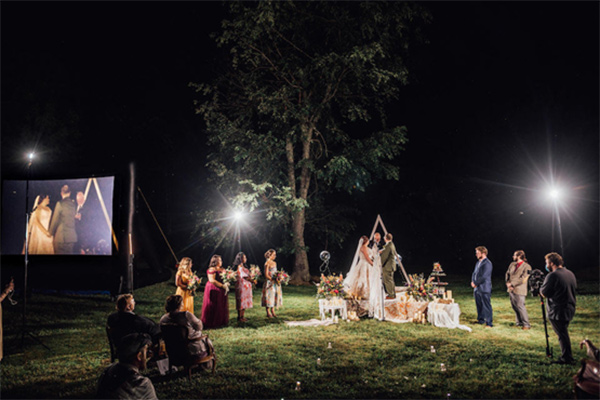 Let the world witness while you exchange your vows and luxury wedding bands, quite literally. You can keep your guests well entertained in a real movie theatre style by offering popcorns as simple wedding favors while they enjoy the live stream of the event on the big screen.
Woodsy Forest Wedding
It's simply amazing how quickly the world came around the idea of outdoor creative weddings and we have seen some outstanding and innovative setups. If your approach is more pastoral than posh, you're in for a majestic wedding venue in a woodsy forest arrangement. This organic and rustic style can make your enchanting wedding dreams come true.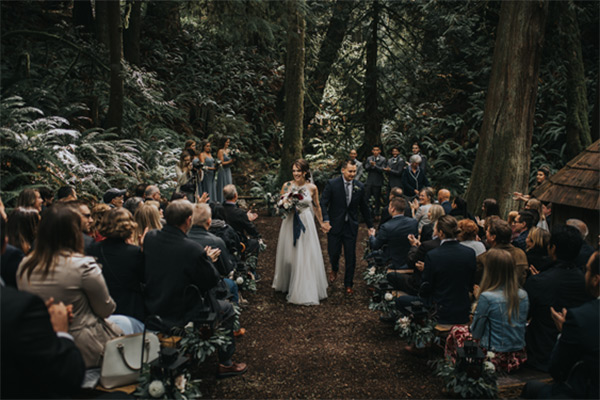 Your inner nature lover and outdoor enthusiast will be pleased with this unconventional venue. For all your guests, this venue will be a big treat as mother nature reigns supreme. Furthermore, The trees impart a special and alluring beauty to a wedding that can be taken to the next level with additional decoration elements on top of breathtaking scenery.
Custom Matching Masks
Although things are getting back to normal again with lockdowns being lifted, masks requirement seem not to be going away any time soon. And the sensible thing to do is to turn this necessity into a fashion statement. Couples have accepted the new normal and are incorporating trendy personalized wedding face masks in their costumes. We love how the world adapted to this trend of coordinating stunning wedding outfits with face masks and making it a fashion for the weddings to come.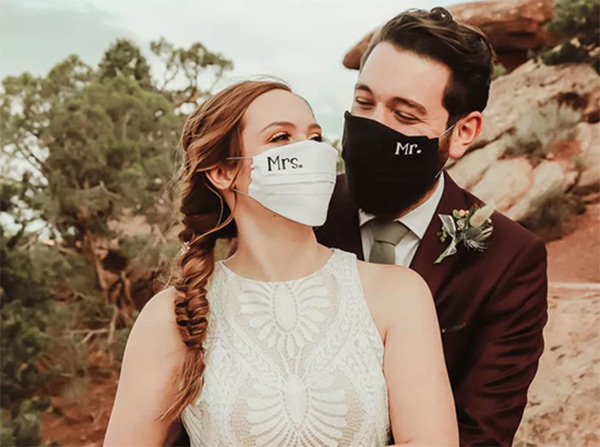 Engraving them with cheesy notes such as Mr. and Mrs. Just Married, bride and groom initials, or your wedding date can bring a delightful twist. It will go perfectly well with your engraved wedding bands. Personalized masks for maid of honor, best man, bridesmaid, and other guests can be a charming addition.
Virtual Wedding
Zoom is not just for online classes and virtual corporate meetings anymore. It has taken over the wedding industry as well and became an essential tool for celebration. The couples who want to tie the knot regardless of the fact that the venue is unavailable or some of the guests can't make it to the wedding have been leveraging technology for a memorable big day. Many virtual platforms offer waiting rooms where attendees can mingle prior to the main event. It is a perfect way to warm up for the celebrations and set the right atmosphere. Make it a more personalized experience by playing pre-recorded best man and maid of honor's speeches.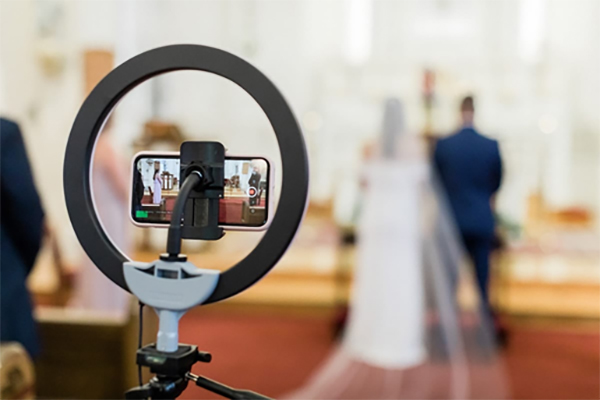 To make sure that your virtual guests are well entertained, prepare a hip and happening playlist and strategically place your floral decoration in the live stream's frame. For such a unique wedding day theme, the e-vites should be out of the box as well. So create a website to share all the pre and post-wedding details with your virtual guests. Who would have thought that a virtual wedding can be so eventful, right?

Perks Of Having Post-Pandemic Theme Wedding
No doubt the pandemic has disrupted many wedding plans and we have had the most difficult time getting used to the new ways. However, the perks of the new wedding scenarios cannot be underestimated. Whether it's cost-saving with more intimate wedding ceremonies or exclusive guests list leading to limited or no arrangement hassle has made things simpler.
Unique Atmosphere
A little flexibility can help you create the most enchanting wedding atmosphere. We have mastered the art of making the best use of limited resources and that's what we'll be carrying along into the post-pandemic world. Who would have thought about the forest weddings or the receptions in the parking lot but necessity is the mother of invention and creativity is limitless. We have witnessed some of the most breathtaking and dreamy outdoor weddings.
Cost-Effective
Opting in for smart menus such as single-tier and bite-size cakes, smaller plates, and portions is not the only cost-effective approach couples have adapted. With an ongoing trend of mini weddings and elopement, unusual venues such as beaches, forests, and camping wedding destinations play a major role in keeping the expense to a minimum.
Another bright side is that whatever you save with a small guest list and inexpensive venue can be put into sparing no expense on your stunning designer gown, fancy champagne, themed accessories, and photography.
Life Time Experience For Everyone
A couple would want nothing more than making their big day as special for their guests as it is for themselves. The more creativity you bring to your wedding day celebrations, the longer it will be cherished by everyone. Above all, continuing the pandemic wedding trend of limited guests, hosts can pay undivided attention to everyone and ensure a great experience across the board.
Some of the most unconventional wedding trends came up as a result of the pandemic. However, regardless of the circumstances, your wedding theme should be the one that suits your personality and budget, and most importantly it should be the kind of an affair you get to cherish forever.
Want to keep reading? See our latest blog posts below...