Tungsten, Cobalt, Ceramic Rings... The New Age of Style
11-04-2017
Benjamin Norris (Professional Jewelry & Fashion Writer)
Benjamin is a luxury lifestyle writer, wine critic and journalist from Bristol, UK.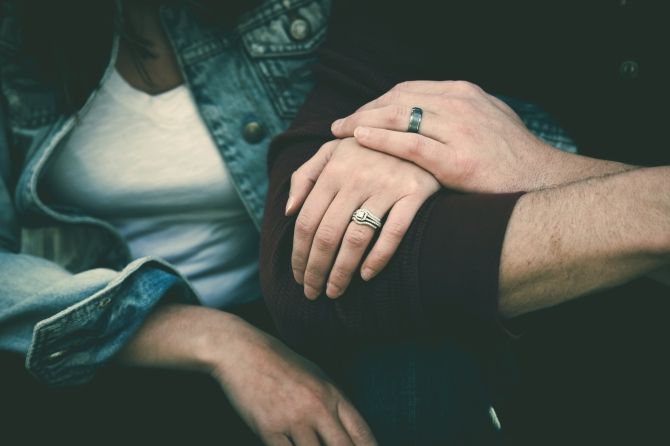 There are many, many great things about being a man in the twenty-first century - especially when it comes to the subjects of style and fashion. Unlike in generations past, contemporary masculine fashion has range and variety at its very heart; with experimental, modern and outré choices sitting comfortably side by side with timeless classics and more traditional options, which never fall from favour. This isn't merely confined to clothing, either. Men's fine jewellery has seen something of a renaissance in recent years, with quality jewellers and designers beginning to experiment with new materials, which further widen the range available to the modern gentleman.
While previous generations had to make do with a limited selection of gold and silver rings, today we can celebrate the fact that metals of many qualities, hues and characteristics abound on the market. Of course - there's absolutely nothing wrong with sticking to the classic metals, and there are plenty of convincing reasons why gold, silver and platinum have ruled the roost for centuries. However, variety is indeed the spice of life, and there's a lot to say for opening up the number of options available.
Whether you're looking for a men's wedding band, an everyday ring or an engagement ring, you can be sure that there is an alternative metal option out there which not only looks and feels fantastic but which also perfectly suits your lifestyle and fashion sense, too. As this trend continues to develop, and jewellery fashion increasingly swings in men's favour, there's never been a better time to explore the world of alternative metal rings and find something that perfectly matches your outlook.
Why Choose an Alternative Metal & Gold Ring?
It isn't difficult to understand why men across the globe are jumping at the opportunity to own alternative metal wedding bands. More so than ever before, there is a need to stand out from the crowd, to make a powerful, individualized statement with your fashion choices, and a key part of this trend is to do with the small yet significant details. To wear a ring made from tungsten carbide, cobalt, or ceramic - among other materials - is to show the world that you are a man capable of making confident choices, that you know what you like and you are not afraid to reach out and take it with both hands. These are rings that look to the future for their inspiration, which blend practicality with elegance, beauty with understated, minimalistic charm.
Furthermore, men's wedding bands, in particular, are a powerful and potent symbol of dedication, fidelity and commitment. If this is to be an item of jewellery which is to travel through life with you, forever on your finger and at the heart of your relationship, why wouldn't you want it to be a ring which reflects your unique sense of style? Isn't that far better than simply going with the crowd, and not giving it the thought and personal touch it deserves? Of course, you don't have to get married to benefit from the sleekness and elegance that alternative metal rings can provide; they also make a fantastic fashion accessory and eye-catching statement for all men, single or otherwise.
Cobalt and Tungsten: Space Age Sleekness Guaranteed
Two of the most popular alternative metals for men's wedding bands and rings are cobalt and tungsten. These two metals are prized foremostly for their durability - indeed, cobalt, in particular, is an astoundingly hard metal, which makes it hugely popular due to its scratch-resistant nature. Both materials have proven themselves over the past few decades in a range of industries, from automobiles to space shuttles, and their use in stylish men's jewellery is simply the next step in their evolution. Workable, strong, and with a brilliant shine and sleek, modern appearance, it's little wonder they are massively increasing in popularity, and are thus more affordable and available than ever before.
When it comes to differences between tungsten and cobalt wedding rings, there are a few factors to bear in mind. Tungsten is a relatively heavy metal, which makes it popular with some men due to its solidity and 'chunkiness' - it's certainly a masculine, serious choice for the man who likes his jewellery to make an impact. Cobalt, and especially cobalt-chrome (a popular metal blend for men's rings), is quite lightweight, are far more malleable; it can be moulded into a wider range of intricate designs and is ideal for the gentleman with a more active, dynamic lifestyle. As far as colour goes, cobalt is a bright, white metal, with comparisons regularly being made to platinum and white gold. Tungsten, on the other hand, has a darker, more understated and metallic hue which many find equally enticing.
Black Ceramic Men's Rings: For the Unique Touch
When it comes to achieving that truly contemporary, totally unique look in a men's ring or wedding band, few alternative materials fit the bill quite as impressively as black ceramic.
Ceramic rings, have a beauty and elegance which is all their own, and they add a sense of contemporary style and understated, masculine elegance to any outfit. The great thing about ceramic rings is not only are they durable, lightweight and scratch-resistant, they are also highly versatile, and can come in several tones and hues of gold, and can also be decorated with a wide range of lines and patterns. Many men are choosing ceramic as their preferred material for their first ring, as these have a lightness and dynamism about them that make them ideal for gentlemen not accustomed to having a ring on their finger at all times.
So, whether you are looking for a bright and shining, elegant men's wedding band made from space-age metal, or a modern and minimalist accessory to match your sleek sense of style, we're confident that there is an alternative metal ring out there which is ideal for your needs.
Benjamin Mitrofan-Norris is a luxury lifestyle writer, wine critic and journalist from Bristol, UK. He is a lover of life's finer things, enjoys following the latest trends in art, fashion and literature, and divides his time between his home town, Budapest and Helsinki.
Want to keep reading? See our latest blog posts below...