Wedding Rings for Men: The Complete Guide
22-11-2017
Wendy K. (Professional Fashion Writer)
Wendy is a published freelance writer and editor with extensive experience in beauty, fashion, and travel.
A man's wedding ring is a very personal item. A symbol of commitment and love, it is perhaps the most important piece of personal jewellery he will ever purchase in his lifetime, but with so many different options available today, many men find choosing the right wedding band a challenge.
Like their brides, today's grooms are looking for a wedding band that will reflect their own unique taste, personality, and sense of style. They are moving beyond the classic yellow gold band and towards alternative styles that offer a more distinctive look, with rings made of tungsten, cobalt and ceramic becoming firm favourites.
Men's Wedding Bands – A Modern History
Men have worn rings to signify wealth, status and association for thousands of years, but the tradition of male wedding bands only really became a common occurrence in the 20th century, when soldiers were gifted a simple gold band by their wives before heading off to fight in the World Wars. Fast-forward some 70 years, and the male wedding ring is now more popular than ever before, and international jewellery designers have taken note.
Black wedding bands, diamond-encrusted wedding bands, and contemporary two-tone wedding bands made of alternative precious metals are making a statement in the world of men's jewellery, and if you are shopping for a wedding band that stands out from the norm, there are seven key factors to consider:
How to choose a Men's Wedding Band
Budget
Before you start shopping for a men's wedding band, you need to set a budget. Prices can range from just a few hundred dollars to several thousand, depending on the metal type and gemstones you choose, and so a budget indicator will help you shop within your price range.
How much should you spend on a men's wedding band? Well, that's a good question. There are so many costs associated with a wedding, that you may be tempted to save on your wedding rings, but when you consider that your wedding band will last long after the ceremony is over and that you are going to be wearing it every day for the rest of your life, it makes sense to invest in a wedding band that you truly love. Simple tungsten wedding bands come in at around $200 - $300, but if you are aiming for bling such as black or white diamonds, $650 - $1500 is a realistic budget.
Metal Choice
Now that you have set a budget, the next step in choosing a men's wedding band is metal choice. Gold and platinum are timeless options, but modern grooms are turning to modern metals such as tungsten, cobalt, and hi-tech ceramic. These innovative metals allow jewellery makers to push the boundaries of modern jewellery design and create wedding bands as unique as the men who wear them.
A prime example of a black look would be Madani's Black Diamond Grooved Wedding Ring. Impeccably styled in a brush tungsten base metal with black diamond and black gold inlay - It is a stunning wedding ring for men.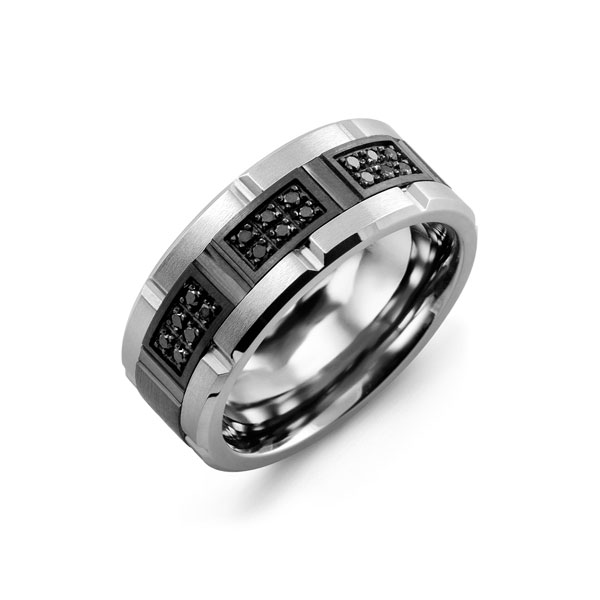 An example of a more traditional look would be Madani's Hammer Effect Wedding Ring. This ring is shown in a cobalt base metal with a yellow gold inlay.
If it is a sporty look and feel, Madani's black ceramic rings will do the trick. The Trio Black Diamonds Wedding Ring in the black ceramic base will give you a modern look that all will want to have. The contrasting monochromatic colours really set this ring apart from the rest.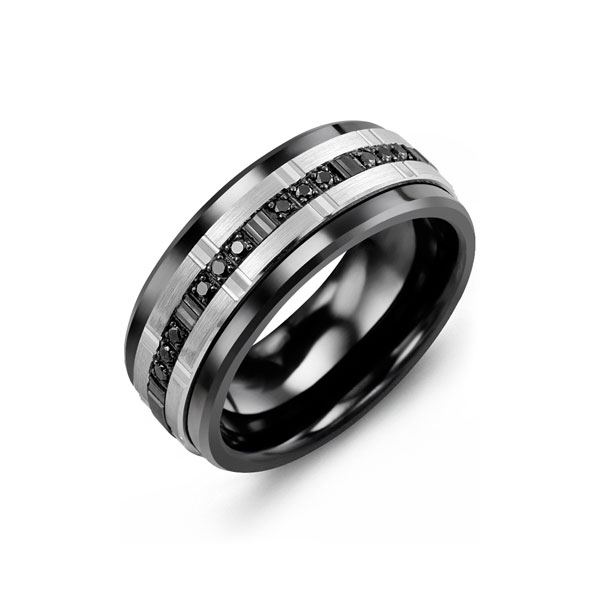 Width
Men's wedding bands come in a variety of different widths to complement both small and large hands. 6mm and 8mm bands remain a popular choice for conservative gentlemen, but if you want to make a statement, a wedding band measuring 11mm and more will ensure you stand out in the crowd. Try on the different width options to decide what you like best before committing to a ring. Madani provides widths from 2mm to 11mm depending on the product.
Here an example of a Tungsten Ring with Rose gold that is 7mm wide, it is from the Most Wanted collection and it is called the Baguette Diamond-Cut Wedding Ring. The base of this ring can be made of a Tungsten ring, Cobalt ring, Ceramic ring, or White Gold Ring.
Now for an example of 9mm ring – The Vertical Trio Diamond Wedding Ring from Madani is somewhere in between modern and classic look. The base of this ring can be made of a Tungsten ring, Cobalt ring, Ceramic ring, or White Gold Ring. The inlay is available in rose, yellow and white gold with several karat options.
The widest ring from the MADANI collection will be the 11mm base metal which can be made of Tungsten ring, Cobalt ring, Ceramic ring, or White Gold ring. A prime example of this wide look is the Scattered Wide Diamond Wedding Ring. With 3 gold inlays and options of yellow, rose, or white gold, this ring is sure to provide some bling on a man's ring finger.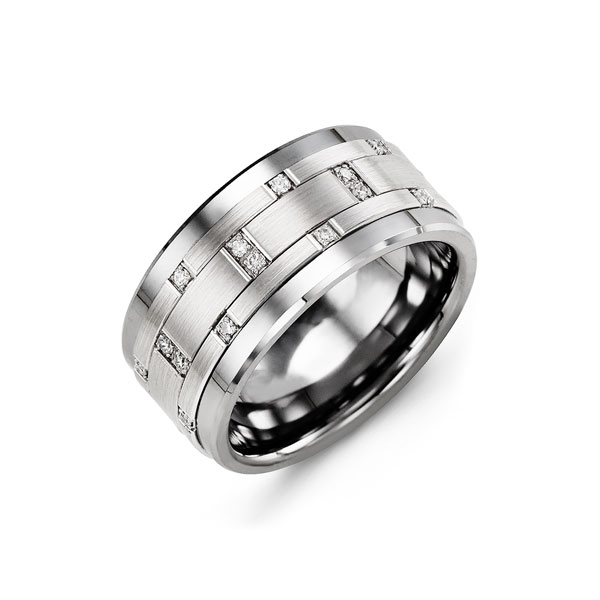 Fit
A wedding band is a wedding band, right? Wrong! Your band could be bevelled, curved, flat or rounded, and the fit will have a huge impact on how the ring feels on your finger. So again, it is recommended that you try a few different options to ensure it will fit in with your lifestyle. All rings from Madani come with a comfort fit finish which is sure to be a pleasure every time you slide the ring on.
Finish
Now we get to the exciting part – the finish! Are you looking for something sleek and sophisticated such as Madani's Satin Finish Grooved Wedding Band for men in the Tungsten Brush base metal, or something with a high shine such as the Wide Beveled Diamond Wedding Ring in the Tungsten Polish base metal. Wedding Ring? Choices, choices!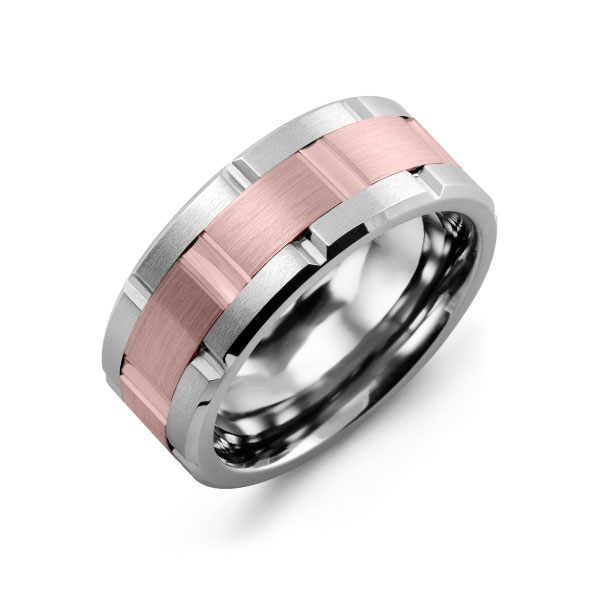 Gemstones
Diamond's may be a girl's best friend, but many modern gents love them too, and if you would like to add sophisticated sparkle to your cobalt wedding band, tungsten ring, or ceramic ring, there are many options available. Men's wedding bands with black diamonds are hugely popular right now, and they have a distinct masculine feel.
Here is an example of white diamonds on a man's wedding band with the Brushed Diamond Wedding Band in a Cobalt Ring base metal and White Gold inlay:
An example of the same ring in black diamonds would be the Hand Brushed Black Diamond Wedding Ring with Tungsten Ring base metal and White Gold inlay:
Engraving
Finally, if you would like a personalised men's wedding band, engraving will help you achieve the perfect look. Modern wedding rings made of tungsten and ceramic can be engraved on the inside with your wedding date or initials to create the bespoke piece of jewellery, and just like platinum and gold, they retain their inimitable shine for eternity.
As Oscar Wilde once said, "One should either be a work of art, or wear a work of art." We couldn't agree more!
Want to keep reading? See our latest blog posts below...