The Contemporary Ring Choice for Modern Couples
03-11-2017
Wendy K. (Professional Fashion Writer)
Wendy is a published freelance writer and editor with extensive experience in beauty, fashion, and travel.
A symbol of love, commitment and loyalty, a Wedding Ring is the most important piece of jewellery you are likely to purchase in your lifetime, and so it is essential that you make the right choice when choosing your ring.
Comfort, style, and design are important factors to consider when selecting a wedding band, but choosing the metal base for your ring is perhaps the best place to start. Traditionally, brides and grooms would wear a simple yellow gold band as a symbol of their union, but modern couples are looking for something different – and jewellery designers have taken notice.
Non-traditional wedding bands are one of the biggest jewellery trends this season, and as many can be customised to complement your unique sense of style, it is easy to find a ring that you will enjoy wearing for all eternity.
The History of the Wedding Ring
The history and origins of the wedding ring does not have a clear path. The story changes from religion to religion and culture to culture, but it is widely believed that the ancient Egyptians were the first people to exchange wedding rings or 'rings of love' some 5000 years ago, when couples gifted each other rings made of leather or woven reeds as a symbol of eternity.
As these rings didn't last very long, the Egyptians soon turned to other materials such as bone and ivory to demonstrate their wealth and their love for the recipient. This tradition was eventually adopted by the Roman's, although their views were not quite so romantic! Roman 'betrothal rings' were a sign of ownership rather than love, with men 'claiming' women by giving them an iron ring.
It was not until much later, around the 1300s, that rings were used in marriage ceremonies as a symbol of everlasting love. The traditional matching 'his & hers' gold wedding bands we know today only really became popular during World War II, when they served as a reminder for lonely soldiers fighting overseas, and a symbol of hope for their brides waiting for them at home.
Today, the wedding ring is evolving once again, with contemporary brides and grooms moving away from classic gold and platinum weddings, and moving towards modern non-traditional wedding bands made from innovative precious metals such as titanium, cobalt, tungsten carbide, and hi-tech ceramic.
The Evolution of the Non-Traditional Wedding Band
Black wedding bands, white wedding bands, and colourful gemstone encrusted wedding rings are making a big statement in the world of jewellery design, and with modern brides and grooms of every age looking for something that little bit different, this is a trend that is set to last.
Chic, sophisticated, and styled to showcase the true beauty of precious metals and stones that come in a veritable rainbow of colours and hues, modern wedding rings not only signify infinity and everlasting love, but they also allow couples to embrace their individual sense of style.
Crafted to the highest standards and created using the latest CNC machinery, ceramic wedding bands, cobalt wedding bands, tungsten wedding bands, and titanium wedding bands are made to last a lifetime, and as these precious metals are more affordable than gold, you can add a sprinkling of black diamonds or colourful sapphire embellishments to create a wedding ring quite unlike any other.
The Beauty of Black Wedding Bands
The demand for black wedding rings has never been higher. Adored by celebrities for their edgy and alternative look, they stand out for all the right reasons, adding a touch of class and elegance to any ensemble. Today, black wedding bands and black diamond engagement rings can be found in almost every bridal collection, with both fashion designers and iconic jewellery stores expanding their ranges with this new darker hue.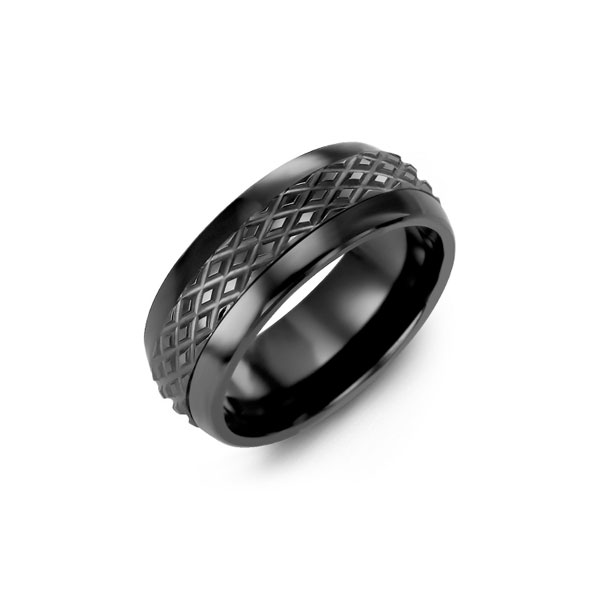 A fine example is the Monochrome Criss-Cross Carved Black Wedding Band from Madani's best-selling Luna Lust Collection. Available as a ceramic ring, a tungsten carbide ring or a cobalt ring, this exceptional wedding band is modern, minimalistic, and has just the right amount of detailing. A popular choice for modern grooms, it is undeniably masculine in design, and it works beautifully with everything from tailored workwear to workout gear.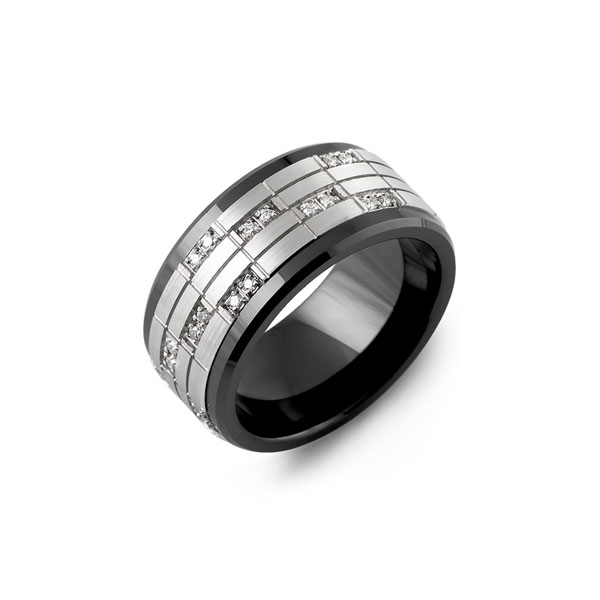 Brides and grooms looking for a little more 'bling' will adore the complex styling and inimitable sparkle of Madani's Puzzle Pattern Black Wedding Band from the Ringleader Collection. A real statement piece, it is available in cobalt, ceramic and tungsten, and comes with a gold inlay (yellow, white and rose gold options) set with a dazzling display of diamonds. Glamorous yet understated, this black wedding band has a generous 11mm profile, and so it is perfect for larger masculine hands where a classic slim gold wedding ring would fail to stand out.
It is said that every wedding ring tells a story. What will yours say about you?
Want to keep reading? See our latest blog posts below...