Best Dressed Grooms of 2019: Here's What You Should Be Wearing
26-03-2019
Wendy K. (Professional Fashion Writer)
Wendy is a published freelance writer and editor with extensive experience in beauty, fashion, and travel.
The 2019 wedding season is in full swing, and if this is the year that you are going to get hitched, we've got all the latest fashion insights on what is hot - and what is not - for grooms in 2019.
Much like bridal fashions, grooms wear trends change with the seasons, and while the traditional morning suit and classic tux will always remain in favour, modern grooms are looking for something a little bit different. Gone are the days when it was all about the bride, the grooms of today are spending more time and more money on their wedding day look than ever before, and they are not afraid to pull out all the stops to ensure they look their best.
So, what has changed? Well, according to GQ-Magazine, "the world's men are dressing more brightly and brilliantly than ever before" and they are spending more than they ever have on clothes. They are embracing trends that they perhaps wouldn't have considered before, and they are more confident in personalizing their looks, and so it makes sense that they want to put their best fashion foot forward on their wedding day.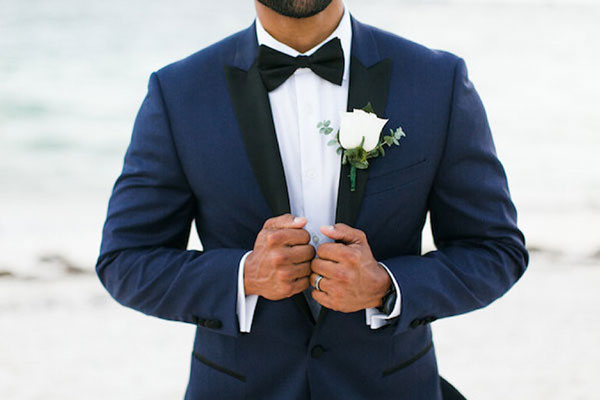 Image rights: Karina Jensen Photography @ weddingwire.com
Top Groom Trends 2019
You only have to look at the GQ Best Dressed Men List 2019 to see that the modern man is well-groomed, perfectly coiffed, and immaculately dressed, and as such, grooms wear fashions have become more sophisticated. But that doesn't mean they lack personality. Colour is set to be big this year, as are non-traditional fabrics such as tweed, and so here's a rundown of what you should be looking out for:
Impeccable Tailoring
Tailoring is back – big time, and if you want to look your best on your wedding day, you might want to consider a three-piece suit for your 2019 wedding. While somewhat traditional, the suits of today are flawlessly fitted, tapered from top-to-bottom, and altogether more streamlined. They highlight an athletic silhouette and emphasize masculine shoulders to leave you looking sharper than ever before, and so they are a great choice for formal wedding ceremonies.
The beauty of a 3-piece wedding suit is that it will take you from day to night with ease. You can wear a tie, cravat, or even a bow tie for the ceremony, then throw off your jacket and roll up your sleeves for a more relaxed and confident evening look. It's a great choice for groomsmen too, and if you want to mix it up a little, you can wear a different colour waistcoat to everyone else to ensure you truly stand out.
Colourful Grooms Wear
Colourful grooms wear remains one of this year's biggest fashion trends but forget the pastel hues of 2018. This year it's all about bold and vibrant colours such as purple, emerald green, ink blue, and burgundy. If you don't want to go head-to-toe in colour, you can always add a coloured jacket to black pants and a black waistcoat, but when done right, colourful wedding suits look nothing short of spectacular.
You could coordinate your wedding suit with the bridesmaids dresses for a more uniformed look, or experiment with different shades and styles for an original yet cohesive look – there really are no rules here, so don't be afraid to mix and match designs with your groomsmen.
Lighten Up
If traditional is not your style, and color is not your thing, you'll be pleased to know that soft neutral shades are one of this year's biggest grooms wear trends. A popular choice for destination weddings, white, cream, beige, and pale grey suits look fabulous on the beach, and you can opt for lighter, cooler fabrics such as linen and cotton. Checked fabrics and pinstripes work well in lighter shades too, so explore the options available and let your threads do the talking.
With a neutral wedding suit, you can add a pop of personality with a colourful pocket square and contrasting shirt or keep it cool and casual with a pure white shirt and no tie, this year it's all about the fit, so just remember to keep it super sleek.
We're Talking Tweed
Tweed. Love it or hate it, tweed is here to stay, and if you want to be on-trend in 2019, a tweed wedding suit should be your number #1 choice. While once reserved for English aristocracy, tweed suits have evolved over the years, so much so that they now feature in almost every modern menswear collection, and there really is something for everyone.
For autumn and winter weddings, you could go for darker shades such as navy, brown, and burgundy, which all work well with classic white shirts and contrasting accessories. If you are getting married in spring or summer 2019, go for cool and contemporary shades in lighter fabrics. Grey, blue, and beige work well here, and if you really want to make a style statement, consider a double-breasted jacket or waistcoat.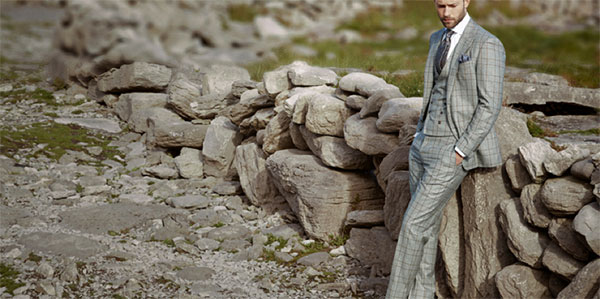 Image courtesy: www.weddingjournalonline.com
Grooms Accessories
Once you have decided on the right wedding suit for your big day, you can start shopping for accessories. In 2019, grooms are being encouraged to express their personalities with socks that stand out, shoes that shine (or even sparkle), and floral pocket squares and ties.
When it comes to wedding rings, well 2019 grooms, the world, as they say, is your oyster! Black ceramic wedding bands, diamond-encrusted tungsten wedding bands, and pink gold wedding rings are making waves this season, and so there's really no need to compromise when it comes to shopping for wedding rings. Trendsetters out there should explore the possibilities of cobalt wedding rings and black diamond wedding bands, while traditional grooms should consider two-tone gold wedding bands that combine classic with contemporary.
Grooms: What Not To Wear
So now we've told you what grooms should be wearing in 2019, here's what you should not…
Wearing trainers with wedding suits is a big no-no this year grooms, and while you may be tempted to go for comfort over style, this outdated look has been totally overdone. They do say that 'good shoes take you good places' so invest in a pair of shoes that match your wedding outfit and your personality and put your best foot forward.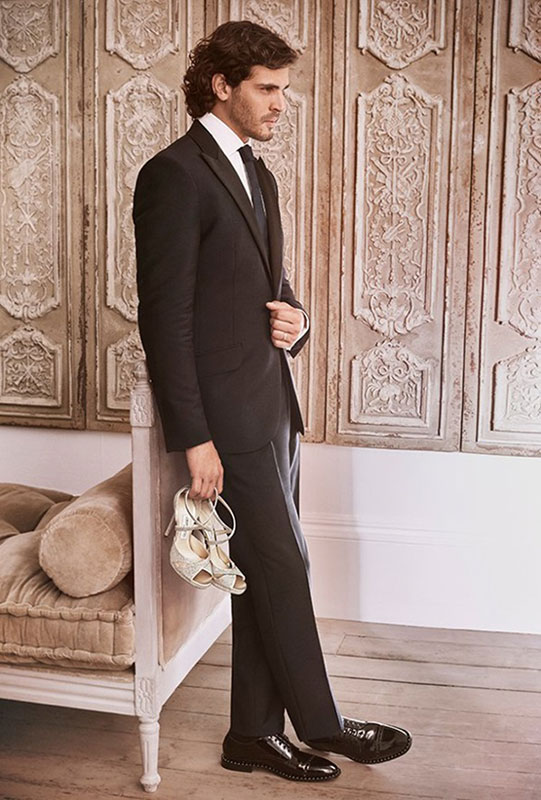 Image rights: www.jimmychoo.com
Don't cut costs by wearing a rental tux or suit. Your wedding day is one of the most important days of your life, so don't spend the day in an ill-fitting suit that has been worn numerous times before. Invest in a wedding suit that you can wear again in the future and create different looks by simply changing your shirt colour and accessories.
Don't be tempted to go for a short-sleeved shirt. It just doesn't look right, even at less-formal weddings. If you are getting married on the beach and don't want to wear a jacket, pair a long-sleeved shirt with a waistcoat. You can always turn up your cuffs after the ceremony.
As Oscar Wilde once said, "You can never be overdressed or overeducated", and when it comes to your wedding day, we'd have to agree! Be bold, be daring, and be your very best. After all, it's your time to shine.
Want to keep reading? See our latest blog posts below...