Best Cakes to go with your Wedding Theme
08-12-2021
Written by Naila Afsheen.
Naila is a freelance writer and blogger in weddings, marriage advice, food blog, fashion and more..
A well-thought-out cake can be the pinnacle of your wedding setup, bringing together all the lively shades of the venue to brighten up your special day. Planning a perfect wedding could be overwhelming but when it comes to a wedding cake, scrolling through the design options and visiting bakeries for tasting can actually be therapeutic. Once the date is finalized, flavor and design planning begins months prior to the wedding because a wedding without a cake is like Paris without the Eifel tower.
They are so much more than just a sweet ending to the celebrations but a long-lived tradition that has been in the families for centuries. People have actually customized their wedding cake family rituals to make it more personalized using elegant laces, textured buttercream details, and floating sugar flowers.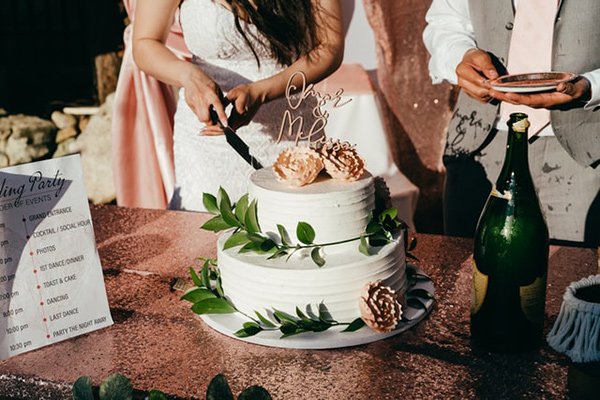 What's a wedding without cake?
A wedding without the wedding cake is like a morning without a cup of coffee or Paris without the Eifel tower. No matter how big or small your wedding is, how many guests you're expecting, whether the big event is extravagant or just an intimate ceremony with close friends and family, there has to be a cake. Without any exaggeration, cake cutting is one of the most memorable moments of the ceremony. And an appropriately coordinated cake with the overall wedding theme makes your event extremely special and everyone including the couple will cherish it for years to come.
Apart from being a ritual for the past many centuries, some people believe cake cutting to be a lucky charm for their successful married life. The bigger the wedding cake, the happier the marriage will be. So, we have come up with a complete guide to help you through the process of picking the right wedding cake whether it's a classic 7 tier vanilla cake with white icing or a minimalist nude masterpiece with a floral effect.
History of wedding cakes
Wedding cakes are not the modern TikTok trend started by millennials. It's an actual tradition that was passed down to our forefathers by their ancestors. However, back in the day, it was considered a sign of prosperity and fruitfulness. Greeks and Romans used to throw a piece of grain on the couple as a good luck charm and the guests picked up the leftover crumbs for their own good fortune. It has now been taken over by fancy cakes and the bouquet throwing tradition.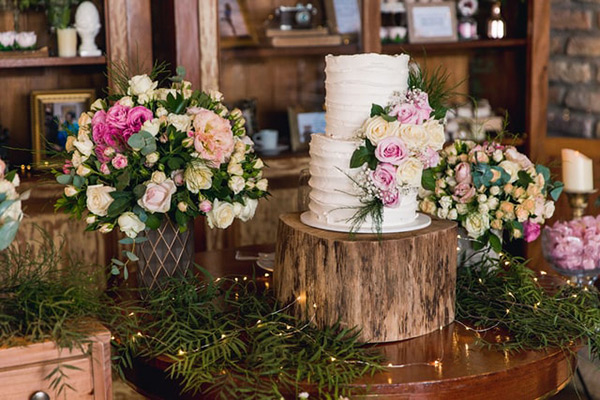 Fun Facts about wedding cakes
■ Before we dive into the best wedding cakes ideas, let's take a step back and look at some exciting facts about wedding cakes over the past many decades.
■ Initially, the wedding cakes used to be flat but with the use of baking soda, they became taller and taller.
■ Queen Victoria was the first person to have a full white wedding cake called the Royal icing.
■ The trend of tall tier wedding cakes is actually inspired by Christopher Wren's spire at St Bride's Church in London.
■ Before the world had discovered delicious recipes of cake, bread or buns were an essential part of weddings that the groom would crumble on the bride's head.
■ The idea behind tall cakes was to make the couple kiss each other over the cake as a challenge.
■ The most expensive wedding cake was of Duke and Duchess of Windsor and was sold for $29,900 37 years after their wedding.
Top 10 wedding cakes to go with your wedding theme
A cake is simply the focal point of your wedding reception so make sure that it oozes elegance, romance, and creativity. The best type of cake is the one that makes a statement, sits well with all the other tiny wedding details and adds to your personalized decor. Here is a list of ideas for your unique and unconventional wedding cakes to go with your wedding theme.
Everything gold
Earthy jewel tones and light and breezy flowers seem like an amazing setting for an unconventional couple. You can intricate sugar flowers made out of fondant or use fake ones for decoration. White and gold is a classic, most timeless wedding cake design that needs no description.
For a lovely gold theme, go for the same flowers, patterns, and color combination to ensure a custom wedding statement. Choose the color-coordinated curtains, table cloth, and crockery so the cake compliments the rest of the room. How about the elegant gold wedding bands for him and her to seal the deal?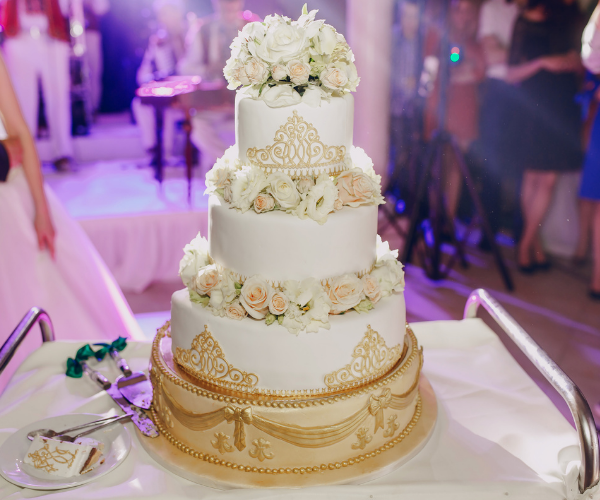 Rainbow romance
Ombre is the new trend in the world of weddings and we couldn't resist adding it to our top ten list. In the midst of multi-colored macarons, a cascade of edible sugar flowers in lavender, fuchsia gold, and peach grace the bake. If you'd like to take things up a notch, pick your wedding dress with multicolor elegant thread work. The gradient of blooms on the cake as well as your wedding venue can be inspired by the rainbow.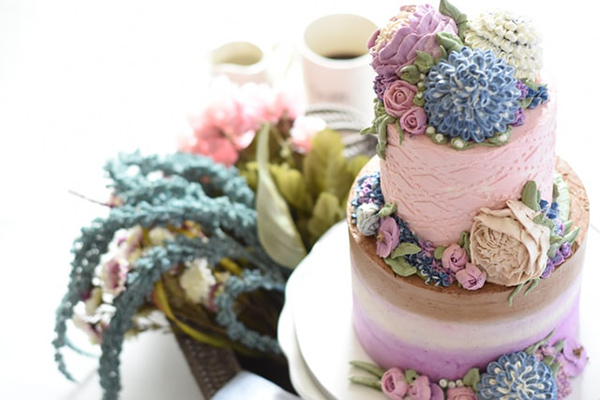 Dramatic wedding effect
Are you a big movie buff and totally obsessed with the dreamy world of motion pictures? Let's make your wedding represent your innate love for the cinema. The wedding cake can either be based on a specific movie or just a generic portrayal that aligns with your overall wedding theme. Multi-tier black and white cake neatly finished with realistic fondant elements, topped with the beautiful dummy couple. A mix of black and white floral settings in the venue with big dramatic life-size pictures of the couple sounds ideal for the theme. The very filmy Black Puzzle Pattern Black Diamond Wedding Band is straight out of the dream and would go perfectly with this setting.
Fruity Affair
'Less is more' theory has been fruitfully justified with this state-of-the-art three-tier nude cake. The couples who like to keep things minimal instead of bold color schemes should opt for a lightly coated bake showered with mixed berries and figs. The white floral touch on each tier is a cherry on the top. With this elegant cake, you can have the contrast of extravagant, bright, and shiny décor.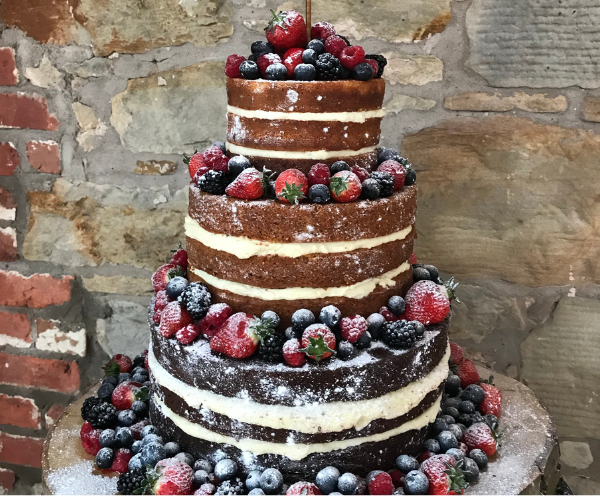 Haunted gothic wedding
Bring a masterpiece to life and ask your baker to come up with something that's not only a treat to your tastebuds but a truly eye-catching piece of art. For a brilliantly executed wedding setup, the light and dark contrast is probably the best way to go. Add in a few antique decoration elements, dark candles, and some lilies to create an ultimate wow-effect.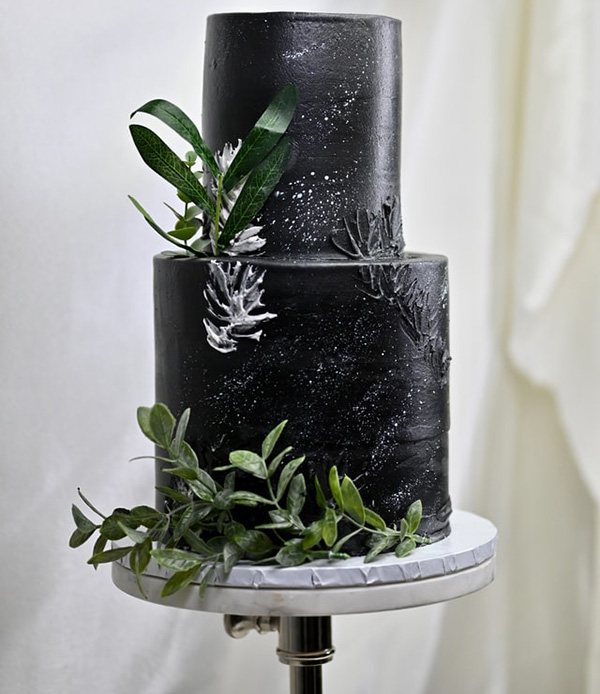 Cheesecake dream
If you're not much of vanilla, chocolate, and buttercream couple, indulge in the fruity affair with the classic New York cheesecake brings a whimsical touch to this otherwise elegant and delightful ceremony. A hint of lilac embellishment on a couple of tiers can go well with this overall setting.

Rustic Theme Wedding
Red roses are never out of fashion. Having said that, this earthy tone of buttercream frosting and a rough finishing can go really well with your rustic wedding theme. We can actually get behind the idea of a burst of red color on this matte-copper wedding cake that includes three-layer gold ties. A Cascade of red and white roses along with dark sprigs take this cake's beauty up a notch.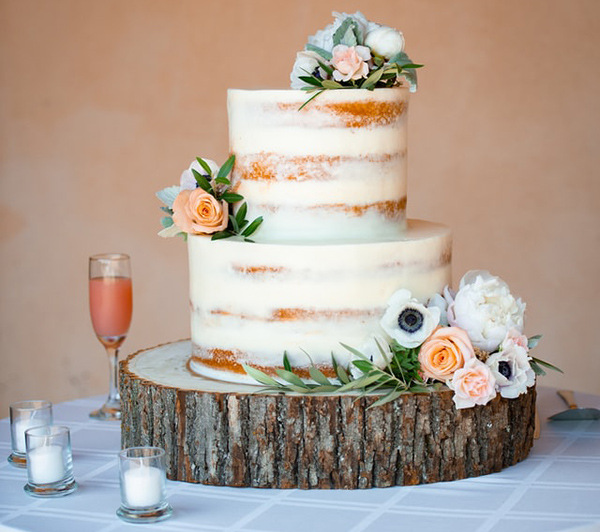 Go out of the box with Macarons
If you have a big sweet tooth as a couple and want something extraordinary for your special guests on the big day, opt for a cake topped with scrumptious macarons. An all-white embroidered fondant four-tier cake finished with peachy roses and fern sprigs is just the right pick for your light, fresh and airy wedding theme. Above all, it will complement the peachy bridal dress and the matching rose gold wedding band.
Vows by the sea
If you're the couple who's dreaming of a classic affair at the most scenic spot, you may wish to consider a cake with traditional ivory touch, covered in hand-painted patterns and fresh flowers. The cake itself can be your something blue. The artist has successfully captured the vibe of the beachy tropical wedding theme and brought this blue-and-gold four-tier cake to life. It's so beautiful that you might have second thoughts about cutting it.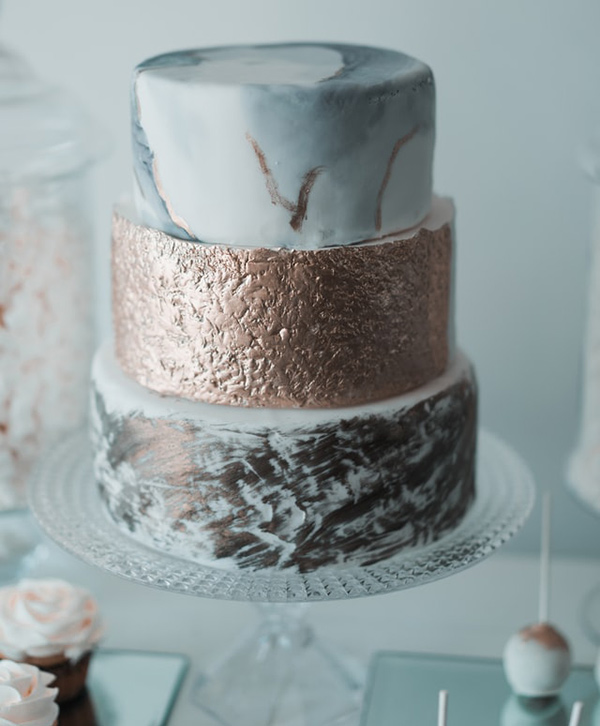 Pancake-y wedding
There's no such rule as to have a conventional cake for a wedding. It is more than ok to play with different shapes, sizes and a few ingredients as well to bring an exciting twist to your classic confection and make it even more elegant. A tower of pancakes decorated with white roses, green leaves and a touch of pink offers a big statement on your special day.
Overall, the most splendid, out-of-the-box wedding cake ideas can turn your big day into a cherishable memory for life. Whether you like to keep things simple and sophisticated or want to go crazy with it, most important thing is to take inspiration from your surroundings for the perfectly coordinated cake, wedding outfits, accessories, and decoration elements.
Want to keep reading? See our latest blog posts below...