Popular Wedding Invitation Ideas for 2023
23-02-2023
Written by Wendy K.
Wendy is a published freelance writer and editor with extensive experience in beauty, fashion, and travel.
One of the easiest ways to tell your love story is with a wedding invitation that highlights your unique personalities. Gone are the days when brides and grooms would send out a classic white card with gold writing. Today, wedding invitations are almost as elaborate as bridal gowns and diamond-encrusted wedding rings, with shimmering embellishments, metallic foil printing, monogrammed initials, and wax seal decorations to ensure they stand out.
In our guide to popular wedding invitation ideas for 2023, we'll show you what is hot, what is not, and what you and your beloved should look out for when selecting wedding stationery for your big day. With so many options available, you may find choosing your wedding invitations as challenging as choosing your wedding bands, although Madani's Ringleader Wedding Ring (below) makes wedding ring shopping easy!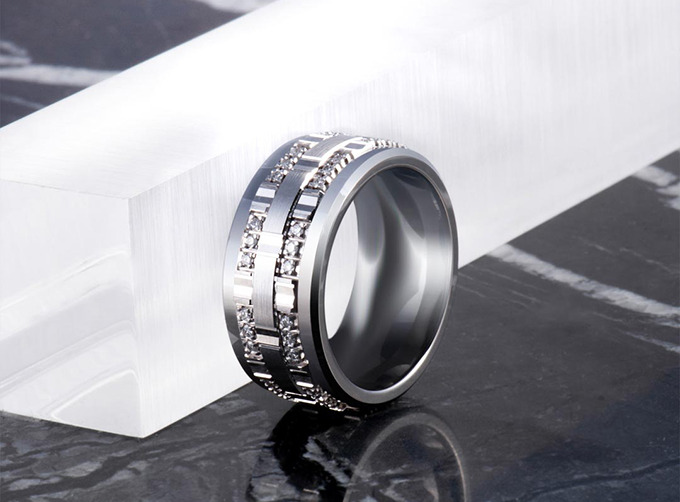 Top Tips On Choosing Wedding Invitations
Your wedding invitation is the first glimpse your friends and loved ones get of your big day, so it needs to stand out for all the right reasons. Consider the type of wedding you are hosting, your colour scheme, and most importantly, your budget. The cost of wedding stationery can soon add up!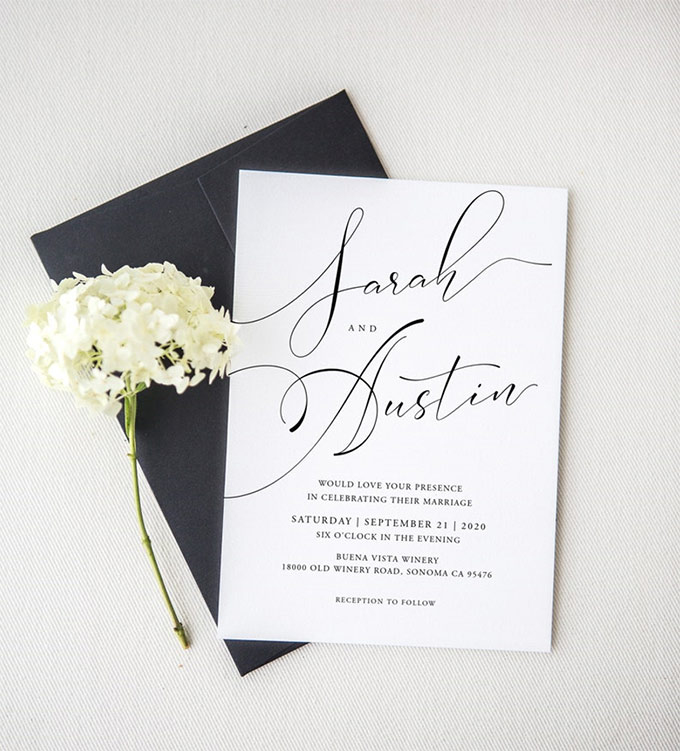 Image: Etsy
If you are going for a small and intimate wedding with just a handful of guests, you could splash out on beautiful handmade wedding invitations personalized for each member of your wedding party. But if you are hosting a hundred people or more, you may need to choose something less extravagant. Either way, the options are endless when it comes to choosing wedding invitations, so you might want to start with the following checklist:
1. Location: Where are you getting married?
If you are getting married in a church, you may want a more traditional wedding invitation listing the location, date, and time of your wedding. But if you are marrying your beloved on the beach in Cabo, you might want something less formal and more fun. Your wedding invitation should be an insight to how your day will plan out, so let location play a role.
2. What Is Your Colour Scheme?
If you have a particular wedding colour scheme in mind, it makes sense to carry that through to your wedding invitations. A pop of pink, burst of blue, splash of yellow, or sophisticated black stripe can make all the difference to a plain white wedding invitation, and if your budget allows, you can add a touch of glamour if the form of hot foil printing and metallic fonts.
3. What Is Your Wedding Style?
Are you going for classic and traditional, casual, and low-key, or modern and glam? Your wedding style should show through in your invites, so choose a design that complements your vision of your big day.
4. What Is Your Wedding Invitation Budget?
You can spend anywhere from $1 to $1,000 for a wedding invitation; the sky is the limit, so set a realistic budget based on the number of guests attending your big day. High-end printing features, quality papers, and decorative additions come at a cost. And you could pay as much as $5 per envelope if you are planning to hire a calligrapher to give them a professional touch. Wedding invitations are important, but if you need to cut corners elsewhere to get the invites you want, it might be time to review your design.
5. Do You Dare to DIY?
One of the easiest ways to save money on your wedding invitations is by making them yourself, but if crafting is not your thing, the DIY approach could cost you time and money. If you are determined to make your own wedding invitations, purchase a template you can edit and print at home. You can buy wedding invitation templates for as little as $10, and the only thing left to buy is the card to print them on and envelopes.
Wedding Invitation Trends 2023
Now you know what you are looking for and what you have to spend on your wedding invitations, you can get down to the fun part of shortlisting designs. Wedding invitations come in various shapes, sizes, materials, and colors to complement every bridal party, and we've shortlisted the best of those trending in 2023: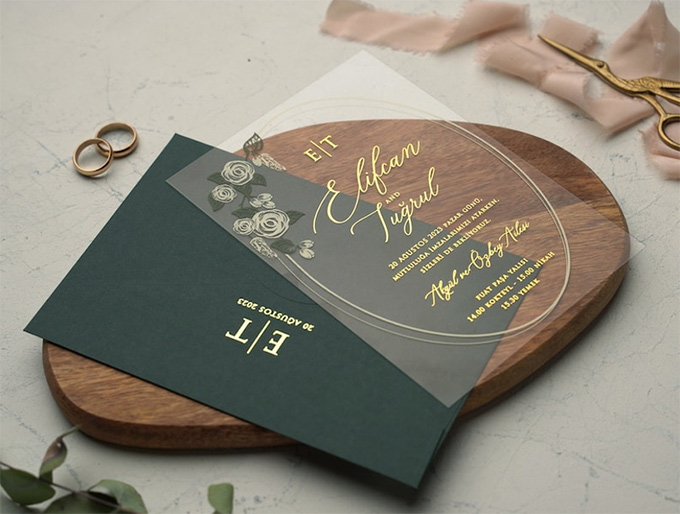 Image: Etsy
Acrylic Wedding Invitations
Acrylic wedding invitations are big in 2023, and if you are looking for something different to classic card invitations, these could be the perfect choice for your big day. Fully customizable with the text of your choice in decorative gold font, these invites stand out for all the right reasons. Acrylic wedding invitations are super-lightweight, so you do not need to worry about additional postage costs, and they come ready printed for you to pop in the envelope and send.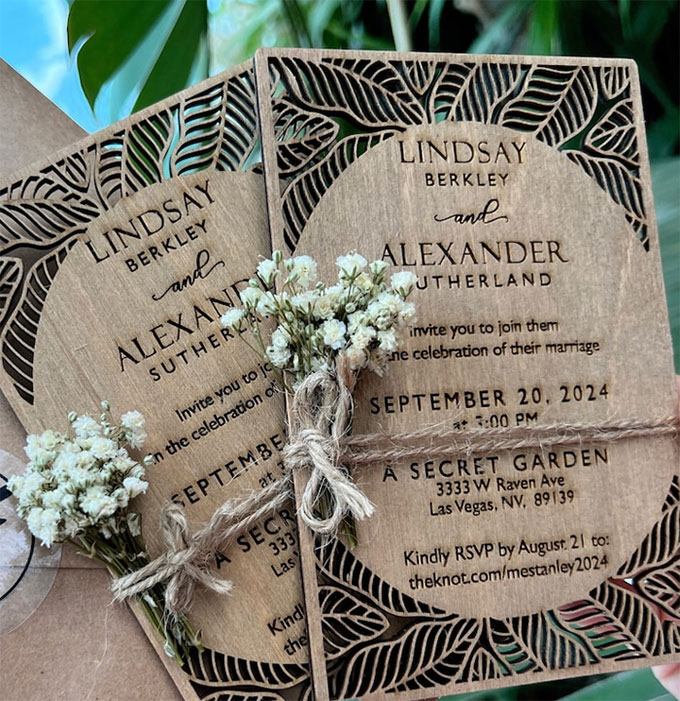 Image: Etsy
Wooden Wedding Invitations
Perfect for brides and grooms who care about the environment, wooden wedding invitations are stylish, sustainable, and suitable for a wide range of weddings, from traditional church ceremonies to exotic beach services. You can personalize them with all the necessary details, add floral embellishments, and create a beautiful keepsake that your friends and family will love. While slightly more expensive than card invitations, wooden wedding invitations are worth the investment. They promise to blow your wedding guests away.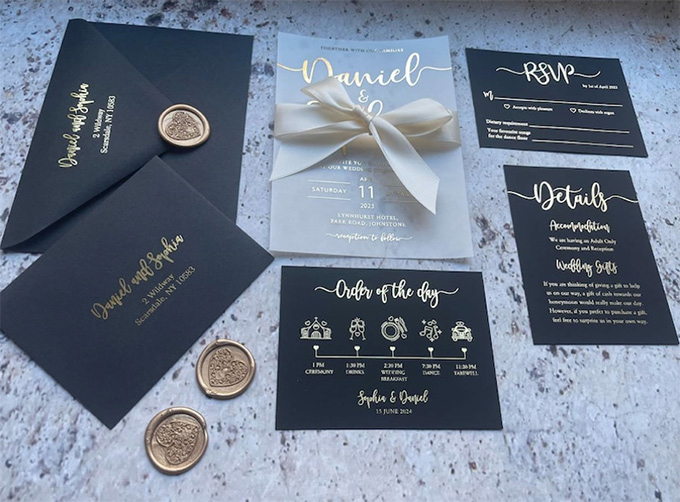 Image: Etsy
Foiled Vellum Wedding Invitations
Lightweight and luxurious, Foiled Vellum Wedding Invitations are the perfect choice for couples who like to make a statement. They are fully customizable with the foil color of your choice, and they are available with various add-ons, such as RSVP cards and order-of-the-day cards to complement every wedding. Printed on premium quality vellum translucent tracing paper, these 2023 wedding invitations promise to add a whimsical touch to your big day.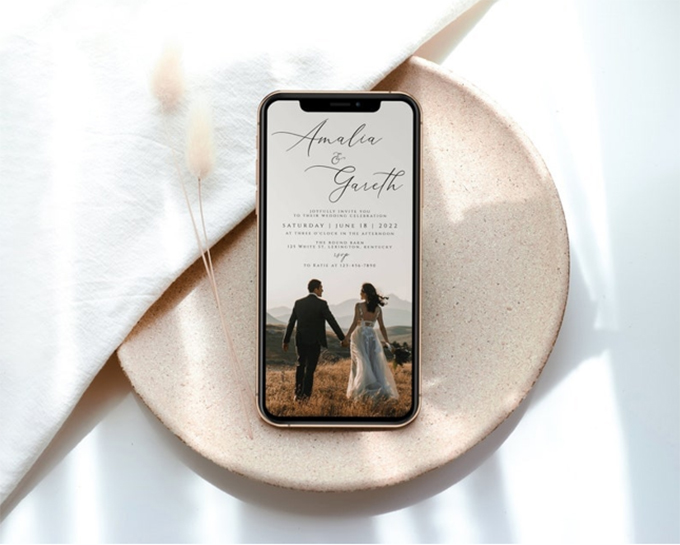 Image: Etsy
Electronic Wedding Invitations
They may not be traditional, but Electronic Wedding Invitations are big business in 2023. And if you love the idea of inviting your guests with a personalized digital invite, this could be the perfect choice for your wedding. Electronic wedding invitations are incredibly inexpensive, making them ideal for brides and grooms on a tight budget, and they guarantee an almost immediate response. You can purchase a digital wedding invitation template online on Etsy, edit it on your PC, and send it to all your friends and loved ones with a click of a button. It might not be as romantic as a wooden invitation, but it will be just as effective at getting your guests to the church on time!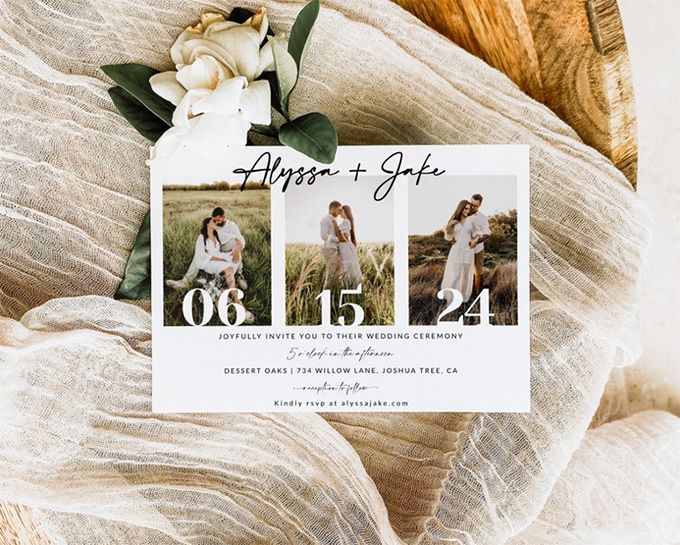 Image: Etsy
Photo Collage Wedding Invitation
Tell your love story with a beautiful Photo Collage Wedding Invitation. Perfect for romantic couples who want to document their journey from their first date to their I Do's, these wedding invitations promise to delight your guests while serving as a lasting reminder of your big day. This photo collage wedding invitation from Esty comes as a fully customizable template you can edit at home. Once you have added your favorite photos and wedding day information, you can print these beautiful invites on high-quality photo paper or even send them digitally to your friends and loved ones.
What To Write On Your Wedding Invitations
Keeping your wedding invitation text short and to the point will help avoid any misunderstandings. Key points include:
• Ceremony Date, Time & Location
• Names of the Hosts (if applicable)
• Your Full Name
• Your Spouse's Full Name
• Dress Code (if applicable)
• RSVP Information
If you want to provide additional information, such as wedding venue directions, post-ceremony celebrations, and wedding registry details, consider printing them on a separate card and popping them in the same envelope as your invitation.
When Should You Order Wedding Invitations?
If you have already sent out save-the-date cards, you should mail your wedding invitations six to eight weeks before your big day. This gives your friends and loved ones plenty of time to arrange transport, childcare, pet sitters and if needed, suitable accommodations close to your venue. If you didn't use save-the-date cards, we recommend giving your guests a little more notice and mailing your wedding invitations eight to ten weeks before your wedding.
If you are marrying overseas, your destination wedding invitations should go out even earlier, at least twelve weeks before your big day. The same applies to weddings during the holidays. The more notice you give your guests, the more likely they will make your wedding, so do not leave things until the last minute.
And a Final Note…
We live in a fast-paced, busy world, and despite our good intentions, many forget to RSVP. You'll likely need to confirm numbers with your wedding venue 30 days before your big day, so make sure you allow plenty of time for your guests to reply to your wedding invitation. Give your guests a deadline of four weeks, and if you do not hear from them, don't be afraid to follow up with a gentle email or voice note. It could be that they didn't receive your invitation in the mail or forgot to RSVP.
Want to keep reading? See our latest blog posts below...