Best Wedding Party Favor Ideas 2023
30-01-2023
Written by Wendy K.
Wendy is a published freelance writer and editor with extensive experience in beauty, fashion, and travel.
The 2023 wedding season is upon us. And now you have secured your wedding venue, purchased the perfect wedding dress, arranged your wedding flowers, and ordered those designer wedding bands: it is time to focus on the little things. You know, those things that will make your wedding day even more memorable, such as bridal shower favors, wedding party favors, and favors for your rehearsal dinner.
Wedding party favors are a perfect end to a perfect day, but if you want to give your bridal party and guests a tangible reminder of your celebration, you need to think outside the box. Bags of sugared almonds just don't cut it anymore. Modern couples are leaning towards unique wedding favors that their guests can use, grow, eat, or drink. And we've rounded up the best wedding party favor ideas for 2023 to give your wedding favor bags the wow factor.
What Are Wedding Party Favors?
The history of wedding favors dates back to the 16th century when European aristocrats would gift their guests something special to represent their bond of love or marriage. In England, this would be a love knot tied from the finest lace and ribbon. In Italy and France, affluent couples would gift a "Bonbonniere", a small box, usually made of porcelain, gemstone-encrusted metal, or crystal filled with five sugary confections (or almonds) to represent health, wealth, happiness, fertility, and longevity.
Today, wedding favors are traditional in many parts of the world, with couples in India gifting hand-crafted elephants as a symbol of good luck and Irish brides and grooms giving their guests a tiny wedding bell to keep evil spirits at bay.
Ultimately, wedding party favors are a small token of appreciation and a lovely way to say 'thank you' to wedding guests and members of your bridal party for making your big day so special.
Types of Wedding Favors
Wedding favors have become commercialized over the years, and we're no longer limited to just one type of favor. Today, many couples feel pressured to gift bridal shower favors, favors for rehearsal dinners, bridal party favors, favors for groomsmen, and wedding party favors for guests: and all these favors can soon add up.
According to wedding guru Martha Stewart, brides and grooms should budget $2 to $3 per person for wedding favors, but if you have a long guest list and a tight budget, you could get away with spending as little as $1 per wedding guest. Here are some wedding favor ideas for couples on a budget:
Best Bridal Shower Party Favors
It is your bridal shower, and the idea is that your girls shower you with gifts, but if you want to say thank you to your Maid of Honour, Bridesmaids, Flower Girls, and the oh-so-proud Mother of the Bride, bridal shower favors are the perfect way to do it. Fortunately, you do not have to spend a fortune on bridal shower party favors. Here is a fantastic option for brides on a budget: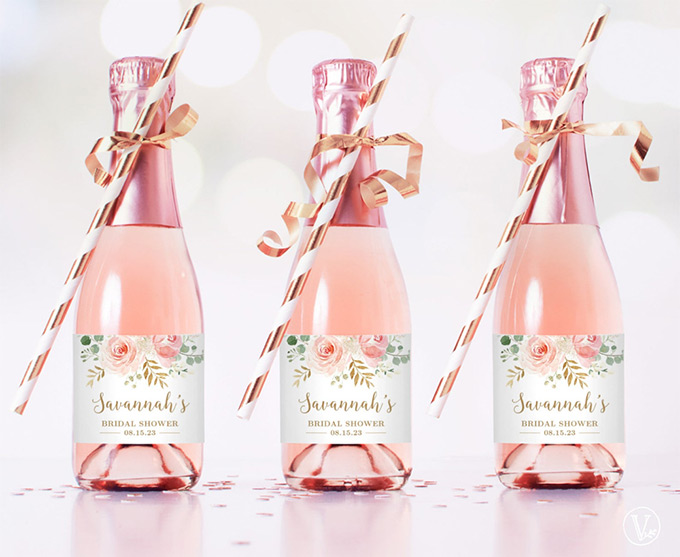 Get the party started with these mini bridal shower champagne bottle labels by Vine Wedding on Etsy. Custom printed with your name and the date of your bridal shower, these gorgeous labels will add a personal touch to any mini bottle of bubbly, and they cost just CA$5.35 for a template that you can print as many times as you like.
You can stick these champagne bottle labels onto any miniature bottle of bubbly or sparkling wine to create a unique bridal shower party favor for every member of your girl squad.
Best Favors for Rehearsal Dinner
Rehearsal dinner favors are becoming increasingly popular with modern couples who want to give thanks to their nearest and dearest. And they are a great way to decorate the table for your last dinner as a bachelor and bachelorette. As with bridal shower favors, you don't have to break your wedding budget on this type of gift. Go for something small and sweet, such as: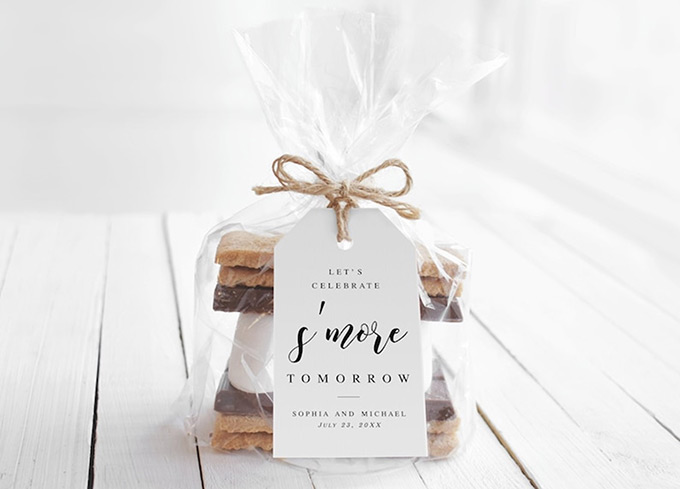 Grab a bag of Graham Crackers, a couple of bars of your favorite chocolate, and a bag of fluffy marshmallows, and create the perfect favor for rehearsal dinners with these Rehearsal Dinner S'mores Love Labels. You can fully customize these labels with any text, font, or colour to match your wedding theme and print them out at home, ready to tie to your homemade S'mores favors. The customizable template costs just CA$ 5.21, and it's yours to use and edit for up to one year.
Best Bridal Party Favors
Not to be confused with bridal party gifts, bridal party favors are typically something small and meaningful that a bride will gift to their bridesmaids, maid of honor, and flower girls on her wedding day. It could be a bathrobe for the morning of the ceremony when you are all running around getting hair and makeup or a personalized bottle of shower gel to leave your bridal party fresh, fragrant, and ready for the day ahead. But our favorite bridal party favor would have to be: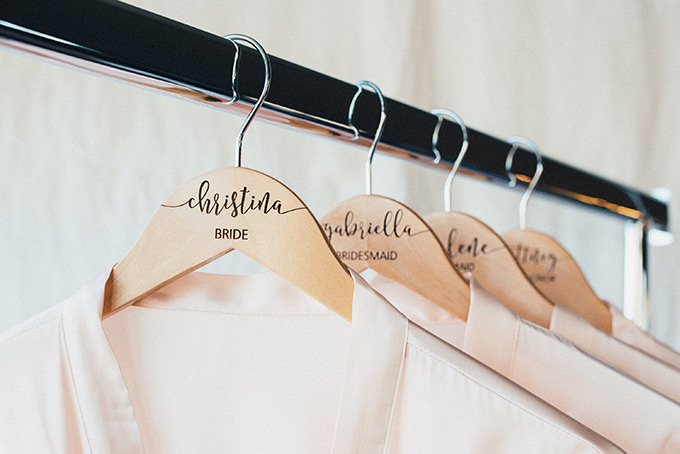 Made from natural hardwood: these laser-engraved bridesmaid's hangers are the perfect bridal party favor. Your maid of honor, bridesmaids, and flower girls can use them on your big day to hang their dresses and use them afterwards as a lovely reminder of your wedding day. You can personalize each hanger with a name and title to complement each member of your bridal party and create something unique for those you love most. These personalized bridesmaid hangers come in various colors and both adult and children's sizes. At CA$12.50, they are an affordable favor that your bride squad are sure to love.
Best Wedding Favors for Groomsmen
While couples typically purchase groomsmen gifts such as cufflinks for members of their bridal party, there is no reason a groom shouldn't treat his 'best men' to groomsmen favors. It should be something personal from the groom to show how much he appreciates their love and support on what can only be described as the biggest day of his life. Popular groomsman favors include personalized shot glasses, custom-printed socks, and Cuban cigars: but we love these: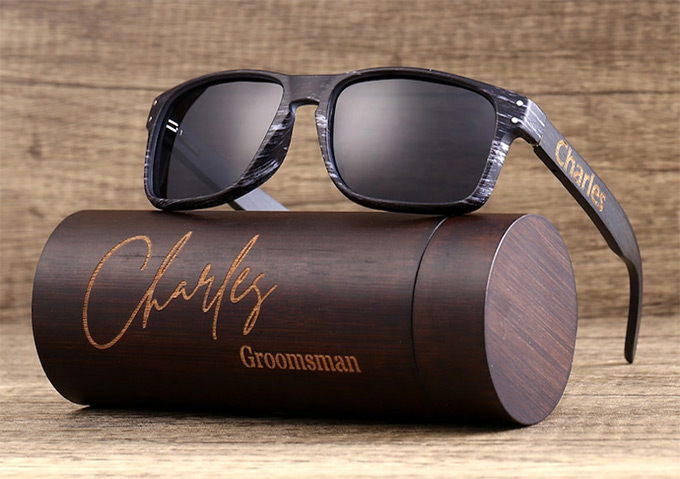 Designed to appeal to the coolest groomsmen in town, these Personalized Polarized Wooden Sunglasses will make a fun wedding favor for gents who always like to look their best. You can personalize the arms of the glasses and the wooden sunglasses box to create a unique groomsman gift. These sunglasses come in various colors, and you can customize them with the text and font of your choice. We can only imagine the wedding day photos your groomsmen will take with these personalized glasses. Make memories right here, all from just CA$ 9.72 per pair.
Best Wedding Party Favors for Guests
With your bridal party catered for, you can start looking at wedding party favors for your guests. But what are good wedding favor ideas? Here we list some of the best wedding favors for 2023 weddings: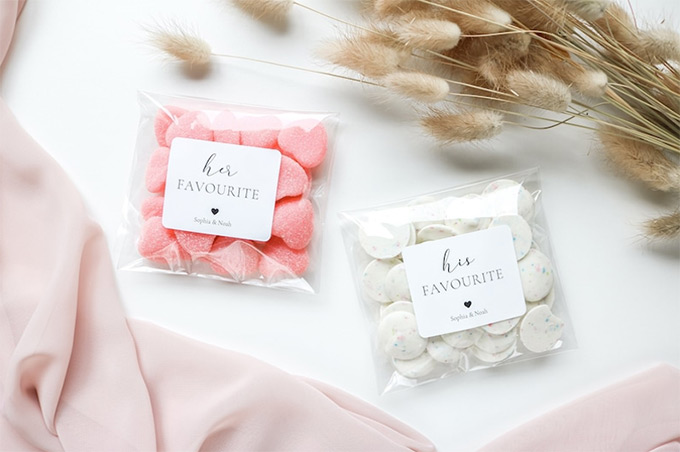 These personalized candy bags are the perfect wedding party favor for brides and grooms on a budget. You can order anything from 10 to 300 favor bags, and you'll receive half labeled with 'his favorite' and half labeled with 'her favorite'. Fill them to the brim with chocolate treats, retro candy, or even homemade goods, and voila, you have the perfect wedding favors for him and her!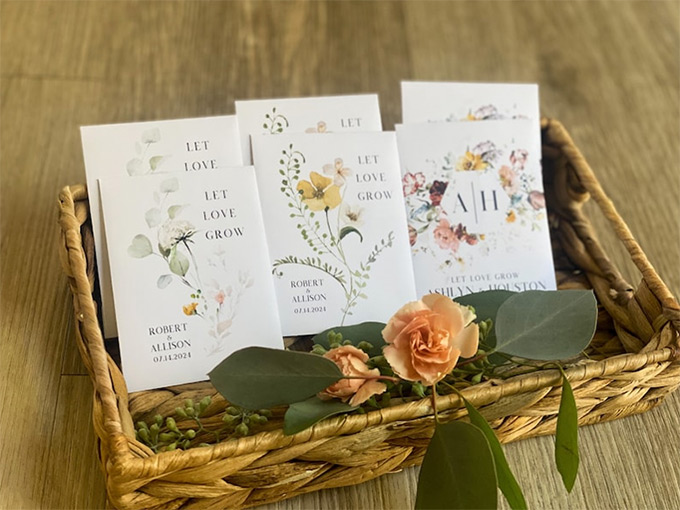 For brides and grooms who care about the environment, Let Love Grow Custom Seed Wedding Favors are the perfect giveaway. Each handmade packet includes a mix of wildflower seeds that your wedding guests can plant in any pot, garden, or planter. There are over 20 different packet designs to choose from, and you can personalize each one with your names and wedding date to create a truly bespoke wedding favor. Each flower seed favor costs just CA$ 1.39, making this an affordable option for any wedding party.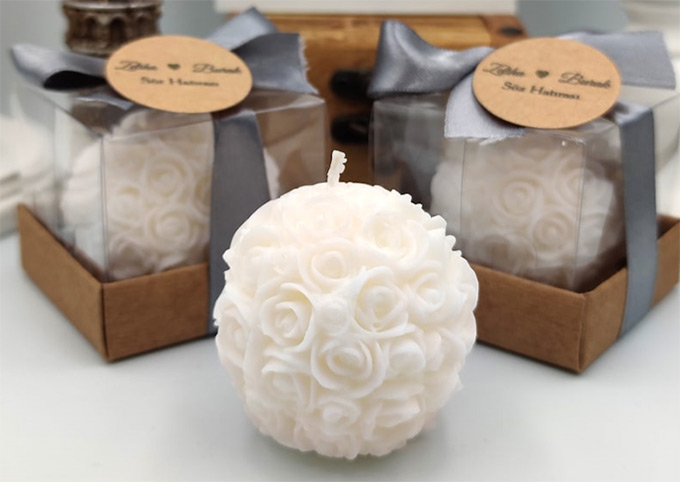 Wedding candle party favors are this year's biggest trend, and if you cannot decide what to gift your wedding guests, a custom candle could be the perfect choice. They come in a selection of bridal colors to complement every scheme, and you can personalize them with your names and the date of your wedding. You can customize these candle favors further with the box and ribbon colour of your choice to create a gift you know your friends and family will love. From just CA$1.57 per candle, these wedding favors won't break your budget, and your guests will cherish them for years to come.
You really don't need to spend a fortune on wedding favors, and you don't need to buy one for every occasion surrounding your wedding day. A small token of thanks, gifted to your guests on your special day, is more than enough to show you care.
So don't stress about expensive favors; splurge on those diamond wedding bands you both want. Your guests are there to see you marry. They will be happy with whatever they receive!
Want to keep reading? See our latest blog posts below...