Top 5 Wedding Theme Trends for 2020
30-01-2020
Wendy K. (Professional Fashion Writer)
Wendy is a published freelance writer and editor with extensive experience in beauty, fashion, and travel.
With a new decade upon us, now is the time to start planning your 2020 wedding, and if this is the year you are going to celebrate your very own one-of-a-kind love story, we'll tell you everything you need to know about this year's top wedding theme trends.
Breaking Away From Tradition
The way we plan our weddings has changed dramatically over the years, with individuality replacing the traditional blueprint of colours and themes.
Brides and grooms are no longer satisfied with the classic identikit wedding consisting of a church ceremony and hotel reception they want something modern and contemporary, something that reflects their unique sense of style. And in 2020, we expect to see them doing exactly that.
That doesn't mean to say that you cannot enjoy a traditional ceremony, or even toss your bouquet to your patiently waiting, hopeful friends, but it does mean that you are free to break away from these age-old traditions of they do not suit your personality, and make every aspect of your wedding celebration uniquely your own.
So what should you be looking out for to be 'on-trend' this year? Here are the Top 5 Wedding Theme Trends for 2020 – welcome to a decade of individuality!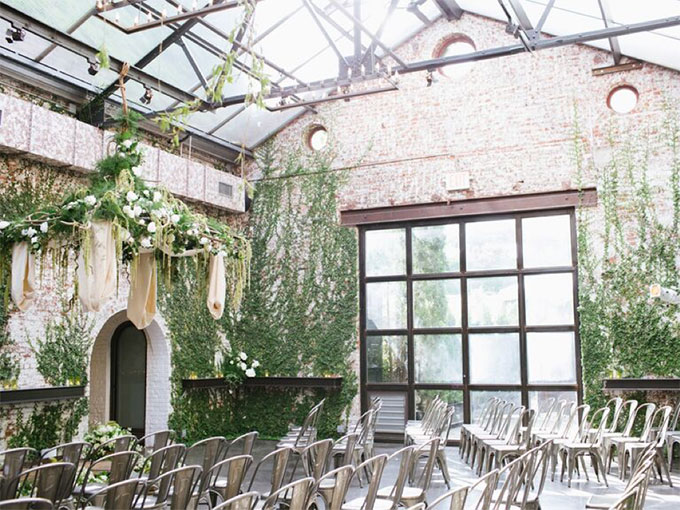 Image: theknot.com - Going Green: Sustainable Weddings
We like to call it the 'Greta' effect, and if you care about the planet as much as Ms. Thunberg, then you should most definitely consider the Sustainable Wedding Trend in 2020.
There are many ways you can make your wedding greener – from committing to zero waste and going plastic-free, to serving organic produce at your wedding breakfast. It is the little things that make big differences when it comes to wedding planning, and if you would like to make your wedding more sustainable, here are a few ways to reduce the ethical and environmental impact of your big day:
Upcycle your mother's wedding dress with help from your local seamstress to make it uniquely yours
Choose wedding stationery made from recycled paper and sustainable materials
Source a local catering company specializing in ethical and organic produce
Serve plated meals rather than having a buffet to reduce food waste
Design your wedding rings using eco-friendly materials and embellish with stones from a family heirloom
Rather than a traditional gift registry, ask your wedding guests to donate to your favourite environmental cause
Choose an eco-friendly wedding reception venue
Get married close to home to reduce travel time and lower your carbon footprint
Choose potted plants, rather than freshly cut flowers for your table decorations, that you can replant at home. It's better for the environment, and every time they bloom, you'll be reminded of your special day
Rent don't buy – be it tableware, napkins, tuxedos, glassware – reuse, reduce, recycle!
Image: naturallychic.ca - Downsize: Micro Weddings
Micro Weddings are set to be one of this year's biggest trends, and while they will not appeal to everyone, they are perfect for brides and grooms who are looking to host a small and intimate wedding focusing on the guest experience.
Not to be confused with an elopement, a Micro Wedding includes all the components of a traditional wedding such as a ceremony, reception, first dance, and wedding breakfast, it's just smaller – think 30 people or less, with only your nearest and dearest invited to help you celebrate your big day.
A Micro Wedding is a perfect choice for couples who want to celebrate their marriage to each other, rather than have 'a wedding'. It's more personal, cheaper than a full-scale wedding, and best of all, you can make it yours with bespoke touches such as gourmet meals and fine wines, something you may not be able to do when hosting hundreds of people.
With a Micro Wedding, you can spend more of your wedding budget on the things that are important to you such as your wedding rings and honeymoon, and you'll have more time to spend with your chosen guests on the day. It's an altogether more personalized experience – your wedding, your way!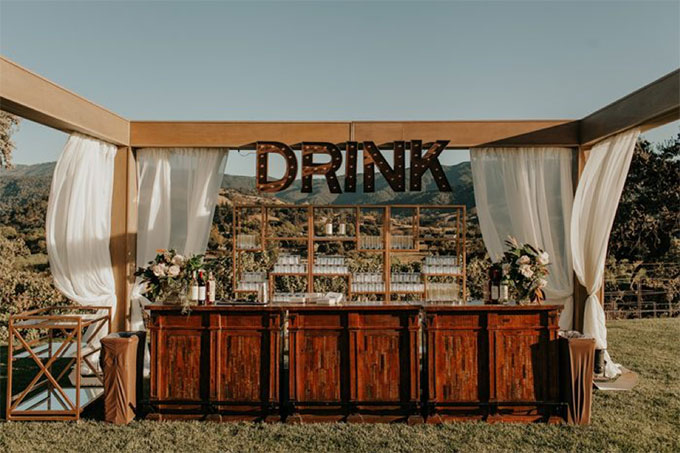 Photo by Alexandria Monette Photography - DIY: Self-Service Weddings
If you hate the idea of planning every detail of your reception, a Self-Service Wedding could be the perfect choice for your big day, and if you are keen to find out more about this stress-free wedding trend, we've got all the details for you.
Self-Service Weddings are made for fun-loving couples who want to create a real 'hands-on' experience for their guests. It involves leaving buttonhole flowers at the entrance to your ceremony venue for your guests to select and apply themselves, catering with buffet banquets where guests can build-a-burger or ice-cream sundae, and installing self-service bars where you can unleash your inner mixologist and create a list of signature drinks for your guests to enjoy.
It's all about creating experiences, meaningful moments, and memories that you and your guests are never likely to forget, and without the need for waiters and bartenders to cater to your wedding party, you can spend less on service staff and more on your food and drinks menus.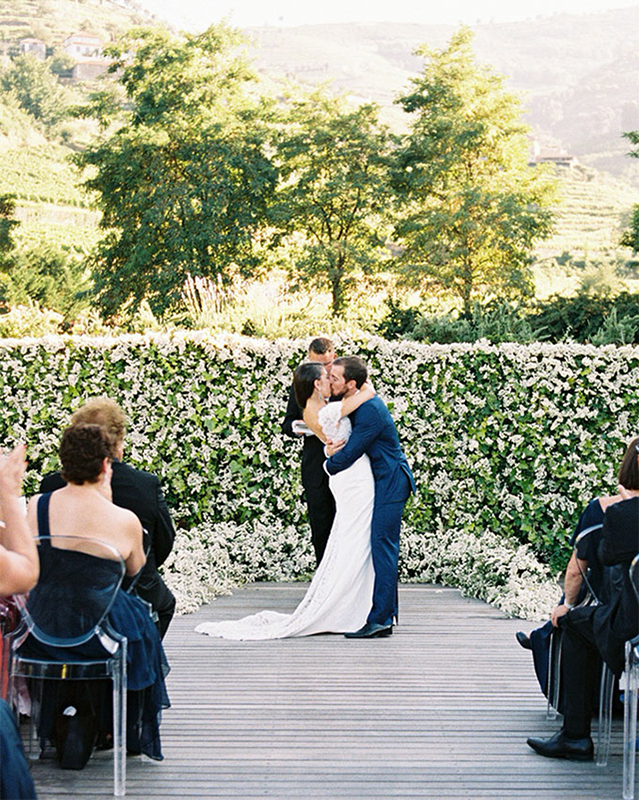 Photo: Abby Jiu Photography - Get Instagrammable: Multi-Day Weddings
Priyanka Chopra and Nick Jonas did it, as did Idris Elba and his new wife Sabrina Dhowre, and if you intend to host the wedding of the year in 2020, you better start planning now with a two, three, or even four-day celebration that will blow your guests, and your Instagram followers away.
Multi-Day Weddings are another big trend for 2020, and while you may not have the budget of celebrities, there are many ways in which you can extend the party without breaking the bank.
First up is to decide where you want to host your wedding, and how many people you would like to attend. Multi-day weddings tend to work better for smaller groups of up to 50, and they are perfect for destination weddings where you and your guests are staying at the same hotel, but think about logistics and how you are going to move people around from one event to the next before you start booking any venues.
Most couples planning a three-day wedding opt for a welcome party on day one, the wedding ceremony and reception on day two, and a beach party or farewell brunch on day three, but this all depends on you and your guests. If your friends love to party into the early hours, you may want to keep things low-key on the day before your wedding (for the sake of your wedding photos, if nothing else!), and have an all-out celebration the day after the main event. The key to a successful multi-day wedding is the organization, venue coordination, and creating those all-important Instagrammable moments.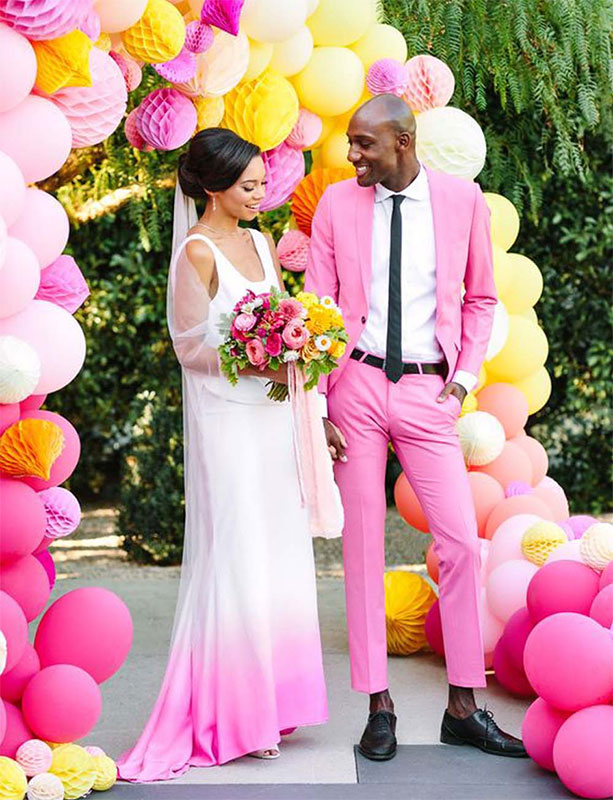 Image rights: weddingbells.ca - Brighten Up: Colourful Weddings
Forget traditional colour schemes, 2020 Weddings are going to be 50 shades of fabulous, and if you want to give your classic wedding a contemporary twist, you should consider brightening things up with a vibrant burst of colour.
We're not talking about coloured socks and pocket squares here, we mean statement lighting at your wedding reception venue, a veritable rainbow of flower colours in your table decorations, multi-coloured bridesmaids, and dare we say it, colourful wedding dresses!
Trending hues for 2020 include soft greys, delicate lilacs, and timeless blush with pops of emerald green and bold cassis, which we can never decide is purple, pink, or just the perfect blend of both! Brides and grooms are being encouraged to unleash their creative sides and play with colour to create a perfect backdrop for their big day that reflects their personal style.
If a coloured wedding dress is just too far out of your comfort zone, try something floral, sparkly, or glistening gold. It's the one day of your life where you really can go-to-town, so make the most of it, and make a bridal statement that your guests will never forget.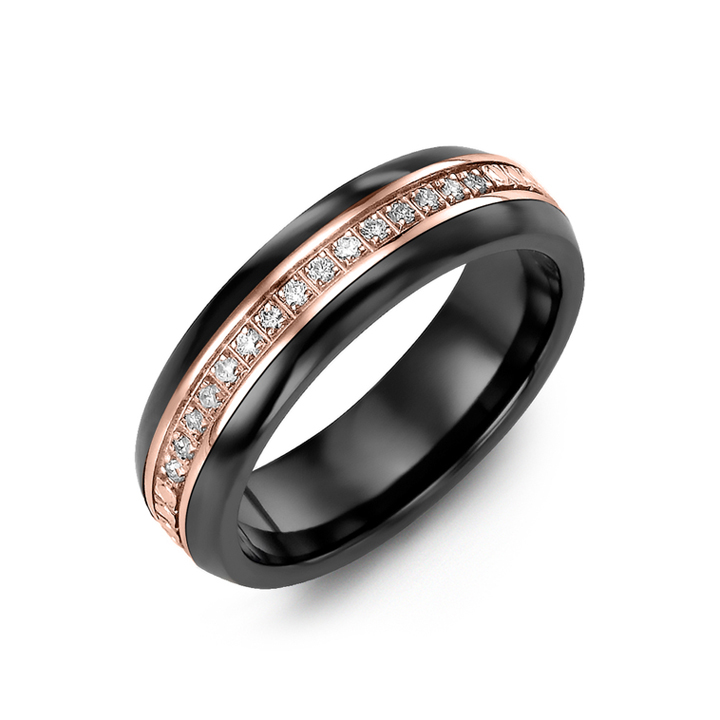 Colourful wedding bands are set to be big this year too, so experiment with modern designs such as white ceramic wedding bands with pink sapphires, or black ceramic wedding rings with rose gold, and celebrate your union with rings as unique as your love.
A Final Note
Planning a wedding is a once in a lifetime experience, and it should be enjoyable, not stressful, so follow your heart and do what feels right for you, not what you think others expect of you.
Go beyond the something old, something new, something borrowed, and something blue, and create your own rhymes for future generations to adore.
It's your day and it should be done your way, so embrace the new wedding trends, mix and match those bits you like most, and celebrate in style with the one you love. This is just the beginning of your happy ever after.
Want to keep reading? See our latest blog posts below...