Wedding Anniversary Gift Themes & Ideas
18-07-2023
According to Time, the tradition of married couples exchanging wedding anniversary gifts was popularized during the Victorian era, though it's believed to date as far back as Ancient Rome.
Not all couples follow the tradition, of course, but it can be a fun, exciting way to celebrate your shared commitment year on year. But if you don't like the idea of exchanging gifts annually, how about celebrating milestone anniversaries instead?
Milestones occur every five years, which gives you plenty of time to dream up gift ideas. Still, how do you know what to give your loved one on those milestones?
In this guide, we'll explore the traditional theme, modern, and color themes associated with milestone anniversaries to inspire you.
Milestone Wedding Anniversary Themes and Gifts
1st Year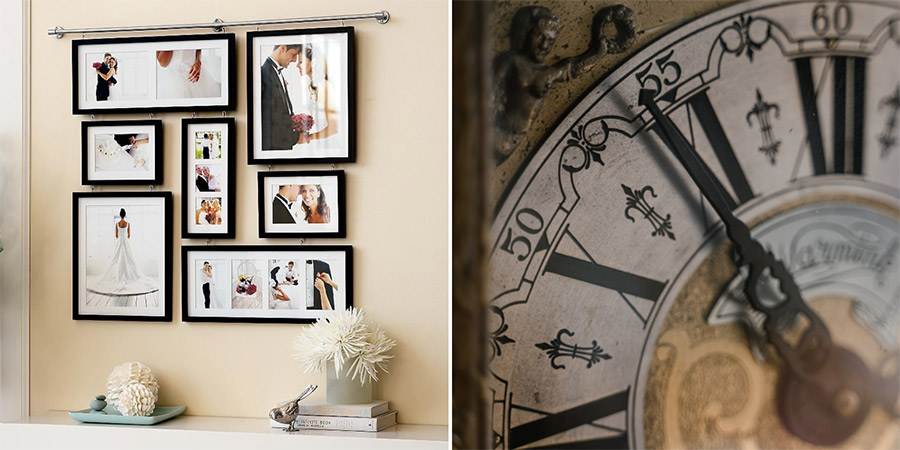 Traditional Theme: Paper
Modern Theme: Clocks
Color Theme: Gold
Gift Ideas: Marking the first year of marriage is very important for most couples. It's a fantastic time to reflect on the previous 12 months and everything you've achieved together. Maybe you moved into a new home after your honeymoon, got a pet together, or expanded your social circle.
But what about gift ideas? One great option is to mount a favorite picture from your wedding day in an ornate frame, so you can relive that special day each time you look at it. Alternatively, why not try an antique clock, or gold women's and men's rings? Discuss the possibilities together and try to find an idea that excites you both equally.
5th Year
Traditional Theme: Wood
Modern Theme: Silverware
Color Theme: Pink, turquoise, blue
Gift Ideas: When the time comes to celebrate your first five years of marriage, you need to find gifts that are truly special to you both. The traditional theme is wood, so you could treat yourselves to decorative wooden carvings or ornaments. Local artists may be able to create bespoke pieces for you, perhaps based on a picture from your wedding.
What else could you try? Elegant silver cutlery is a spectacular choice, whether you use it for decoration only, for special meals, or each time you eat. Finally, women's and men's rings featuring sapphires are a special way to mark your fifth wedding anniversary, too.
10th Year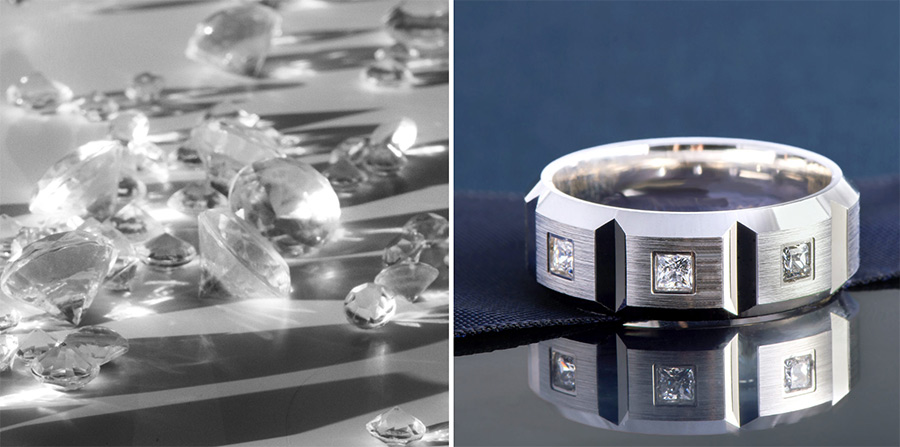 Traditional Theme: Tin or Aluminum
Modern Theme: Diamond jewelry
Color Theme: Blue or silver
Gift Ideas: Ten years as a married couple is a wonderful achievement. That's why the modern theme — diamond jewelry — is so appropriate. One of the most obvious gift ideas for you both is women's and men's rings decorated with one or more diamonds. You can choose from a huge range of other jewelry options, though, such as diamond necklaces and earrings.
If you want to try something else entirely, modern art made with tin or aluminum is a fun way to celebrate your first decade of marriage.
15th Year
Traditional Theme: Crystal
Modern Theme: Watch
Color Theme: Red
Gift Ideas: To mark your 15 years of marriage, a set of glasses and a sophisticated decanter made from crystal is just one exciting gift idea. Imagine toasting this and other milestone anniversaries in style with a bottle (or two) of your favorite wine.
Watches are easy to come by, so why not choose ones featuring elements of red in their design, such as a red strap? And, of course, you could always consider ruby jewelry.
20th Year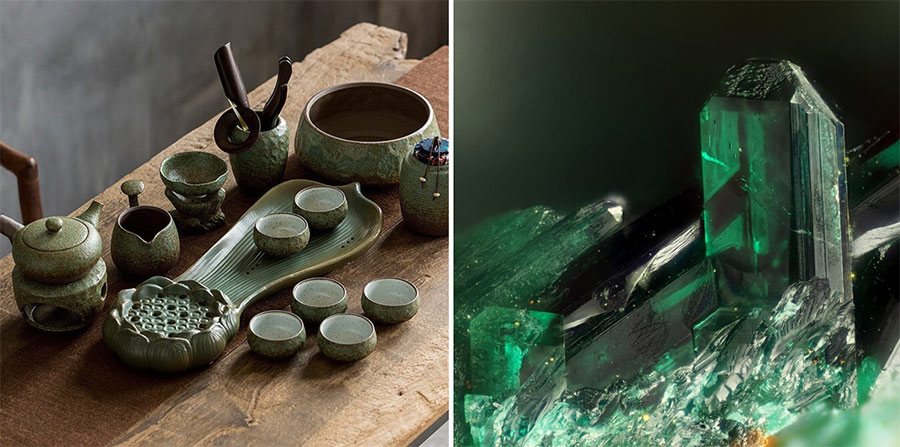 Traditional Theme: China
Modern Theme: Platinum
Color Theme: Emerald Green
Gift Ideas: A luxurious tea set is a simple way to incorporate china into your 20th anniversary. You can enjoy a relaxed afternoon tea together, complete with finger sandwiches and cream cakes, with your new china as you mark such a special occasion.
If you want to celebrate with his and hers jewelry, try platinum women's and men's rings with a personal engraving. You could add the date of your wedding day, for example, or your nicknames for one another. As emerald green is the traditional color theme for your 20th wedding anniversary, you could also shop for jewelry featuring one or more stunning emeralds.
25th Year
Traditional Theme: Silver
Modern Theme: Silver
Color Theme: Silver
Gift Ideas: As you can see, your 25th wedding anniversary is all about silver! That might seem more limiting than other milestone themes initially, but you still have a huge variety of options to explore.
Such as? Well, you could choose exquisite silverware together for hosting a celebratory dinner party with your closest friends and relatives. Alternatively, you might prefer to go classic with matching women's and men's rings crafted from silver.
You have a wealth of designs and embellishments to explore when shopping for silver rings, as you may already know if you have silver wedding bands. Consider matching them with silver earrings or a necklace for added glamor.
30th Year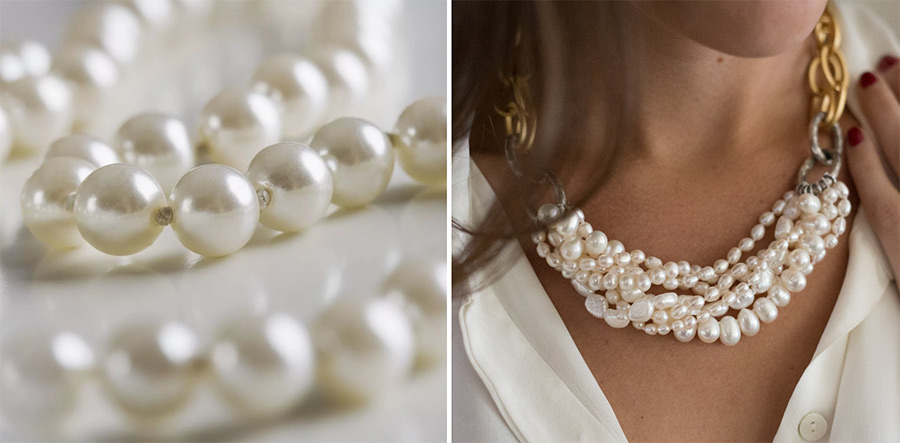 Traditional Theme: Pearl
Modern Theme: Diamond
Color Theme: Green
Gift Ideas: Now that you've reached 30 years of marriage, you can celebrate your milestone anniversary with pearls, diamonds, or both.
One of the most common options when shopping for pearls is a pearl necklace. They're timelessly classy, sexy, and sophisticated — think Sophia Loren or Audrey Hepburn in Breakfast at Tiffany's. They're versatile, too, so you can wear them with various colors and outfits.
But if you want to try something else, you could consider pearl earrings or bracelets instead. As green is the traditional color theme for the 30th wedding anniversary, emerald jewelry (e.g. women's and men's rings) is a fitting choice, too.
35th Year
Traditional Theme: Coral
Modern Theme: Jade
Color Theme: Coral
Gift Ideas: Coral may be one of the most unusual wedding anniversary themes, and you might worry about finding special gifts at first. Fortunately, though, there are plenty of coral-themed options out there for you to consider.
One of the simplest ways to find coral gifts is to explore fashion and home furnishings. For instance, you can find ties decorated with pictures of coral in different colors, which makes a great addition to a man's formal collection. Pillow covers with coral patterns are available online, so you can subtly honor the traditional theme in your home decor.
Still, you could also book yourselves a scuba diving break and see coral up close and personal!
Prefer to celebrate with jade instead? There are lots of pieces of jade jewelry on the market, whether you're looking for earrings, necklaces, or men's rings.
40th Year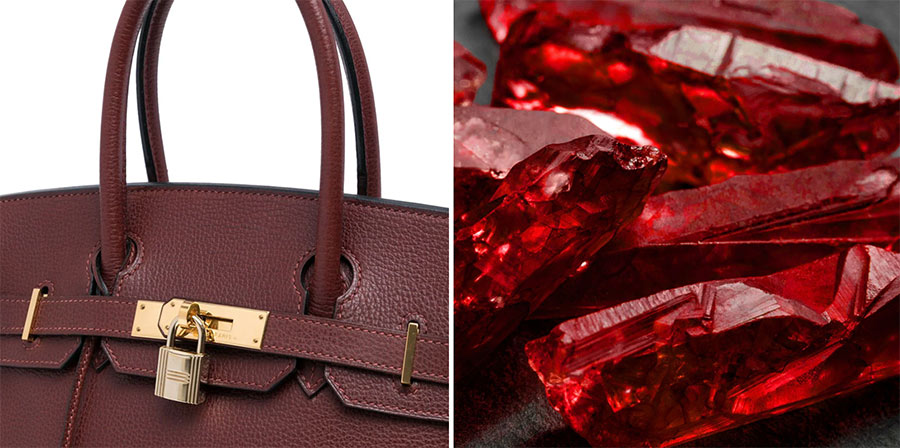 Traditional Theme: Ruby
Modern Theme: Ruby
Color Theme: Red
Gift Ideas: Remember when the 25th wedding anniversary focused on silver all the way? Now, for your 40th anniversary, it's red's time to shine.
Thankfully, you can embrace the ruby theme in any number of ways. Want to try women's or men's rings with an irresistible ruby gleaming in the center? Or how about a luxurious red handbag, set of gloves, or coat?
You could explore a multitude of possibilities to include ruby and red into your anniversary, whether you want to try jewelry, clothing, accessories, or so many other types of gift.
45th Year
Traditional Theme: Sapphire
Modern Theme: Sapphire
Color Theme: Blue or red
Gift Ideas: Sapphire is the traditional and modern theme for your 45th wedding anniversary. If you love jewelry, you can explore lots of sapphire-based pieces for all tastes, from necklaces and bracelets to brooches. There's something for everyone on the market, whether it's sapphire in color or features stunning gems.
Still, as the color theme is blue or red, you can go for ruby instead if that appeals to you more than sapphire. You may even find jewelry adorned with sapphires and rubies, or luxurious clothing and accessories with a mixed color scheme.
50th Year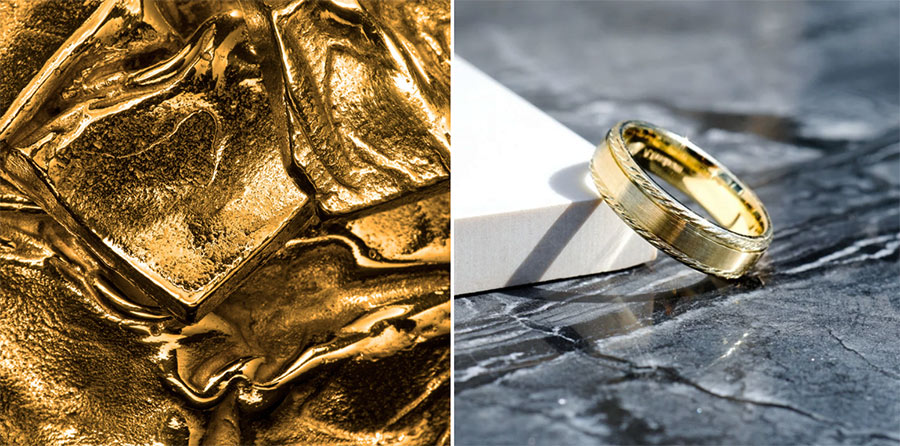 Traditional Theme: Gold
Modern Theme: Gold
Color Theme: Gold
Gift Ideas: The 50th wedding anniversary is an incredible milestone in any marriage, so it's no surprise that gold plays such a major part. Couples may celebrate their 50th anniversary by treating one another to beautiful golden jewelry, but choosing one or two pieces each can be difficult when there are so many options to consider.
Whether shopping for women's or men's rings crafted from gold, explore as many designs as you can to make sure you don't miss out on the perfect pieces. And it doesn't need to be yellow gold, either. White gold is a wonderful alternative to the traditional yellow.
55th Year
Traditional Theme: Emerald
Modern Theme: Emerald
Color Theme: Emerald green
Gift Ideas: Emerald may surprise you as the next milestone theme, but it's a beautiful color that works wonderfully in jewelry, fashion, ornaments, and any number of other gift types. It's elegant, vibrant, and versatile, so you can match it with a plethora of other colors.
60th Year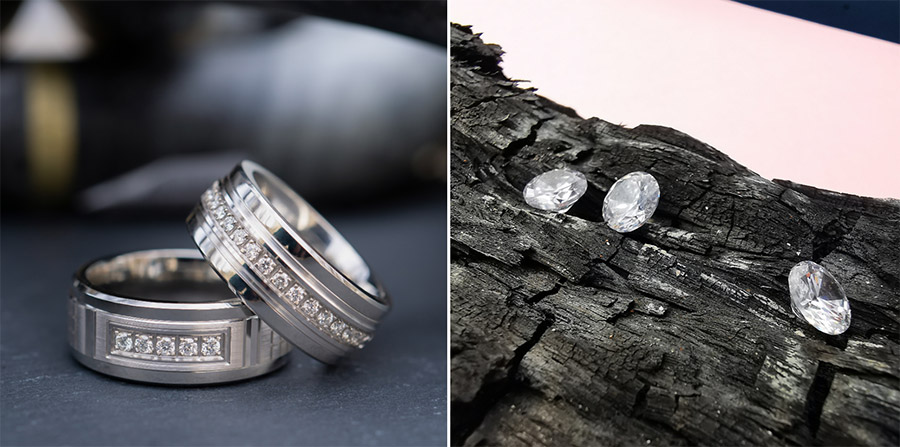 Traditional Theme: Diamond
Modern Theme: Diamond
Color Theme: Diamond white
Gift Ideas: Diamond and diamond white are the perfect choice for your 60th wedding anniversary, as your shared commitment is just as solid. Naturally, any type of diamond jewelry (such as women's and men's rings, necklaces, earrings, and bracelets) is a fantastic gift idea.
Married couples who achieve 60 years together deserve to spoil themselves, and treating yourselves to mesmerizing diamonds is a surefire way to do just that.
Want to keep reading? See our latest blog posts below...