Black Diamond Rings: Redefining Beauty
03-10-2017
Wendy K. (Professional Fashion Writer)
Wendy is a published freelance writer and editor with extensive experience in beauty, fashion, and travel.
Much like fashion, fine jewelry designs change with the seasons, and while the timeless classics and traditional options of yesteryear will always remain in favour, modern men and women are looking for something a little bit different.
Consequently, jewelry designers worldwide are beginning to experiment with new materials such as titanium, cobalt, tungsten and hi-tech ceramic, and create exceptional pieces using the latest CNC design techniques. This allows them to push the boundaries of jewelry design, and redefine beauty.
It is not just the foundation of modern jewelry that has evolved in recent years, but also the gemstones used to embellish high-end pieces. Sapphires are no longer just blue, but pink, purple, yellow and green, and the classic diamond that we all know and love has taken on a more mysterious hue, with black diamonds becoming increasingly popular. Bulgari, Piaget, Cartier, and Chanel are just a few of the world's leading jewelry brands to offer black diamond wedding bands and engagement rings; their Avant-Garde collections specifically designed for contemporary brides and grooms.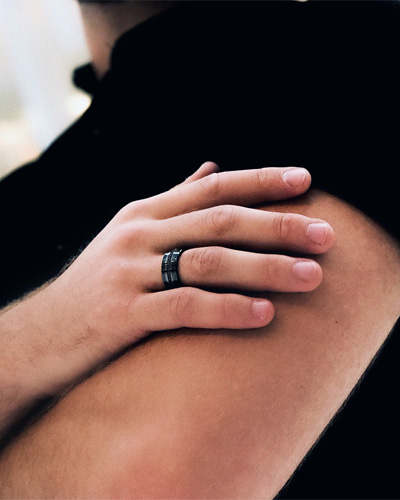 Black Beauty: Why Black Rings Are Becoming Increasingly Popular
Despite being around for centuries, black diamonds were only catapulted into the spotlight in 2010, when Mr. Big presented Carrie Bradshaw with a Black Diamond Engagement Ring in the movie 'Sex in the City 2'. A-listers and Hollywood elites fell in love with the ring, and from that moment on, black diamond jewelry featured at every auspicious red-carpet event.
Today, black diamond rings are one of the world's hottest fashion trends, featuring in most modern bridal collections and celebrity jewelry ranges. As wedding bands, pendants, earrings, bangles, and watches take on a new darker hue, the perception of natural beauty is changing. Black is most definitely the new black in the world of jewelry design, and it's a trend that is set to last.
While not traditionally associated with fine jewelry, black is a sophisticated and elegant colour that lends a touch of refinement to classically styled wedding bands. A chic alternative to traditional gold and silver offerings, black diamond rings are suitable for all celebratory occasions, be it an engagement, a wedding day, or a milestone anniversary. Despite their modern aesthetic, these rings remain timeless in design and reflect the depth of love and infinite possibilities a couple will share during their lives together.
Black on Black: Ceramic and Diamond Wedding Rings
A prime example of quality meets design, Black Ceramic Wedding Bands with Black Diamonds are the epitome of understated glamour. Handcrafted from the finest hi-tech ceramic, they are sleek, sophisticated and offer an inimitable shine that you simply will not find with traditional precious metals. An exceptional model is the Madani Illusion Black Diamond Wedding Ring pictured above. Combining a smooth black ceramic band with a black gold insert and shimmering black diamonds, this magnificent wedding ring quietly demands attention, yet it is subtle enough to complement day-to-day wear.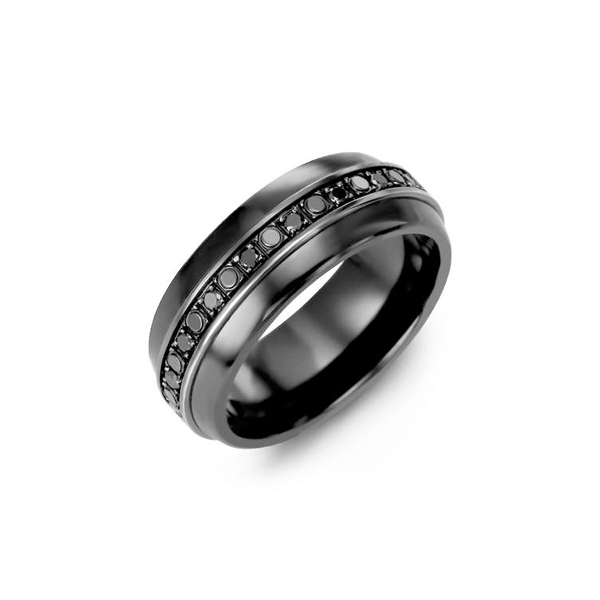 Black and White: Monochrome Masterpieces
At the other end of the spectrum, Black and White Wedding Bands offer the perfect compromise for brides and grooms who are looking for a traditionally styled wedding ring with black diamond embellishments. Presented in a choice of metal options, including cobalt, tungsten and classic white gold, these monochrome masterpieces exude elegance, grace, and timeless appeal, yet they are distinctly modern in design.
The beauty of black and white wedding bands is that they coordinate effortlessly with both black diamond engagement rings and black ceramic eternity bands, and so they offer endless styling options.
The Simplicity of Ceramic: Pure Black Wedding Bands
Adored by modern grooms for their simplicity and sophisticated style, Black Ceramic Wedding Bands are anything but traditional, but they are designed to withstand the test of time. Easy to wear, they can be matched with just about any outfit, and when finished with a sleek satin finish, the visual impact is nothing short of spectacular. Black rings like these push the limits of conventional jewelry design to a whole new level. They make a statement while allowing you to embrace your own unique sense of style.
Black diamond wedding bands make an unforgettable impression. They transform the ordinary to the extraordinary and they stand out in a crowd. They are made for modern men and women who want to break away from the norm and set their own standards, they are quite simply, redefining beauty.
As Coco Chanel once said, "In order to be irreplaceable, one must always be different".
Want to keep reading? See our latest blog posts below...