Why Diamond Wedding Bands Are Set to Dominate in 2019
27-02-2019
Wendy K. (Professional Fashion Writer)
Wendy is a published freelance writer and editor with extensive experience in beauty, fashion, and travel.
Finding the perfect wedding ring is almost as challenging as finding the perfect partner. It needs to fit just right, it needs to make you feel good, and perhaps most importantly of all, it needs to last a lifetime, and so it is essential that you take your time when choosing such an important piece of jewelry.
While the classic gold wedding band will always be in favour, 2019 brides and grooms should be prepared to see a rise in non-traditional wedding rings in the coming year, with modern materials, coloured stones, and dazzling diamonds set to dominate.
Diamond wedding rings are becoming increasingly popular with brides and grooms who are looking for a little bit of sparkle to represent their personality. From simple gold bands with a single solitaire to intricate banding with bespoke diamond arrangements, there are diamond wedding rings to suit every budget and every taste, which is perhaps why modern couples are moving away from the traditional and embracing the beauty that one can only find with genuine diamonds.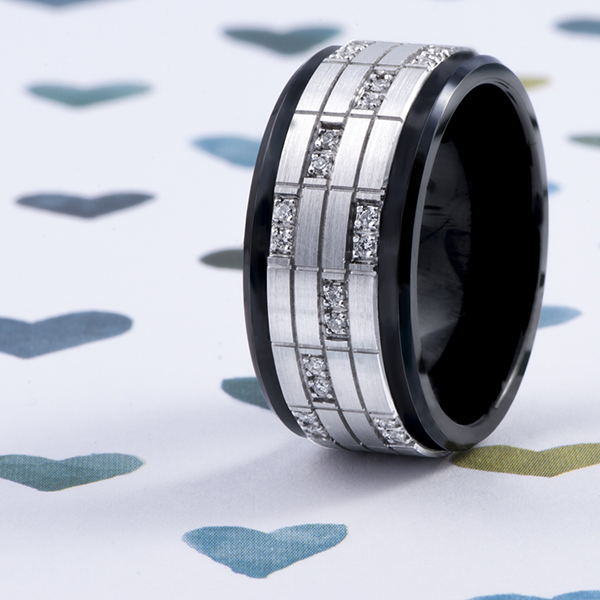 So Why Are Diamond Wedding Bands So Popular?
Much like bridal fashions, wedding ring trends come and go, but a diamond is forever. An exceptional heirloom that you can pass on from generation to generation, Prince Harry used a diamond from his late mother's collection when designing Meghan Markle's engagement ring, and the result is nothing short of spectacular.
The beauty of diamonds is that they never date or go out of style, and a genuine diamond will retain its sparkle for eternity.
With the New Year in full swing, now is the perfect time to discover the beautiful diamond wedding bands that are set to take over the jewelry scene in 2019, and newly betrothed, you have much to look forward to!
Diamond Wedding Band Trends to Look Out For in 2019
This year it is all about warmer tones, contemporary designs, and radiant diamonds when it comes to wedding bands. Rose gold has become very popular with romantic brides and grooms, with celebrity/pop star duo Chiara Ferragni and Fedez celebrating their union with bespoke rose gold and diamond wedding bands.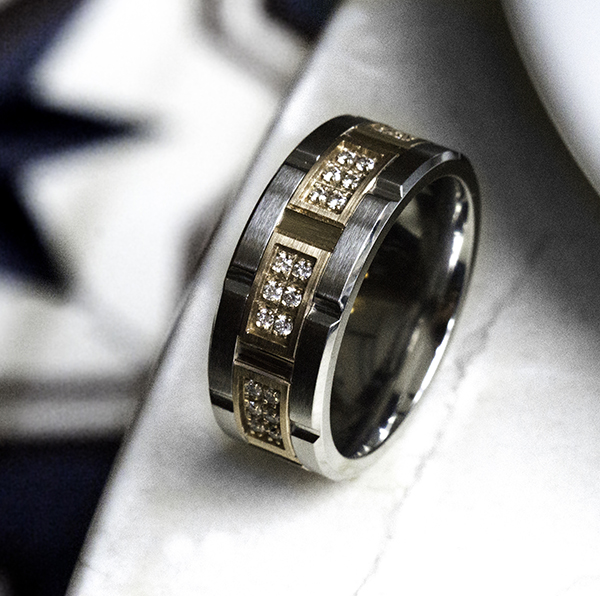 Two-tone wedding bands that combine rose gold with platinum, or white gold with yellow gold are popular too, and with advanced jewelry making techniques, brides and grooms can push the boundaries of jewelry design with carving, engraving, eye-catching inlays peppered with diamonds, and coloured gemstones.
Modern black diamond wedding rings will continue to dominate the diamond jewelry industry in 2019, with the choice of metal/material playing a huge role. Couples are no longer limited to gold and platinum but have a whole new world of precious materials to choose from. Tungsten Carbide, Cobalt, and Ceramic are giving future brides and grooms the opportunity to express their personality, taste, and exceptional style. Something they simply cannot do with a plain yellow gold wedding band.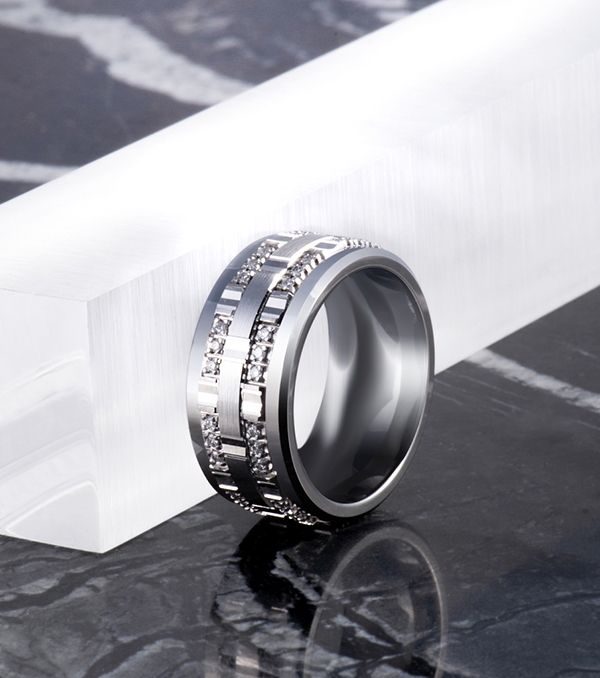 White ceramic wedding rings with black diamonds, and black ceramic wedding rings with white diamonds have graced the covers of many bridal magazines this year, with even Chanel adding new materials and colours to the bridal collections. But diamonds are key, and if you don't have a least a little bit of sparkle, you may just regret it.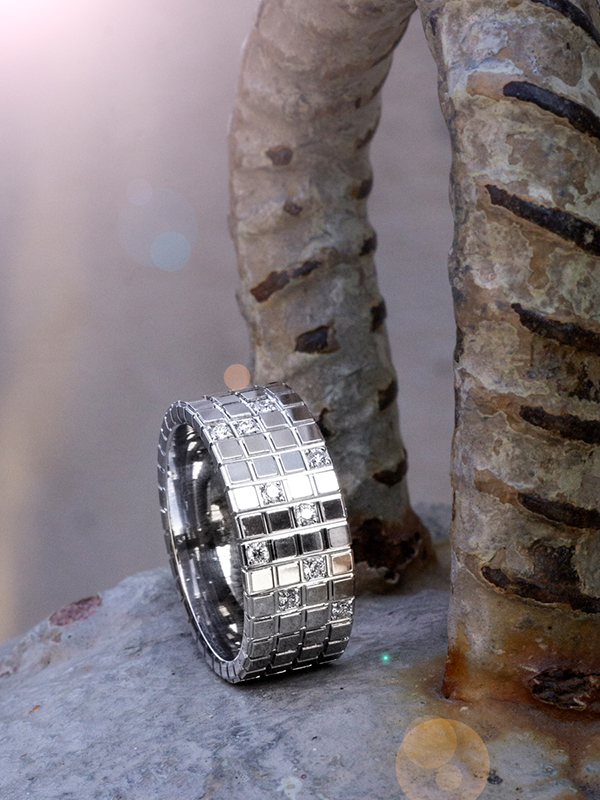 Choosing Your Perfect Wedding Ring
If 2019 is going to be the year when you glide down the aisle, then it's never too early to start shopping for your wedding rings. Most wedding planners will tell you to allow at least 2 – 3 months to find 'the one' and if you leave it until the last minute, you may end up settling for second best.
Narrowing down your wedding ring options may seem a little overwhelming to start with, but the important thing is not to panic and impulse buy. There are five key elements to consider when choosing your diamond wedding ring: Budget, Style, Metal, Colour, and Design.
Budget: Getting married is costly, but if there is one area you simply shouldn't cut costs, it is your wedding bands. You are going to wear them every day for the rest of your lives, so make sure you set a realistic budget for the type of wedding ring you want.
Style: Do you want a simple band with a single diamond or a dazzling display of gemstones? Obviously, your budget will play a key role here, but not all diamonds are equal, and choosing a slightly lower grade could help you get the quantity you want.
Metal: If you have already ruled out gold and platinum, explore the possibilities of tungsten carbide, cobalt, or even ceramic. There are some amazing designs available for trendsetting brides and grooms – the only limit is your imagination.
Colour: Once upon a time, wedding rings were slim yellow gold bands, but times have changed. Rose gold is timeless, black ceramic is daring, and white ceramic is simply beautiful.
Design: If you are looking for a wedding ring that is creative, on-trend, and big on design, look out for grooving, carved inlays, and engraved patterns. They transform the ordinary into the extraordinary, and why would you settle for anything less!
In 2019, it's all about diamonds. So, embrace the diamond wedding ring trend, and sparkle on your wedding day and every day thereafter!
Want to keep reading? See our latest blog posts below...