Tips for Saving Money on Your Dream Wedding
03-11-2021
Written by Naila Afsheen.
Naila is a freelance writer and blogger in weddings, marriage advice, food blog, fashion and more...
Someone very thoughtfully said that 'it's more important to invest in the marriage rather than the wedding' and we couldn't agree more. Marriage is undoubtedly a very important decision in anyone's life and a wedding ceremony is a crucial part of it. Most people have dreamt or visualized their wedding day at least once in their lives. If they say they haven't, trust me they are lying. It isn't very wise of anyone to indebt themselves and needlessly go over the top, just for their wedding day. It should be one of the happiest days of your life, not the most stressful one, where you just want to be pompous. Following are some tips that will help you to save a lot of money while you plan your dream wedding: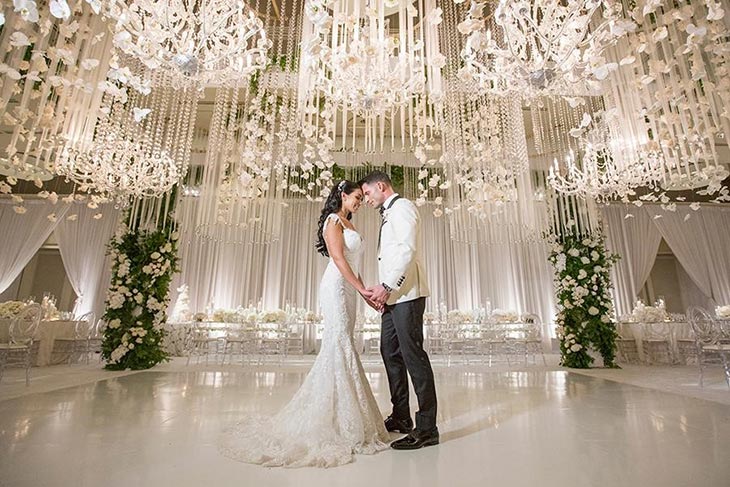 Keep your guest list small
The first and foremost benefit of having a small guest list is that it is lighter on your pocket and you will only have important people around you on your big day. These are the people who matter the most in your life. The bride and groom would not have to miss out on meeting anyone from the guest list and can spend time with every guest and mingle around easily. Event venues charge a certain amount per guest, and thus a smaller guest list may add up to a smaller wedding budget. Having fewer guests at your wedding allows you to spend more quality time with each of them. The space would be less crowded and better utilized. Your wedding invitation list will be smaller, hence it will take less time to write out your invitations if you are planning to send printed handwritten cards.
Ask Friends for favors
What are friends for? This is the time you can avail yourself of maximum help from your skilled friends. For example, your friends are the closest people to know your music taste and they can help you around with the music arrangements and even act as the DJ for the event. Trust me, it will save you a lot of that precious money of yours.
Any of your friends a great baker? Maybe they can pool in and create that lovely wedding cake for you which would be made with a lot more love and consideration from your friend. A photographer friend can be of big use on your wedding day.
Let's be honest, not everyone is camera-friendly and confident, especially when you are asked to make those cheesy poses for your wedding album. You will be much more comfortable posing in front of your friend rather than a hired professional photographer. This will not only help you be more comfortable plus it can save you a lot of money that is charged by professional photographers these days.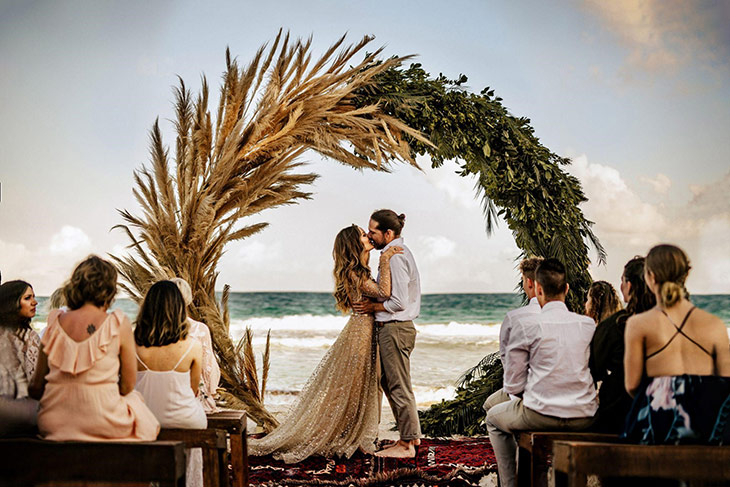 Renting out stuff is a great option
If you are not a hoarder and you tend to use and give things away, then renting out things is always a cheaper option than buying stuff. You can even rent your bridal dress unless you find something you really love and want to keep with you forever. You can rent out decorations, bridesmaid dresses, linens, utensils, and a lot of other stuff.
Planning everything in advance
Wedding expenses include many things like dresses, bands, music, location, food and drinks, photography, props, gifts, moving into your new house, honeymoon, savings for the future, furniture shopping, and whatnot. This is why it's really important to have a plan in place to save for all these forthcoming expenses in advance. Because these money matters should not be the reason to set you or your family back financially for years to come.
Settle for more realistic dreams
We all know that wedding is one of the most important days in anyone's life but let's be real, it's a reality, not a fairy tale movie. The sooner you realize this the better it is for you. It's important for you to have realistic, achievable, and practical dreams about your wedding day. Even if something doesn't go the way you planned, it's fine. Frankly, nobody cares or remembers what someone was wearing at their wedding, what the food and decorations were like, and how the photographer and music were. At the end of the day, it's just the start of your new life and the most important thing is that you have your life partner with you by your side.
Set a practical wedding budget and keep a track of expenditure
Not having a budget in place is not a good idea. The majority of couples set a reasonable and realistic budget for a wedding but they end up spending more than they expected and planned. Not keeping a track of the wedding expenses means that there is an open chequebook and, thus, costs will be left unchecked. Starting your new life together on a firm financial footing is more important than whether you had a certain number of guests, an expensive dress, a professional photographer, special decorations, or a specific type of flowers on the wedding day. Planning your budget carefully and working together with your partner to save for your wedding is very important so that you don't end up in debt and can help contribute to a happily-ever-after event.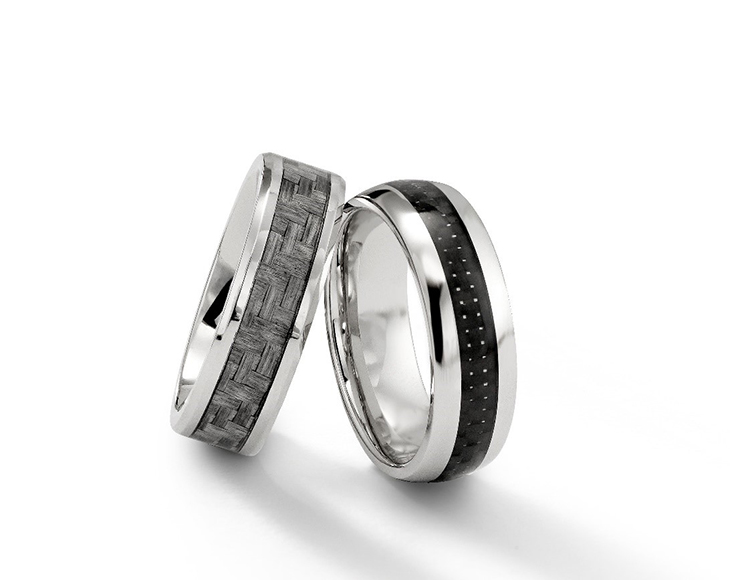 Go for affordable wedding bands
It's you and your partner who can set the priorities right. After all, it's your big day. There are things that are negotiable like the guest list, decorations, location, beverages, etc, but it's simply impossible to compromise on a few matters. For example his and her wedding rings. Now, this is something which will stay with the couple forever as a symbol of their love and commitment. So there's a lot on stake when the couple decides what specifications they're looking for in their dream wedding bands.
Consider something that will stay with you for a long time i.e. this men's ring is quite light on pocket and visually pleasing.
An appropriate date and time can save you a lot
An off-season wedding can save you a lot and even the off-days, that is, not on a weekend. Early summer (May - June), spring (March- April) and early winter (September-October) weddings are the most pricey ones. You can always have a wedding in winter and summer or whichever month you want but not in the peak season. You just have to make sure that if you are getting married in the summer then it's an indoor wedding with air conditioning and if you are planning a winter wedding then you don't want your guests to freeze in the cold or be drenched in rain outdoors, right?
No need for printed cards
Handing out hundreds of wedding invites is hectic and expensive. Most modern printers can now produce excellent full-color invitations and personalized envelopes. You can use various free editing software and basic graphic designing techniques to make your customized cards and print them yourself for free, or simply you can send e-cards to everyone directly. This will save you a huge sum of money people pay to the printing shops for overly extravagant printed cards.
​​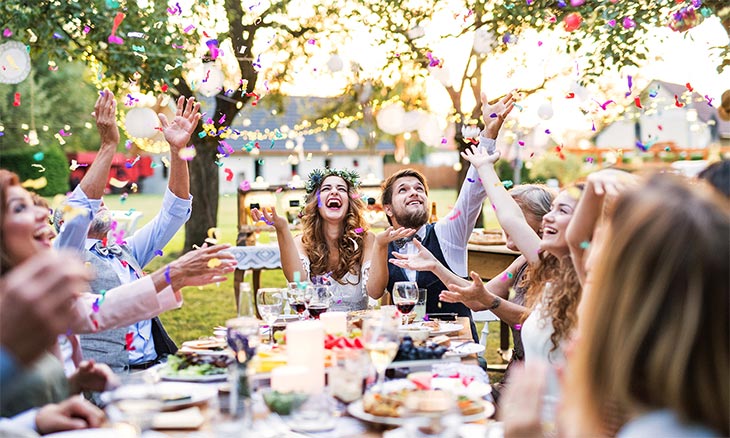 Quality food and catering over quantity
Hosting a smaller wedding gives you more room in your overall wedding budget to offer a better more exquisite menu with better options entrees, main course, desserts, and drinks department. You can also try to seek out venues that allow you to purchase and supply your own alcohol so you have control over the cost. Traditional caterers in the market are often expensive and charge additional fees for services like utensils and serving. You can also consider choosing a local restaurant for more casual and affordable food options for your big day.
Choose Affordable Seasonal Flowers
You don't have to sell a kidney to fill the pockets of flower vendors and on expensive decorations. You just have to choose a good color scheme and buy preferably seasonal affordable flowers in bulk. You can mix up fresh flowers with some artificial, much cheaper options. These days the internet is flooded with various DIY techniques and hacks that can save you a lot of money in decorations, table arrangements, photo booths, props, and flower arrangements. You can always ask for help from your family, cousins, and creative friends in the arrangements.
On a final note
As they say, money can't buy happiness and certainly, it cannot buy peace of mind. You can spend hundreds and millions of dollars on your wedding ceremony and still not be happy. On the other end, you can have a limited budget wedding and be the happiest person in the world. One should try to curtail their wedding day expenses and focus more on building a strong relationship with their partner and saving for the future because at the end of the day, that's what really matters. Hence, we conclude that even on a budget you can definitely have the wedding of your dreams which you have visualized since forever.
Want to keep reading? See our latest blog posts below...