Covid-19 Impacting Wedding plans Proceed? Postpone? Cancel?
03-04-2020
Wendy K. (Professional Fashion Writer)
Wendy is a published freelance writer and editor with extensive experience in beauty, fashion, and travel.
Cover Photo by Utah Based Photographer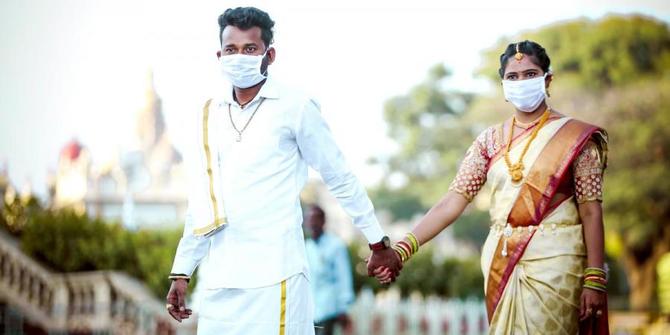 Photo Credit: New Indian Express
The COVID-19 pandemic has changed the world we live in today, and if you are planning to get married this year, you may have to look at postponing or even cancelling your plans to keep you and your loved ones safe.
It's a heart-breaking time for brides and grooms, and worrying times for wedding planners, vendors, and venues, but with the Public Health Agency of Canada (PHAC) recommending that all gatherings of more than 50 attendees be cancelled or postponed, it is time to make some difficult decisions.
In this Complete Guide on How To Postpone or Cancel Your Wedding During a Crisis, we'll cover everything you need to know about rescheduling your wedding due to unforeseen circumstances such as health issues, natural disasters, the death of a family member, or the onset of a pandemic such as Coronavirus.
Cancel or Postpone? You Decide
It's not going to be the easiest decision that you've ever made, but the first thing you need to do is decide if you are going to postpone your wedding to a new date or cancel it completely for the time being. Postponement is always the preferred option, and by postponing rather than cancelling, your vendors are more likely to work with you, but if you do decide to reschedule for another date, you should allow plenty of time for the crisis to pass to avoid having to do it all again 8 or 10 weeks down the line.
The important thing to remember here is that this is your wedding and you need to do what is right for you. Your friends and loved ones will want to see you get married, whether it be six months or a year from now, but if you cannot wait to marry the one you love, there is no reason why you shouldn't get married now and have the celebration later in the year. Lead with your hearts on this one, not with your heads, and do what's right for you.
Speak To Your Wedding Planner
If you are using a wedding planner, they should be your first call if you need to cancel or postpone your wedding. They have likely done this a hundred times before, and they'll be able to give you clear advice on what to do next during this emotional time.
Ask them to clarify cancellation or postponement fees to help you make a more informed decision, and ask their advice on re-planning. With the current Covid-19 pandemic, many couples are rescheduling their summer wedding for later in the year, and wedding venues are filling up fast.
Check Your Wedding Insurance
If you don't have a wedding planner, start by collating all your wedding documents. Do you have wedding insurance or event cancellation insurance? If so, read through your policy to find out what is covered and what is not. Do this before you reach out to your vendors. While most insurance policies will not cover you for the COVID-19 pandemic, yours may cover certain rescheduling costs passed on from your vendors, so read it carefully and get professional help if required.
If you don't have wedding insurance, consider taking out a policy when you set a new date. Unforeseen circumstances can happen at any time, and if you are not covered now, you don't want to risk being in the same position again.
Read Your Supplier/Vendor Contracts
Read the terms and conditions in your vendor contracts to find out their cancellation policy. Many photographers, wedding venues, florists, and stationers offer brides and grooms the opportunity to reschedule their wedding without penalty, particularly those postponing due to Coronavirus, so if in doubt, contact them personally to find out where you stand.
During natural disasters and pandemics, we're all navigating unchartered waters, and so your suppliers are much more likely to work with you to find an alternative arrangement that suits everyone. So appeal to their better nature and prepare to make compromises.
Will I Get My Deposits Back?
If you feel you have no choice but to cancel your wedding, you should be prepared to forfeit any deposits that you have already paid. Vendors use these deposits to cover any work they do in the run-up to your wedding and to keep their businesses afloat. It is not standard practice to refund deposits due to unforeseen circumstances such as natural disasters and pandemics, and unless this is written in the terms and conditions of your contract, you shouldn't expect to get any money back.
For this reason, you should try to postpone your wedding, in the same year if possible, and ask your vendors to carry over your deposits to the new date. Most will if you show that you are willing to work with them on finding a solution, it's all about communication.
What About Balance Payments?
If you have already paid the balance payments for your wedding, and you need to postpone or cancel, you need to speak to your vendors directly. The more notice you give them, the more generous they are likely to be when refunding your balance payment, but in exceptional circumstances such as the current Coronavirus crisis, a refund may not be possible.
If vendors are unable to resell their services for the date you have booked, they may well charge you a cancellation fee that could be as much as 100% of the total price, however, this should be listed in the terms and conditions of their contract.
Set A New Date
If you have already paid deposits that you are unlikely to get back, it makes sense to reschedule your wedding, rather than cancelling it altogether. When setting a new date, bear in mind that thousands of other couples are in the same position right now, and so wedding venues are likely to be fully booked for months, and in some cases years in advance.
Rather than randomly selecting a new date, check your calendar against those of your bridal party and close family members to find a window that suits everyone. Then, contact your wedding venue, photographer, florist, DJ, caterers, cake maker, and other vendors to check their availability. You may have to compromise here, particularly if you want to retain your existing vendors, but it could save you thousands of dollars in the long run.
If you have your heart set on a specific date, you may have to wait a year or even two, but it's a small price to pay for having the wedding of your dreams, and with extra time to save, you can splurge on those wedding rings you have always wanted, and maybe add a diamond or two!
Let Your Guests Know
Whether you are cancelling your wedding or setting a new date, you should let your wedding guests know as soon as possible, especially if you have already mailed out invitations. If your wedding is due to take place within the next 4 weeks, call each of your guests to let them know, or if you find this too uncomfortable, send them an email.
In the case of postponement, speak to your stationers about obtaining digital copies of your original wedding invites, which you can send out to your guests without the extra expense of reprinting. Your guests will completely understand your reason for doing this, and you'll save a fortune on a whole new set of invitations.
Don't Forget The Honeymoon
If you are cancelling or postponing your wedding, don't forget to cancel or reschedule your honeymoon. Your travel agent will play an important role here, so speak to them about rescheduling your reservations and reissuing your tickets to coincide with your new wedding date. You may be subjected to change and/or cancellation fees, but these may be covered under your travel insurance policy, so read through it carefully and speak to your provider for advice.
Moving Forward
Once you have set a new wedding date and confirmed with your vendors, you can start to relax and make the most of a difficult situation. In the case of COVID-19, there is nothing you can do but stay on top of the latest government advice and prepare for better days ahead.
If you are in quarantine, use this time to coordinate your bridal party and perhaps reschedule your bachelor/bachelorette parties. Do the things you haven't had time to do until now such as design your wedding rings, write your wedding vows, or shop for gifts for your bridesmaids and groomsmen.
In times like these, all you can do is stay positive, stay safe, and do your very best to make the most out of a difficult situation. Your wedding may not go ahead one the day originally planned, but when it finally does go ahead, make sure it's bigger and better than you ever thought possible.
"It always seems impossible until its done" – Nelson Mandela
Want to keep reading? See our latest blog posts below...