Top 5 Bridal Hairstyles For 2021
04-03-2021
Written by Emma R.
Emma is a freelance writer and blogger in weddings, marriage advice, food blog, fashion and more...
Effective wedding planning requires a keen eye for detail, with elements such as flower arrangements, bridal accessories and bridal hairstyle being just some of the many things to think about.
You want your wedding day to run seamlessly so that your memory of the event is one filled with joy and romance.
Bridal hair completes the entire look. While the dress is the centre of attention, the hair comes a close second, followed by the wedding ring, flower bouquet and accessories.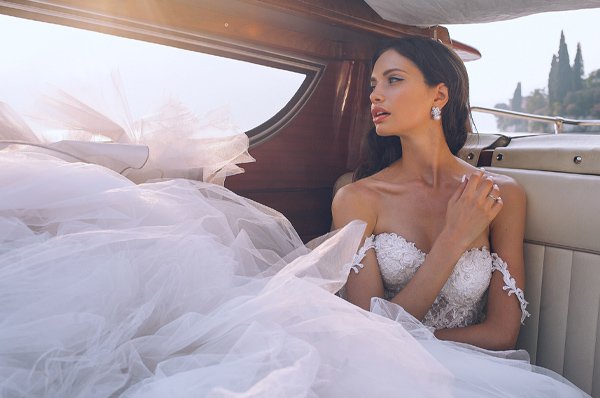 Before settling on a hairstyle, here are some top tips to consider:
Experiment with different looks before making up your mind. While you may have a fixed idea of how you want your hair, a professional hairstylist may be able to advise you on more suitable looks for your big day. Stay open-minded and enjoy the experience of being pampered!
Take a friend with you to the salon while trying different looks. What you feel works for you may not be perceived the same way by your nearest and dearest. A second opinion will help you decide on the final look.
Prepare enough time on your wedding day for your hair to be styled. If you are having a trial, you should time it and then allocate at least this amount of time for your hair to be styled on your big day. If you're not trialling your hairstyle, ask a professional for an estimate before planning your wedding morning routine.
Choose two or three inspirational photographs to show your hairstylist, but don't choose any more than that or she/he may get confused.
Have your hairstylist and makeup artist work as a team. They are trained to give you the perfect look for your wedding day, and when they put their heads together the results are sure to be stunning.
The last few years have seen a rising trend in wavy natural hairstyles, messy buns and headband accessories. But the classics still stand strong. In fact, in 2020, the traditional bun remained in the lead for the most popular wedding hairstyles.
Whether you're after classic or modern-chic, we have five fantastic hairstyles that you can consider ahead of your big day.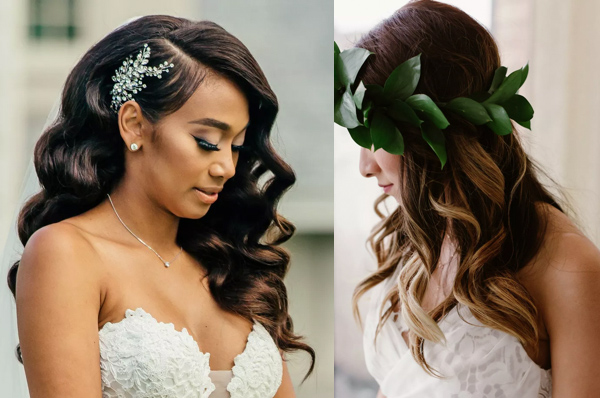 Long smooth curls
Long smooth curls allow you to retain an elegant, natural look and incorporate hairpieces and headbands to blend with your bridal accessories.
This versatile hairstyle is perfect for women with naturally long hair, but a hairpiece or weave can be added in if your locks are chopped a little shorter.
Decorate with diamonds, flowers, fabrics or add a veil to create a truly stunning bridal look.
Long hair can also pair perfectly with strapless gowns so that the hair covers the top of your back. If you have any back tattoos you want to hide, then this hairstyle is perfect.
Make sure that you add a dollop of serum to the ends of your hair to stop them from drying out over the course of the day. But don't add too much or it will weigh the whole lot down.
If you are going for a side parting, add sufficient hairspray so that it stays in one place for several hours.
Also, carry in your purse a small hairbrush so that you can detangle before the wedding photographs.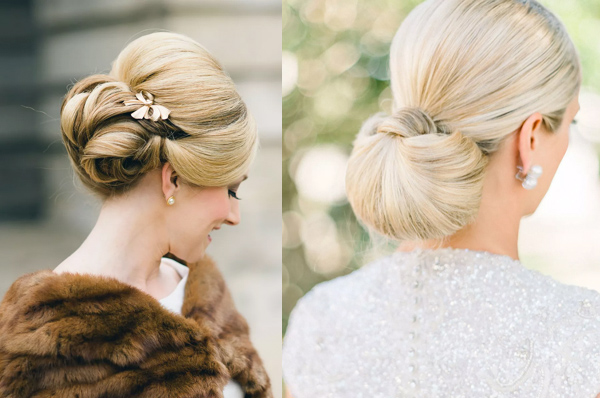 A classic bun
The classic bun is a timeless look, perfect for elegant brides who prefer a hair-up option. Decorate your bun with beads, jewels, flowers or add in a veil to create a sophisticated, traditional bridal look.
Gowns with a high-rise back or shawl pair nicely with the bun, allowing you to show off your dress without it being hidden by your locks.
Make sure that your bun is very secure with pins and clips because your hairstylist is unlikely to be around for the whole day to keep fixing it. While your hairstylist is still with you, move your head around and walk around for a while to ensure the bun stays in one place as you move.
If you prefer a messy bun, pull strands down around your face and loosen the bun to create this bohemian look.
It's important that your bun holds in place without looking greasy. Use a high-quality hair spray to create firm hair without that awful wet-look.
Finally, a bun looks wonderful with a jeweled headband. The jewels you select could pair beautifully with the jewels in your wedding band.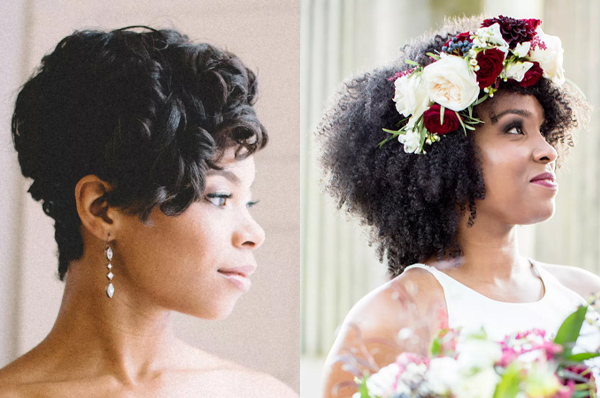 Natural curls
Embracing your natural style can be a powerful way to make a wedding day statement. If you're proud of your natural curls (as you should be) you can show them off for all to admire.
You can fix your curls with a floral headband, beaded crown - or nothing at all! It entirely depends on the dress you've picked and the statement you want to make.
For shorter curls, make sure you pick statement earrings to really highlight your cheekbones and facial features.
If your hair is quite frizzy, you may want to smooth it out slightly with a serum or run a hot iron through them just to keep the strays in one place.
Due to rain that day? A naturally curly girl will know what happens if she gets caught in a thunderstorm. Keep your umbrella nearby at all times and have a hot iron and comb on standby in case you need to touch it up.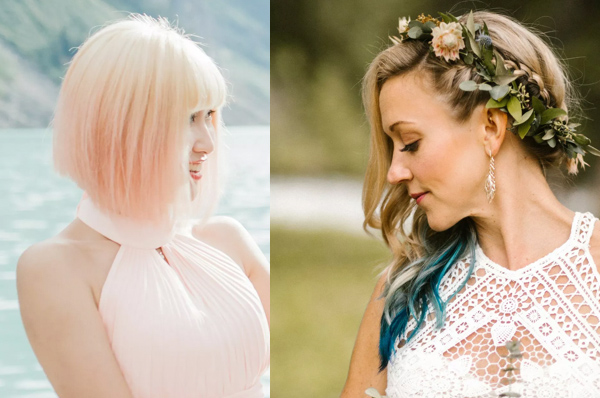 Bring on the colour!
The last few years have seen a rising trend in the number of women coloring their hair using bright, beautiful tones such as pale pink, baby blue, aqua and vibrant reds. In fact, in 2020 searches for 'pink hair' grew 900%, and some women even pioneered a color-root trend, where instead of coloring the ends, they opted for bright green roots instead! Yikes!
If your inner unicorn is dying to come out on your wedding day, a colorful touch to your hair can make the world of difference.
You can match the hair colors with your flowers and other accessories, or even with the groom's tie! Whatever look you go for, make sure a professional hairstylist does your color for you so that it looks classy, rather than crass.
If your wedding band has a colored diamond in it, you could color your hair (in full or in part) to match the ring.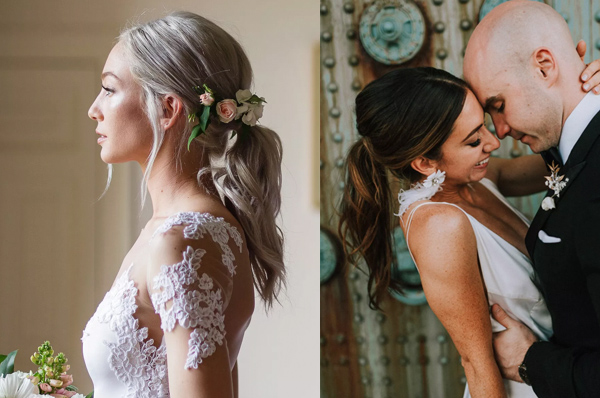 A simple ponytail
Sometimes, simple hair can make a profound statement. A laid back, pulled back hair-do can give room for crowns, head bands, floral accessories and jewels, giving elegance to an otherwise ordinary hairstyle.
To add volume to the ponytail, you can create waves in the hair first, or use a volumizing mousse to make it pop.
Highlights throughout the hair can also help add volume to the look. If you want to frame your face, you can pull two strands of hair down in front of the ears or around the forehead.
Alternatively, if you have bangs, it might look smarter to have your whole hair up with your bands straight and glossy.
This wedding hairstyle is also perfect to transition into the evening. If you plan on doing a lot of dancing, a simple ponytail will hold up for hours and keep your hair off your face.
Final thoughts
Your wedding day should be exactly the way you want it, down to the tiniest detail. Your wedding hair is a crucial element of your overall wedding style, and careful attention and planning are important if you want to get it just right.
Your hair and accessories can complement each other flawlessly. If you need inspiration, you can check out our range of wedding bands for women and men, and decide which ones would match the rest of your look seamlessly. Click here to view the range.
Photo credit The 50 Best Wedding Hairstyles: Down, Updos & More (theknot.com)
Want to keep reading? See our latest blog posts below...