How much should you spend on a wedding ring?
04-02-2022
Written by Naila Afsheen.
Naila is a freelance writer and blogger in weddings, marriage advice, food blog, fashion and more..
Everyone wants their wedding day to be extravagant, fancy, and brilliantly well-organized but managing the budget accordingly is something that requires a lot of consideration. A wedding band is something that takes over a very small percentage of the overall wedding budget but it's a lifetime investment. Hence a smart and sensible decision is essential.
Planning a dream wedding can be a bit costly but how much is too much to spend on your big day? How much should you spend on a wedding ring, decorations, and food? Well, the answer may vary based on your idea of a perfect wedding and the funds.
Although there is no hard and fast rule for choosing a wedding band, couples on average spend between 3-5% of their overall budget on it. The final decision is to be made by the couple whether they're willing to let go of an extra dessert from the menu and spend 6% on luxurious wedding bands. Making such decisions can be overwhelming for certain couples hence they prefer staying out of all the tough tasks by hiring event planners. However, others like to be fully involved and look after each and every aspect of the wedding themselves, including wedding dresses, accessories, venue, catering, photography, wedding bands, and decoration elements, etc. Nonetheless, no matter how helpful your wedding coordinator is, there's something you cannot trust anyone with and that's the wedding bands. They are the symbol of your commitment that will be cherished for a lifetime, therefore, need to be extraordinary.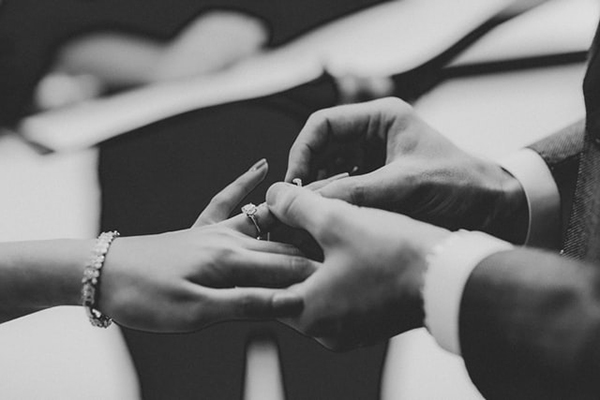 As the wedding day comes closer, the anxiety starts to kick in. Therefore, it's better to stay ahead of all the shopping and wedding planning weeks before the actual event. The selection of the wedding rings is one of the elements that you and your partner must be equally excited about as the day draws nearer.
However, you might get conscious about upsetting the traditions and trends when there are a number of common myths and superstitions around wedding bands, their style, the shape of the diamond, or even the material itself. For example, some believe that an itchy ring finger might mean bad luck or a tight wedding ring reflects a stifling relationship. Before getting on with the wedding ring shopping, let's debunk some of the myths and how you should totally avoid them for a smarter choice and a happy healthy marriage.
Common Myths about Wedding bands
You can't have a stunning ring at a reasonable price
A common belief that a beautiful wedding ring will cost you at least 3 paycheques is total gibberish. The price of a wedding band usually depends on a multitude of factors including the type of material, polishing, style, carat, colour, and of course the weight. At MADANI Rings, you have many options that will work with your budget and you will have a stunning piece!
The men's ring cannot be unconventional
A common belief that a man is limited in options for wedding band and is expected to wear the standard plain gold wedding band or with a few design elements. This is old news now – Black diamond rings or black rings with a touch of white, yellow, or rose gold is the new modern trend. Wider rings are also becoming more popular as they allow for intricate designs and diamonds to be used. Metals like Tungsten, Ceramic, and Cobalt are now the new popular trends and with a mix of Gold these rings become unique in every way.
It's unpopular for a man to wear a diamond wedding band
Another myth has been destroyed within the past few years. More and more men are now wearing rings with a fair amount of bling or diamonds. New designs using black diamonds and black ceramic such as MJK allows for a very modern, sporty, black wedding band that is sought after by all.
A woman's wedding ring must be very thin and dainty
Style is evolving every few years and more and more women are wearing bigger watches and bigger rings to go along with their chic style statement. At MADANI Rings, we offer a White Ice collection for the woman that wants a unique band and a bit of bling as well. The white ceramic wedding ring is available in 6.5mm width and 9mm width which are both wider than usual for a woman but keeps up with the modern trend.
How much should you spend on a wedding ring?
An average couple spends between 3k-6k on their wedding bands depending on their finger size, colour preferences, and the size of the diamond. While there is truly no set price cap, you may find yourself and your partner worrying about making the best choice. Hence, it's better to explore your options, do your research, and compare the prices.
Wedding ring prices in today's date, range between $200 to $2,000 and even higher depending on the metal, the set design, and where you buy the ring from. The real expense is actually the engagement ring. As compared to that, wedding bands are a little less expensive and we believe that paying anything more than $3500 for a wedding band is a bit too extravagant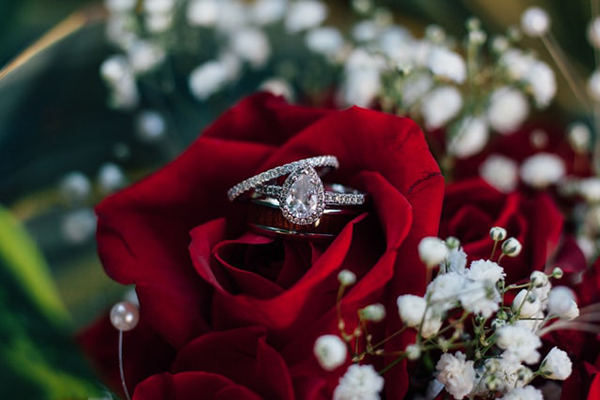 How to cut the cost?
There are no shortcuts to happiness and definitely no alternatives to a stunning men's wedding band. However, there could be a way or two that can help you save big bucks while ring shopping. Knowing your preferences and entering a jewellery store with a bit of knowledge about your options can help create an intimidating impression on the person on the other side of the counter.
Also, you can consider the following ideas to make an affordable yet stunning purchase;
■ Reduce or remove the diamonds on your ring and go for a simple yet elegant men's wedding band.
■ Reduce the gold karat of your ring to ring the cost down to within your budget. At MADANI Rings, you can pick the band of your dreams in 10, 14, or 18 karat cold options.
■ Most common Men wedding band width is 7mm. However, 6mm would make a stunning statement as well.
■ Reduce the weight of your ring to make it more budget friendly. Men's band is usually as heavy as 9 grams but you can bring it down to 4 or 5.
■ Gold is not the only options for the modern men. Modify the precious metal material to silver to make cost effective yet exquisite wedding band choice.
Some of these rings you may not be able to modify because of a certain pattern or design. And others, you will not want to modify as the wedding rings in any material, size or weight may lose their original charm when tempered with.
Affordable Wedding Bands
Whether you want a simple band or like the idea of a decorative diamond-studded ring, we always have stunning options that you can choose from. Let's have a look at some breathtakingly exquisite wedding bands that will sweep your better half off the feet and create magic.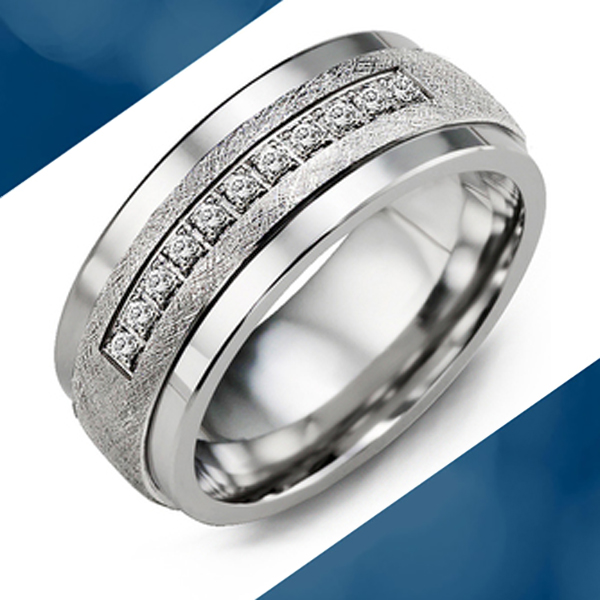 The band of your dreams with a majestic look that's easy on your pocket. Crafted in 10 karats white gold Tungsten and stunning diamonds creating an almost blinding effect. This MADANI Rings piece at $1,220 is an effervescent, contemporary statement of masculinity and classiness. This minimalist fine jewellery design is perfect for everyday wear.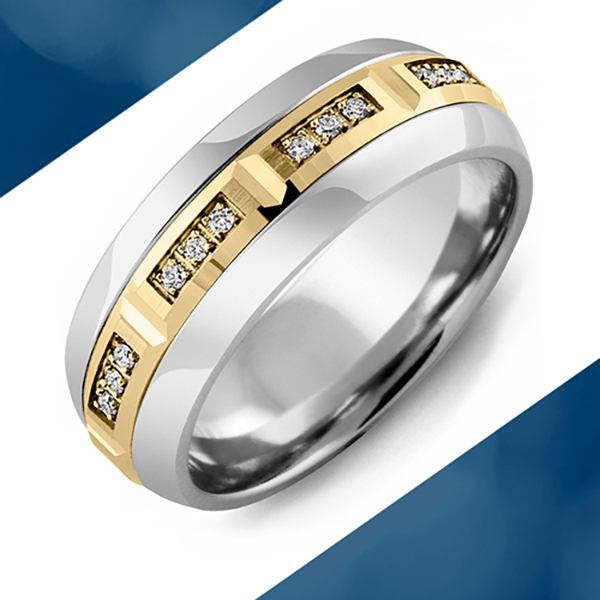 Nothing screams couple goals louder than the matching wedding bands. This His and Her wedding ring with state-of-the-art minimal design offer extremely sophisticated appeal. If you're obsessed with diamonds but like to keep things economical and budget-friendly, the cobalt yellow gold for just $1,170 should be your pick. This two-tone bevelled wedding band lets you keep it classy and make a distinct fashion statement alongside the love of your life.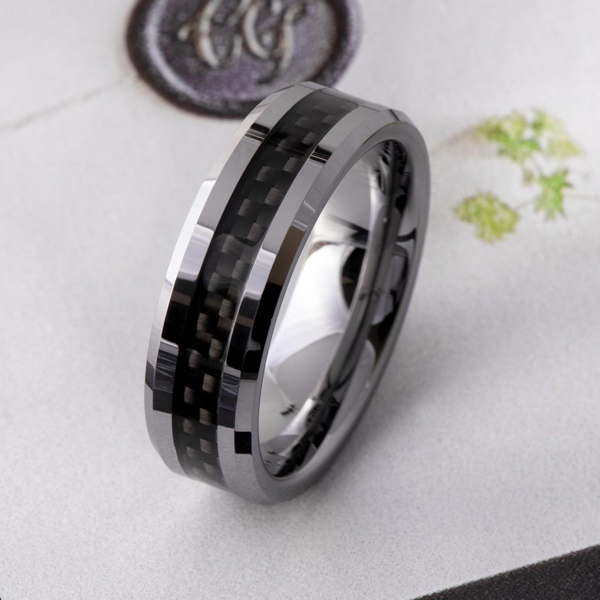 If you're on board with the idea of totally ditching the diamond, this Carbon Fiber wedding band with distinctive pattern and texture can totally be the game-changer at the price of $200. The undeniable rugged aesthetic is everything you need as a symbol of your commitment and compassion. This charmer is the best alternate accessory for an extravagantly luxurious wedding band.
Concluding note
Regardless of all the wedding shopping and anxiety, take as long as you need to pick your wedding bands sensibly. Make the right decision as it is something that will stay with you forever and you'll get to cherish it for the rest of your life.
Decide your overall wedding budget and spend between 3-6% on your wedding bands. It might be difficult to find the rings of your dream within that budget but the best way is to browse through hundreds of stores, compare prices and base your purchase decision on that.
Fancy, diamond-studded wedding band or a simple engraved elegant ring, it is all going to be worth every penny when bought with love, thoughtfulness and compassion.
Want to keep reading? See our latest blog posts below...