The Ultimate Guide to Same-Sex Wedding Rings
24-04-2019
Wendy K. (Professional Fashion Writer)
Wendy is a published freelance writer and editor with extensive experience in beauty, fashion, and travel.
On July 20, 2005, Canada legalized same-sex marriages under the Civil Marriage Act, becoming the fourth country in the world to do so after the Netherlands, Belgium, and Spain. Fast-forward to 2019, and it is now believed that more than 1 percent of all Canadian couples are same-sex couples and that one-third of those are married, and so if you and your significant other are thinking about tying the knot this year, there is no better place to do it.
Thousands of modern couples get married in Canada each year, and as it is currently ranked as the number #1 gay-friendly country in the world in the SPARTACUS Gay Travel Index, it is the perfect place for same-sex couples to plan their wedding ceremony.
If you and your beloved have already secured your wedding date, your wedding venue, and your wedding day outfits, it's time to get down to the serious business of shopping for your wedding rings, and we've got all the tips you need to find the perfect gay wedding bands for your big day.
Same-Sex Wedding Bands: Plan Before You Shop
There is nothing more exciting than shopping for wedding rings, but there is much to consider before you get to the shopping stage. Do you want matching wedding rings? Do you want custom designed wedding rings? Do you want diamond wedding rings? These are all questions you need to ask yourself, and each other before you head to the jewellers.
The beauty of same-sex wedding rings is that there is no blueprint, and so you really don't have to worry about conforming to traditions unless you want to. A simple yellow gold wedding band may be the ring of your dreams, but if it's not, there's no reason why you shouldn't express your personality with something completely different such as a black wedding ring, a white wedding ring, or a diamond-encrusted tungsten band.
Your wedding ring is the most important piece of jewelry you are ever likely to buy, and so it is essential that you take your time, discuss your ideas with your partner, and set a realistic budget that will allow you both to have rings that you truly adore.
Don't Leave It Until the Last Minute
Most couples spend months or even years planning their wedding day, and yet they leave buying wedding rings to the very last minute. A rush decision is never a good decision when it comes to shopping for same-sex wedding bands, and so don't put it on the backburner. Give yourself at least 6 weeks to find your dream wedding ring, even longer if you are going for a custom design, and never settle for second best.
Start browsing online for modern same-sex wedding ring designs, clip pictures out of magazines, and create a scrapbook to help you compare options. You didn't rush when choosing your partner or your wedding day ensemble, so invest time in choosing your wedding bands, and make sure you love them as much as you love each other.
One For Me, One For You
Should same-sex wedding rings match? This is a very popular question, but one that only you can answer. When it comes to choosing your wedding rings, it's all about personal choice. If you both have similar tastes in jewelry and like the idea of coordinating your wedding bands, then there is no reason why you shouldn't go with a matching set, but if you' rather have something that showcases your individuality and unique sense of style, then go for that option. Same-sex wedding rings do not need to match, or even be similar in style, but they should be meaningful and something that you can see yourself wearing for the rest of your life.
Experiment with New Materials and Designs
While classic gold wedding bands will always remain in favour, there's a lot more out there just waiting to be discovered. Modern jewelry designers are experimenting with new materials such as cobalt, tungsten carbide, and hi-tech ceramic, and the results are simply breath-taking.
When choosing a metal for your wedding ring, shop around and try on different styles and designs to get a feel each type of metal. You should also consider your lifestyle. Some metals are much harder than others and are therefore more suitable for manual work, heavy workouts, etc.
If you are not sure which wedding ring material is right for you, speak to your jeweller, who will be more than happy to advise you on the type of wedding band that will suit your budget, your taste, and your lifestyle.
JLC-Lara Porzak Photography
Take Inspiration From Same-Sex Celebrity Couples
If you have decided on the metal for your same-sex wedding rings but are yet to find a style that you love, take inspiration from high-profile celebrity same-sex couples such as Ellen DeGeneres & Portia Rossi, Jodie Foster & Alexandra Hedison, Neil Patrick Harris & David Burtka, and Elton John and David Furnish.
From minimalistic masterpieces to dazzling diamond displays, these loved-up duos celebrated their same-sex marriages in style with rings that they will enjoy wearing forever.
Diamonds Are a Girl's Best Friend…
Or so they say, but we are living in a world of equality, and so who's to say that they are not a boy's best friend too! If you want to add a little bit of sparkle to your same-sex wedding ring, diamonds are the best way to do it. Madani offers a fabulous selection of diamond-embellished wedding rings that can be customized to suit every budget. Black diamonds are perfect for those who want to make a statement, while classic diamonds create the illusion of light, so why not mix it up with this stunning Illusion Diamond Wedding Ring…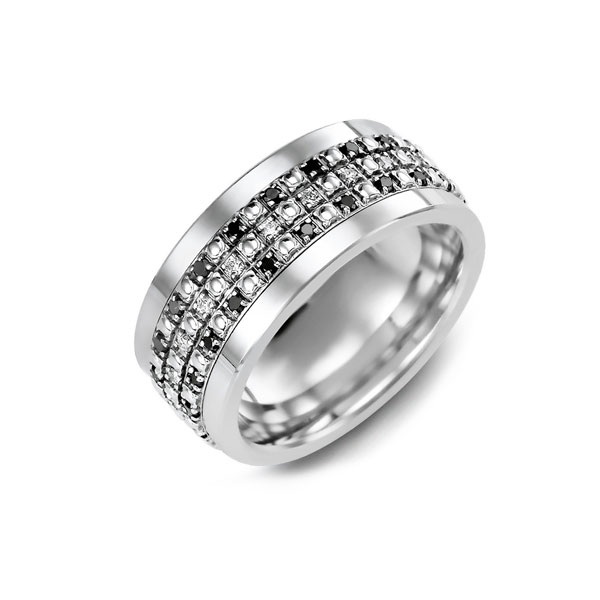 Bespoke Customised Same-Sex Wedding Bands
If you have yet to find your dream wedding ring, it might be time to design your own. Tailor-made to complement your unique sense of style, custom wedding rings are bespoke, beautiful, and designed to express the unity you share as a couple, and that, as they say, is priceless.
When designing your own wedding bands, consider experimenting with black diamonds, pink sapphires, and colourful gemstones, which can add personality and glamour to the plainest of wedding rings. Instead of metal, go for coloured ceramics or rose gold, one of this year's biggest wedding ring trends, and create a one-off piece.
If total customization is beyond your comfort zone, consider having your same-sex weddings engraved with your wedding date, your initials, or a secret message of love. A clever way to ensure you never forget your wedding anniversary (it happens!), it's thoughtful, failproof, and unashamedly romantic.
On Which Finger Should You Wear Your Same-Sex Wedding Ring?
Again, this is all down to personal preference and different opinions. Some same-sex couples want their marriage to be seen as no different from any heterosexual marriage, and so they wear their wedding bands traditionally on the 'ring finger' of the left hand. Other couples want to make a statement by wearing their wedding rings on the right hand, the index finger, or even their Pinky finger.
We are governed by so many rules and regulations, let's not make another one. Wear your same-sex wedding ring however you like, just 'Put a Ring On it' and make Beyoncé proud!
Want to keep reading? See our latest blog posts below...